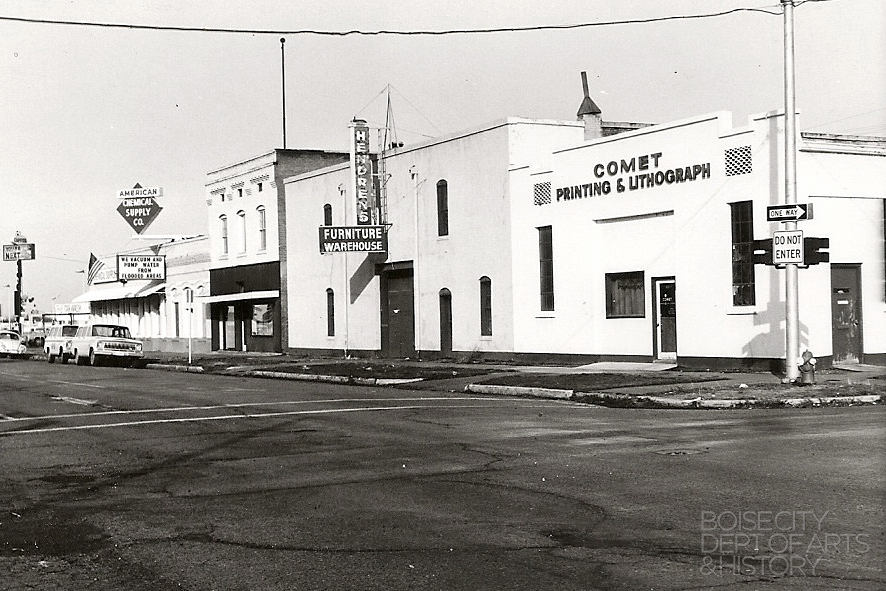 The Boise City Historian is frequently asked questions regarding Boise's rich cultural history. Topics range from specific questions about historic buildings to past events and political figures. We will begin sharing with you the Boise related Q&As we have received. To search our blog, specifically for Historic Q&A, click on the "Historic Q&A" category on the right.
Question:
What is the history of the block on Front St. Between Fifth and Sixth streets?
Answer:
I know that in 1901-1902 the following were listed in the city directory. I researched up until 1927 for most of the area.
515 Front – George Rhodes (Laborer)- lived there till he died in 1908
518 Front -  Michael Johnson (miner) – moved by 1905
523 Front – Rhodes John (Laborer then teamster) lived there until around 1909 or 1910.
527 Front – Bates, Chester (painter) moved by 1905
601 Front – Jennie Brooks – moved by 1905
607 Front – Emma and Catherine Tate – Catherine is not listed after 1902 but Emma continued to be listed until the 1906-07 directory. I believe that these are the Tate sisters, part of the family that owned Triangle Dairy. You could probably confirm that with existing family members.
Across the street at 214 6th street is Gueny Valle. In 1904 William Valle is listed at that home and he was a harness-maker. He is listed as a resident at that address until 1912. Then in 1923 he moved back to 220 on the corner of 6th and Front.
It is interesting that Mr Valle was a harness-maker, since in 1905 the Palace Livery opened at 606 Front St. This wasn't exactly on the corner but there wasn't anything in between it and the NW corner. The SW corner was also vacant.
I would assume that 6th street was brought across Front street in 1911 since Boise Lumber Company built a large warehouse and shipping center on the SE Block of that intersection. The 1912 map shows its placement.  From 1911 until 1950, Boise Lumber Company operated at that site. They had a mill 1/4 mile east of the old Natatorium and I am sure that the rail was used to transport lumber from there to the Front St location. Then shortly after they moved to Broadway, Tennyson's Transfer and storage was there until the 1980s.
In 1919 or 1920 Independent Coal and Transfer moved to 515 Front St. This was owned by a Compton and further research might show that the business evolved into Compton Transfer and Storage. But in 1927 it was still Independent Coal and Transfer.
Over all I would say that early use was small dwellings for single laborers and widows or women. The Livery would be the type of business that would be located on the outskirts of town. In previous research we also know that there were orchards on 5th street, south of Front and of course Tom Davis' orchards would have been just south of that. Then many of the small dwellings were torn down and replaced by warehouse type businesses that utilized the railroad. We also found some evidence of Basque families living on 5th street. Early on they were sheepherders but as time went on they evolved into a laboring class.
Have a question about Boise's history? Ask a Historian.