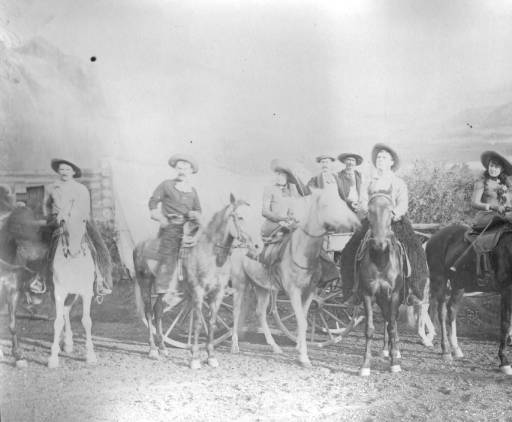 Question: Was there any real sense of justice or safety in Boise's earliest days?  Or was it more like the Wild West we've immortalized in movies and television?
Answer: Early territorial justice was, in fact, unstable and un-enforceable when Idaho resided under the Washington Territory.  Many isolated western communities developed a system justice for those that resided outside the reach of the territorial justice system.  Miner's courts tried to deal with crime in a semi-traditional judicious fashion, but the problem with crime out west was that it was not happening only within the confines of the towns themselves; much of the thievery occurred on the trail, on the plains, in the mountain passes, removed from the limited authority of civilization out west.
Vigilance committees were formed by city-dwelling parties who shared an interest in protecting their interests from thieves and rogues.  These committees not only instituted a means of testing gold dust for authenticity, they monitored and adjudicated standards of trade and justice within participating communities.
In Lewiston the legend of Henry Plummer begins with the arrival of a gentlemanly couple in 1861, who in less than a year, were scandalously debased, through his reputation for gambling and the revelation of her adultery.  She suffered on as an abandoned, ruined woman, and he went on to become "chief of the outlaws".  His gang rustled horses and cattle, robbed passing wagons, and even shot and killed a German by the name of Hildebrandt who owned a saloon in Lewiston.  When a fellow saloon owner Patrick Ford attempted to organize a posse to apply vigilante justice, he was targeted by Plummer's gang as well.  Some of the gang attempted to strong-arm Ford's barkeep, and set out to destroy the saloon itself when Ford arrived, armed, and forced them to leave.  He chased a pair of men, and was shot and killed in a subsequent shoot-out.  Soon after this incident Plummer fled to Montana where was made Sheriff of Bannock.  He remained in Bannock until he was hanged by a local vigilante group.
The individuals who had business, families, or property to protect tended to associate themselves with the vigilance committees, who worked to build laws and statutes concerning the punishment for such and such behavior.  In many instances though rogue vigilante groups could run amok without reprisal, as the term 'vigilante' started to become associated with law enforcement, and the notion of vigilantism was normalized as a socially acceptable type of behavior.  Vigilantes could form at any moment, for whatever reason.  Some gruesome stories have come down to us from the mining past of the Boise Basin where minorities were regularly dealt with through this rugged justice system; a system that often put them at the end of a rope.
Have a question about Boise's history? Ask a Historian.
Pin It