Flavored ices were a delicacy historically reserved for the elites in ancient civilizations as they were the only ones who were able to procure frozen snow and ice for their personal indulgences.  Ice-cream was even prescribed by one medieval monarch as a royal prerogative, later the treat was famously served to guests in the White House by U.S. Presidents Thomas Jefferson and James Madison in 1802 and 1813, respectively, and until 1843 it had remained a delicacy not readily available to the masses.  That year Nancy Johnson submitted a patent for the hand-crank ice-cream maker, giving a larger demographic access to such indulgences.  But even this method required a considerable amount of time and effort, rendering it a special treat.  It is reported that in 1851 a dairyman, Jacob Fussel, looking to save a close-to-expired batch of cream instead made it into ice cream.  It sold so fast, and he realized such a profit that he decided it would be better to sell the cream iced rather than fresh.
It didn't take long for creameries to catch on to the fad.  In Boise successful irrigation projects gave rise to several dairies in the Boise Valley and their cream, collected from 10,000 milk cows, was sold to local creameries that made and sold popular dairy products like butter, cheese, and ice cream to the public.  By 1919 the valley had nine creameries that were able to consume a reported 50,000 pounds of cream in just one day, producing butter, milk, and ice cream.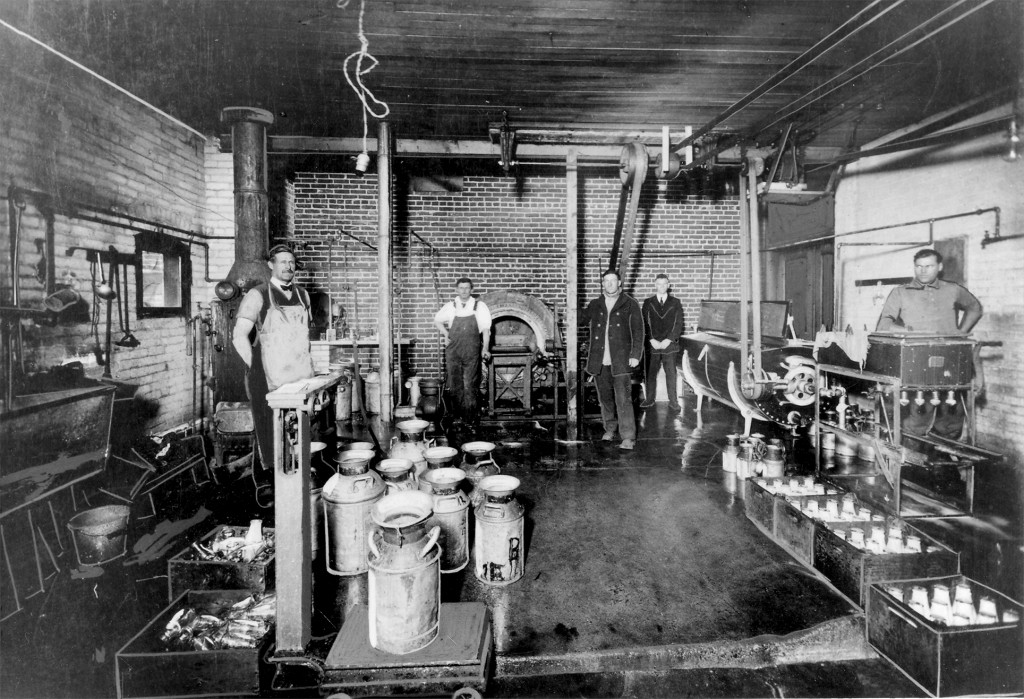 The Boise Ice Cream Company was founded in the early 1900s when proprietor J.W. Edwards began selling crushed fruit ice cream for fifty cents a gallon.  He served his goods at the fairgrounds, and the amount of business he conducted must have gained some special attention because in 1909 his safe was blown apart by a nitro-glycerin charge that was heard throughout downtown.  Edwards stated that he had luckily just banked his money, and the thieves got away with a mere $50.  Four men, Harry Reel, James Cook, John Burke, and Fred Harris were convicted of the robbery, and indicted in connection with a string of explosive burglaries in the valley.
By 1907 Boise City officials were beginning to regulate products from dairies and creameries that were meant for public consumption to ensure that they were safe and healthy.  Fresh ice cream was required to have 14%-16% butter fat included in the whipped delicacy.  For years the Statesman was happy to report that the local dairies and icecreameries had no problems meeting these health code standards.  Edwards sold the company in 1915, and in 1922 proprietor "Jack" Berry was indicted for watering down his cream, and using less than 3% butter fat; a problem that was quickly remedied.
In Boise ice cream socials were quite popular.  Several Women's clubs organized fund-raising events every year that featured ice cream donated by all of the local creameries, and desserts baked by the women themselves.  The proceeds from the ice-cream fundraisers was used to build playgrounds, obtain land for parks, and other community-centric charity projects.  They were always a success, and much of Boise's beautification and child welfare programs were financed through the sale of ice cream by the good ladies of the city.
Have a question about Boise's history? Ask a Historian.
Photo: Boise Ice Cream Co., Idaho State Historical Society
Pin It