Historically speaking, shoe-makers have been an essential and yet highly overlooked segment of western society.  In literature and lore cobblers maintain an elusive, secretive, poor, and toilsome character.  The tricky Leprechaun was a cobbler, and quite often in fairy tales the cobbler's work is completed by slavish elves while he slept.  This personification of the cobbler continued even while shoe-making was one of the crafts that western society required.  So much so that cordwainers, a medieval term derived from the highly specialized work done using leather from Cordoba, Spain, and cobblers, or those who merely made repairs as they worked towards becoming a cordwainer themselves, both arrived in colonial Jamestown along with the earliest settlers. 
The craft evolved with the improvement of transportation, shipping, and industrialization.  As industrial practices became more prominent the specialized craft of cordwaining was also streamlined and mass-produced.  Rather than a master craftsman who constructed every pair of shoes from start to finish, pre-cut articles were constructed in a step-by-step process where individual factory workers were responsible for just one step of many.  Elsewhere however, the craft continued in its original fashion because wherever people and communities flourished, cordwainers followed.  Even to the frontier.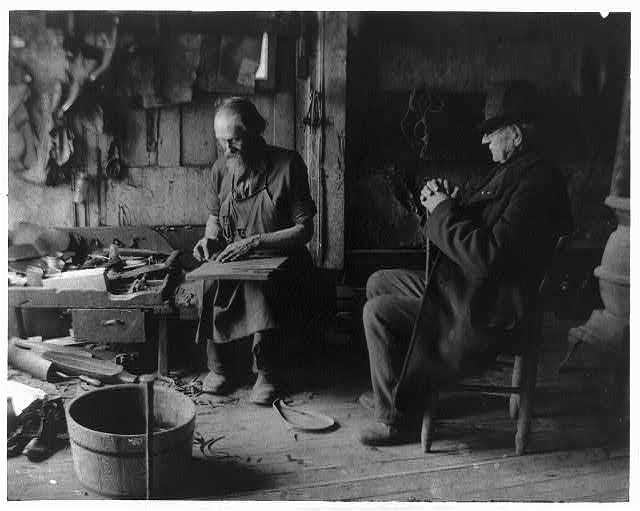 As the great American westward migration began to take hold in the mid-nineteenth century, shoe-makers had become a staple for every frontier town.  A good sturdy pair of shoes was a luxury on the westward trails and they would often wear out before the destination could be reached. By then cordwainer and cobbler had become interchangeable titles as often these tasks were performed by the same individual or his family.  In Boise the first shoe cobblers set up ramshackle shops near the hustle and bustle of the city where travelers gathered to conduct their business.  Trading posts and stage stations along the Oregon Trail, like Fort Boise, that offered a traveler a new pair of shoes would have been a relief to any weary trail blazer. 
Boots and shoes were available in Boise since its humble beginnings in 1863.  Even today a cobbling tradition remains; the craft has not been wholly abandoned to mass production.  For more than one hundred years Riebe's Shoe Repair has been operating in Boise.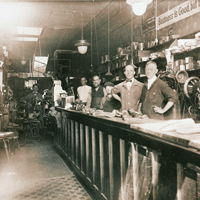 Riebe & Cooper moved into 720 Main Street as early as 1906 when James Riebe, son of a German basketweaver, moved to Boise and opened his shoe shop.  There is still a pair of family stores in operation today, one on Tenth Street, and another in Hyde Park where Riebe's children and grandchildren still take pleasure in learning their family's craft.  Jim and Ed Riebe, who run the Hyde Park store, commented that they are limited today by the materials that they have access to.  Leather has always been somewhat expensive, and the Riebe's ship their leather from Mexico or Italy simply because they have no other choice.  They still have the machinery and the know-how to make custom-made footwear, but because materials are so hard to come by Riebe's Shoe Repair Shop focuses mostly on repairs.  And that keeps them quite busy.
Need your shoes fixed?
Call Riebe's Shoe Repair, 208-345-6885
Have a question about Boise's history? Ask a Historian.

__________________________________________________________

Sources
Commons, John R. et al. eds. A Documentary History of American Industrial Society. Vol. 3, Labor Conspiracy Cases. Cleveland, Ohio: Arthur H. Clark Co., 1910.
Idaho Daily Statesman "Advertisement"  7/26/1864 issue 1 p. 2, and "Advertisement" 10/2/1921 issue 10 p. 14
Pin It