In the world of artist Olive Wicherski, it is perfectly reasonable for a bear to have the tusks of a walrus, or for a human face to be embedded in a mound of fur, while simultaneously growing barnacles, flowers and mushrooms.  The surreal nature of her work just might make you feel like you've ingested the latter, warping your perception of what nature's various creatures look like into one strange new beast.  Indeed, your eyes do not deceive you.  Wicherski's imagination breeds with her acute sense of detail to create what she likens to a "terrarium on paper."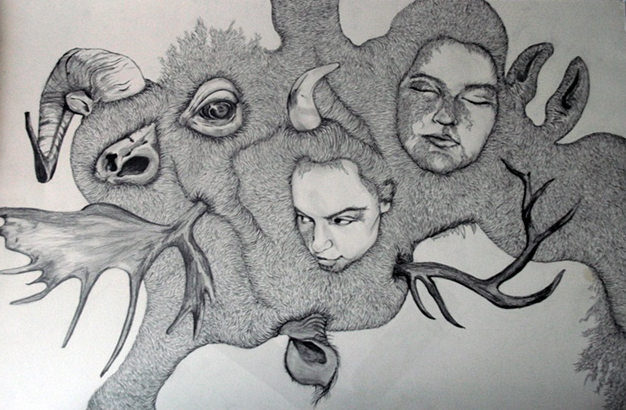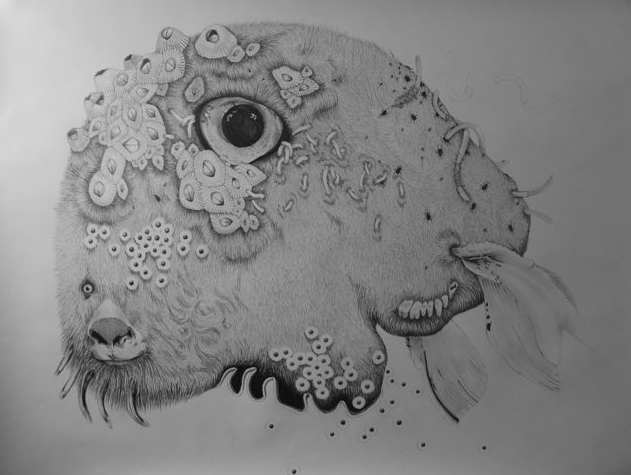 Her graphite ecosystems came about as a self-prescribed treatment for homesickness.  While studying at Skidmore College in New York, she began to fill in undefined shapes with the jagged crags, ram's horns, and doe eyes that reminded her of Idaho.  Raised by parents who were "anti-electronics," Wicherski has never played a videogame and instead finds enjoyment in the natural world, including the parts that others might describe as ugly.  For her contribution to the Primavera group show in March, she explored the theme of Spring by focusing on what might emerge from the snowmelt – usually crushed leaves and a lot of mud.  If the subject doesn't seem appealing, it is made so by the precision in her execution.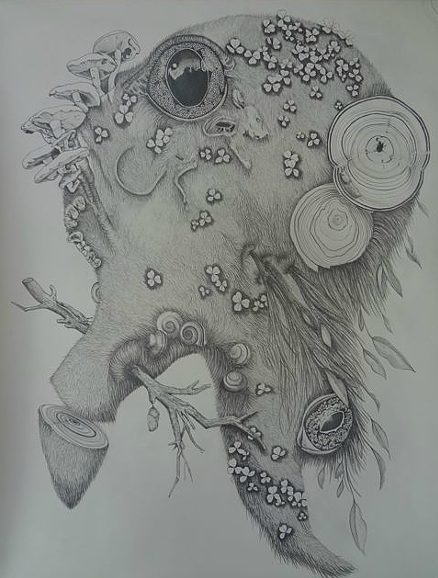 As a young artist, Wicherski is still honing her already impressive skills, but she also mentors other emerging artists through Idaho Parents Unlimited, an organization that "supports, empowers, educates and advocates to enhance the quality of life for Idahoans with disabilities and their families."  As a Master Artist, she calls on experience from her own "dinosaur phase" to connect with and help a boy with autism develop a graphic novel centered on the same subject.  The organization hosts a show every December, where both mentor and protégé display their work.
In the meantime, Wicherski will be participating in Art in the Bar VII, hosted at the Knitting Factory this Saturday, October 6th, starting at noon.  Admittance is free.
While we are currently content to explore a realm of Where the Wild Things Are meets Pan's Labyrinth, like any visual adventure, we dare not to presume where Wicherski work will take us next.  Wherever it is, it's sure to be captivating.
____________________
More at:
www.olivewicherski.com
This interview took place on September 19, 2012
Written by Erin Cecil
Photos courtesy of the artist


To be considered as a featured Emerging Artist in this series, please send bio and one work sample to Rachel Reichert at RReichert@cityofboise.org
Pin It