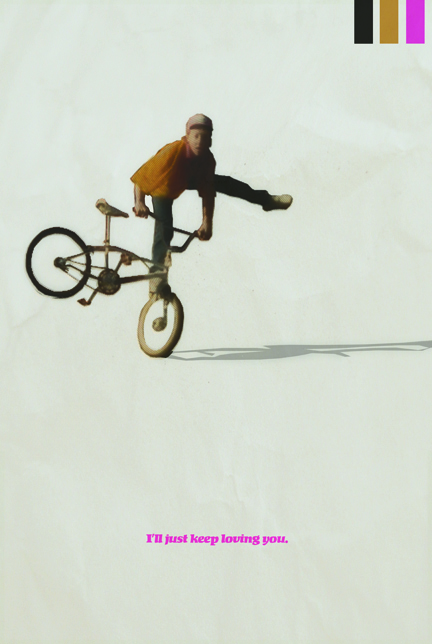 At once timeless and unsettled, the loftiest questions about life continue to both plague and inspire philosophers, scientists, artists and, well, just about everyone.  It seems we're collectively stuck here, spinning, at least for the moment.  There is historical evidence that suggests that death is the only guarantee on which we can depend.  How we get there is up to chance, choice, fate, or something else, contingent upon who you ask.  Artist Grant Olsen may not have the capital A Answers, but he has penetrating questions to help us along and he asks them in vivid color.
Olsen blends weight and depth with humor in a brushstroke to form his visual inquiry.  He explains that if his concepts weren't executed with tongue in cheek, they might be outright awful.  A found paint-by-numbers depicting a daytime scene of a lighthouse and distant ship was altered to read, "You are never too sad to shower."  By confronting the morose with a clever little smirk, Olsen's intention is never to assault or depress.  Much to the contrary, he says his work is a way to sort out everyday life and the process always begins with a mantra of sorts:  It's not so bad.
It's this ostensibly simplistic positivity that underlies each question symbolically posed within the parameters of Olsen's canvas.  He doesn't want to give you answers; he wants to spark introspection and awareness so you come to them on your own.  Through a kind of artistic shepherding, Olsen is in charge of rounding up our attentions into a field defined by bold colors, pared down imagery, contrast, and ideas.  If this sounds somewhat vague, that's because it's meant to be.  After all, a shepherd doesn't tell his flock which blades of grass to eat or where to lie down and rest, he simply provides them with the space in which to do so.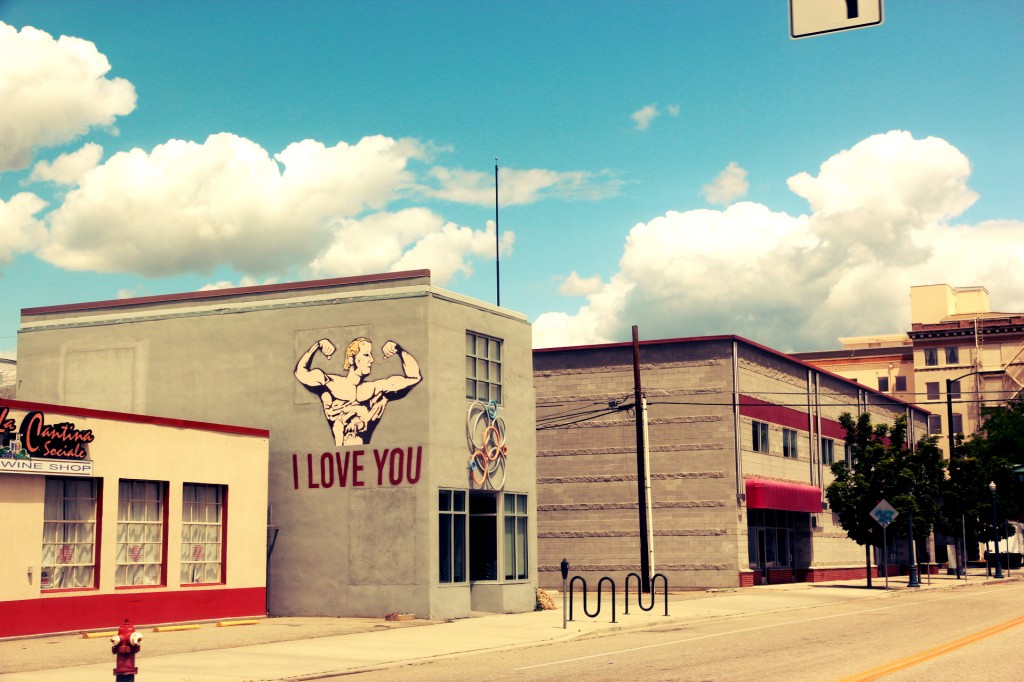 Olsen's work is sprinkled throughout town like beacons of precious thought amongst the sometimes mind-numbingly mundane.  He was a recent recipient of a traffic box wrap, located at 14th and Main Street.  A particularly inquisitive work, appropriately, even if long-windedly entitled How do you feel about yourself?  What will you do with your life? is a part of the Boise Visual Chronicle, which can be viewed on the Main Street side of City Hall.  You may have furrowed your brow or chuckled at his mural of an amorous muscle man near the corner of 11th and Front Street.  We just want to say, we love you too, Grant Olsen.
____________________
This interview took place on October 18, 2012.
Written by Erin Cecil
Photos courtesy of the artist and the kind folks at stayweirdboise.com