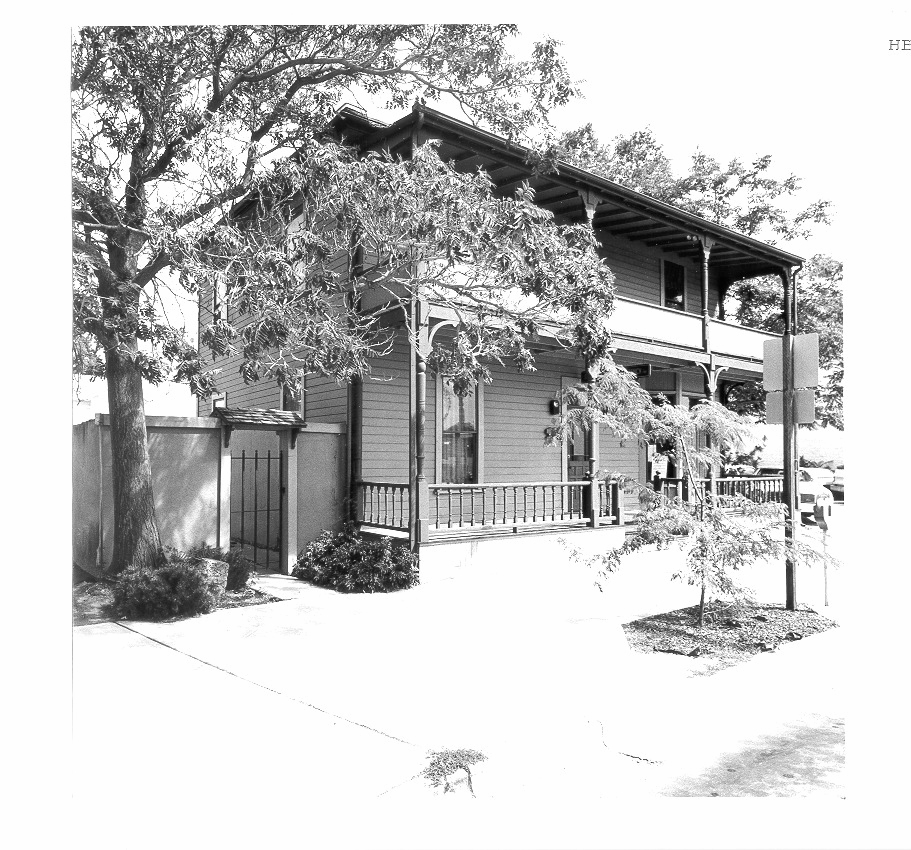 Political tension in the homeland encouraged Basque migration to the United States, and to Boise, in the 19th century.  Young, single Basque men immigrated in the thousands, finding work in Idaho as sheepherders and sheep men.  The peak of Basque migration came in 1920 when Congress passed an anti-immigration act that meant to protect American jobs.  But by then the Basque people were pretty well established in Boise and in the American north west.  At the turn of the century successful Basque laborers began investing their earnings in ways that met their fellow countryman's needs in an unfamiliar place.  Boarding homes and Inns are part of the history of the American West, and for nearly one hundred years the Basque operated well more than a dozen successful hotels in Boise.
By 1910, at least six Basque boarding houses were listed in the city directory.[1] [#1-8] There was an increase in migration again after WWI and II when the agricultural industry experienced labor shortages, again Basque's were coming to Idaho to work as sheepmen.  By the 1940s  there were 10-15 Basque boarding houses located in and around Boise. [#9-17]
#1 & 1a. Built in 1890-1895, the Aguirre House at 918 Idaho Street was owned and operated by Frank Aguirre and his wife for several decades. [google maps]
The Star Rooming House, at 512 West Idaho Street, was also built in 1895 and was open until 1973.  It has since been preserved and renovated. [google maps]
#2. Between 1905 to 1912 Mateo and Adriana Arregui ran the Capitol Boardinghouse at 706 ½ Idaho Street.  It was run together by two families for another fifty years.  The building was demolished in 1965.[2] [google maps]
#3. In 1909 Juan Anduiza's City Lodging House was located on North 9th Street, and later in 1912 at  216 South 9th Street, where 42 'residents' were listed.[3] [google maps]
#4. In 1910 the historical Cyrus Jacobs house, one of Boise's earliest homes, was turned into a boarding house by Simόn and Josefa Galdos, who ran it until 1918 when it became the Uberuaga's.  It was open for another fifty years, and the house stands a central element to the Basque Center downtown.[4] [google maps]
#5. In 1911 Juan Uberuaga ran Saracondi's Boarding House, located at 211 South Sixth Street.  The Uberuaga family continued to run the house over the next decade.  Today there is a tattoo shop on the ground floor and a residence above. [google maps]
#6. In 1912 there were 238 Basque 'residents' living at Barbero's, also known as the Modern Hotel, located at 613 1/2 West Idaho Street.[5] The Modern Hotel was later run by Benito and Asuncion Ysursa, and then by Tomas and Antonia Usursa from 1927 to 1940.  The building was demolished in the 1970s and replaced with the current City Hall building.[6] [google maps]
#7. In 1912 there were 43 'residents' at the DeLamar Rooming House (the old CW Moore mansion) at 807 Grove Street.  Antonio Letemendi managed the DeLamar for many years.[7] It operated from 1912 until it was demolished in the 1970s despite local attempts to save it. [google maps]
#8. In 1914 a new boarding house at 614 Grove Street was opened, it reportedly had an indoor jai alai court. [google maps]
#9. In 1939 Antonio and Leandra Letemendi, who had operated the DeLamar for years, moved to 521 Grove Street, where they operated Letemendi's, owned by Gus Urresti, who was at that time police captain.[8] The building was demolished in 1972.  [google maps]
#10, 11 & 12. Jayo's was the name of a hotel that moved to several locations, the last was at 612 ½ Main Street, which became the Royal Hotel in the 1940s–it was demolished in 1970s. [google maps]
The Iberia Hotel, later known as the Overland Rooming House was between Front and Grove on 9th Street. [google maps]
Arego's was on Front across from the old train depot near 10th Street. [google maps]
13. The Valencia, on Idaho Street between 6th and Capitol, was owned by Benito Ysursa, the boarding house was on the main floor and the restaurant was located upstairs.[9] [google maps]
14 & 15. The Del Rio, located at 716 ½ Main Street, was run by the Sabala family until it was demolished in the 1950s when Falk's Department Store tore it down to expand their own building.  [google maps]
The Sabala family moved the Del Rio to 910 Grove, and worked their rooming house until 1969 when the city demolished it along with the Blue Bird Rooms and several other hotels downtown. [google maps]
16 & 17. In the 1970s the DeLamar was one of last remaining rooming hotels, along with the Viscaya, at 1311 W. Jefferson Street, the 2-story home of Juan and Christina Uscola and their two children.  5 rooms were "kept ready" where guests would be welcome to stay for days or weeks.[10] [google maps]
And finally, in 1980 Nicasio Berstain left his job as operations manager for Garret Freightlines to open a boarding house and traditional Basque restaurant at 6th and Main Street in the old Statesman building.[11] It was not terribly long-lived but it is said to have revived the establishment of the familiar cuisine in Boise.[google maps]
Boise celebrates its rich Basque history, and recognizes that the Basque Center downtown represents only a small portion of the enormous historical contribution the Basques have in building Boise's commerce, culture, and community.
How to cite this article:
The Boise City Department of Arts & History (A & H) owns all content on the A & H website. All materials, including essays and images, may not be reproduced in print or electronically without written permission from A & H. If an article is being used as a source for original research it must be cited in the bibliography. To cite an article follow these general citation guidelines:
A & H Staff, "Title of the Essay" Boise City Department of Arts & History. URL, accessed [date].
Example:
A & H Staff, "Link's Modern Business College" Boise City Department of Arts & History.http://www.boiseartsandhistory.org/history/research-collection/enterprise/business-industry/link's-modern-business-college/, accessed 25 March 2013.
---