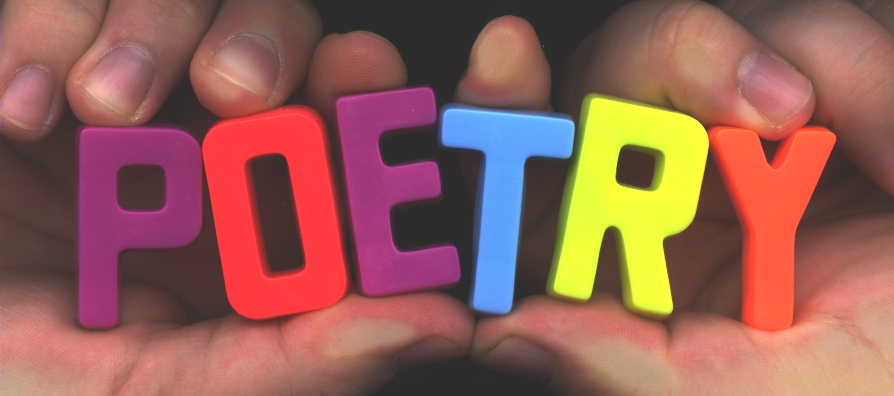 The Academy of American Poets established April as National Poetry Month in 1996. That same year, President Bill Clinton proclaimed National Poetry Month on April 1 to "…celebrate not only the unsurpassed body of literature produced by our poets in the past, but also the vitality and diversity of voices reflected in the works of today's American poetry…". Ever since, the Academy of American Poets has encouraged participation in National Poetry Month through public proclamations, media attention, and individual and collective projects and initiatives to promote awareness of and appreciation for poetry's important place in our culture.
Join us this month in celebrating National Poetry Month… here's how:
Scroll down to view poets reciting some original works who represent A&H grant funded organizations (Big Tree Arts, Ghosts & Projectors, and Idaho Writers' Guild).
Post a poem (original or not) at the Sesqui-Shop between April 4 – 24 for Poem in Your Pocket Day. The Sesqui-Shop is open Tuesday – Saturday, 12noon-6pm. You can also share your poem with us via social media (#boiseartsandhistory). If you need inspiration or a poem on the fly, visit the Academy of American Poets website to sign up for their "Poem a Day" email or download ready-to-go pocket-sized poems.
Night of the Rodeo Queen by Sharon S. Brown  (Idaho Writers' Guild )
Read poem
Sharon S. Brown lives on the dreamy, poetic side of life. Prone to flights of fancy, she yearns to be a best-selling novelist or world renowned Egyptologist or popular TV travel show host. She also finds pleasure in pouring out her heart and soul in poetry, writing in a variety of genres. Her cowgirl poetry is drawn from childhood memories of life on a cattle ranch. More of her cowgirl poetry can be found here (cowboypoetry.com/sharonbrown).
Author's note: I wrote Night of the Rodeo Queen in memory of my mother, Betty Jean Tippett, who was Rodeo Queen of the 1940 Lewiston Roundup in Idaho.  She was also rodeo princess at the 1938 Pendleton Roundup in Oregon.
© 2008, Sharon S. Brown This poem may not be reprinted or reposted without the author's written permission
Crawfishing on the Boise by Kristen Lynch (Idaho Writers' Guild)
Read poem
Kristen Lynch has lived all over the United States (East Coast, Deep South, MidWest, Northwest, West Coast and the Mountain States), but is thrilled to have called Boise, Idaho home now for over the last ten years. Due to the abundance and proximity of unbridled wilderness that southwest Idaho has to offer, nature has been the inspiration for most of her poetry, short stories as well as her historical fiction novel, "Silver".
© 2014, Kristen Lynch This poem may not be reprinted or reposted without the author's written permission
From American Amnesiac by Diane Raptosh (Ghosts & Projectors)
Read poem
Diane Raptosh's fourth book of poetry, American Amnesiac (Etruscan Press), was longlisted for the 2013 National Book Award. The recipient of three fellowships in literature from the Idaho Commission on the Arts, she was selected to be the Boise Poet Laureate (2013) and currently serves as the Idaho Writer in Residence (2013-2016). Her poems have appeared in numerous literary journals, including Women's Studies Quarterly, Michigan Quarterly Review, Terrain.org, OccuPoetry, and the Los Angeles Review. Her work has also been anthologized widely in such places as New Poets of the American West, Mamas and Papas: On the Sublime and Heartbreaking Art of Parenting, Classifieds: An Anthology of Prose Poems, and The Glenn Gould Anthology. Her website: www.dianeraptosh.com
© 2013, Diane Raptosh This poem may not be reprinted or reposted without the author's written permission
Directions on Letting Go by Samantha Whittaker (Big Tree Arts)
Read poem
Samantha J Whittaker is an author and poet based in Boise Idaho. She draws inspiration from all aspects of her life and believes that her writing is a natural and essential part of who she is. With it she hopes to inspire people from all walks of life and open doors that would have otherwise remained locked.  Look for her book Bomb Shelters and Butterflies:  A Poetic View to be released in the month of April.
© 2014, Samantha Whittaker This poem may not be reprinted or reposted without the author's written permission
___________________________________________________________
Learn more about National Poetry Month, Poem in Your Pocket Day, and other poetry-related endeavors here: