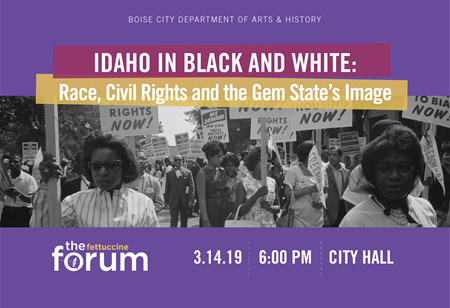 Date: 3/14/2019 6:00 PM - 3/14/2019 7:30 PM
Cost: Free
Find it on Facebook
Idaho in Black and White: Race, Civil Rights and the Gem State's Image
Please join us at the March 14, 2019 Fettuccine Forum as Professor Jill Gill presents Idaho's role in the history of the civil rights struggles throughout the United States. 
Idaho's nationally-known "image problem" on race stems from a long-running pattern rooted in the state's full history that far surpasses its two decades-long struggle with the Aryan Nations. However, this history remains largely unknown as well as politically problematic. This lecture explores Idaho's historical role in America's struggle over civil rights for African Americans, its long political ties with the South on race, local civil rights efforts for racial equality, and the patterned cycles embedded in these that continue today.
Dr. Jill K. Gill is professor of history and director of the Marilyn Shuler Human Rights Initiative at Boise State University. She teaches courses on race, human rights, American religious history, social movements, and the 1960s. Her current book project explores the history of black/white racial dynamics in Idaho from territorial days to the present
WHEN & WHERE
Thursday, March 14, 2019
Boise City Hall (150 N Capitol Blvd.)
Maryanne Jordan Council Chambers, Third Fl.
Doors open at 5:30 PM
Presentation begins at 6:00 PM
Free and open to the public

About the Fettuccine Forum
Boise State University College of Social Science and Public Affairs began the Fettuccine Forum in 1989 as a lunch-time lecture at Noodles, a popular Italian restaurant. Mayor David Bieter's father, Pat Bieter, was one of the early founders, along with his friend Pug Ostling. In 2003, Mayor Bieter relaunched the Fettuccine Forum with support from the Department of History at Boise State University as a First Thursday event, produced by the Office of the City Historian. In 2008, the newly-formed Department of Arts & History took over the role. The Fettuccine Forum remains a lively and informal gathering, which invites the public to interact with politicians, artists, historians, activists, advocates and professionals in an effort to promote good citizenship and responsible growth through education. Support from the Office of the Mayor, Boise State Public Radio and the Boise State University History Department all make the Forum possible.
The City of Boise encourages persons with disabilities and those who require language assistance to participate in its programs and activities. If you anticipate needing an accommodation, please contact Jennifer Yribar, 208-608-751 or email jyribar@cityofboise.org, as soon as possible, but no later than 72 hours before the event.
Homepage image: Civil Rights March On Washington DC 1963, Courtesy of Library of Congress