Boise Center for Arts & History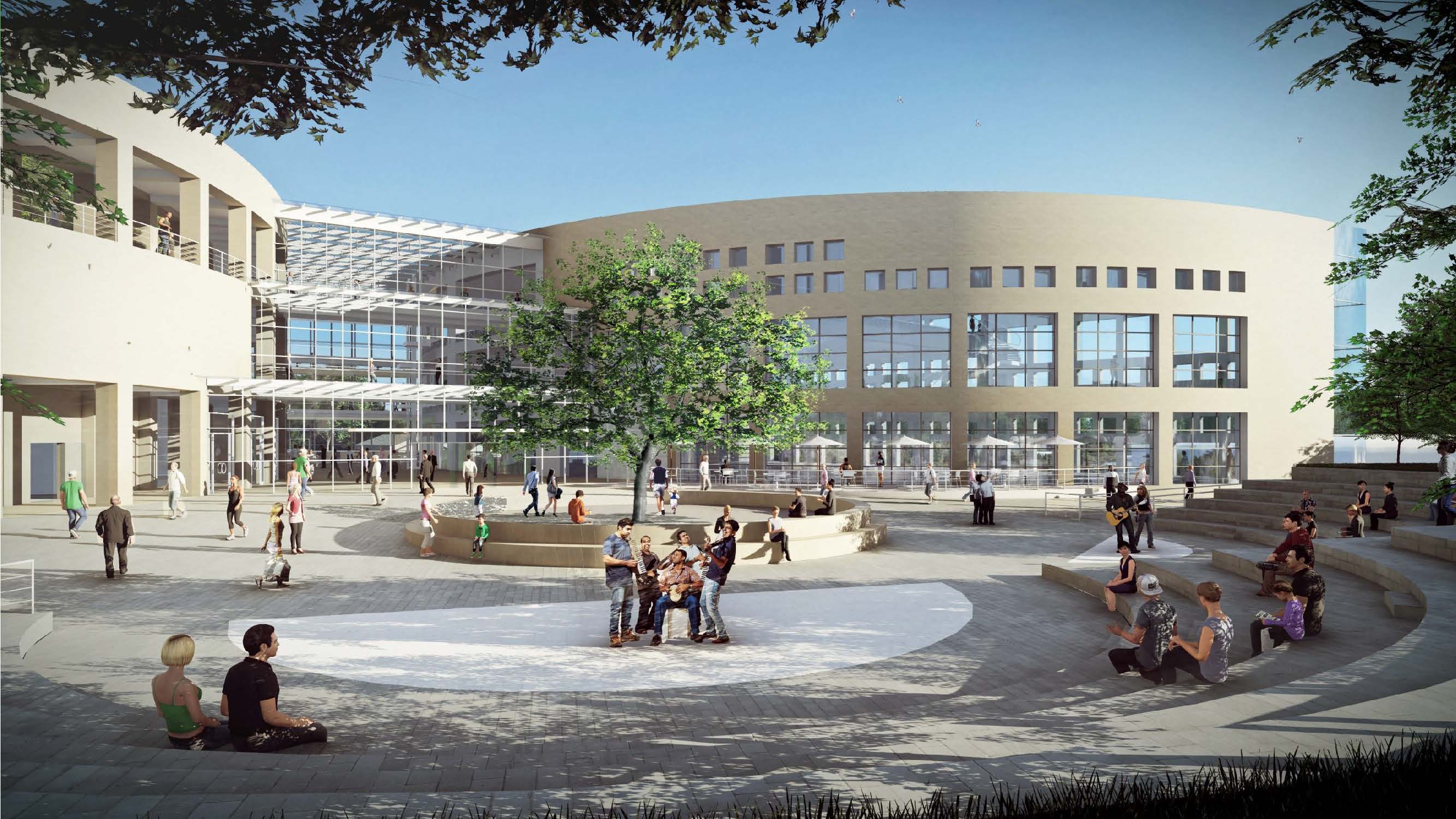 Entry Plaza at River Street
Design concept by Safdie Architects
Home to a new 21st-century Main Library and Center for Arts & History, Boise's library campus will serve as a public center for knowledge, culture, and ideas. It will be a gateway to the city, but also a gateway to our history, to new experiences, and to the ideas that shape our future. Its spaces and services, located in the heart of Boise's Cultural District, will be available to anyone, yet distinct to our corner of the world.
FACILITY
Boise Center for Arts & History
Community Value
Administered by Boise's award-winning Department of Arts & History on the campus of the New Main Library, the Boise Center for Arts & History will focus on the community to:
Reinforce a sense of place by telling the local story and caring for our shared history
Celebrate Boise's character by enhancing public understanding of the role arts, history and culture play in creating a dynamic high-quality community
Foster engagement through exceptional local arts, history and cultural programming
What's in it?
Dedicated Cultural Information Center to bring residents and visitors together in a learning environment
Gallery space to showcase the work of local artists, historians, and other professionally curated exhibitions
Home of the Boise City Archives, providing public access to records and papers of enduring value
Conservation Lab to protect and care for the City's collection of artworks and historic assets
PROJECT UPDATE
On Aug. 16, 2019, Mayor Bieter paused planning on the Library Campus project pending further exploration of the best  path forward for the project. To learn more, please follow the link below to the Library Campus project update page at CityofBoise.org.
FAQs
Why now?
Originally built as a hardware warehouse in the 1940s, the current Main Library was converted to a library in 1973. With increased attendance and program participation, the building no longer meets the needs of a growing population or keeps pace with the ever-evolving programming, technology and services of a modern-day library. At the same time, the Boise City Department of Arts & History, as a catalyst for bringing people together through a variety of cultural offerings, is not immediately accessible to the public in its current location. Together with the Library, a center for Arts & History will anchor and strengthen the vitality of the Cultural District with a dedicated space for local arts, history, cultural resources and programming.    
Will the Boise Center for Arts & History duplicate services?
Administered by Boise's award-winning Department of Arts & History, the Center for Arts & History will focus on exploring local, place-based culture through arts, history and cultural programming. While the Idaho State Historical Museum focuses on state history and the Boise Art Museum on regional and national fine arts and visual exhibitions, the Center will act as a complement to the larger Cultural District, showcasing the work of local artists, historians and community members to celebrate Boise's character and ensure a sense of place. 
Will the Library Campus include an Event Space?
While the original Library Campus concept included an event space, the event space is a contemplative space for the future. The current design is being thoughtful to accommodate the future addition of the event space.
Why did the City originally include an Event Space?
In 2017, the City of Boise worked with AMS Planning & Research to conduct a feasibility study for a performing arts facility in Downtown Boise. Through input received from 35 stakeholders, including leading arts and cultural organizations in the area, expectations were identified for a facility that is:
Financially accessible for artists and audiences
Accommodating to a variety of disciplines and delivers a quality experience
Appropriately sized for users of varying technical sophistication
Takes advantage of the library site and associated City support and momentum 
The emerging design implications resulted in a changeable configuration able to seat approx. 300 to meet the greatest number of projected use days and a diversity of forms and styles.
Read the 2017 AMS Performing Arts Facility study.