Center for Arts & History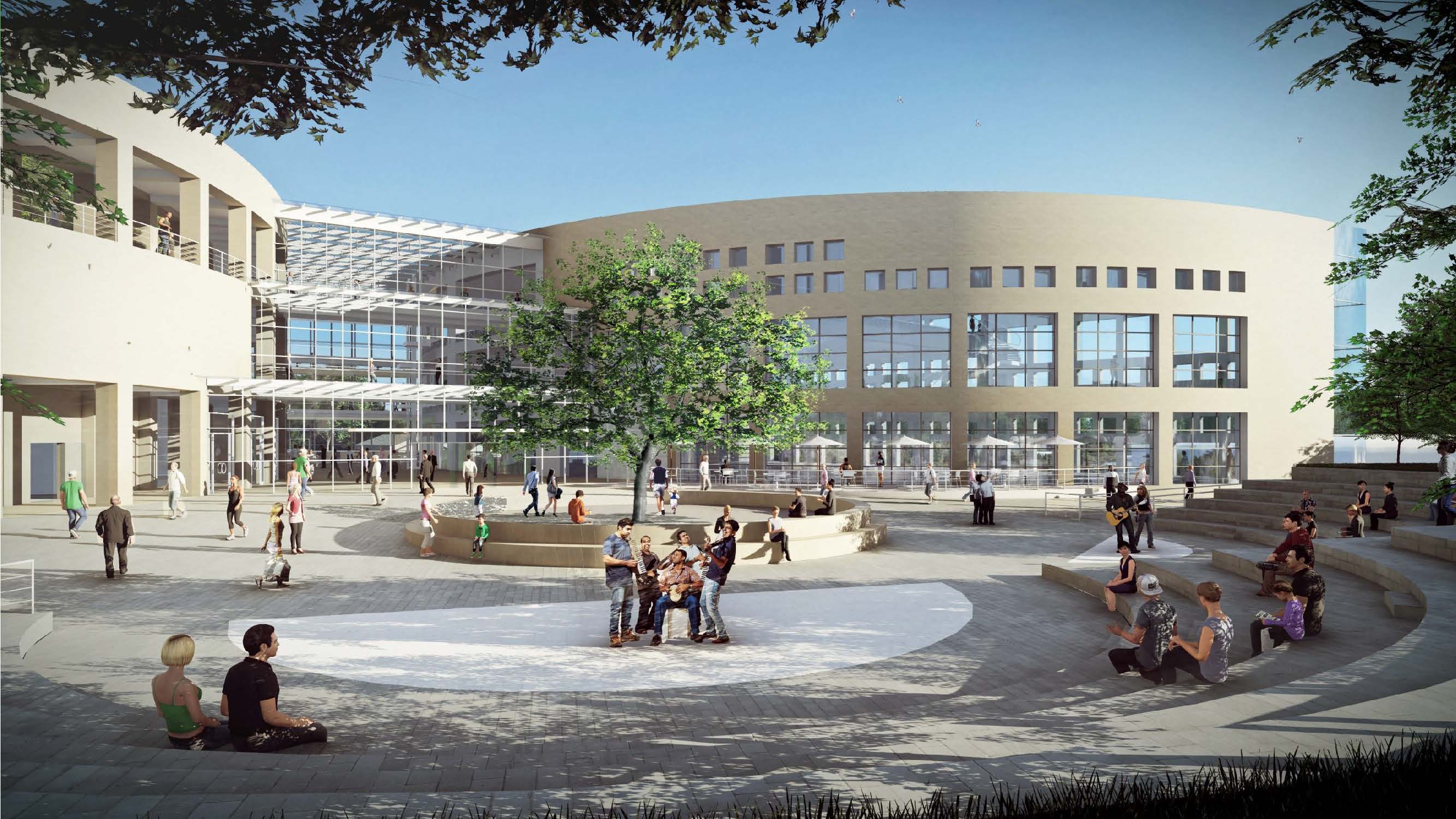 Entry Plaza at River Street
Design concept by Safdie Architects
Home to a new 21st-century Main Library, Center for Arts & History, and shared event space, Boise's library campus will serve as a public center for knowledge, culture, and ideas. It will be a gateway to the city, but also a gateway to our history, to new experiences, and to the ideas that shape our future. Its spaces and services, located in the heart of Boise's Cultural District, will be available to anyone, yet distinct to our corner of the world.
Project Goals
DESIGN a modern and innovative new Main Library, Boise Center for Arts & History, and shared event space that serves as an iconic gateway to the city of Boise.
CREATE a public gathering space for Boiseans and a destination for out-of-town visitors.
Serve as a CONNECTION point—a public center for knowledge, culture, and ideas in Boise, physically linking the city's cultural, natural/recreational, and educational resources (the Cultural District, Boise State University Campus, Boise River, Greenbelt and Julia Davis Park).
Develop a SUSTAINABLE facility that meets city energy goals, and demonstrates a commitment to community health and public involvement.
Complete project within the parameters of capital and operational budgets.
FACILITIES
A 21st Century Library! 
Approx. 115,000 sq. ft.
To keep pace with evolving library practice and meet the needs of a growing population, the new Main Library will be built on access, innovation, and knowledge acquisition and application.
A Gathering Space connecting each facility with shared café, retail, and programming opportunities.
An Automatic Storage and Retrieval System (ASRS) will expand the library collection using a fraction of the space needed for traditional storage.
An expanded archive collection with space for Research Rooms and Archival Studies.
Maker Labs and smaller Maker Pods to launch new ideas that fuel innovation in Boise's local economy.
Emerging technology experiences
Center for Arts & History
Approx. 22,000 sq. ft.
Community Value
Administered by Boise's award-winning Department of Arts & History, the Center will focus on the community to:
Reinforce a sense of place by telling the local story and caring for our shared history
Celebrate Boise's character by enhancing public understanding of the role arts, history and culture play in creating a dynamic high-quality community
Foster engagement through exceptional local arts, history and cultural programming
What's in it?
Dedicated Cultural Information Center to bring residents and visitors together in a learning environment
Gallery space to showcase the work of local artists, historians, and other professionally curated exhibitions
Home of the Boise City Archives, providing public access to records and papers of enduring value
Conservation Lab to protect and care for the City's collection of artworks and historic assets
Retail shop carrying books and gifts inspired by our community and our collections
Event Space
Approx. 18,000 sq. ft.
In 2017, the City of Boise worked with AMS Planning & Research to conduct a feasibility study for a performing arts facility in Downtown Boise. Through input received from 35 stakeholders, including leading arts and cultural organizations in the area, expectations were identified for a facility that is:
Financially accessible for artists and audiences
Accommodating to a variety of disciplines and delivers a quality experience
Appropriately sized for users of varying technical sophistication
Takes advantage of the library site and associated City support and momentum 
The emerging design implications resulted in a changeable configuration able to seat approx. 300 to meet the greatest number of projected use days and a diversity of forms and styles.
THE ARCHITECTS
Safdie Architects
Safdie Architects is an architecture and urban design studio imbued with a spirit of idealism and innovation. The practice is research-oriented and forward thinking, drawing upon a depth of experience to solve contemporary building challenges in imaginative and unexpected ways.
Based in Boston, with offices around the world, Safdie Architects is active in a wide variety of project types, scales and sectors, designing museums, cultural centers, libraries, and master plans in geographically and culturally-diverse places. The studio's projects around the world have become beloved resources and symbols of their communities as well as regional and national landmarks. Recent library and civic projects include the Salt Lake City Public Library, the Kauffman Center for the Performing Arts in Kansas City, Crystal Bridges Museum of American Art in Bentonville, Arkansas, and Vancouver Library Square.
Hear Moshe Safdie, architect of the Boise Library Campus, explore his humanistic philosophy of architecture and urbanism focusing on the design of the public realm and the impact his civic projects have had on communities around the world. 
Cultural Institutions as Community Catalysts by Moshe Safdie
CSHQA
CSHQA is an award-winning design firm specializing in full-service architecture and engineering, interior and environmental design, landscape architecture, telecommunications, and building forensic services. The firm designs civic, education, multi-family, commercial, retail, hospitality, aviation and healthcare projects and serves clients in all 50 states with offices in Boise, Denver, and Sacramento.
PROJECT TIMELINE
Spring 2017
Develop Building Program Statement
Fundraising Feasibility Study
Visioning Workshops
Winter – Spring 2018 
Hire Architect
Design Concepts
Summer 2018 – Fall 2019
Open Houses & Public Input
Advance Design
Fall 2019 – 2022
Groundbreaking
Capital Campaign
Construction
2022
Open Houses
The first series of Open Houses took place July 16-20, 2018. Comments received on or before Monday, July 23, 2018 at midnight (MST) were gathered and forwarded to City leadership for review. The Library and Arts & History will host a second series of Open Houses in Summer 2019. Dates TBA.
FAQs
Why now?
Originally built as a hardware warehouse in the 1940s, the current Main Library was converted to a library in 1973. With increased attendance and program participation, the building no longer meets the needs of a growing population or keeps pace with the ever-evolving programming, technology and services of a modern-day library. At the same time, the Boise City Department of Arts & History, as a catalyst for bringing people together through a variety of cultural offerings, is not immediately accessible to the public in its current location. Together with the Library, a Center for Arts & History will anchor and strengthen the vitality of the Cultural District with a dedicated space for local arts, history, cultural resources and programming.    
Will the Boise Center for Arts & History duplicate services?
Administered by Boise's award-winning Department of Arts & History, the Center for Arts & History will focus on exploring local, place-based culture through arts, history and cultural programming. While the Idaho State Historical Museum focuses on state history and the Boise Art Museum on regional and national fine arts and visual exhibitions, the Center will act as a complement to the larger Cultural District, showcasing the work of local artists, historians and community members to celebrate Boise's character and ensure a sense of place. 
Why include the Event Space?
Through competitive inventory observations conducted by AMS Planning & Research, no one venue has the desired blend of accessibility, sense of occasion, and technical capabilities in Boise. The performing arts sector has great interest in modern technical and acoustic features, but its ability to increase rental fees or other venue costs to upgrade is limited. By the same token, quality user and audience experience is of rising interest, with emphasis on sense of occasion for participants of varying ages, abilities and means. A financially accessible space, accommodating to a variety of disciplines, delivering quality experience and appropriately sized for users has generated the most interest and meets the greatest need. Read the 2017 AMS Performing Arts Facility study.
What's next?
The Library and Arts & History will host a second series of Open Houses in Summer 2019 (dates TBA). You are welcome to follow the project and continue to submit comments through coUrbanize. Updates will be posted on this blog as the project matures – keep following the conversation!