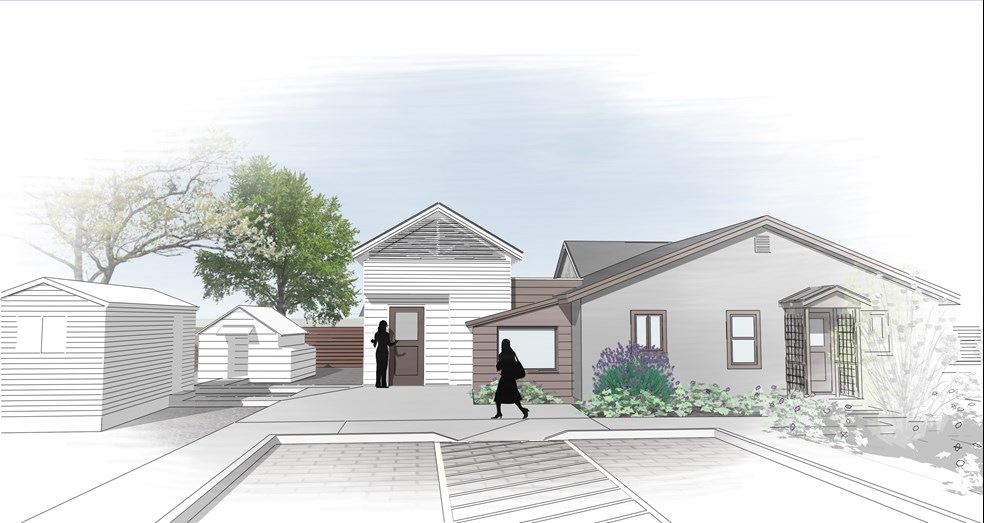 James Castle House Exterior Rendering by Studio Maelstrom
Brought to you by the City of Boise and the Boise City Dept. of Arts & History, the James Castle House will serve as a testimony to the life and work of self-taught visual artist, James Castle. Rooted in Castle's sense of wonder and discovery, the James Castle House extends support and environmental sanctity to emerging artists and other individuals exploring innovative ideas and experimental works. The experience of our place-based programming offers visitors an authentic context for the illustration of the James Castle story, by the preservation of Castle's environment.
James Castle (1899-1977) was a self-taught artist, born deaf in the tranquil settlement of Garden Valley, Idaho nearly 120 years ago. Presumed to have very little language, Castle communicated primarily through his production of images drawn on found materials, such as discarded mail and food containers, with an improvised ink of his own saliva tempered by soot from the wood burning stoves of the various residences that quartered him throughout his life. His distinct drawings, assemblages, and books explored the interiors of buildings, the external landscapes, and the animals and people that filled his environment, and yet Castle's work equally explored his own interior, the housing of a soundless landscape which he appeared to roam by touch, such was the tactile and immediate, yet practical nature of his artistic impulse.
Read more about James Castle, take a Virtual Tour of the house before construction began, or to learn more about the Boise property, Follow along at #JamesCastleHouse or contact Rachel Reichert at 208-608-7046.
ABOUT THE JAMES CASTLE HOUSE
The James Castle House in Boise, Idaho will open Spring of 2018. Offering diverse educational opportunities, exhibition space, and residency programs, the James Castle House will preserve the home of self-taught artist James Castle while supporting emerging artists with an authentic context for better understanding the interplay between environment and creative process.
Located in Boise's Pierce Park neighborhood, adjacent to the historic North End, the James Castle House will consist of the Castle family home, two historically significant outbuildings where Castle worked, and an outdoor extension offering event and convening space. The home itself dates back, in part, to the early 1900s, and will feature a guest room accommodating the residency program, an artist studio, an exhibition space, and a tastefully stewarded book shop.
JAMES CASTLE RESIDENCY PROGRAMS
The James Castle House will offer esteemed residencies throughout the year. Residency Program applications will be available Winter of 2017/18.
The Artist-in-Residence Program will support emerging, practicing artists of diverse ages, backgrounds and disciplines as they live and work at the James Castle House in three-month rotations. Resident artists will receive the space, time, and contemplative allowance suited to the James Castle legacy.
The Community-Engaged Residency Program will support individuals whose lives and work blur the lines between art, history, and the social practice of community-born projects and research. This program will provide opportunities for individuals of diverse ages, backgrounds and disciplines from within the United States to live and work at the James Castle House for one to three-month periods as they develop community-based and organizational relationships, and ignite conversation around history, culture and place.
EDUCATION AND TOURS
Educational programing at the James Castle House will consist of workshops, conversations, classroom activities, and guided tours of the artfully-restored main living quarters, shed, and trailer where James Castle produced most of his known work. Public tours will be available twice a week, with additional, private tours made available by appointment.
EXHIBITION
The James Castle House will be among the nation's most dynamic centers of curation, with permanent and special exhibitions related to James Castle's life, including those developed from the work of residents. Art, objects, photographs, and documents of the highest aesthetic standard will combine with accessible and innovative public engagement and education.
BOOK SHOP
The James Castle House Book Shop will be a stewarded space containing source material of a spectrum, to include architecture, photography, music, contemporary art, exhibition catalogues, monographs, theory publications, illustrations, children books, and the realm of visual design. The James Castle House Book Shop will support the James Castle House and its programming.