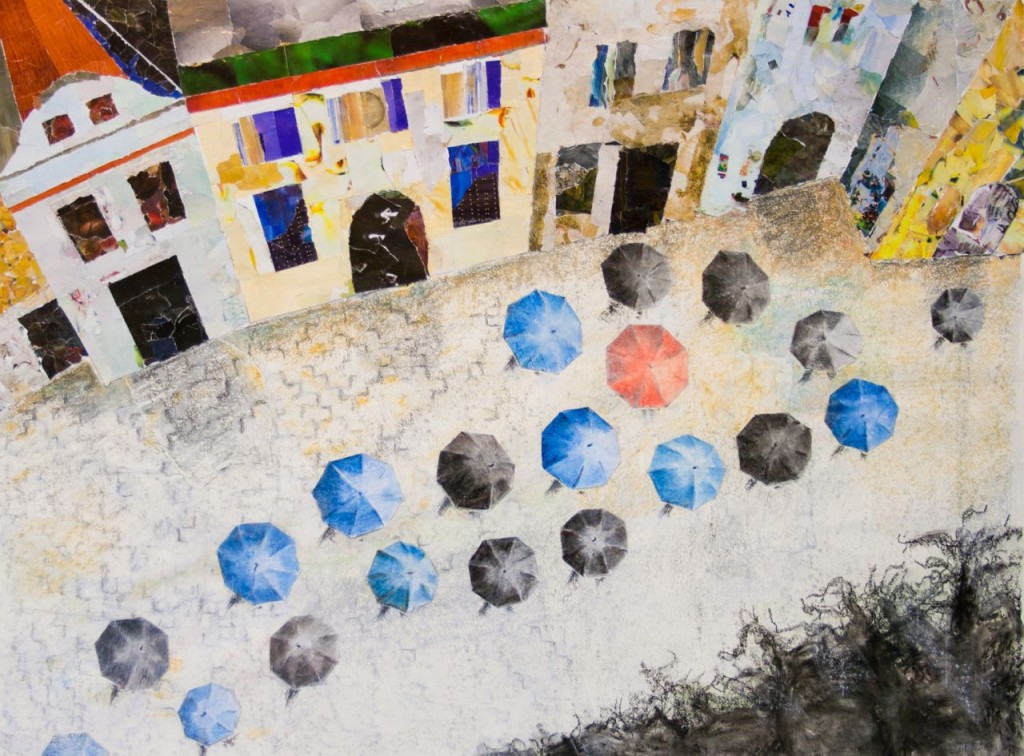 She rips and pastes.  She presses and paints.  She sings and sews.  She writes poetry and prose.  And she's really, really good at math. This multi-faceted woman is Theresa Burkes.
As a child living in France, she stood out because of her brightly colored dress, earning the moniker, "la fille rouge," from the local schoolboys.  Now, she could be called, "la femme rouge," because she is red-hot on fire with all she's doing these days.
To continue the list of her accomplishments, she was recently elected to the Treasure Valley Artists' Alliance's Board of Directors and she is the featured artist for July at the Masterson, Schiffler, Burkes Studio. This First Thursday, July 5th, she will showcase her work in an exhibit entitled, Shreds and Threads, and invites visitors to engage in a shredded collage demonstration.  We caught up with her as she was making preparations for her upcoming show.
Boise Arts & History:  How long have you been making art?
Theresa Burkes:  My mother is an artist.  She taught us catechism by drawing when I was a little girl [laughs].  She made things and she painted. We lived out in the country, in Karnack, Texas, near Uncertain, Texas.  My father was in the military and he was "Ordnance," which meant you had to be way outside of town because ammunition is explosive.  When I was in the 4th grade, there were no other kids my age around, so I had to entertain myself.  My mother used to get McCall's Magazine every month.  So, I'd get the magazine and I'd cut out the paper dolls with the dresses – Betsy McCall, they called it.  Eventually that wasn't enough, so I started making my own dolls, my own dresses, hats, shoes, and all that with colored pencils.  Then, I started drawing people.  I really liked drawing faces.  I just got into it.  I didn't start painting until after I moved to Boise, around 2000.  I took a class here and there, and I took lessons from Gary Holland, who's a portrait artist here in town.  I was really going on that – painting — but it wasn't enough.  I needed to go to school and get a foundation.
BA&H:  What helped you decide to apply for this residency?
TB:  I thought it would be the next step.  I still consider myself an emerging artist.  I've been taking classes at Boise State University in Art.  It's my second degree.  My first degree is in Mathematics.  I was a software engineer and retired a few years ago.  So, I started at BSU and things started to really click.  It's a really cohesive program.  You learn the fundamentals and they keep hammering on those until you finally internalize what they're teaching.  They also teach a lot of conceptual art, which I love.  When I took Printmaking, my art started to get some attention.
I also joined the Treasure Valley Artists' Alliance, which helped.  It's an artist organization comprised of artists of all different disciplines.  They have a meeting about every other month and they have exhibitions.  I started exhibiting and I started selling in their exhibitions.
So, it started to click last year with the monoprints.  I was starting to sell art and I thought, "Well, I think I should do a residency because if I stay in my own studio I might not have the exposure I need and I'm not mixing with other artists."  Things just started coming together.  I applied last year and didn't get [the residency], but Karen Bubb wrote me a note and told me to apply again, so I did.
BA&H:  You said your first degree is in Math — Do you think that influences your work?
TB:  Yes, in a way many the same skills are required.  A lot of times, artists think they can't do mathematics, or maybe mathematicians would think they couldn't do art, but that's not true because you have to be analytical — especially if you're doing conceptual art — and you need to be creative.  Math is a very creative discipline and people don't realize that because they think it's all arithmetic.  It's not all arithmetic.   It's about problem solving, in general.  And what do you do as an artist?  You're always doing something new, otherwise why would you be doing it?  And you have to solve problems when you do that.  So, it fits.
BA&H:  How did you shift from drawing and painting over to working in collage?
TB:  I was in a drawing class at BSU, and all of a sudden we expanded the definition of drawing.  When I paint, I like to paint with dabs of color and let the color mix in the viewer's eye.  It's not smooth at all.  It's a lot of colors going on.  And I thought, "Why can't I paint with paper?"  I get two art magazines every month and here I am, hoarding those because they have these beautiful images.  There's a lot of color in those magazines, so I started tearing them up and separating the pieces — all my reds, all my blues, all my yellows.  I drew an image and started filling it in with the dabs of color.  Then, all these weird things started happening because there are also images within those colors and it was exciting!
BA&H:  Do you ever insert cryptic messages into your pieces?
TB:  I'm trying to explain [the message] and I want to explain it in an interesting way.  I put up artist statements for June's First Thursday and people really liked that.  I think people like to understand.  Writing a good artist statement is part of what I should be able to do.  It also helps me understand what I'm doing.
I don't usually have much of a plan before I start.  I might have a little bit of an idea of where I want to go, but I like to react and develop and come to an understanding for myself, like, "Oh, that's what I really feel about this."
When I was making The Apron, I had a visceral response; I was appalled.  I asked myself,  "Why?"  It took me a month to make that piece.  As I was tearing up pieces of the [mandatory ultrasound] bill and pasting it down, every piece offended me, no matter how I tore it up.  After ripping it up four times, I realized that I really was angry about it – that someone would think that they could tell me what I could do with my body.
I think I'm becoming more involved in politics, in that way.  I'm responding with art. I did march though, didn't I?  I marched; I marched twice.  I've never done a political march in my life before.  So, I think it is making me more political.  I think maybe I'm becoming a better citizen.
BA&H:  Do you find yourself seeking out more political messages to incorporate into your art?
TB:  No.  I read the paper every day, but I'm not thinking, "Oh, where's the next political message I'm going to do art about?"  Every piece of art I do is personal.  Even though two of my pieces are political, they began with something personal, something I connected to.
BA&H:  How has this residency, so far, affected you and your art?
TB:  Working with the other artists in this studio has given me ideas.  Cassandra Schiffler's Color Field art appeals to me and it's affecting me.  I think I'm becoming more abstract in my art because of her and the Mastersons, and because of BSU's conceptual art teachings.  And I like that.  I'm not being as representational as I was before.
But, what I didn't expect was the exposure.  It has been really, really good.  We had 300 people come to our first First Thursday and then I sold that giant collage [The Red Umbrella].  I never expected that.  So, it has just been wonderful exposure.
I did a printmaking demo during our first First Thursday.  Everybody came through and made prints.  They were beautiful!  We have something interactive like that every month.  People get to see our art, which I love, but they're also seeing that they can make art and I think that's wonderful.  They see that they just have to believe in themselves and allow themselves to do it.
BA&H:  What effect do you hope your art has on those who view it?
TB:  I want them to be able to look at it again and again and again and see something different or new.  I want it to be interesting.  I want it to be something that they want to look at again.  And if they don't want to, then I failed [laughs].  Which is okay.  It's okay to fail.  Try again.
BA&H:  Why do you create art?  What gets released for you in the process of creation?
TB:  I began with entertaining myself.  Later, I found out that when I'm doing representational art, I end up studying the object that I'm drawing.  If it's a person's face, I'm studying their face and what's making that face interesting and what else is going on behind that face.  When I started doing more abstract art, I start with some concept and I wonder, "What is it behind that concept I can express and also how do I personally connect to it?"  So, in the process, I learn about myself and I learn about what I'm looking at or reacting to.  It's always about learning and it's a visual way to do it.
I am also a musician and I write.  So, again, it's about figuring things out.  I started off writing a memoir and then I wrote poetry.  Poetry was a direct connection to how I'm feeling.  It's all about expression.  With short story, I combine memoir and expression.  The Cabin had a competition called Writers in the Attic and I was accepted.  They're publishing an e-book.  The name of my story is The Group.  I discovered that writing is just like visual arts.  It has its own principles that you follow – repetition, variety, etc. – and it's all about figuring things out.
I kind of scatter myself everywhere, but it's all the same creative process.  It just seems like it's endless.  I don't think you ever know yourself completely.  Have you ever done anything that really surprised yourself, like, "Why did I do that?"  Humans and the world are so fascinating.  I just hope I can do it until the end of my life, just keep trying to figure it out.
_______________
See more at www.theresaburkes.com
Written by Erin Cecil
This interview took place on June 16, 2012
Pin It