While exploring the intersections of their creative and experiential paths, sisters Kate and Sarah Masterson naturally found themselves on the subject of family.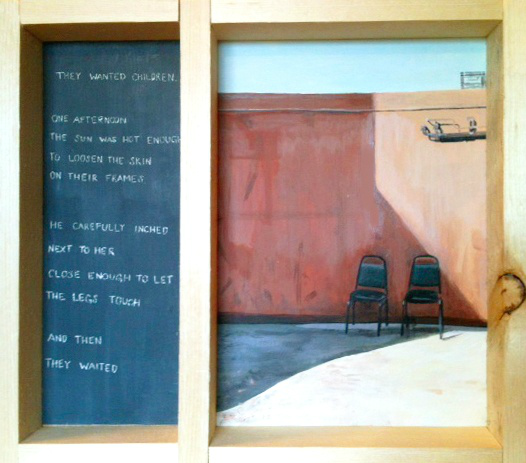 As daughters to a ceramic artist and teacher, they were just tots when they began their expressive endeavors.  As they grew, their focuses diverged.  Kate chose to draw and paint her trail, while Sarah preferred to write about it and found interest in film.  By combining each of their unique artistic strengths with their unique, yet shared memories, their collaborative efforts reflect a special dynamic often present in blood ties.  However, each recollection is deliberately blurred in order to make a specific memory inclusive.
On a recent afternoon, while Sarah was unfortunately out of town, Kate and I sat down to discuss the sisters' collaboration and her independent aspirations.  The smoky air outside complemented the current project Kate was sketching when I entered her studio.
Boise Arts & History: Tell me about these drawings.  Are they from photos?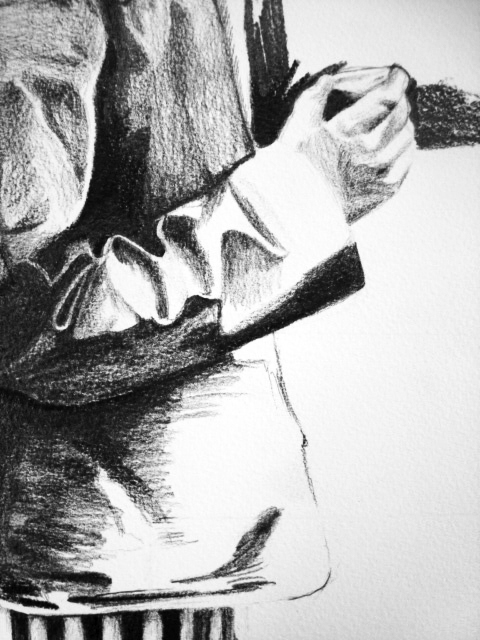 Kate Masterson: They are drawings from found photos of an unknown family.  I loved the quality of the values in this black and white, old,  square format film. They are so lush with really dark blacks.  With the content, the themes seem to be exactly what Sarah and I have talked a lot about in our memories of camping; so we see picnicking and boating and young sisters playing in the sand, and messy, wet hair.  I decided to alter the photos in a way that really eliminated the people.  It's been interesting.  I think that they are kind of cinematic in their composition right now.
BA&H: I could see that; it's kind of wide screen.  To me, it looks like a flash of a memory.
KM: Yeah.  Often our memories are really fragmented like that.  You don't see this continuous scene.  I do like that they're snippets.  They're certainly of a specific era, which I think is hard to avoid when you're drawing from a photo.  That being said, I'm still trying to push it so that it is more of just a memory of family.
BA&H: Aside from the obvious reasons, why did you and Sarah choose to center your residency on the theme of family?
KM: I think we chose this theme so that we would have some parameters for ourselves to explore within and also have a lot of freedom within.  Rather than making it very specific and personal, the challenge for us is to ask, how does this become universal and how does our subject translate to other people?  Because, really, we could just pass a journal back and forth between ourselves and why would anyone else care about our life story?  For me, it was really important to think about that critically and conceptually and present images that could be images that you relate to or that kind of harken nostalgia in another person.
BA&H: Have you collaborated with your sister before?
KM: No.  She and I grew up with a father who is an artist, so we learned side-by-side from him and had a lot of hands-on practice and instruction from the time we were tiny.  Both having that experience in our early childhood, we always yearned to collaborate, but we've gone off in our separate directions, artistically.  As we kind of traveled our own paths, we speculated about how we might collaborate in the future.  The timing was just perfect because [Sarah] moved back to Boise last November, so I suggested that we apply for this residency.
BA&H: In what ways have you two explored your theme?
KM: Specifically, we did a lot of sitting around and thinking about different memories that we both shared.  I think that became a jumping off point for what we initially wanted to focus on.  Some things that stood out to us in our own childhood memories were nostalgia for family camping trips or specific homes that we've lived in, but had different experiences in.  [Sarah] may have had a different perspective on this time in our lives than I did, as the oldest.  Three years apart isn't that much, but when you're young, it can really change the way you're viewing everything and what you understand about the adults in your world.
BA&H: With this residency coming to an end, do you have any plans for after it's over?
KM: I have just moved into a beautiful house with my husband.  Oh my gosh, can I tell you?  It has been such a busy summer with all really fantastic things happening.
BA&H: I heard.  Residency and a wedding?!  You're a brave woman.
KM: I'm just naïve [laughs].  My plans are really to focus on continuing this body of work.  I would love to show in Boise in the future and I'd really like to focus on my discipline as an artist.  The greatest artists I know all have an extremely disciplined practice.  I think that's how you make great strides — by being diligent and respecting your work and your time in the studio, making sure that you're there if it is a struggle or not. So, I think my plan is just to continue drawing and painting.
After having so many things to look forward to, I'm kind of ready to just fall into a routine and see where all this takes me.
_____________________________
The Mastersons will both be present at their final open AiR studio, TODAY from 5pm to 9pm at the 8th Street Marketplace, Northrup Suite 295, above Solid and the Lisk Gallery in BoDo.
See more at kmasterson.com
This interview took place on August 30, 2012.
Written by Erin Cecil
Photos courtesy of the artist
Pin It