Creators, Makers & Doers: Lisa Flowers Ross
Posted on 6/3/15 by Arts & History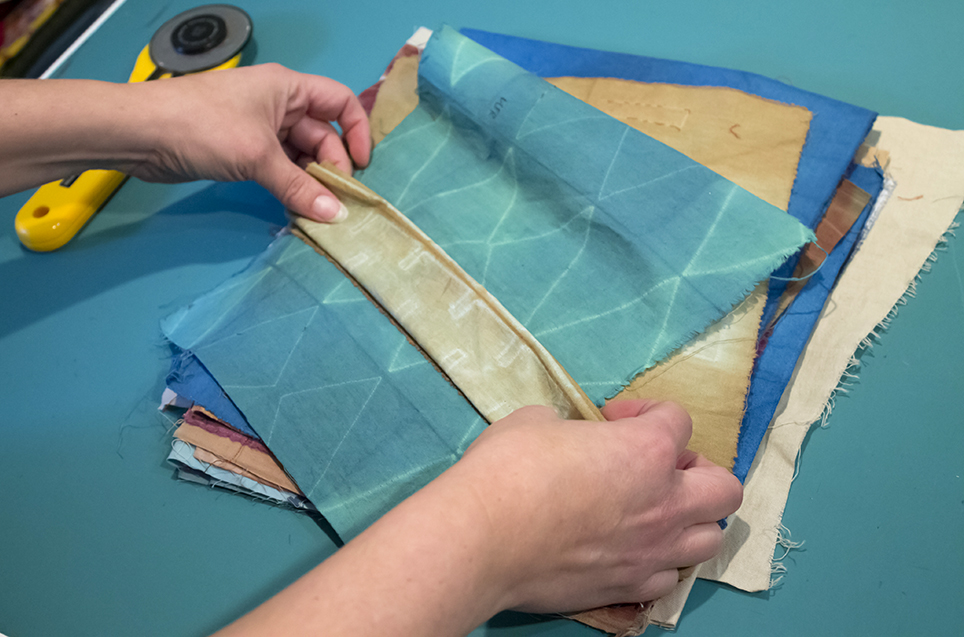 Work spaces come in all shapes and sizes. Be it a small studio carved out of the garage, a backyard addition, or a warehouse, personal space proves to be essential in the creative process. These micro environments quickly become, more or less, an extension of the Artist, reflecting his or her attitudes, interested, favored tools, and supplies. These spaces become non-judgmental work areas, where, for many, messes are welcome and there is freedom for experimentation. Lisa Flowers Ross works from a spare guest room and talks about the limitations of space and challenges of balancing her art practice.
What is your preferred medium? What are you working in now?
Well, I'm mostly working in fabric now. I hand dye the fabric and I cut it up and create original abstract designs.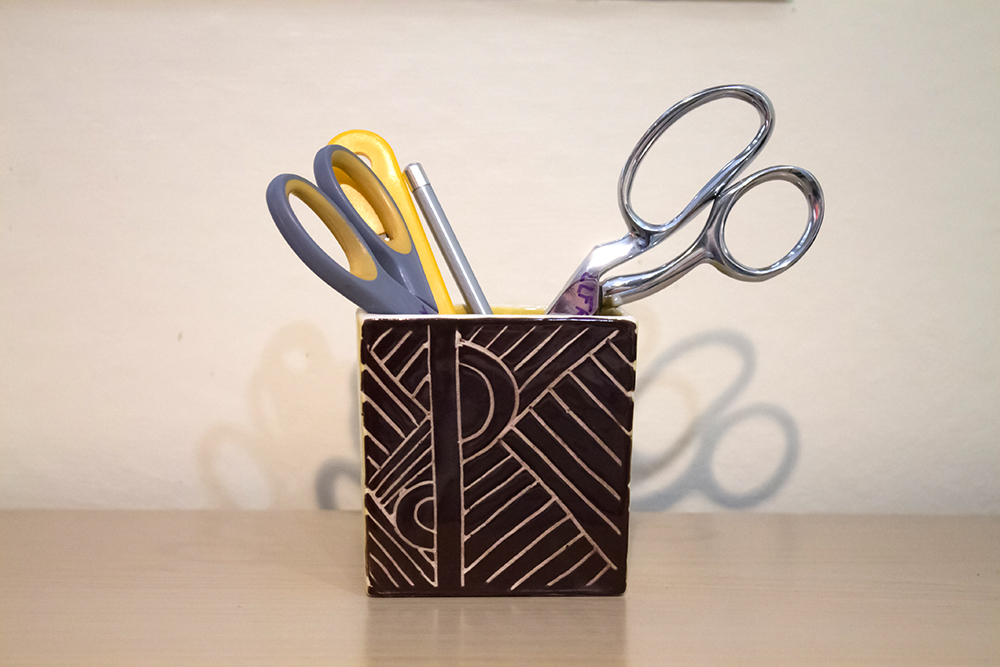 What do you like about fabric?
Well it's very tactile. I think people can really relate to it because we are surrounded in fabric from birth. There are a million things you can do with it. You can cut it, stitch it, fold it, drape it, print on it, dye it, shibori it, stiffen it, and make it 3D. There's just a lot of stuff you can do with it. To me, it's more of the tactile nature. I like the feel and the texture of the stitching.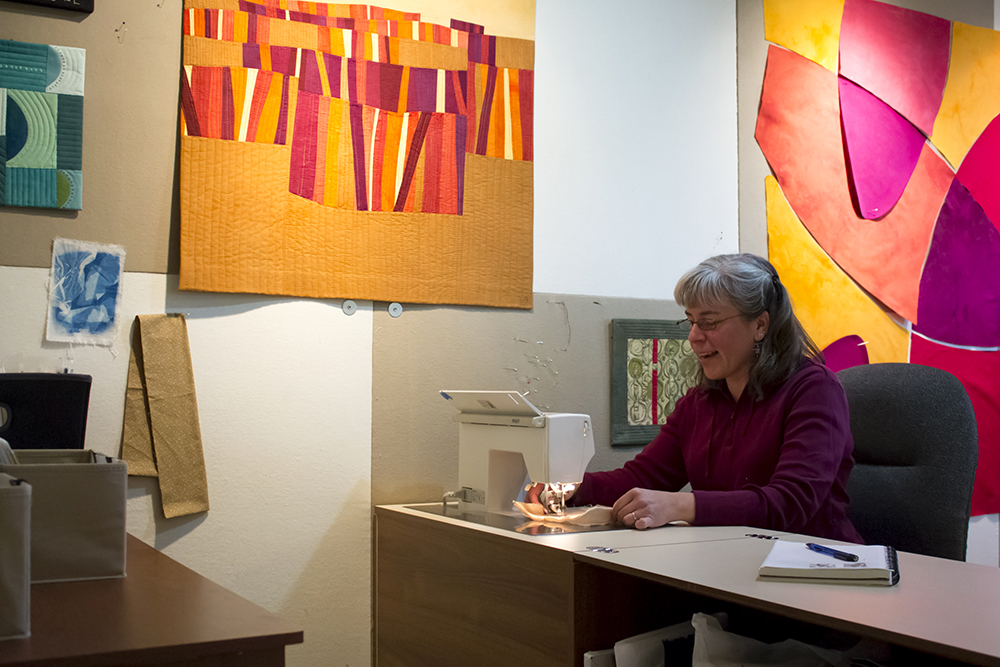 What does your art making schedule look like?
I don't have a routine. I do aim, or my goal is, to work 20 hours a week in the studio, but I don't usually hit that. I usually average for the year, between twelve and fifteen hours a week, but that doesn't include all of the art business stuff. The marketing and keeping up a website. That is taking up more of my time now.
Can you talk about your workspace? What is your relationship to it?
This is my studio and guest room. It will actually transform tomorrow into a guest room. I have everything on wheels; my stuff can be wheeled out when needed. I did work in this space for a few years when it was the permanent guest room. Finally, I decided that people don't visit that much, so I took over the space. The biggest limitation here is that I can't actually work really big. My biggest piece has been fifty by fifty inches. I've been thinking about how to work bigger in this space by working on pieces, then later connecting the pieces in a gallery. The really nice thing about my work is that they can be rolled up to ship or store.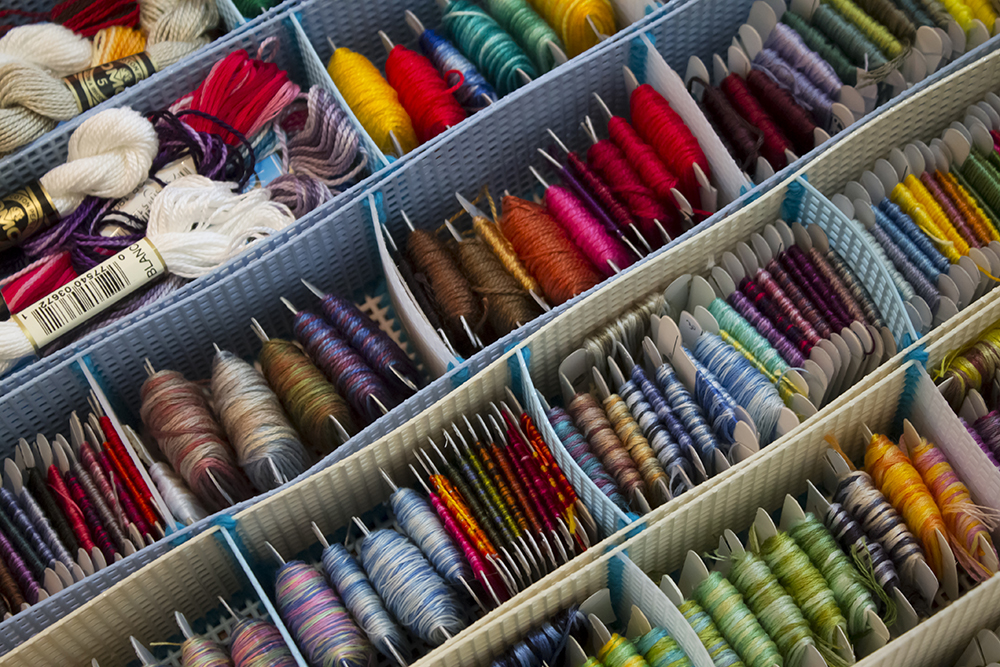 Is there any specific inspiration for working with fabric? How did you get started?
That's a long story. I have an art degree in drawing, but over the years I've dabbled in a lot of different things and nothing really stuck. Then, my friend asked me if I wanted to take a quilt class, it was a traditional and functional class. Later I found a book called The Art Quilt. It is a history of the art quilt and then I realized that I could make art with fabric. I decided to try it and I made my first piece in fabric in 2001. It's funny looking back at it now. Over the years I just started reading a bunch of books, taking workshops, and learning as much as I could. I decided that I wanted to hand dye my fabrics because you can't get all of the colors you want at the store just buying them. This way I can create my own colors and my own palette. I taught myself how to do that, kept learning, and kept going.
How do you feel about the art community here in Boise?
I think it has improved over the years. It really improved because of the recession. I think a lot of artists figured out that we have to make our own opportunities and get together to make it happen. The Treasure Valley Artist Alliance is great in helping group artists together. They are doing well. The Boise Open Studio Collective Organization is great. I think it is improving and has improved over the years. I think we still have a ways to go, though. There isn't a lot of opportunity for artists to show their work here if they're not already established.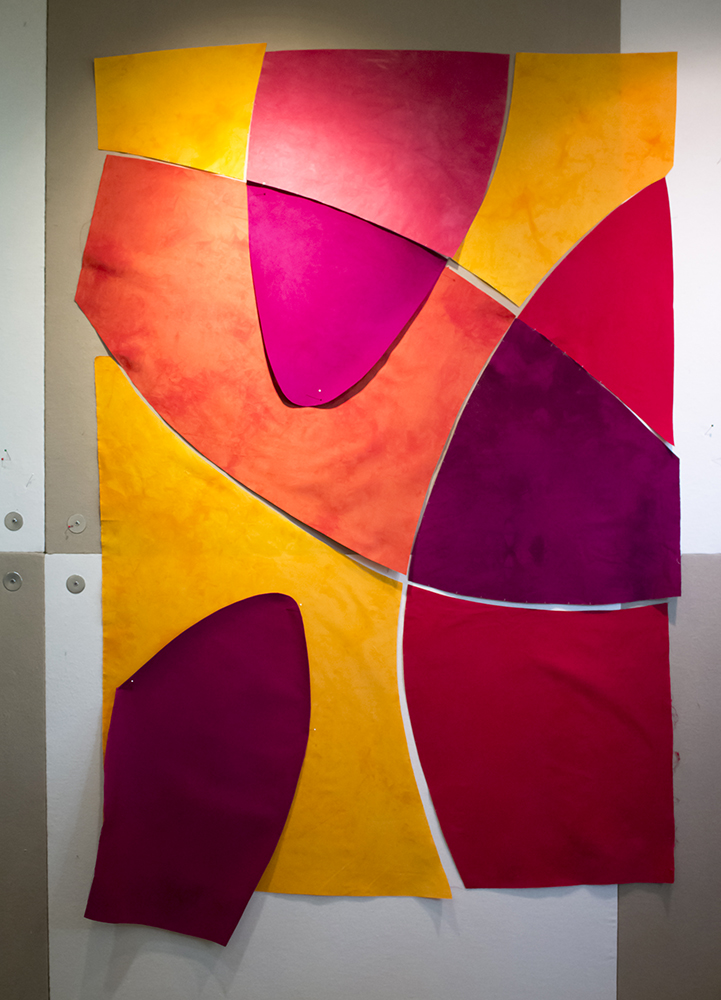 Do you sell work? Where do you find the venue or opportunity?
That's a tricky question. Most of the art that I have sold here in Boise has been to people that know me, or have visited my studio and have gotten to know me. So I don't currently sell my work in a gallery in Boise. I don't think my market is to strangers who would walk into a gallery. I tried the Silver Creek Gallery in Ketchum and didn't have any sales. I tried a few places here, but I don't think there is quite the market that I need. In general, people here aren't used to seeing fabric as a fine art form. I think it will take some time for the audience to get used to that. I'm hoping what I am doing is helping that cause. This isn't my big market, but I am working on it. I have sold pieces back East through exhibitions. I am almost thinking that the preference for style here is more landscape oriented, more realistic, or photos. Part of my thing is that I work in fabric and I work abstract, not traditional. I just don't think there is a market here for that. I have had better luck in the Midwest and back East. Mostly, if I do sell here, it's person-to-person.
What resources are lacking here for artists?
Like I said, there need to be more opportunities for emerging artists. The artists who have been around here for years, the ones that people know, have connections and they have more opportunities than emerging artists. The Treasure Valley Artist Alliance and the Department of Arts & History are doing well in educating artists about what they do need to do to get out there. There are maybe resources lacking with technical help, like how you set up a website or how to get things out there. It seems to be improving. You can now find a lot of resources online. You can find some workshops around about how to market your work or how to write a statement. It's getting better. I would use other cities as examples against what we have. Portland has a really active program. They have a lot of opportunities for locals. There is always room for improvement.
Would you say you make a living as an artist?
I would consider myself a professional artist. I am not to the point where I can make a living from it. I am about to the point where I am making money, a little bit. I have been improving my gross income every year for the last few years. It then becomes more work on the business end to ramp up the marketing and making sure you are in exhibits and getting exposure, making connections with people, sending out a newsletter, and just getting out there, even on social media. These are all things today that an artist has to keep up with and work at. Someday I hope to have a personal assistant to help me with that stuff. There are artists out there that can do that. I am not there yet, but I am working towards that. I am very fortunate that my husband supports me. I don't have to, but it's something that I want to work towards.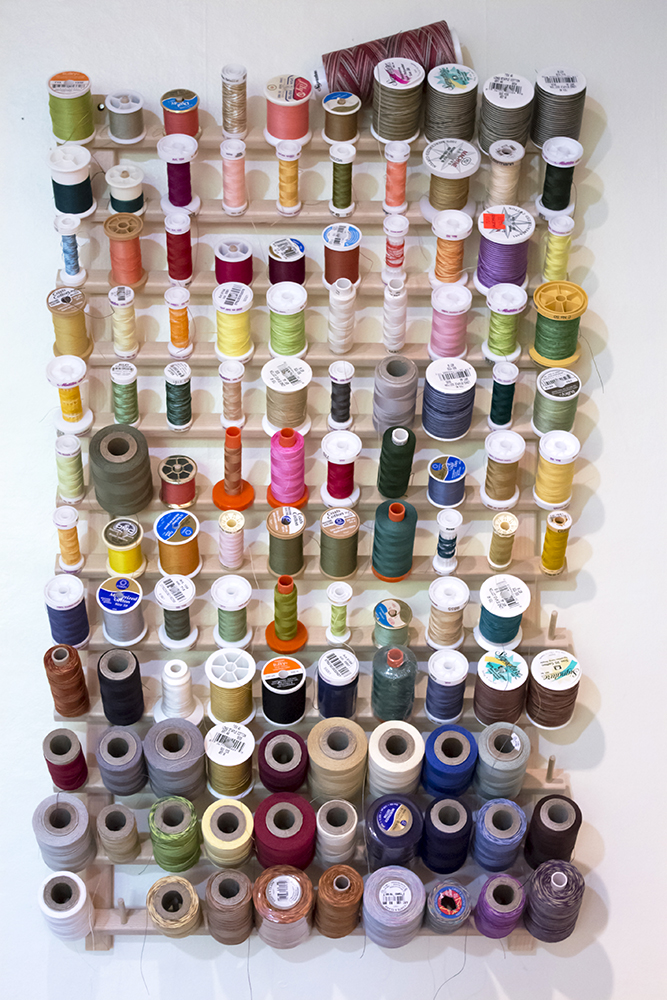 Do you work aside from your artistic practice?
Yes, I work intermittently at the Boise Art Museum installing and de-installing exhibits. I have been doing that for over twenty years now. I occasionally teach workshops. I will be doing a workshop at the Boise WaterShed this summer and I recently taught some workshops here at my home. I taught one through the Treasure Valley Artists Alliance and one through the Live Strong program at the YMCA. They have art classes for cancer survivors. That's about it as far as income. I also volunteer when I have time and I am a mom. That's a full-time job.
Why do you stay here in Boise? What keeps you here?
My family has been here for many years. The livability is great. It is a great city to live in. Now that there is so much access on the internet, I think an artist can live anywhere and attempt to make a living. It is nicer if you have support where you are living, or have a gallery where you live. It is more difficult to find a gallery or opportunities that are not where you live. The livability is definitely why people stay, why I stay. I think the internet is helping artists live where they want to. We can still improve Boise.
Any advice or inspiration for other artists?
My advice is to keep working. Just keep working and getting your work out there. Keep doing your best. You will get rejected, but you have to let that go and just keep going and keep making art.
---
Creators, Makers, and Doers highlights the lives and work of Boise artists and creative individuals. Selected profiles focus on individuals whose work has been supported by the Boise City Dept. of Arts & History.