Creators, Makers, and Doers: Christian Winn
Posted on 4/18/16 by Arts & History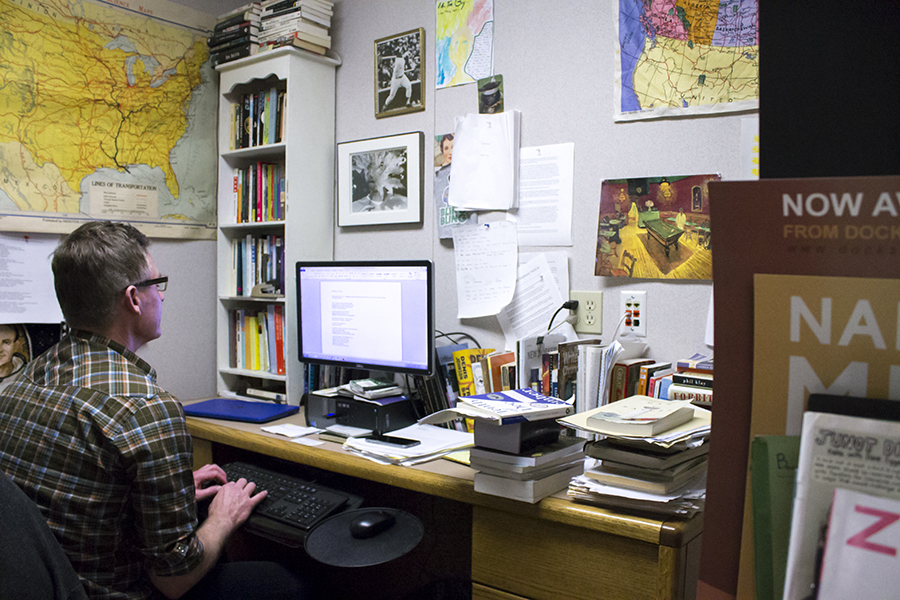 Christian Winn is a writer, educator, and the founder of Storyfort. Always on the search for a great story, it is humanity and the study of the human condition that drives his creative fiction and poetry. He found the thriving literary community here in Boise as he was traveling through and has now decided to stay a while. You can find him teaching creative writing at Boise State where he imparts this wisdom to his students; "Write the good stories, the stories you believe in, the ones you love, and write the truth, even if it's made-up."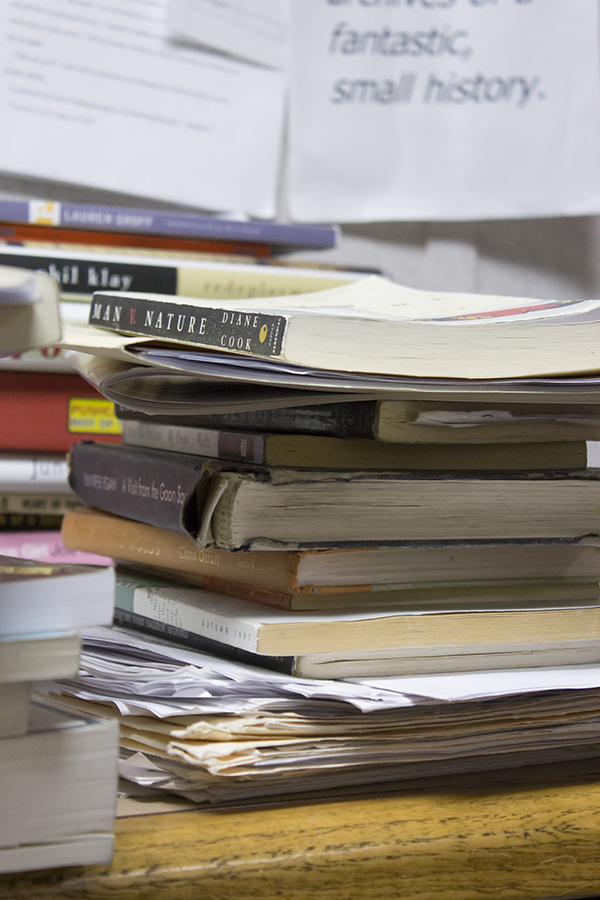 Can you tell us who you are and what you do?
My name's Christian Winn. I'm a fiction writer primarily, though I do write poetry at times and some creative nonfiction journalism as well. I also teach writing at Boise State, through The Cabin's non-profit literary center, and I run a couple of community workshops on my own, in fiction writing primarily.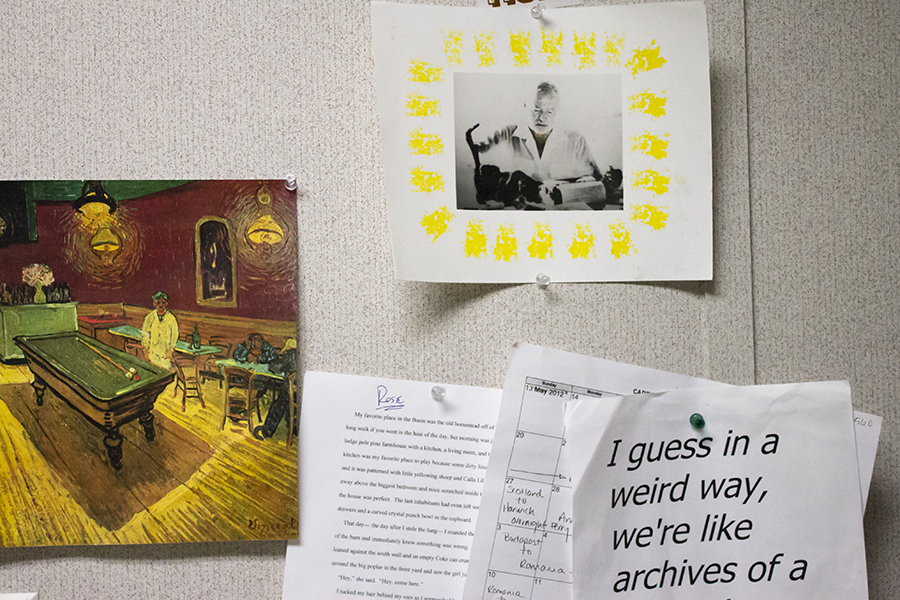 What is it that you like about writing?
Well, many things. One of the things I come back to is I love reading, great literary fiction and great stories in general. Loving to read, it kind of made me want to write. But, as a writer, and now a teacher of writing, over the years I have learned that writing in many genres will help you understand yourself better or the world around you better, creating empathy for your community, individuals, and an understanding of the natural world. You have to pay attention to the sensory detail, goings on, and put yourself out in that world or your characters, as a fiction writer. You have to understand who they are. Through that, hopefully, I have come to understand myself better and the whole human condition better. That's kind of the bottom line. I love transferring the kind of love that I get for a great short story or a novel. If I can transfer that to somebody else, even one or two individuals, that's a cool feeling for sure.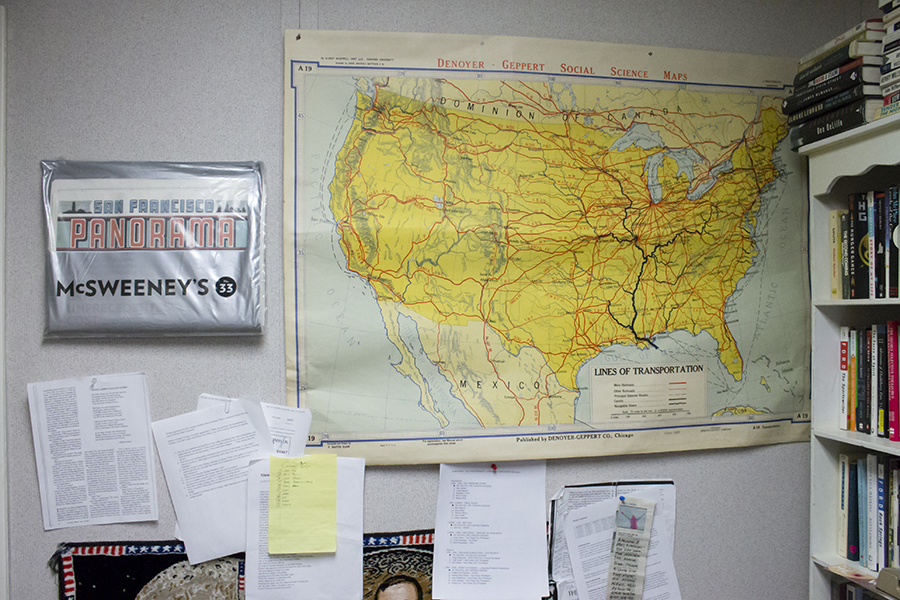 What is it that you like about Fiction?
If there's a humanity to it and if it's about the human condition thing, it transfers for me a lot easier and more readily than in non-fiction. I mean, I love some creative nonfiction—people like Joan Didion or John McPhee or David Sedaris. There are many out there that I admire a lot and really do enjoy, but I guess I get more out of fiction as a reader and I don't know for sure why that is. I suppose that, for me, sometimes nonfiction is kind of focused on the writer so much, because it is coming from them that it sometimes takes away from their subject or how they're talking to themselves or others. I prefer the most in nonfiction the sort of writers that write outside themselves—not totally personal essays but someone like Joan Didion who writes about certain things and inserts herself into the conversation at times. Fiction is all outside. It can come from a writer's own experience at times, but it's ostensibly all about an imagined world. There's something about that break you can make, I can make as a reader and just get more out of not even thinking about the writer so very much. That's how I read and that's what I want to write and I'm not that good of a nonfiction writer because I end up making stuff up as I go. I've had many attempts over the years to sit down and write an essay about certain times in my life, people I've known, and family stuff, but inevitably it seems I'll make stuff up to fill in gaps or make the story pop a little more. My mind goes to shifting the truth of the happening. Just intrinsically or instinctually, I'm more of a bullshitter fiction writer, I make stuff up.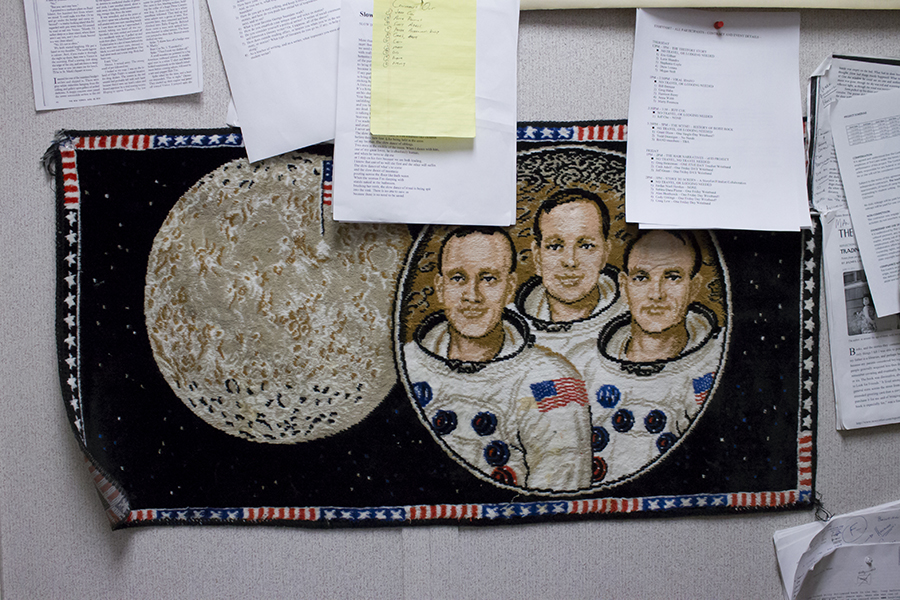 Was there any particular event or reason why you chose to follow a path of writing?
I wasn't a bookworm kid, but I did read a bit, a fair bit. I was kind of an outdoor guy. I had friends and we caroused through the neighborhood, played sports, and did that kind of stuff in high school, but I still maintained a love of writing at that time. I had a couple of really great English teachers and had some poetry published in our high school literary magazine. I published my first piece in the San Francisco Chronicle when I was around six or seven years old. My mom still likes to bring it up occasionally. I was writing but I guess I became a little bit more of a serious writer when I was at Seattle Pacific University and discovered the moderns, Hemingway, Fitzgerald, Gertrude Stein, and then Jack Kerouac, Ginsberg, and Burroughs. These individuals were people I thought, "Those guys are cool, you know, I want to go do that." And then I started to finding short story collections in book stores and started sharing with my friends. We'd go out to the bars, talk about them, smoke cigarettes drink beer, think we were quasi-intellectuals, and I began writing more serious stuff. I came to poetry first at that time more so as a serious writer, but then really wanted to write fiction as well. I kept working on that and whittling away at the craft of it. At that point, in my early twenties I began to take it seriously and wrote a lot and then ended up publishing with a couple of zines and things in Seattle where I lived at the time. I got into some of that first wave or semi first wave of poetry slams, which were going on at the time. I took part in those and had fun with that. Then, I ended up leaving Seattle and moving to Boise.
I vagabonded around for a while, once I got here, and ended up enrolling in the Master of Fine Arts in Fiction program. That's when I really began to go to the next level of being a serious writer and understanding how publishing worked, understanding how to take the idea that you're a writer and really applying it out in the world a little bit more.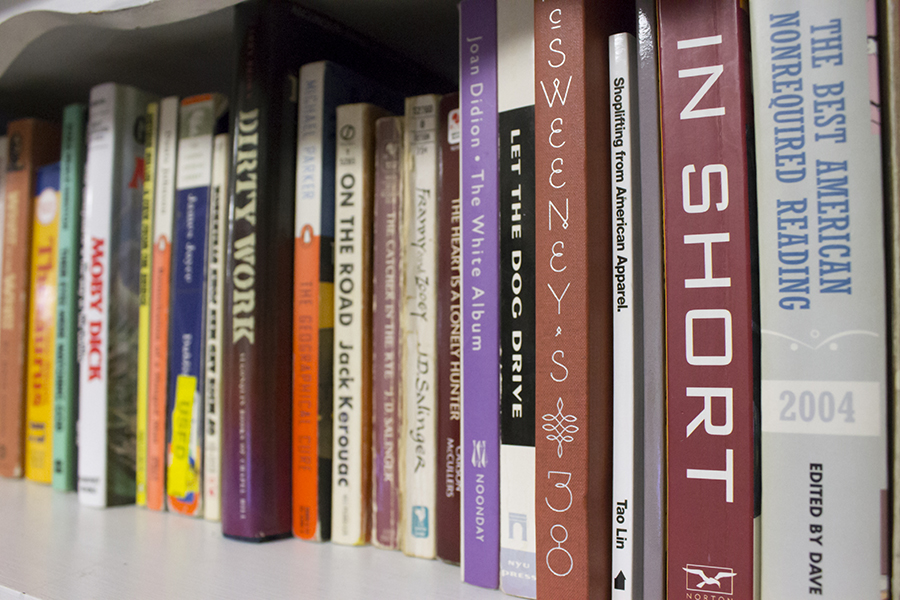 Where do you derive your material from?
It varies, really. I have written about things that are pretty close to real experiences in my life, but I put a spin on them and turn them into fiction. In general, I just stumble upon a good story hopefully. One that's completely made up can be as powerful to me as one that resides in places that I've lived and things I've done. I just finished this one set in Seattle in the early '90s, where I lived. They're completely imagined characters in that time but it really embodies that time in my life with certain friends. So, there's a mix of both. It was the time that the grunge movement and some of the tech stuff happened or was getting ready to start and the city was changing. Within that scope, I suppose for me, the inspiration would have been memorializing it. Writing intimately about that time in the city, but attaching imagined events and imagined characters to it has allowed me to open up a different way to present it than it would have been if it was nonfiction. That one's based on a time in my life and wanting to preserve it. But I also started this story recently about a young, high school girl's point of view of her parents who are Juggalos with the Insane Clown Posse. That's completely outside my realm. I've written, oftentimes, from the opposite sex or younger characters of the opposite sex. This one just popped in my head as a good story. I thought, "Wouldn't it suck if your parents all of the sudden became Juggalos?" That's just where it came from. I thought it would be kind of funny and kind of interesting. I'm not a writer who has a formula for how I come up with subjects.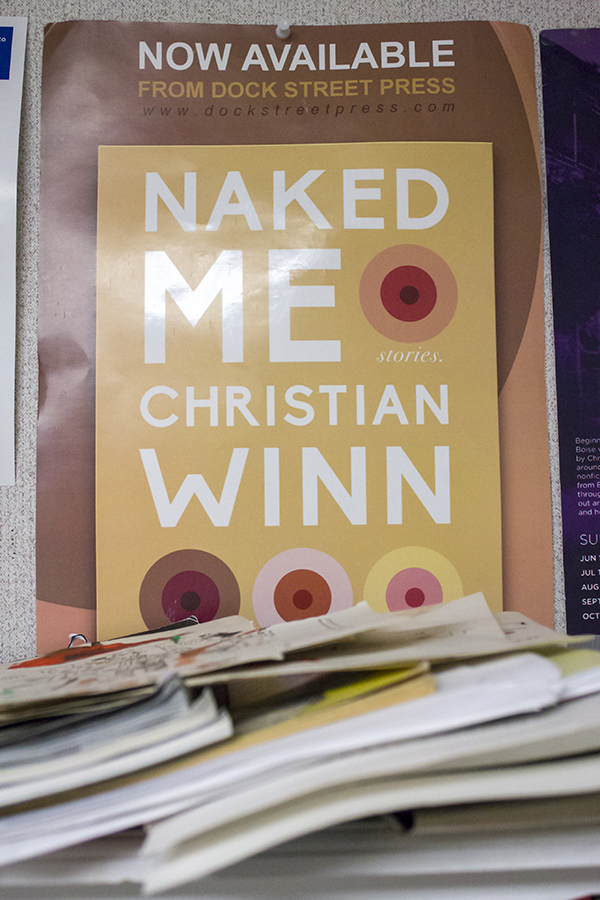 Would you say writing is your full-time job?
No, I wouldn't say that just yet. I do write and get paid for certain projects and stories get published. Piggybacking on the fact that these stories are published is the opportunity to teach. So, I'm teaching as a writer, not necessarily as an academic so much, in the classroom. A logical outgrowth of being a writer is to teach the writing that you do, so it's not to say that I'm exactly writing when I'm in the classroom, but it's very close because we're studying other people's writing, breaking down students' writing, and I bring in some of my own at times. We talk about the process, so it's a combo of the teaching and the writing itself.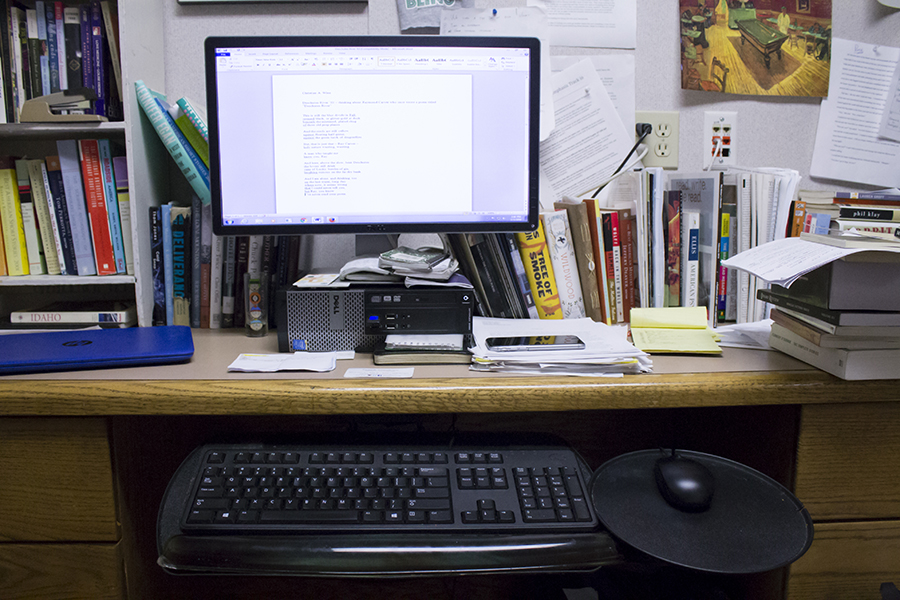 What does your working process look like?
Being busy with teaching, sometimes having outside jobs, and running around the city doing things in the literary community takes away that total regimented schedule. For me, I work best if I'm up at a decent hour and get a couple hours' writing in. Then, I'll go off and have my day. Oftentimes, I don't have that because stuff comes up that I have to do in the morning. So, ultimately, I just try to whittle away every day and do something. My goal is, every day, to write a certain chunk. I'm working on getting some revisions done and getting a story ready to send out. If I have a half an hour, it's about pulling a file up, looking at it, and making some edits. Even as small as that is, it's successful. I think a lot gets accomplished by the "Slow and steady kind of wins the race" thing. For me, I work best in the morning but, if I can't do stuff in the morning, then I'm going to try to take time in other parts of the day to at least set aside an hour, two hours, or even, like I said, a half an hour is more beneficial than not. I also get a little angst and anxious if I don't, if I'm not working for a couple days. If I'm not creating stuff or working to further a draft, I get a little bit edgy. It's just a matter of persistence and opening certain windows–even if they're small–in my day to keep plugging away.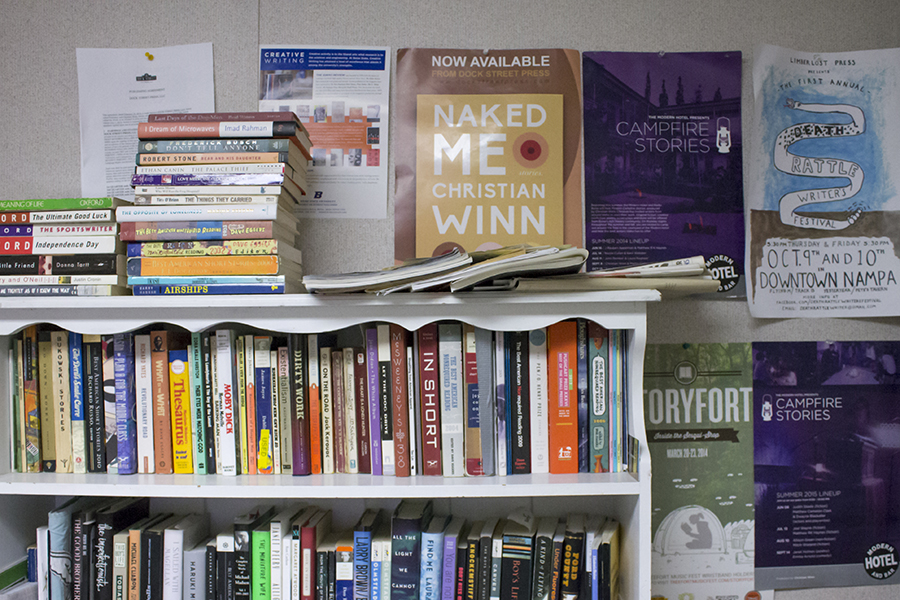 What are your general feelings towards the literary community here in Boise?
I think. It's pretty amazing. I moved here a couple years before I started my MFA. I was kind of traveling through and things were happening through The Cabin. They bring in a lot of fiction writers and poets and memoirists. But I think that's ratcheted up over the years. Death Rattle Writer's Festival is something that cropped up. They just had their second year. Some young kids out in Nampa have helped a lot. The Cabin has continued to grow with the writers they bring in and their community workshops. BSU, having the MFA program start around 1999, 2000, has helped bring in some big writers over the years. We just recently had Denis Johnson, who is a fiction writer, here last semester. And then, I'm just drawing a blank on a couple of the others we just had last semester.
I think the community's really great. We have people like Anthony Doerr who's been working here for a long time, since, like, about '99 or 2000. He just won the Pulitzer Prize and he has an amazing, best-selling novel. And that shines a little light on Boise, too. The community's been great, but that obviously, is like international spotlight. Also, it seems that entities like Big Tree Arts and Ghosts and Projectors and a number of reading series have continued to succeed. Boise seems to really have a thriving community. People turn out for it and find it fun, cool, and interesting and not super-pretentious. That's one of the things, maybe in a bigger city, people think of the literary scene as being pretentious, but I don't feel like it is. It's pretty all-inclusive most of the time.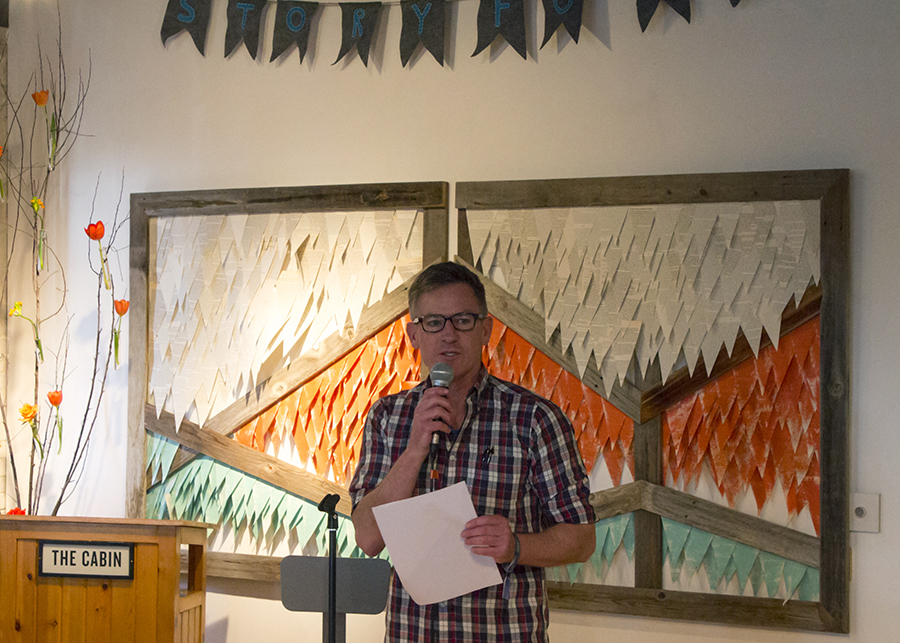 Can you describe what Storyfort is?
Storyfort is the narrative/literary wing/subfort, of Treefort where we present poets, fiction writers, journalists, and musicians. We're doing some bartenders this year—telling stories. We run our events at four of the five days of Treefort, mostly in the mid-day/afternoon range at this point just so that we don't conflict with the music too much. It has the same bottom line ideology that Treefort does. We are bringing in people from out of town who locals wouldn't necessarily be able to see and we are also supporting the local communities, like Treefort does with their musicians by having many genres to offer people who are into this writing thing. It's been really successful and really cool and The Cabin has come on board to help fund it. We've got the City grant, you know, to help fund it. And we're getting more and more support. The Statesman is helping out and this year the College of Western Idaho as well. It's a community building literary event.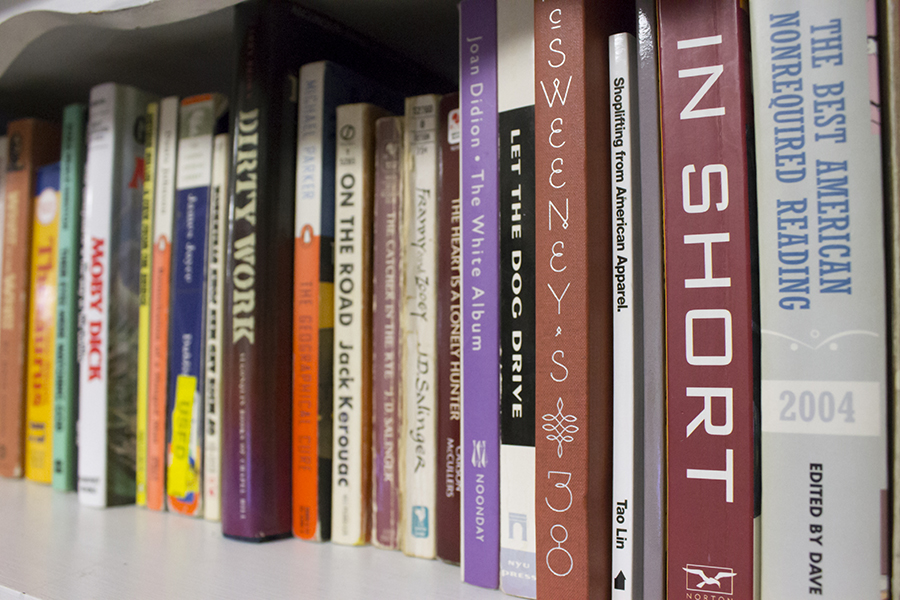 Finally, do you have any inspiring words for other writers?
Write the good stories, the stories you believe in, the ones you love, and write the truth, even if it's made-up.
---
Creators, Makers, & Doers highlights the lives and work of Boise artists and creative individuals. Selected profiles focus on individuals whose work has been supported by the Boise City Dept. of Arts & History.