Creators, Makers, and Doers: Leslie Dixon
Posted on 7/6/16 by Arts & History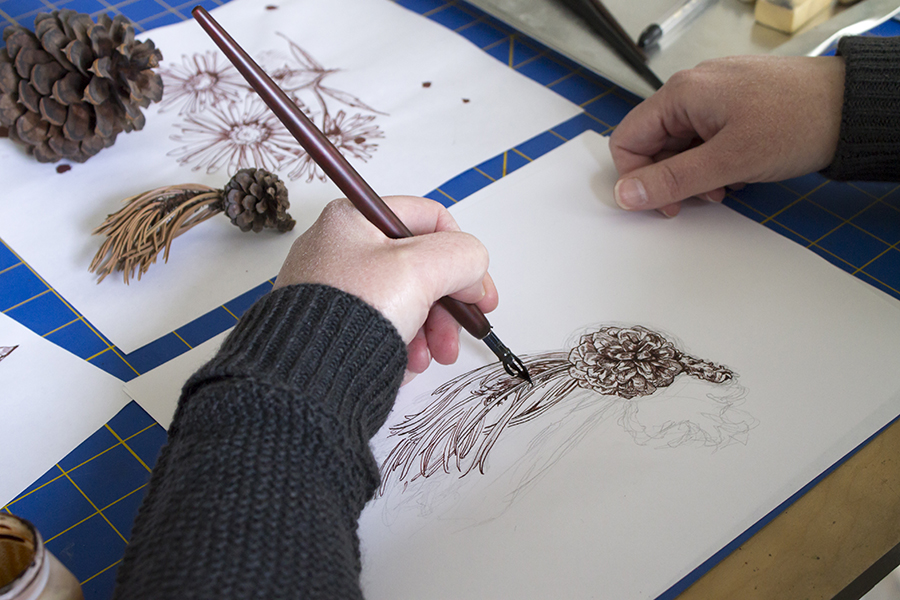 Leslie Dixon is an illustrator, designer, and most recently a public artist. Utilizing skills she has in painting and drawing, Leslie is learning to successfully translate her ideas from two dimensions to the physical, sculptural realm. In this process, Leslie has found the benefits of collaboration and has partnered with other artists to fully realize unique and engaging works of public art, not only here in Idaho, but around the country as well.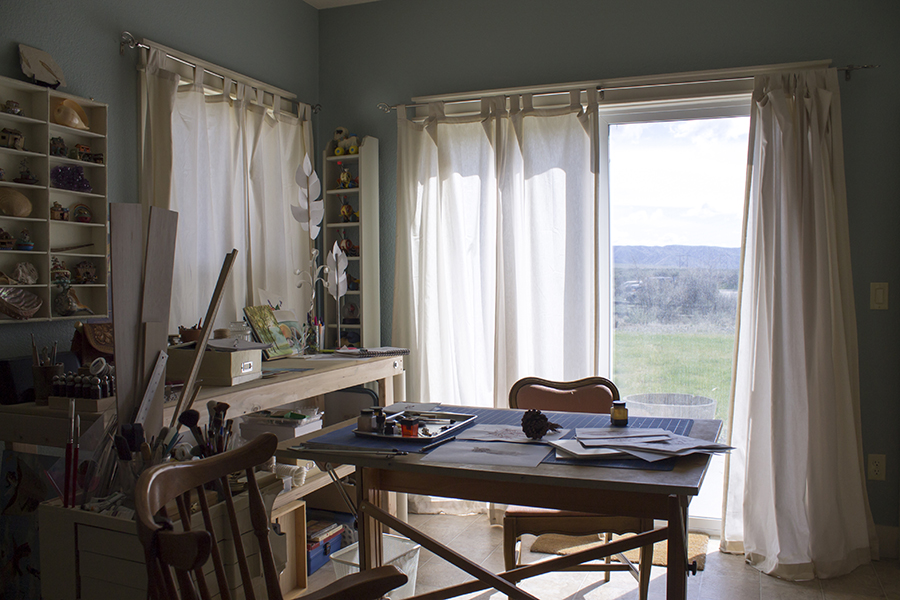 Can you start by describing about your role in the community?
By degree, and by most previous experience, I'm primarily an illustrator and a designer. In the last five years or so, I've been really concentrating on public art, and I could say now, self-proclaimed, that I'm specializing in that at this point. That's sort of the niche that I'm holding right now.
Between illustration and design, is there one in particular, a medium or technique, that you prefer the most?
I like to do a little bit of a lot of things, but my main media is variations of drawing. I do pen and ink, charcoal and pastel a certain amount. I also paint watercolor and oil, but I see painting as more of an extension of drawing, the way that I do it. I don't do that painterly kind of thing, where it's an expression in and of itself.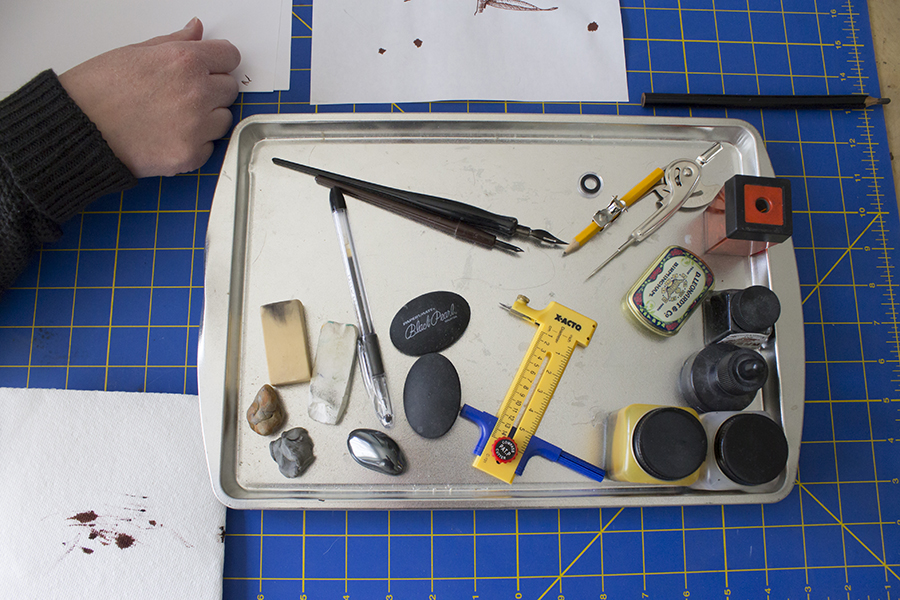 What is it that you like about drawing?
It's just something I've always done. My mother was an artist and she started me off, and it was something I would do just on my own and then to fill time. It's just something I've just kept going with my whole life. So, my drawing style is more seeing and reproducing. I look at something and then I try to make it as clearly as I can and hopefully my own mind comes through in that.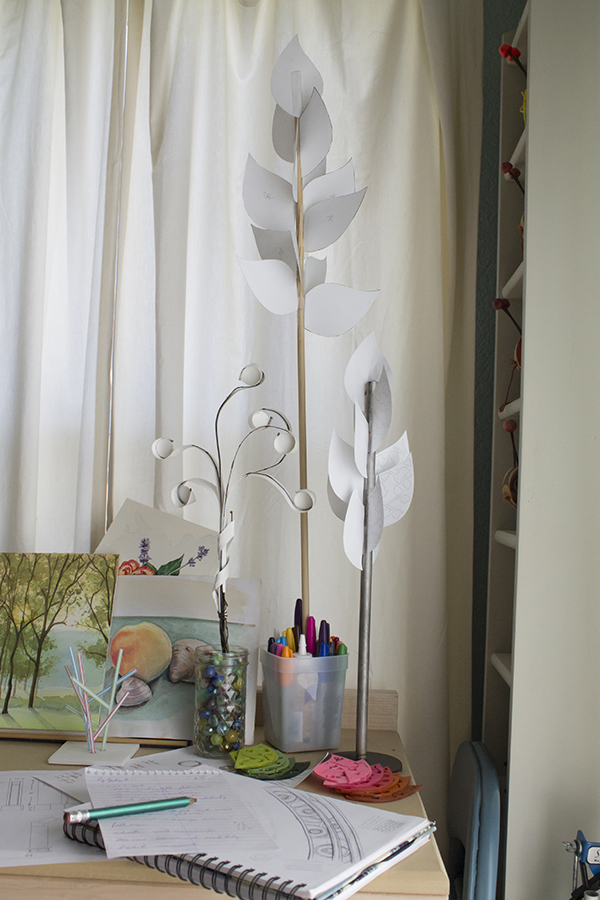 In what way does drawing relate to or translate to your design and public art practice?
Well, they all end up feeding each other in a way. The drawing led to illustration, and illustration is very much about creating images that are for a particular project and they're definitely meant for the public viewing. So, it's about catering to a broad audience. When I started to get interested in public art, that same idea of appealing to a broad audience and having specific constraints or ideas or a setting that you're working with into the design were really relevant. My art's not art for art's sake, it's more about problem-solving. I like to have challenges that I can say, "Oh, well what can I do here? Oh, well, I have to take this into account." And then it takes you into a different area of design than you probably would have gone to in the first place on your own. The more constraints or specific items that you have to hit in a design, actually makes your design work better ultimately, and you do actually come up with unusual things that, again, you probably would never have gone over there in the first place. It's sort of fun.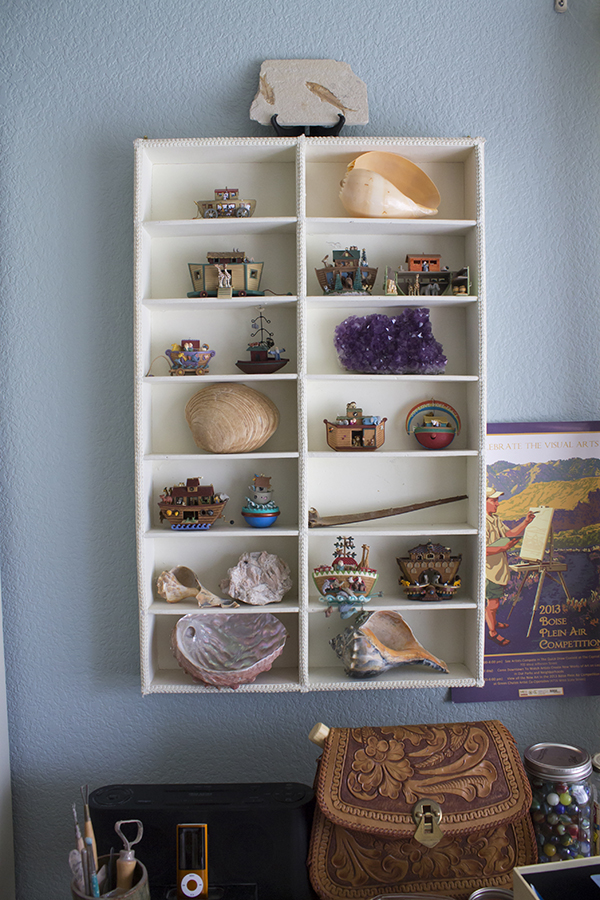 Aside from kind of solving problems, are there any themes or motifs that drive your work?
I like to do things that are based on nature as much as possible. It's just something I'm always interested in—plants, in particular, but also animal life and that kind of thing. The landscape, it seems to leak into my work a lot. The coloring out here–the blues, the tans, the sage greens—they seem to creep into everything I do. And trees are seemingly a repeating theme. I don't do it on purpose. I just keep coming back to doing tree-oriented things.  But nature, mostly. I think we need more of that in our lives. We're getting more away from that with every decade, so, I think having it put back in front of us periodically is a good thing.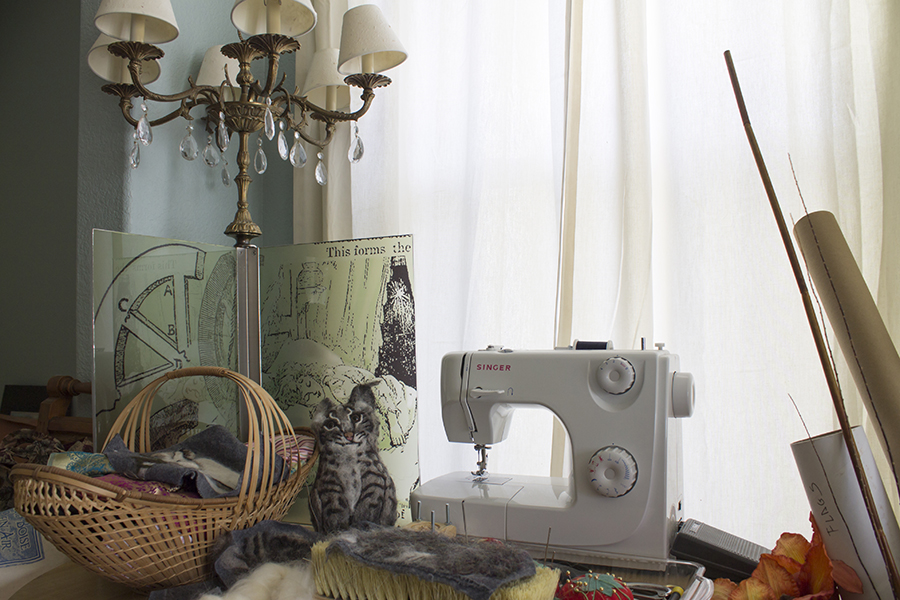 What was the impetus for your transition into public art?
The first pieces of public art that I did was two of the traffic boxes. They're like the gateway drug to the public art scene because they are very much what I do. They were more or less illustrations that I did digitally, because I do digital painting now more than anything else. I really liked that it was something that I could offer that could be out there for people to see and bring their own experience to. And then because of doing the traffic boxes, I was able to do the Public Art Academy. When I first took that, I thought, "Well, public artists, they're a special kind of artist, you know. They have different training than I have, or they're more dimensionally inclined than I am." And all these reasons why I probably can't do this. But when I took the class, I realized that everybody's point of view is valid. And my point of view is valid for this. I really enjoy being able to think outside of my box and say, "All right, what can I do for this? What would be great for this?" And not just drawing or painting or 2-D. It actually freed me up to think dimensionally, which I really like, so I just started running at it.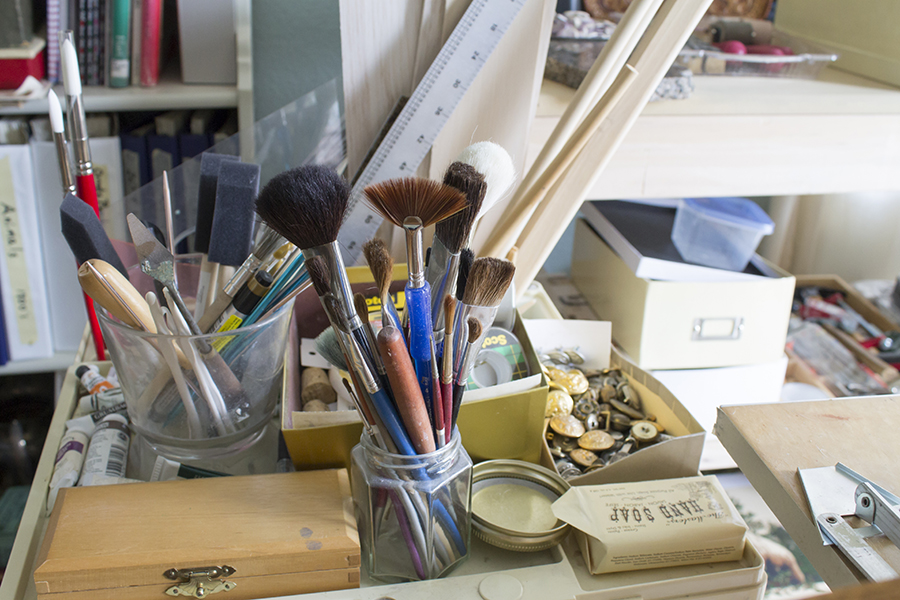 Do you work full-time as an illustrator, or designer?
Well, I do work full-time as an artist-illustrator-designer of public art. Now, do I make a good living at it yet? The answer is probably not yet. But I do it full-time and so sometimes I'm swamped with work and sometimes I'm searching for work. It's my primary thing at this point.
Can you describe some of the projects that you have going on right now?
Since I've been working with public art, I've formed a partnership with two other artists in town—Mark Baltes and Ken McCall. We've been working together off-and-on for a couple years. Mark and Ken have been working even longer than that. We were working on each other's projects, so we decided we might as well actually apply for some things as a group because we all bring different perspectives and skills, which is nice. Because of that, right now I'm sort of helping to roll along five different public art projects, which can be overwhelming, a little bit. Ken and I are finishing up the geothermal sculpture for the BSU campus and that should be in place sometime in early summer. We're also installing, over in Greeley, Colorado… a free-standing sculpture for their collection. I am working on a piece with Mark and Ken, we're all working on a piece, a roundabout sculpture for Bend, Oregon, which is quite large. It fills a ninety-foot area.
And we're also working on one of the fire station pieces here in town. I've also partnered with Brian Schreiner, who's a mural painter and a fine art painter, and we're working on the Garden City mural for Cinder Winery and Surel's Place. All of these things are sort of coming up and moving right along, so it gets a little crazy.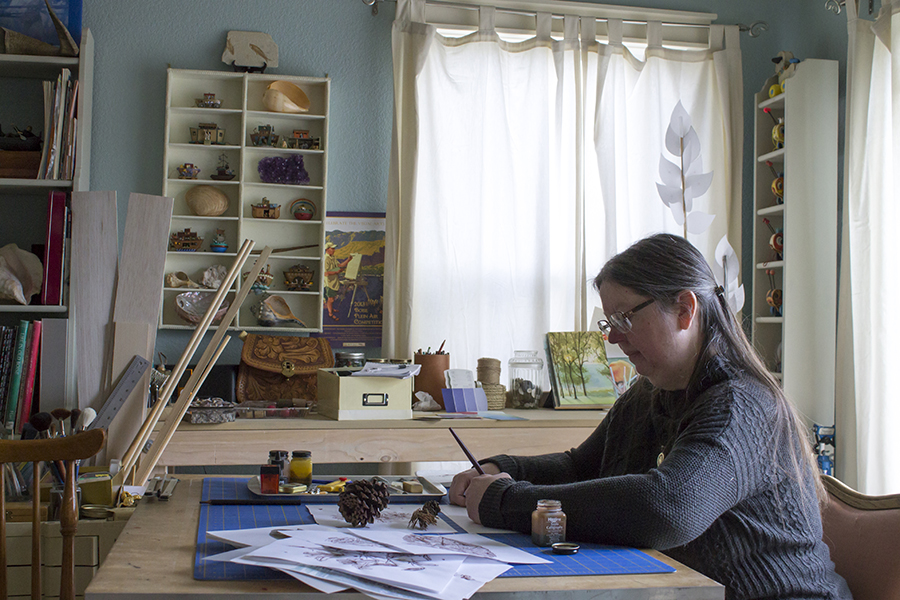 What do you think was your biggest challenge, transitioning your more two-dimensional based or studio practice, into the public art realm?
Well, money's always a challenge, but that's with art no matter what. You have to have a good family, who are willing to put up with your running at this kind of stuff and help you, which my family does and I appreciate that no end.
But, also, thinking dimensionally. If everything you've done is 2-D, it takes thinking about a couple different projects to step away from the 2-D. It's like little baby steps away. So the first things I thought of, public art-wise, for concepts, tended to be 2-D, but in layers. I still like that look. I do like to layer things. But, especially working with Mark Baltes and Ken McCall, who think much more dimensionally than I do, it definitely moves me farther along. I find that I'm collaborating more and more as well, and that definitely helps move from a 2-D thought process into a 3-D process.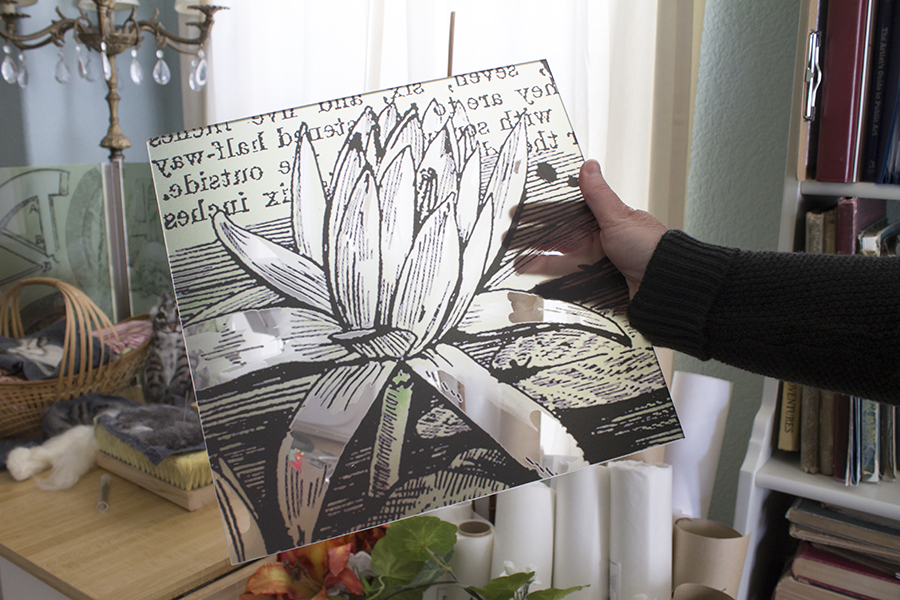 Are there any projects that are most notable in your public art career?
I've been involved in being a finalist a number of times. My first big commission was for the Nampa Public Library. That was installed last March. And it's a two-story feature with a matching third-story wall. That one is my biggest signature piece. It's a stand-alone piece that's finished and in place.
That one is neat because it was a brand-new library with an open floor plan, beautiful lighting in there, very natural and warm. They wanted a two-story feature wall that ran up from the first floor to the second floor as a prominent spot where the information desk is. They wanted it to relate to Nampa specifically and say something about the landscape but also the people who live there and speak of libraries as well. I like that because there were three or four different ideas that needed to be embodied in this piece. What I ended up doing, because it's a mural, but it's also a sculptural installation, I used that layering idea. I collaborated with other artists as well on this. So, it's not like I did it all by myself. Public art always takes a village to create. We did a combination map and landscape backdrop that was all hand-painted, tone on tone, and over that we floated images I created in pen-and-ink drawings and also antique book illustrations that I combined to create a tree and butterflies flying around the tree and clouds. And all of that was printed on Plexiglas so you can see the design, but you can also see through it to the background as well. The light washes down behind it and shows through it and makes it a little more luminous. It's funny, too, because when you design something and everything you design is on regular sheets of paper on the little computer screen—everything's small—and then when you go to install it and it's this two-story thing, it's like seeing a giant baby, in a way.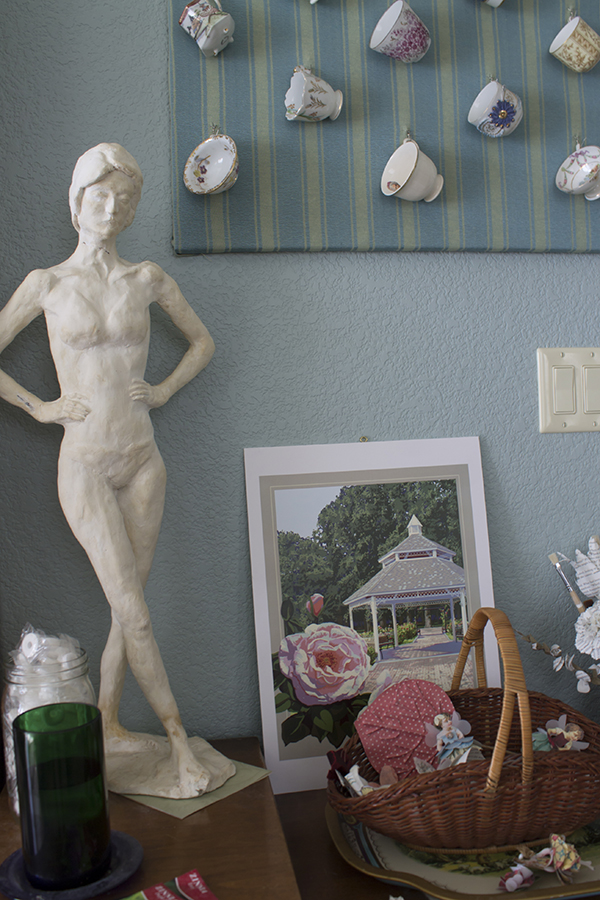 What are your opinions of the state of the arts community in Boise?
Gosh, I think the world of the arts community here. Artists are kind of funny, because we all work in our studios and so we're all isolated off in our little caves of sorts. But you get a couple of artists together and, gosh, they'll talk for hours. The more artists that I've met here and the more that I've had a chance to work with, and I've gotten to work with, everybody here is really talented, very grounded, and serious about what they're doing. Honestly, I think that many of the artists here could compete on a regional or a national scene if they wanted to. They could just get out there and have at it. That's where I've been at with my collaboration with Ken and Mark is that we're going to try for some of these things outside of our area. We're going to apply regionally, and if something national comes up we're going to try. It doesn't hurt to try. I think the arts community here is just, just awesome, honestly. And you can get almost anything here, too. As a collaborator, I really like getting out of my box and looking into other people's boxes and seeing what they can do and recognize what processes they are great at. There are so many different artists with so many different processes here, just in the Treasure Valley, that the possibilities are endless.
People here just want the opportunity to make their art, and they will run at it and they will give it everything they've got. As opposed to, that typical, what the public feels that artists are. All about image and flash and no substance kind of thing. I think the public thinks that about artists a lot, but we're not. Everybody here is just down-to-earth and serious about it and just want to have the chance. That's really the important thing.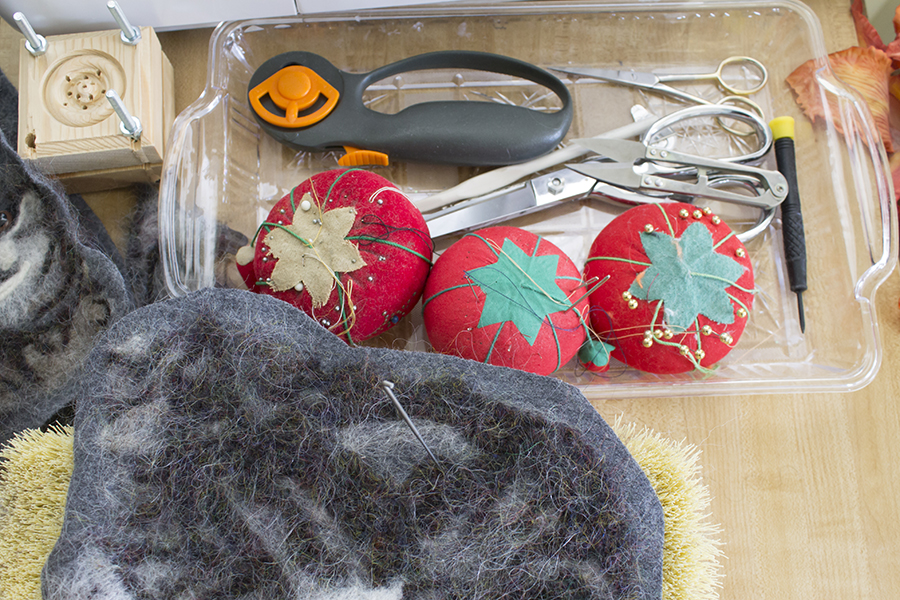 Do you think there's a lack in opportunities for the amount of artists that are here?
Well, I think the public here embraces the art, very much so. The artists reflect what the people who live here want to see as well. So, the public is definitely open to it. Of course you get comments like, "You're wasting your money on art." But, it's only one percent and that money was only raised for the art so it's not taking it away from something else. I think that most of the public, though, realizes that art informs their lives and can make a place even better or more interesting. There are a lot of opportunities, but we kind of cannibalize each other here, when it comes to the Call to Artists, because it's always the same twenty to thirty people and only one person gets that particular job. So, everybody else is out, unfortunately.
It can be tricky. Everybody wants to have those chances and want to keep them rolling and get more, and there's only so many. All any of us want is just to have an equal chance to get our voice out there and be considered for these things.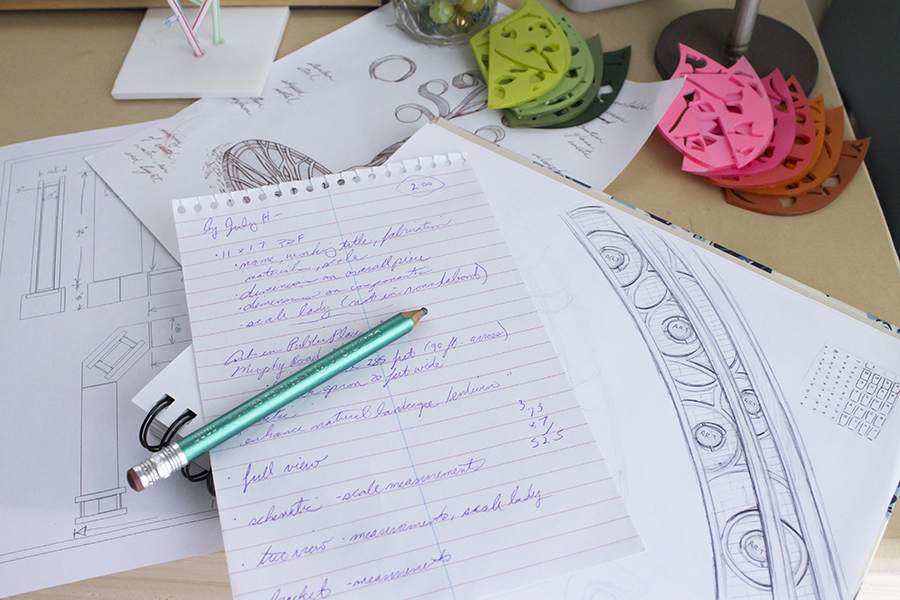 And, in general, are there any resources that are missing from the community that would help you be more successful in your endeavors?
I don't know about missing. I know when it comes to fine art, it's difficult. There's not a market here of public that's buying fine art. Again, the people of Boise appreciate art, but they somehow don't think they deserve to own it. I'm not sure—there's some sort of disconnect, that it's not a practical thing. Art is not considered a practical thing necessarily. When it comes to public art, there is a good amount of support here, which is nice. More resources are always good, but when it comes to public art it's about opportunities more than anything else, and you can only, in a community of any size, offer so many. So that's why, in my partnership, we've been looking farther outside of Idaho and—because you have to.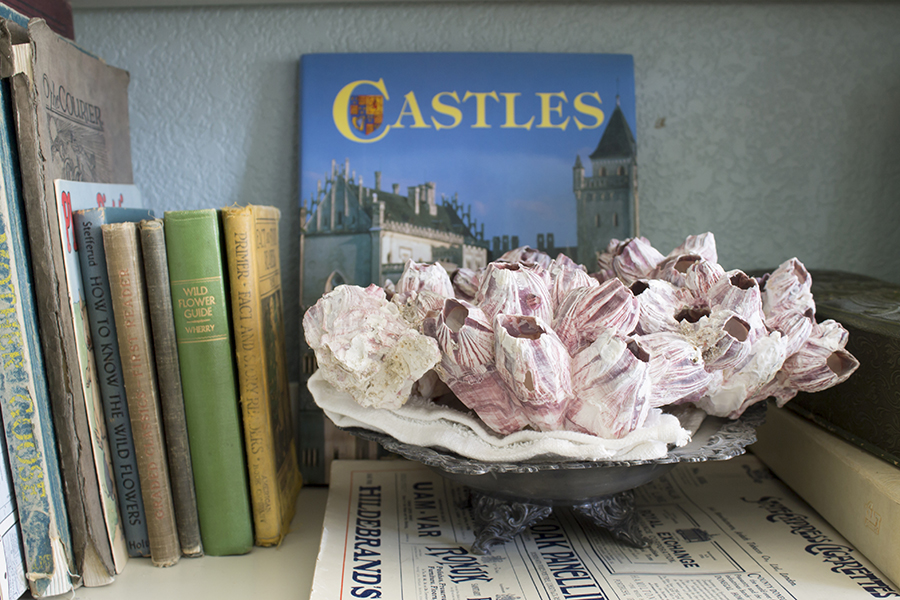 Besides running the business, what's the importance of a group of Idaho artists seeking opportunities outside of Idaho?
I think some of it is just that we, the artists here, have a very particular point of view. We're not so far out on the edges of the arts scene that we can't see the middle anymore. The people, again, the artists here are very grounded and I think they're expressing things that the public can embrace and in positive things as well. But when it comes to going outside of our box regionally, it's much easier now than it used to be because you can apply for things online, which is helpful, and there's a certain pride issue of wanting to represent Boise and get out there and run with the big boys. We can try, anyway. We'll see how far we run. There's no reason why not. Art is about concept and art is about pulling your ideas together and making something real out of them. There's no reason why somebody in Boise can't have just as good a concept as somebody, say, from California or somebody from New York. I've gotten to the point in my life where I'm too old to keep thinking, "When I get better at this" or "I'll take the opportunity later when I'm more prepared." I might not get more prepared. This is it. So I need to run at it now and see where it takes me.  It's the old thing, if you don't apply, you definitely won't get the commission.
Do you have any words of advice for other artists out there?
You have to assume your point of view is valid, that if you're thinking of concepts or doing artwork that's exciting to you, that's at least one person. Granted, it's you, but you have [you?]. Don't assume that you're not good enough or you're not ready enough or that there's something else that you need to do before you can go out on the stage. You just have to have at it and run at it as hard as you can and see what happens. If you don't get anywhere, at least you've had the experience of trying, and it maybe informs you a little better for the next time.
---
Creators, Makers, & Doers highlights the lives and work of Boise artists and creative individuals. Selected profiles focus on individuals whose work has been supported by the Boise City Dept. of Arts & History.