Creators, Makers, & Doers: Arts & History Youth Commissioners
Posted on 6/5/19 by Arts History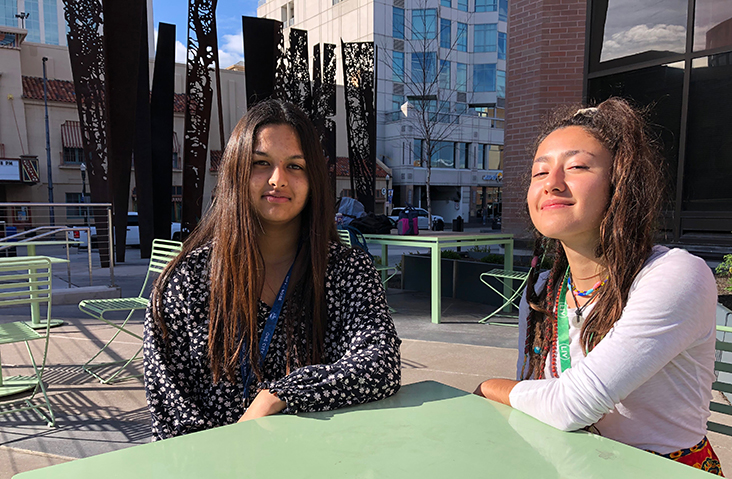 Each year the Boise City Department of Arts & History appoints a youth commissioner to serve on the Arts & History Commission for two years. In their first year, the junior youth commissioner shadows the senior youth commissioner, who is a voting member of the commission. Every month these commissioners bring their voices and insight to our meetings and we are continually astounded by their contributions. In today's Creators, Makers, and Doers blog, we learn more about these incredible young leaders.
---
We're going to keep it easy to start. Name, grade, age, what other things you're a part of—if you play a sport or are in clubs—just kind of what you're into right now. Who are you?
Nicole: I'm Nicole Pantiledes. I'm a junior at Boise High. I'm doing track right now, I do cross country in the fall. I volunteer at the Ronald McDonald House quite a bit and the Idaho Humane Society just because I love animals and maybe am considering that [as a career]. I was on student body last year and the year before. I like to involve myself a lot in the community. I try to balance things.

Sia: My name is Sia. I'm a junior at Boise High and I'm 17. Throughout my whole life I've loved being part of the community. I'm a competitive swimmer for Boise High and the Boise Y and I've been swimming for 10 years. I'm also the team captain of that team. The whole Boise Y team. Even when I was young, I raised money for orphans in India. I've just done that kind of stuff and that's something I feel like is part of me and I love helping the community. I do a lot of volunteering, for example for the zoo, and I'm the Vice President of a club called HOSA, which is for people who are interested in future health profession careers. I've just done all that throughout my life and I really love it.

Why did you become an Arts & History Youth Commissioner?
Nicole: I didn't need to push myself to do this. This was already something I was naturally drawn to do. I feel like this is really important work, especially with growing Boise and government. […] I felt like I was lacking in this kind of knowledge so I just thought it was a really good opportunity.

Sia: I'm interested in art, I'm interested in history, I'm interested in children and youth activities. This is something I was so interested in doing. This is something that I am so happy to be involved with. It was just such an amazing opportunity. I really love it.

As part of your role as Youth Commissioner, you are encouraged to create an opportunity within the community that ties to the department's mission. Tell us more about your project.
Sia: Last year, my senior commissioner, Clea McElwain, introduced me to
Refugee Art Saturday. The first time I went to Refugee Art Saturday, I was so happy because it really made the refugee children feel welcome. I was talking to my mom about this because she's originally from India. It was kind of hard for her to come here. It was a big jump. So being part of their lives was such a great opportunity.
[On Refugee Art Saturday,] the refugee children come to the Boise Art Museum. First, they learn about an artist or a type of art. Then they will do a couple of activities, like a matching game or a partner activity, then go to [a classroom] in the back where they are able to take that information and create their own art within the theme of the month.
Nicole: [As] a commissioner, some of our expectations are to attend as many meetings as you can. And to be that voice for the public and for young people. Another thing was to do a project. I was told that I could either jump in with Sia and the project that the senior commissioner started before her or I could do my own project. I just thought it fit my interests best to just jump in with Sia. I love working with kids and I feel like that is something I need growth in […] connecting with younger people and […] different age groups. I'm also in Humanitarian Club and I go there a lot and I volunteer for Jefferson Tutors and Friendship Meals and so that really appealed to me too—reaching out to people who aren't native here, who are refugees, or maybe helping integrate them. Because that can be really hard. When people aren't open or they don't really try to reach out, when people are so set in their ways it can be really isolating. So I just felt like it fit my interests perfectly.

What is the age group?
Sia: Last year they were ages 4-12. Once there was a two-year-old. She was so cute. This year, it's mostly ages 6-16. It's gotten a little older.

Do you see many of them come back?
Sia: Some of them are actually new. Some children come back every month. But I see new faces each month.

Nicole: […] This is a really cool opportunity for them because every month they can go to the art museum and they don't have to pay anything and they get to learn and observe just the way things are here and [improve] their English and get to learn about art. I wish I could have done that, not even as a refugee, but just as a kid … as a person […] it's just cool that they have this opportunity.

Do you have a favorite piece of art or historical or cultural spot in Boise?
Sia: I love Fort Boise. My mom has been doing pottery there for I don't know how long so I basically grew up there. […] I just love seeing them make pottery. I took so many art classes there. I love seeing all the paintings on the walls […] It's just so cool. I also love the Boise Art Museum. I just love it. I love seeing all the new artists and the donut exhibit was so cool. It's so pretty.

Nicole: The mural on Myrtle. The one on the new gray building. It's a mural of a sunset and a house and the mountains. I just love it so much. The colors. And I pass by it every day. It just makes me… the weather sometimes can make me kind of sad or glum but it's just the colors. Even if I'm having a bad day […] it just makes me happy. Also, the Basque Center. I love the Basque Center. My mom volunteered there for a year for community service. It was a really interesting thing to observe because she wouldn't have naturally just gone and volunteered there but by the end of it she got really attached to it. And now it's really cool because whenever we're talking she brings it up and connects things with the Basque Center. She's like "You should get a job there!" I think she learned a lot. I like visiting there. And also MING Studios. I went there for the first time during Treefort for slam poetry and one of the directors there brought up how nothing in there is concrete, there are walls that are just kind of hanging. I felt like the world is just a big glob of clay. It brought out a creative side in me because everyone there is a creator. Super inspiring.

What's on the horizon for you?
Nicole: I applied for these two full scholarships to go abroad. I was really intimidated. I remember one day I started crying, I had a complete meltdown […] I was sure [my application] wasn't good enough. […] It turns out that I got both of them. It really showed me that just putting yourself out there, even if it doesn't work out, I gained so much from the experience of just applying for it and looking over really why am I doing this. Where do I want to go in life and how has what I've already experienced prepared me? It was really eye-opening just to reflect on myself.
Hopefully I'll be able to study in Indonesia next year. I think a lot of the things I've been doing this year really prepared me for what I want to accomplish most there, which is connecting with people. I have a passion for speaking and listening, and everything that goes with that. I was in debate and I learned a lot through that. Just in connecting and finding common ground, whatever it is. Whether it be art or history or favorite food, whatever. Just getting to know people and being empathetic. I think Indonesia gives me a really good platform for that. Respecting different ways of life and getting to know them and being willing to change and give up the things we're comfortable with. So, that's what I'm looking forward to and in the long term doing something with humanities. And maybe with language arts or something along those lines. Hopefully I'll find more clear direction soon.

Sia: I'm looking forward to a couple of things. First, I knew from when I was little I wanted to be a doctor. It's just something I've been interested in. So, I got the opportunity to volunteer for and shadow my ophthalmologist. I don't know why, I just really want to be an ophthalmologist so this is a great opportunity. […] I actually get to do the [eye tests]. It's so cool. I get to learn about all of this and the profession. I just love it. […] Another thing I'm looking forward to is traveling. I love traveling. I love experiencing new cultures. Whenever my family goes and travels […] we only take public transportation to really experience the life. So that is something also that I look forward to. I don't know where we're going this year. Thailand or somewhere in Switzerland. I'm not really sure, I just love traveling. It's something I'm really passionate about. To experience [another country's] art and culture and history. I just love it. Another thing […] which is kind of scary to me but that I'm looking forward to is going to college.

One more year! Do you want to stay close by for college or are you looking into going to a further away university?
Sia: I wanna stay somewhere in the west. I visited University of Utah and CU Boulder and I love those two schools. Those are my top two right now.

So many exciting things for you! You've accomplished so much in such a tiny amount of time. Any final thoughts? Anything you want to share?
Nicole: If there is anyone that feels like their life is lacking in some way, I think just going and doing anything really that you're uncomfortable with a little bit or maybe are unsure of, I think if you just do it, you can't go wrong with that. And that you'll gain a lot from just being uncomfortable and that it's okay to push yourself in those ways. Even if it might be weird at first, you can uncover a lot of passions or things you didn't know before. I just think it's a great thing.

Sia: I want to say that being part of the [Arts & History Commission] was one of the best decisions of my life. Throughout the two years I've learned so much […] I can't even count how many things I've learned. One thing I was not good at before was being confident and that's something that really changed throughout being part of this commission. I really loved it. It's such an amazing experience.