The opening of the James Castle House will feature a community party at the historic Egyptian Theatre, a three-day inaugural symposium, citywide exhibitions and receptions, and culminate in the public opening and ribbon cutting ceremony on Saturday, April 28, 2018. Visit our Events calendar for details.
Serving as a testimony to the life and work of American artist, James Castle, and rooted in Castle's sense of wonder and discovery, the house today is a center for contemporary and historical exhibits, tours, performances, talks, an Artist-in-Residence program, and community partnerships. Both the historic buildings and the new wing invite you to explore the spaces unique only to James Castle. Opening April 2018.
Located in Boise's Collister neighborhood, the center consists of the original Castle family home, two historically significant outbuildings where James Castle lived and worked, and an outdoor convening space. The house itself dates back, in part, to the early 1900s, and features a guest room accommodating the residency program, an artist studio, exhibition space, and the General Store, carrying books and gifts inspired by James Castle and his artwork.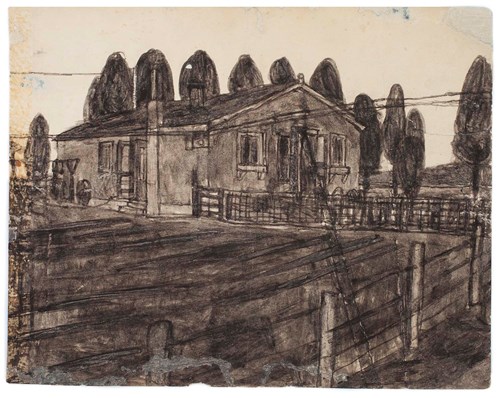 James Castle (1899-1977) is one of the most unlikely and enigmatic American artists of the twentieth century. He was born on a  small farm in Garden Valley, 50  miles northwest of this property, and lived there an in Star, Idaho  during his youth, before moving to this house with his family in 1931.  Castle was born deaf ,  and, while he attended the Gooding School for the Deaf and Blind, he never became proficient in reading, writing, or  a conventional means of communication.  Because of this he was largely excused from the farm's chores and allowed to spend his time freely. From an early age Castle displayed a great love for drawing, whiling away the hours on pencil representations of his immediate surroundings.  As Castle matured so did his  art and technique, all entirely self-taught. By the time he moved to this house, Castle produced an enormous volume of work  daily, ranging from soot drawings of his home and the Idaho landscape, to constructions of birds and everyday objects made from cardboard and string, to mysterious books filled with his own texts and symbols. Castle's work first captured attention in the art world in the early 1950s, and interest steadily grew in his art and life story throughout the remaining years of his life. Today James Castle is one of the most celebrated self-taught artists in the world, his work capturing the public's imagination even as the question persists of just what he wanted us to see.
Image: Untitled (house), n.d., James Castle
© 2017 James Castle Collection and Archives LP, All Rights Reserved
TOURS & TALKS
Beginning April 28, 2018. Lively and informal, tours and talks are offered every Thursday, Friday and Saturday. Scheduled to offer visitors a deeper understanding of James Castle, his house and the artists who now create within its walls. Tours and talks for schools and universities offer students and instructors an opportunity to enhance course curricula. Additionally, other large groups tours and talks can be arranged for a more customized experience.
Advance reservations are required for all student and adult groups of 10 or more, and for any third-party guided tours, regardless of size. Please contact us at jamescastlehouse@cityofboise.org to schedule your visit. 
RESIDENCY PROGRAMS
The Artist-in-Residence program at the James Castle House supports emerging or mid-career artists of diverse ages, backgrounds and disciplines as they live and work in three-month rotations. Resident artists will receive the space, time, and contemplative allowance suited to the James Castle legacy. To this end, artists will be provide furnished living quarters, studio access, and a stipend to assist with general living expenses and supplies necessary to the artist's work. Residencies are offered during the summer (May - August) and winter (January - March) months. 
Apply HERE
DEADLINE: March 7th, 2018 Midnight MST
NOTIFICATION OF ACCEPTANCE: March 21, 2018
The Community-Engaged Residency program at the James Castle House supports individuals whose lives and work blur the lines between art, history, and the social practice of community-born projects and research. This program provides opportunities for individuals of diverse ages, backgrounds and disciplines to live and work at the James Castle House up to three-month periods as they develop community-based and organizational relationships, and ignite conversation around history, culture and place. Community-Engaged Residencies are selected based on proposed projects and community impact.
Application opens May 2018.
GENERAL STORE
Opening April 28, 2018. Our small boutique General Store carries books, and gifts inspired by James Castle and the house. Purchases at the General Store help fund programming and conservation work at the House, including the Artist-in-Residence program, free talks and tours, and ongoing conservation of the historic outbuildings. The General Store is open during center hours (Thursday-Saturday, 11am - 6pm.)
FAQ
1. When does the James Castle House open and what will be the hours of operation? 
The James Castle House opens April 28, 2018.
The House will be open to the public Thursday-Saturday, 11-6 p.m. Closed Thanksgiving Day, December 25, January 1, July 4.
2. How Can I see the site?
The site is still under construction and is not open to the public at this time. Tours will be offered starting April 28, 2018. To schedule a school or large group tour please contact us at jamescastlehouse@cityofboise.org.
3. Why is this of interest to the City of Boise?
Saving and restoring the community's cultural assets plays an important role in economic development. Local and national data show high return on investment for the type of redevelopment and historic preservation Boise undertakes with its Cultural Sites program. 
4. Who is paying for the James Castle House? 
The James Castle House is funded in part through the City of Boise's General Fund. Additional support through donations, grants, and proceeds from the General Store help maintain ongoing programming. 
5. How can I learn more about James Castle?
The James Castle Collection and Archive maintains a comprehensive collection of James Castle's drawings, handmade books and constructions, tools, supplies, and source materials, as well as family photographs and historical documents. View his CV and learn more about James Castle at www.jamescastle.com.
6. How can I volunteer? 
Volunteer opportunities will become available in March 2018. Please contact us at jamescastlehouse@cityofboise.org for more information. 
7. Can I take photographs or video of the James Castle House? 
The James Castle House allows non-flash photography in most areas; signage indicates where photography is prohibited. Feel free to photograph friends and family along with your favorite artworks and artifacts as appropriate. Please note that photography is allowed only for personal, noncommercial use, with the following restrictions: no tripods, no flash photography, no selfie sticks, and no drones. 
Follow along on Instagram @jamescastlehouse  #JamesCastleHouse
James Castle House
5015 Eugene Street
Boise, Idaho 83703
1-208-608-7046
jamescastlehouse@cityofboise.org