Creators, Makers, and Doers: April VanDeGrift
Posted on 12/23/16 by Arts & History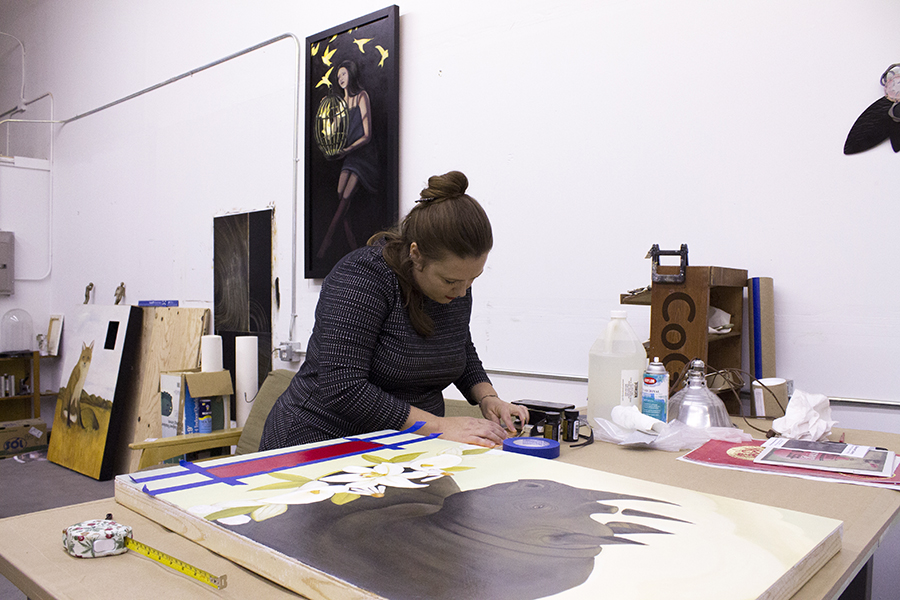 April VanDeGrift balances her professional artistic endeavors with family life and an unrelenting drive to learn, explore, and create. Her schedule is full and varied. She teaches at the university level, is training to be a conservator, and frames art, all while pursuing a multi-disciplinary practice rooted in painting. April's top priorities include carving time to work in the studio where she finds inspiration from exploring ideas and sharing expertise with other artists. She is currently preparing for a solo show planned for this February.
Can you start by describing what you do?
I'm a visual artist living in Boise. I work a lot with painting but expand outside of that if the content needs other ways of expression. So, generally, oil painting, acrylic painting, but sometimes sculpting or other ways, other methods, as well.
What is the draw to painting for you?
There are a lot of things about it that I suppose I am really drawn to. It's definitely a medium that I feel most connected to, like emotionally and physically, it is one that I can get lost in. But I also like the rich history that exists that painting has been around for a long time and that, as a painter today, you're having a conversation with the past as well. There's something that's just satisfying about being able to communicate in that way. So, for me, most of the things that I want to say, I feel like I can do in painting.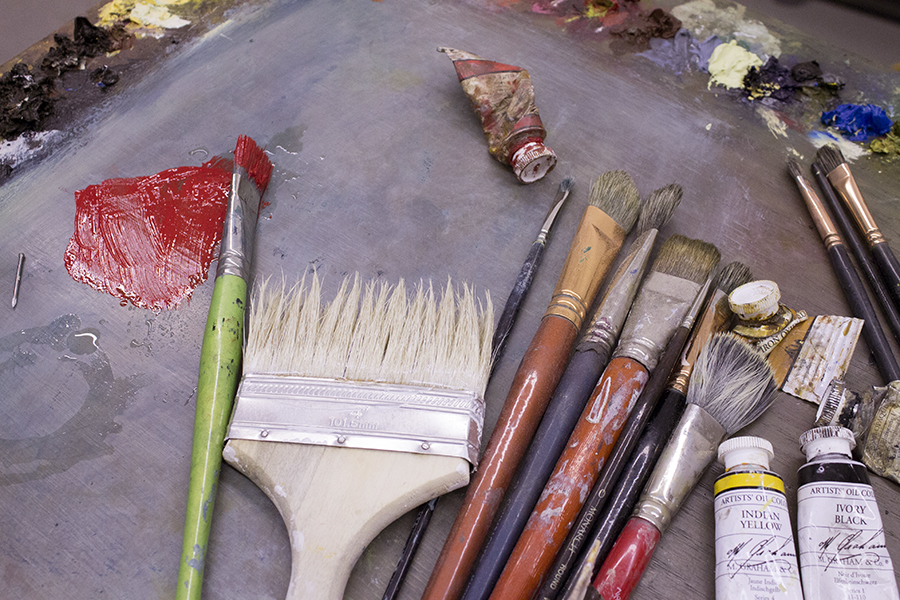 What is the content that drives your work?
Generally, it changes. I explore a lot and sometimes those explorations make it into a body of work and sometimes they don't. Right now, I'm working with ideas about extinction and how that's linked to human emotions and/or marketing ideas. I'm kind of curious about where we're heading as a culture or as a people, so, I'm exploring different things like that right now, kind of seeing where it takes me.
Towards that end, what kinds of imagery are you employing?
Right now I'm using a lot of animal imagery—so, animals that are either extinct or are heading towards extinction. I've worked with albino animal imagery as a method to communicate ideas about connection or ghostly appearances or the feeling of seeing something special, but not necessarily always. Currently, I'm finishing up a painting about a black rhino that's extinct. I'm also, I'm in the middle of a painting about bees. I'm just kind of talking about how the change in our environment and the change in the way that we interact with this global community impacts not only ourselves but the world around us.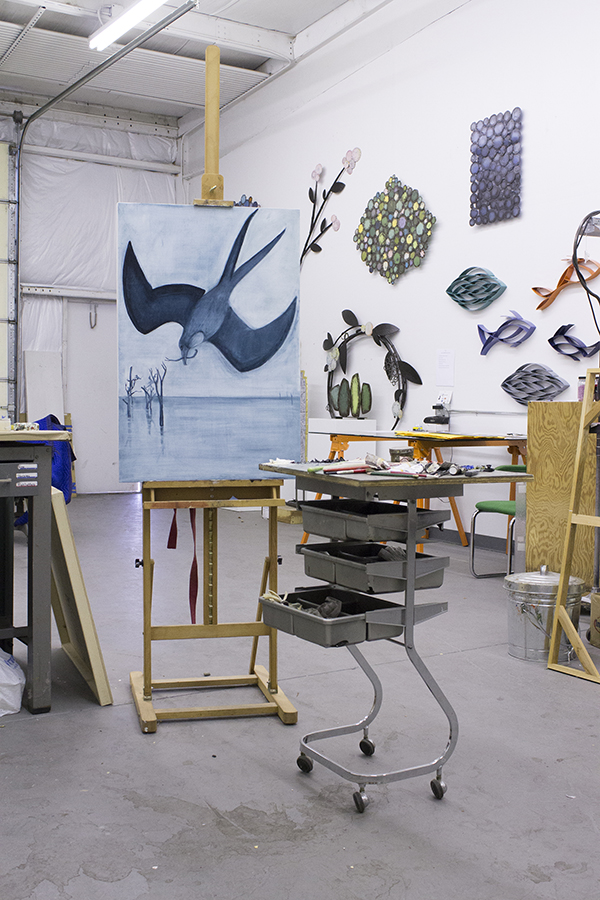 Are you dedicated full-time to painting and making art?
I work in the arts full-time, but not always as a maker-creator. I teach art at the College of Idaho and the College of Western Idaho and sometimes at BSU, but not right now. I frame art, at Picture This, and then I do some restoration with them as well. Also, I have my studio practice. I feel lucky that I'm able to make a living in the arts, even if it's through various methods, which makes it also entertaining and interesting and keeps it fresh. I enjoy being able to be around it in all these different methods.
What subjects do you teach?
I'm teaching Drawing I at both C of I and CWI. Next semester, I'm scheduled to teach Drawing I, Painting I, and Painting II. So, generally drawing and painting classes and sometimes Foundations. So, the basic design for two-dimensional art practices.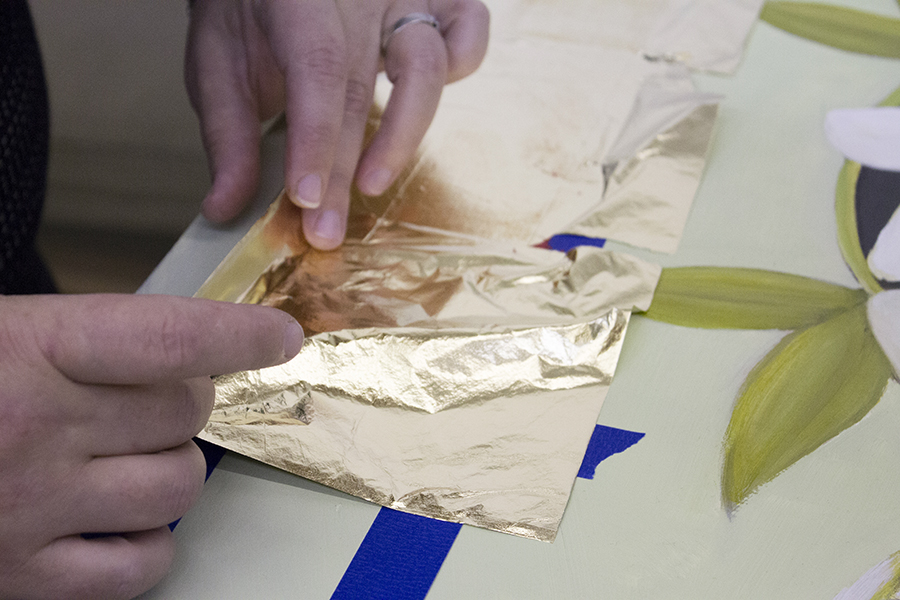 What do you enjoy about teaching art?
I really love watching the progress of the students and being able to figure out different ways to explain how something is done or created, and also opening people's eyes for the first time. Most of them walk in with, I guess, a limited experience with the arts and being able to hand them new and different things to think about and new people to look it and new art to look at I think is really fascinating. I really love what they're able to take with them at the end of the class or the course. They walk in thinking they can't draw and really feeling that they have this limited ability, and almost all of them leave the class thinking, "I can't believe I can do this now. I've drawn more or better than I thought I ever would." So, that's really satisfying. Sometimes I push them so hard and they might complain in the middle of the course—like, "This is really hard, this is really difficult." But by the end they're like, "I can't believe I can paint this." So, that's really satisfying.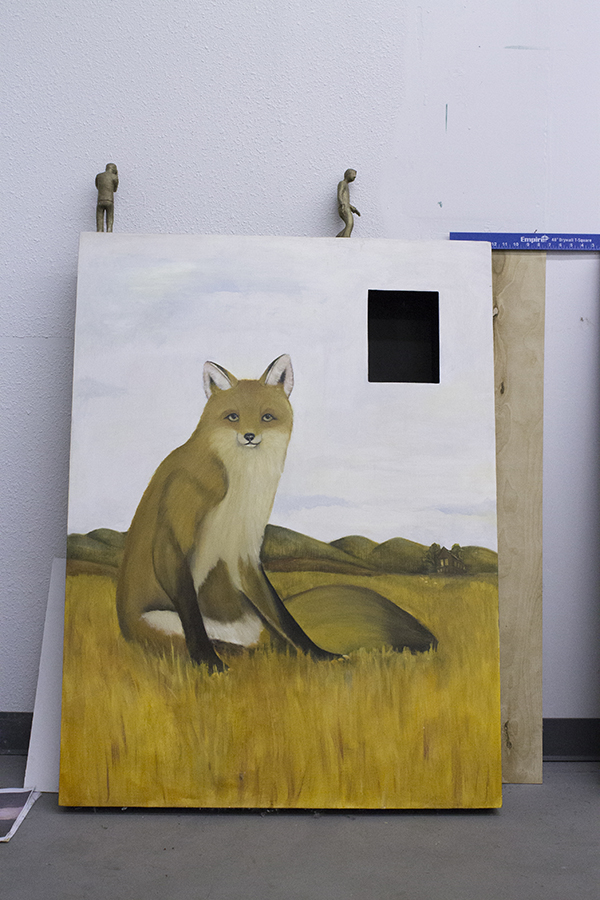 With all you have going on, what drives you to dedicate time in the studio?
That's a good question. I also have a family: I have three kids and so it's just not something that I question, I guess. It's just something that has to happen. Maybe I don't do the things other people find important, like hit the gym or watch TV. There's none of that. There's a drive in there for me, and I think maybe other visual artists as well, where it just becomes the thing that you want to do—the important thing.
On the same note, can you talk about your current studio space?
Yeah, I share a studio with Erin Cunningham, and we are subletting from a metal worker named Susan Madacsi. It's really great to be around other artists and to be inspired by other people who work so hard at their practice. We have this warehouse in Garden City and it's great because we can spread out and make a mess and hang things on the wall and take them down and paint on the floor and do all the things that it takes to be an artist.
Is there a collaborative aspect to sharing the space with other artists?
Sometimes I think Erin and I, because we're both painters, tend to bounce ideas off of each other. If there's something bugging me about a painting I know that I can ask Erin, like, "There's something weird about this; what is going on?" and she can give me some of that feedback. That really helps me move forward. Like I said, it's so important to be around people that are just really smart and that you can grow and learn from. I think that's the most important thing about having—or sharing–a studio with somebody is sharing with somebody that you can learn from.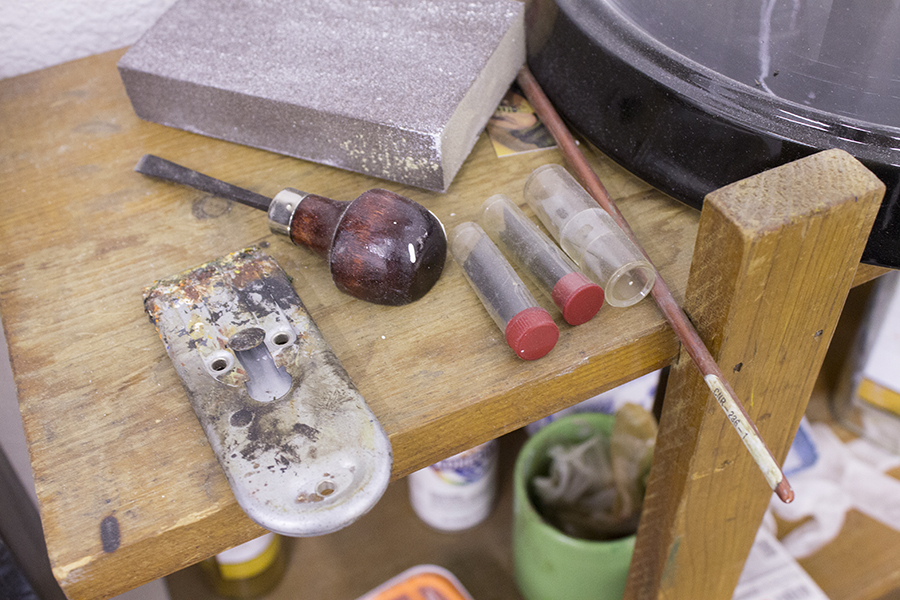 Do you recognize any resources that are lacking here for you or the arts community?
I think right now, I only have positive things to say about the art community in this valley. I think that I feel really lucky to be working in an area that has such a great sense of community and that seems to be really interested in promoting the arts here. There's so many amazing people working in so many different ways that I am constantly inspired by the people that I'm surrounded by and at this point, I have no complaints with the Treasure Valley or our arts community. I think we're lucky. I think we had a point when we had not too many galleries, it seemed like a lot had shut down at once, but it seems like more and more things are starting to emerge again, so it's exciting to see where we're going as a community.
Is there anything in particular that you are excited about right now?
I'm always interested in seeing what's happening at the Visual Arts Collective and seeing what those guys are up to. Swell Studio, I think, has been really fun in kind of bringing out new things in the community for people. Gallery Five18 has been really great to see that community coming together. It seems like there's a lot more pop-up shops here and there. So, I just see there's all this room for growth, and people seem to be stepping into those roles and it's really fun to watch.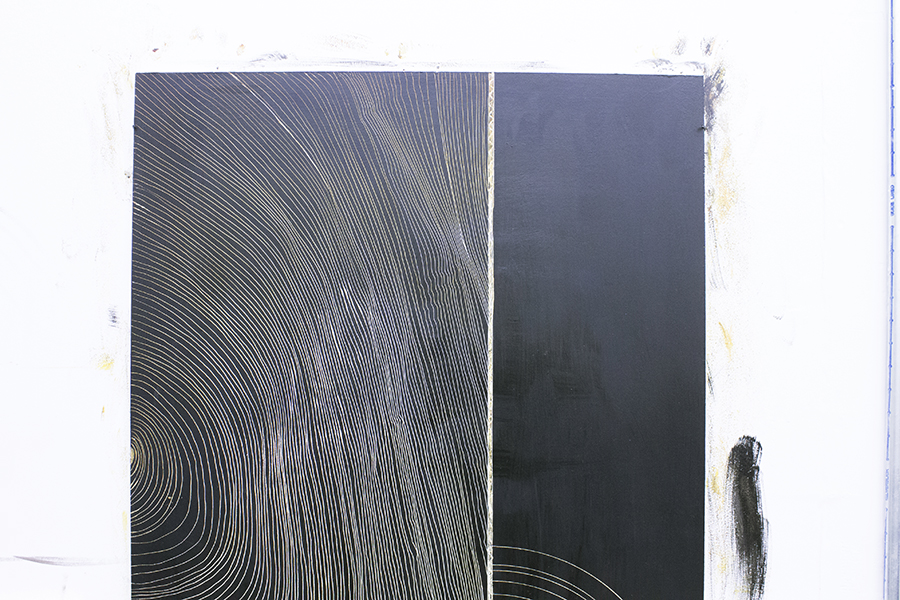 Finally, do you have any advice for other artists?
Just move forward every day and always create new goals and always know you want to learn more and be open to that experience. As an artist, I'm not done learning. I'm sure I'll be an eighty-year-old lady and not done learning. It's so important to just look and see what's out there and want to be better. So—practice, practice, practice.
---
Creators, Makers, & Doers highlights the lives and work of Boise artists and creative individuals. Selected profiles focus on individuals whose work has been supported by the Boise City Dept. of Arts & History.