Creators, Makers, & Doers: Terri Schorzman
Posted on 5/30/18 by Brooke Burton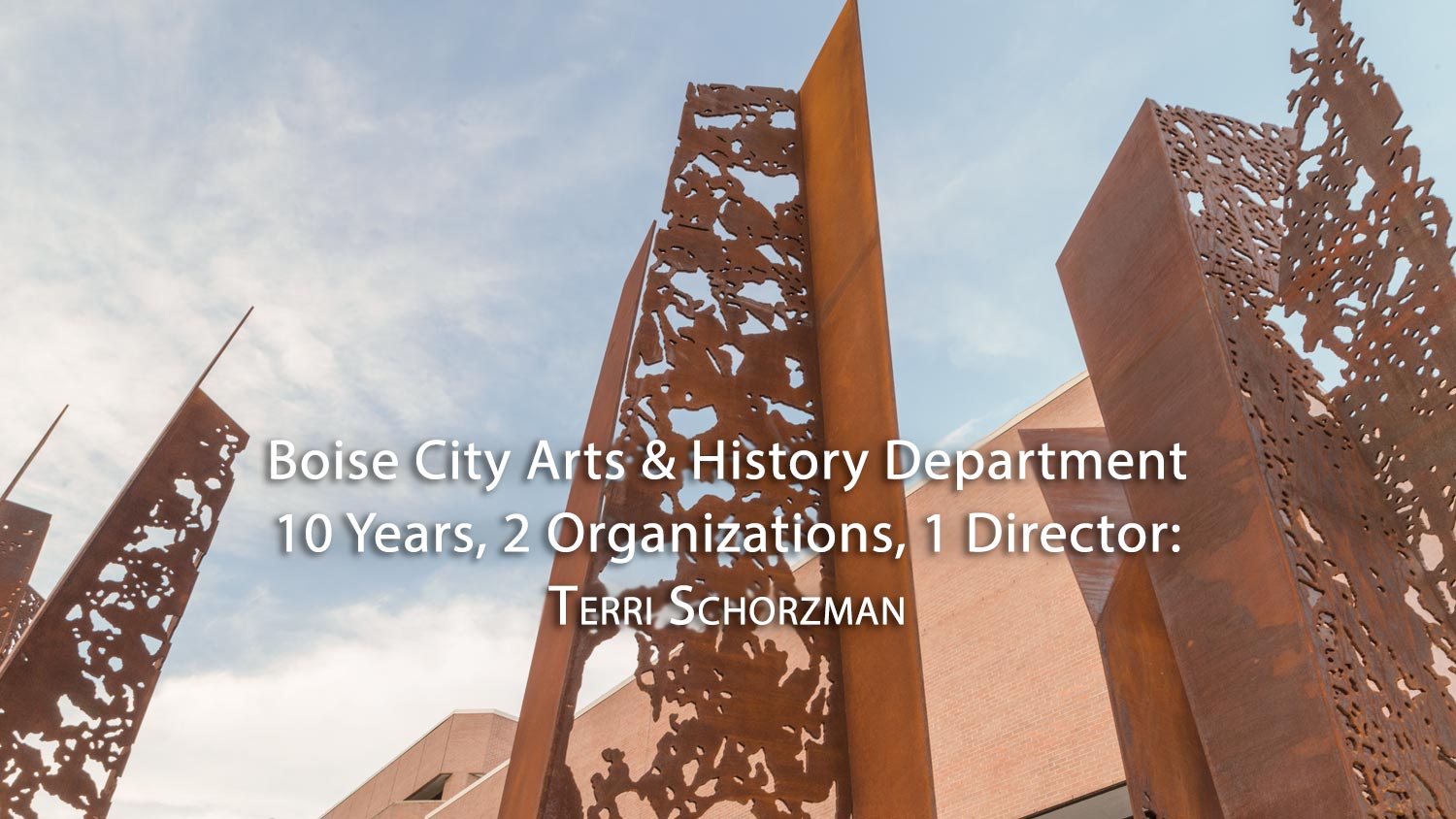 ---
Interview & Photography by Brooke Burton ©Boise City Department of Arts & History
Eleven

years ago the city of Boise had a number of public artworks, limited resources for honoring city history, and room for more. Enter

Terri Schorzman

,  historian, art lover, and trailblazer. With Terri's help, the Department of Arts & History was founded and her work supports the extensive cultural programming that has been shaping our city in a beautiful way since 2008. Terri is not afraid to try something new, bringing people together toward common goals with her sharp mind, strategic talents, determination, and especially, an appreciation that it takes all kinds—talents, skills, passions—to build something meaningful. If you want to know how she does it all, read her list: Ten Guiding Principles for Ten Years. Spending an afternoon at city hall soaking up the office vibes, it's apparent this is one stellar team that gets things done (really cool creative things.)  Happy 10th Anniversary, Boise City Department of Arts & History!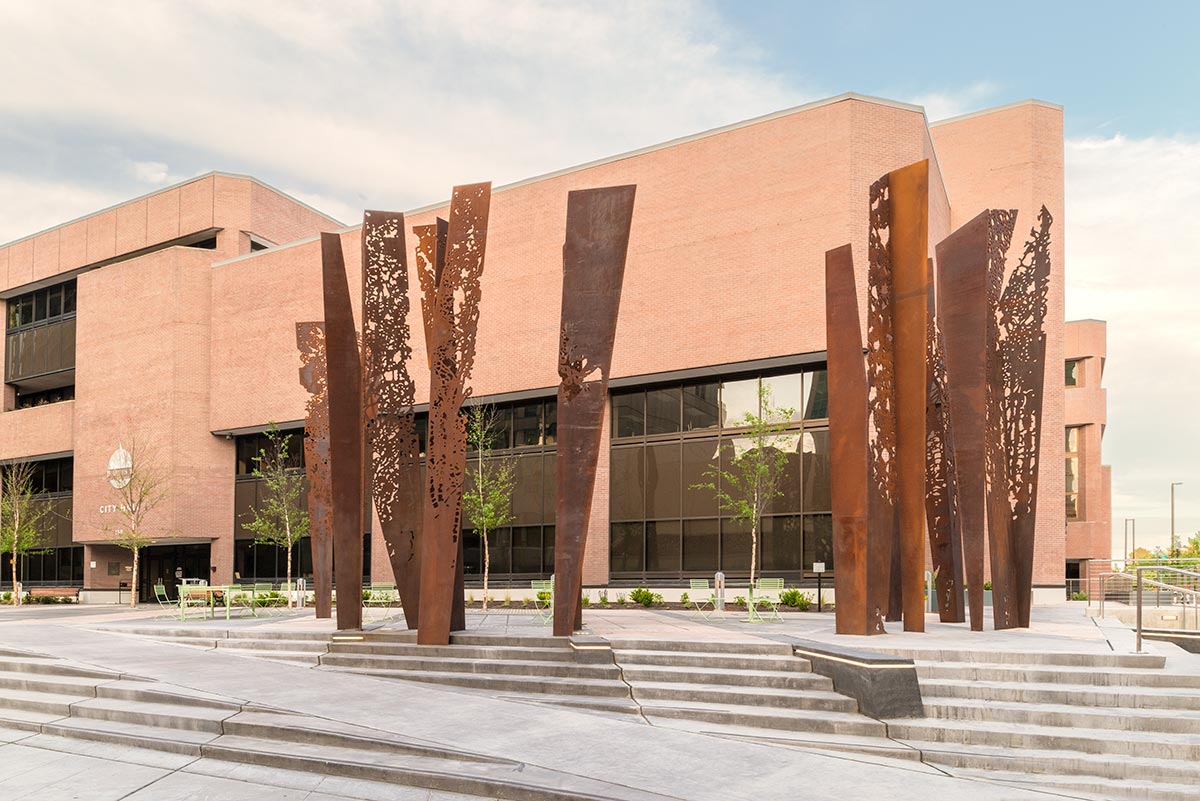 Cottonwoods (2017) by Dwaine Carver and Zachary Hill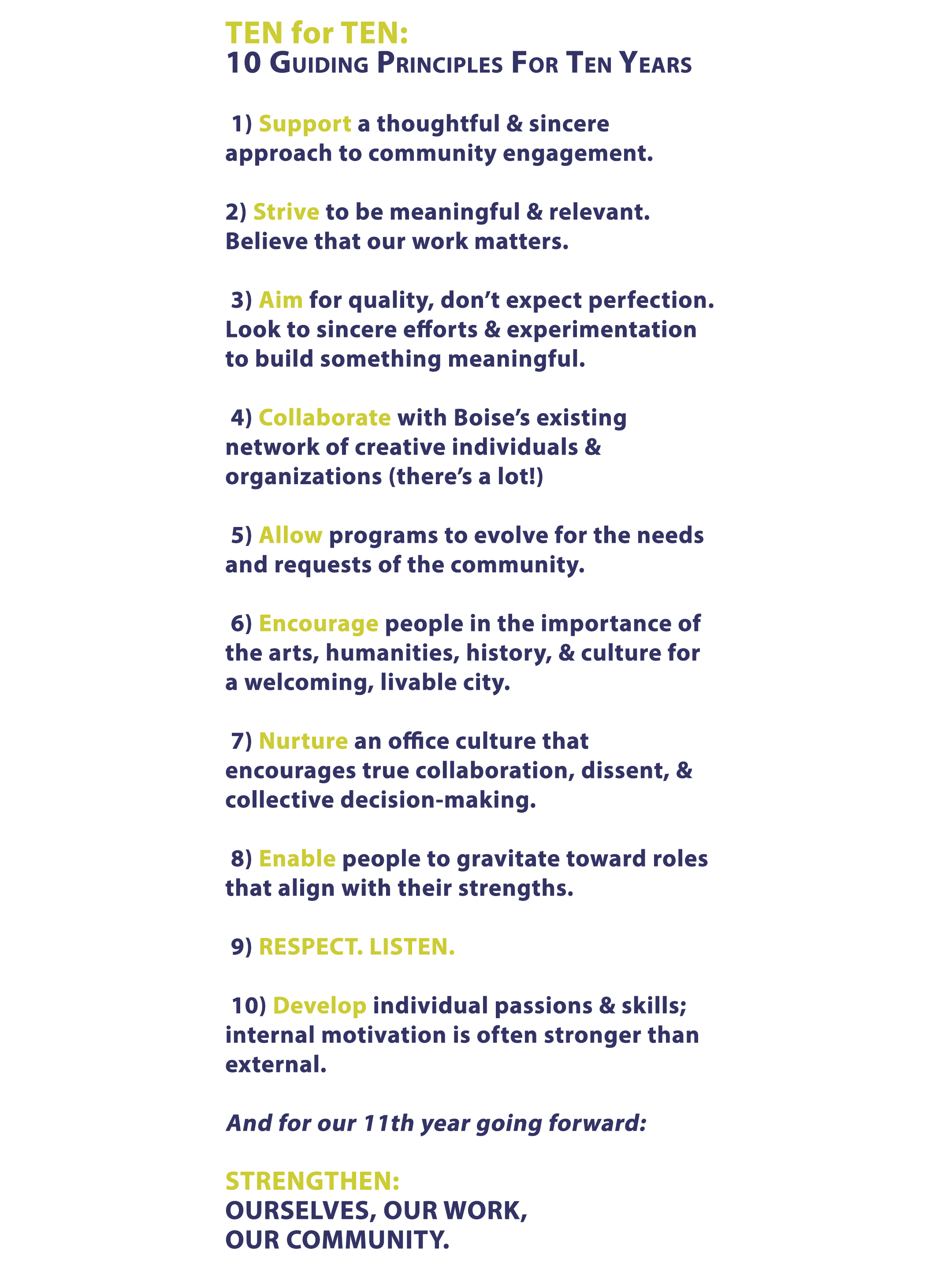 ---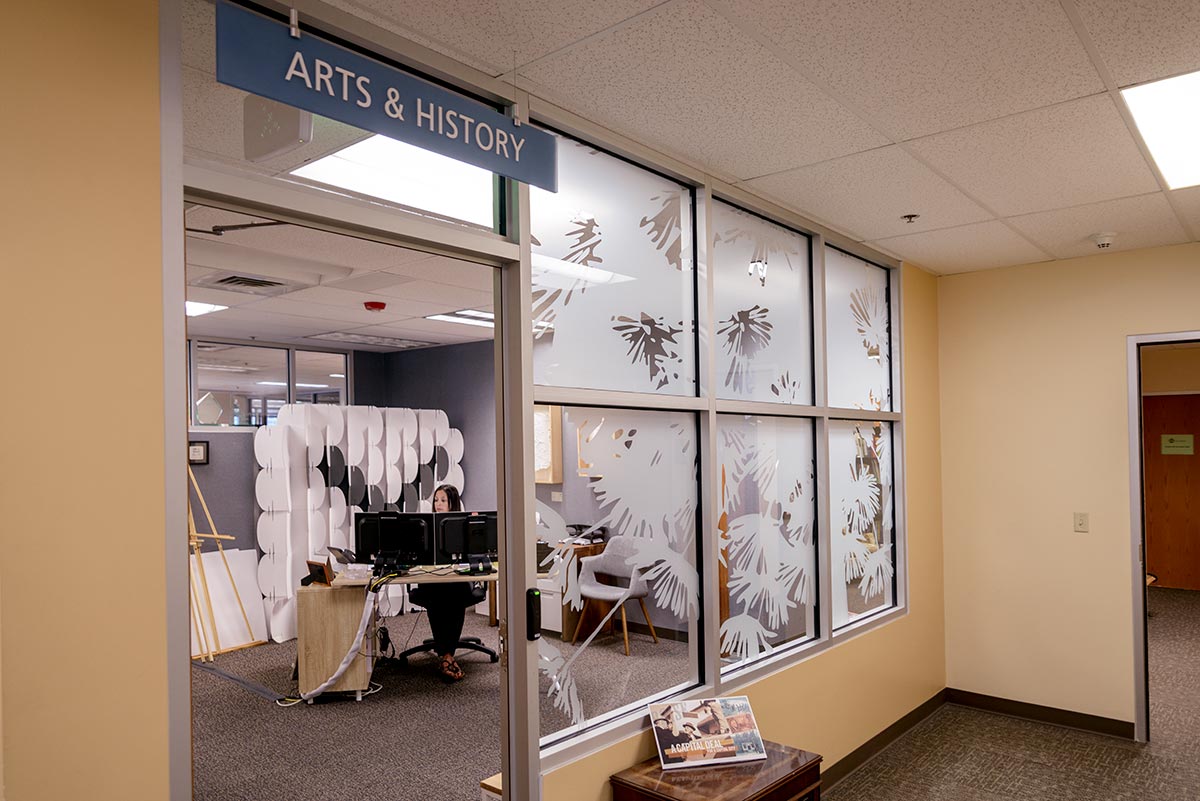 We have to talk about insecurities, because I'm interviewing you and you are my boss, essentially, so I'm feeling a bit small. But you don't seem to have any insecurities, that I can tell. Do you ever feel worried about trying something new?
[Laughs] No, I don't.
[Laughs] That's great. You're not afraid to forge a new path with everyone watching?
No, because there's always a better way. And sometimes that's hard to do in government, but there's a better way. I've found I really like taking on the challenge of something new.
Exactly. Taking on a challenge. Now that—see, that scares me. What advice do you have for me?
Not to be afraid of the failure. Life's short. And if you don't try it—then you'll never know what could have been.
What's your leadership style? Do I need to ask the staff?
Probably! Because for years—I mean, not just here, I end up in these situations when someone says, "You're in charge." Why am I in charge?
Is it one of those things where everyone looks to you, and you're wondering, "Why is everyone looking at me?"
Yes.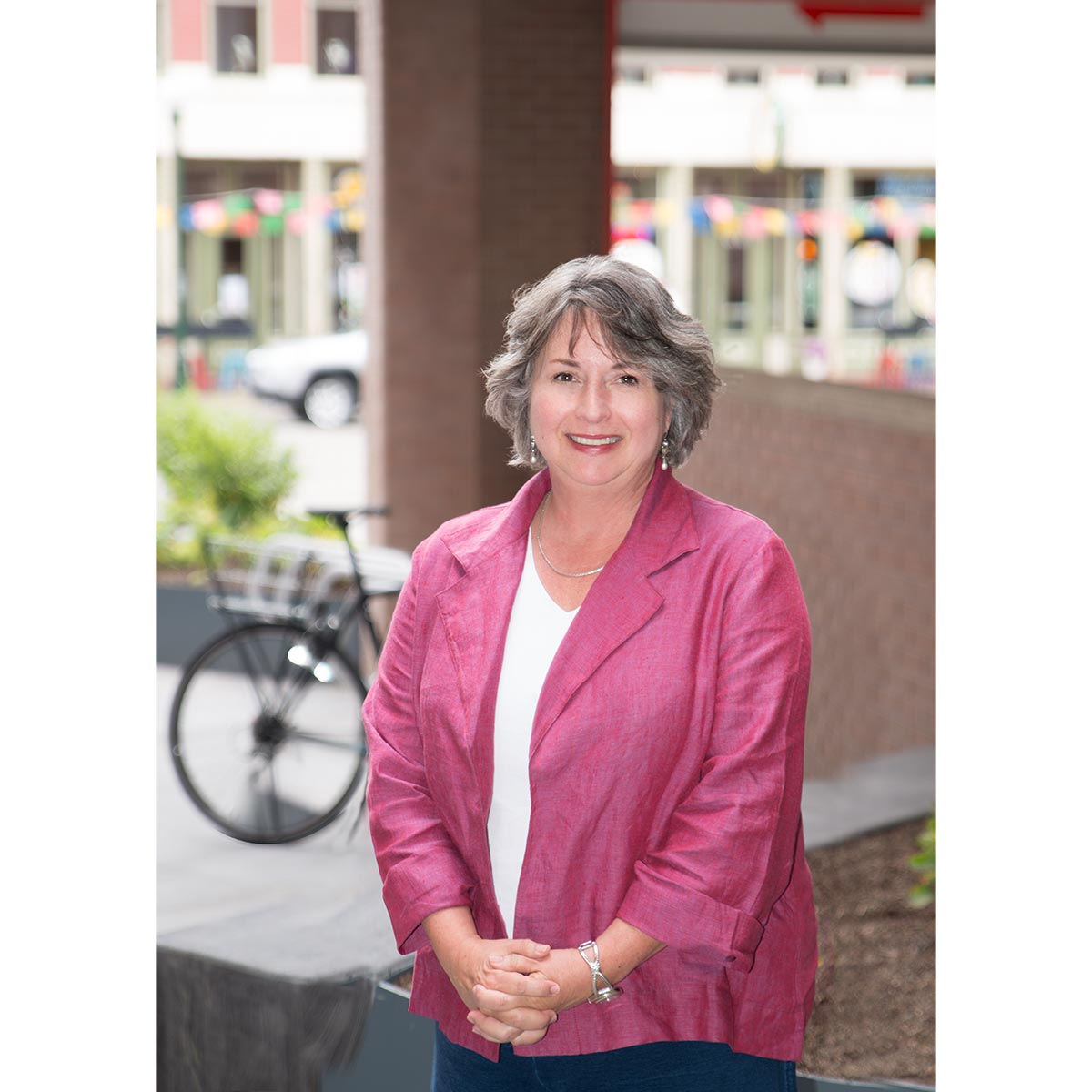 But they know you're going to get them where they want to go?
Right. I've never had a management class, I've never had a leadership class—I'm a historian—but it was always that way. I think it's rather intuitive.
That's a good testament to you as a leader, people naturally look to you for guidance and stability and direction, out of choice and not out of obligation.
Yes, or out of fear. My style is not command and control. I don't approach people that way. It's always collaborative and respectful and honoring individual abilities. Not micro-managing.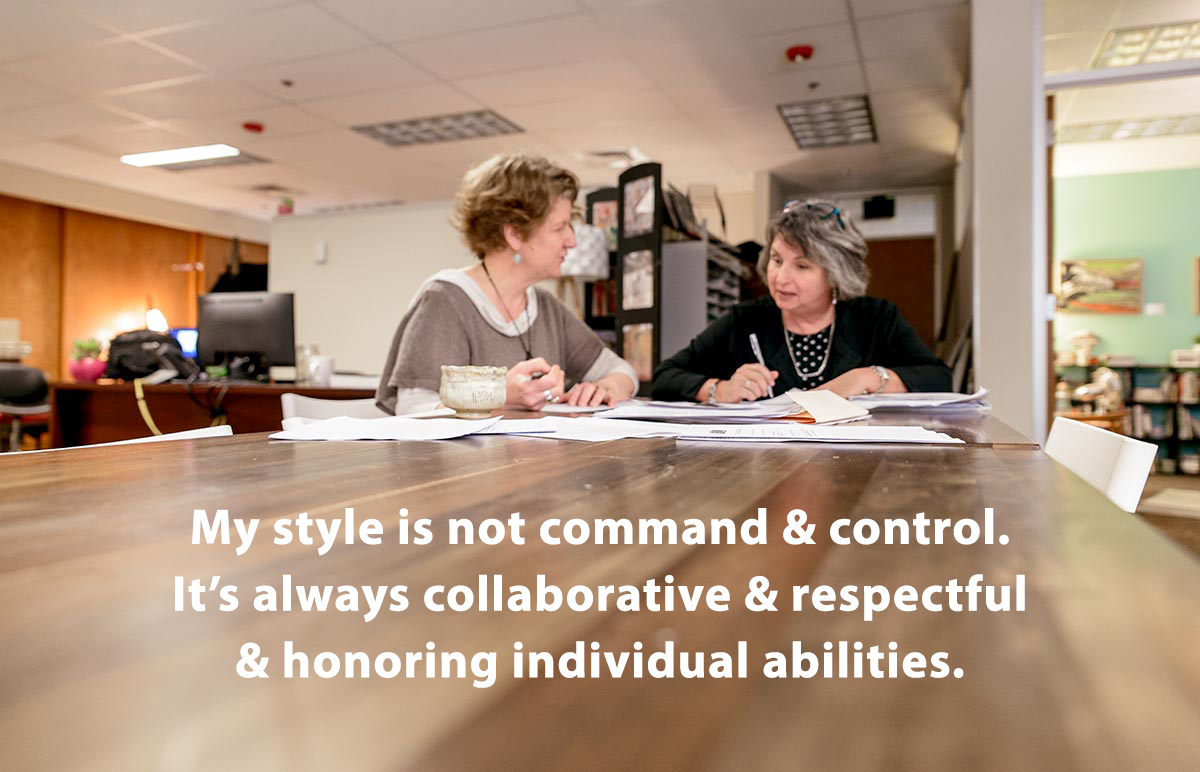 You said fear?
Some people end up in leadership positions but—they govern by fear.
Using intimidation or pressure?
Intimidation, bullying. I've worked in environments where that's the norm, it's very difficult. When you go to work every day with a pit in your gut—
That's not a good—
It's not good. 
Have you had some positive examples of leadership in your life?
Yes, one jumps out at me that I thought was just terrific, Richard Hewlett was eminently accomplished and confident; he was nurturing, he was an educator. He was probably considered the first historian for the federal government. He wrote an award-winning major piece of work, highly recognized and valued, yet humble and caring. He just said, "What can we do to make this work?" That was for everybody that he took under his wing. It was always about education and helping.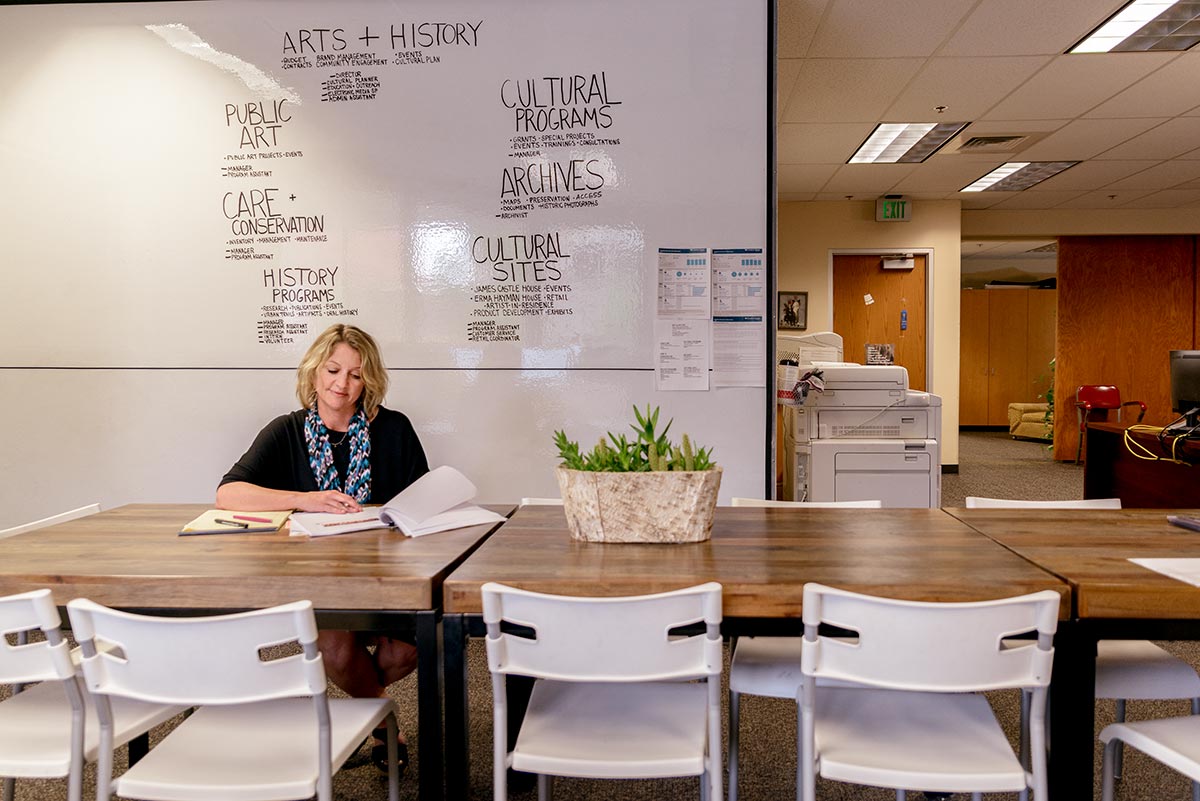 Can I just say how much I love your 10 Guiding Principles for Ten Years?
Good!
I love that you spoke about allowing people to gravitate towards roles that use their strengths, because they're going to perform better.
Right, and they do.
Also talking about true collaboration and collective decision-making. And you said, "Encouraging dissent." What does that look like in practice?
In practice, it means everybody in this group should feel comfortable to come to me and say, "I don't agree with that decision," or "I'm uncomfortable with this," or "Maybe we should look at that," because I don't know everything. People may not know the other things that I have to deal with, but they sure have a right to say what's not working. I think that what they have found in this department is that ability to just talk. I'm not going to censor, I'm not going to—
Judge?
Judge—thank you. That if they are upset about something, we've got to talk it through. Dissent is important.
You said something really key—that people feel like they can say what's not working and voice an alternative perspective without fear of being condemned or shut down. How do you create that atmosphere of safety? Do you do team-building activities or techniques?
Just being willing to listen and let people know they won't be ostracized or penalized for speaking up, and that's just a day-to-day behavior. I come out of a generation that didn't do team-building, and some of our younger people are, like, "You know, we need some team-building exercises!"
Some BBQ's and potlucks?
Those sorts of things. That's great. But It's important that people feel really safe, that they can say what they need to say. So, listening skills.
Listening can be hard.
It is hard. Sometimes people don't listen because they're so in their head all the time and thinking about what they need to say. I say, "Take a breath." Maybe that comes from being trained as a historian and listening to people while doing oral histories—really listening to get to the information.
You're right. A historian really has to listen and not project onto the speaker what they are expecting to hear. Because that will not reflect their history at all. If you need to listen, take a deep breath first, and just be listening, not thinking. You've done ten years of listening here as the director of the Boise City Department of Arts & History. How did the Department come to be?
There was a thirty-year history of the Boise City Arts Commission (BCAC) that started in the '70s and was all volunteer run. When I was a commissioner with BCAC, I helped put the first grants program together because Mayor Coles said, "Hey, I've got some leftover money for the year." We said, "Cool, we'll do an arts grants program." We also got some of the first major public art done and did the Mayor's Awards in the arts. But I recall wondering, "Why doesn't the City pay attention to its local history?" They've got an Arts Commission and they have a Historic Preservation Commission. But nobody was looking at local history and I wondered why. A good friend of mine, Bob Sims and I were just chatting,"Maybe we could present the idea of a History Commission, parallel to the Arts Commission."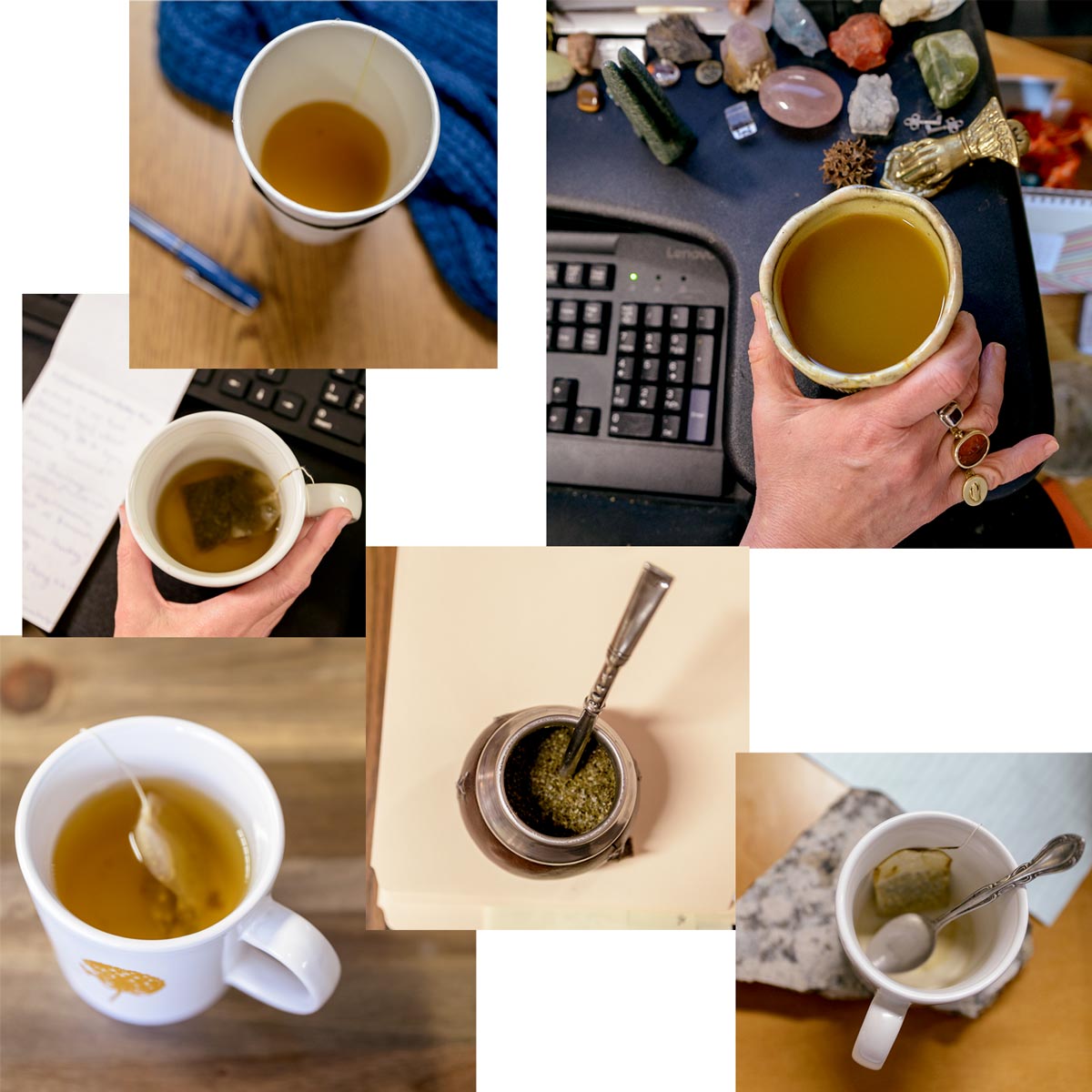 The idea started as a history commission but evolved into a whole department?
Several of us—Bob Sims, Jody Ochoa, Mark Baltes—did a planning meeting and reviewed all the City strategic plans; the more we went through it the more we saw the need to propose a whole department. Because, why not bring these two together? Arts and history?
Did you feel Boise wasn't big enough to have a whole department for art and a whole department for history, so maybe together—
Yes. It took us about a year to get on Mayor Bieter's schedule, but when we presented it, he said, "It's the first thing I've seen that really fits one of our main goals." But he also said, "It's going to be a hard sell and I'm going to need you to get a lot of people in the community to support this."
How did City Council, respond?
They approved it!
Did they call you up and give you the good news?
No! I open up the paper one day—And I saw the Council has approved formation of this new department. The mayor was amazed by how quickly the Council wanted to move forward on it; they loved the idea and felt it was something they needed to do.
That's pretty awesome.
It was awesome. I think it makes a difference when you have a department that sits at the cabinet level. We really have a stake in the game, with a dedicated budget and a dedicated staff. It was the first time the arts actually had a seat at the table. We have a piece of the pie.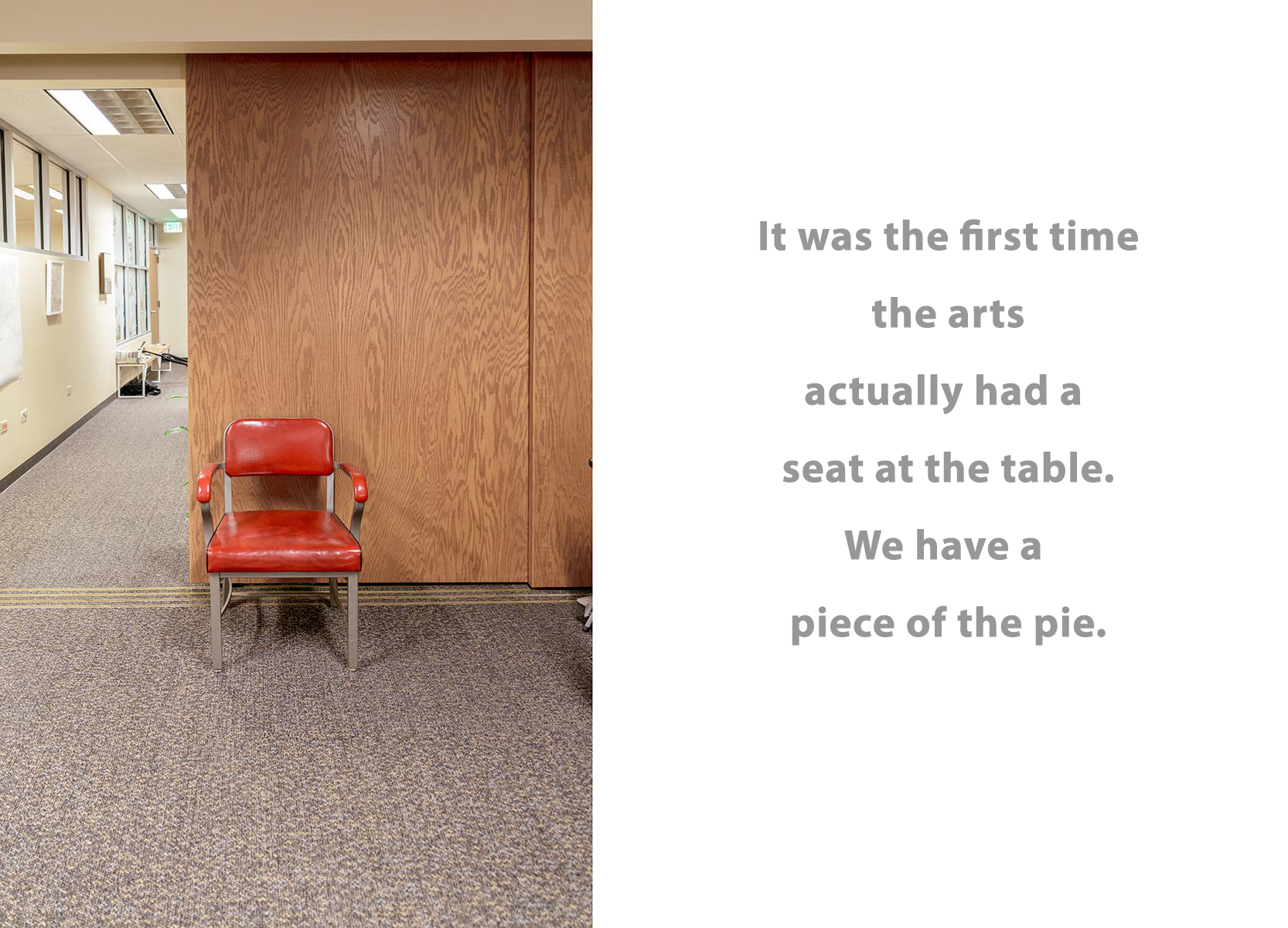 Ah. I think having a seat at the table is a pretty big deal.
It is a big deal and it hit at the right time because it was March of 2008 and by that fall we started seeing the recession come on. Having a department secured money for the arts.
I was kind of curious about budget and the flow of money, do you have to roll with the punches?
Yes, we do; there is only a limited amount that comes in through the general fund of the City. That first five years we didn't have a historian. We used graduate students. We had interns. We had consultants. And being the smallest department in the City and, you know, the tiniest-funded, we do what we can. We're not quite a penny of the City budget.
You guys are like, the tiniest sliver of pie!
Correct. At one point, we hit a penny. Now we're a little less than a penny.
Over these 10 years, what was your biggest project?
Outside of the James Castle House, probably BOISE150, the Sesquicentennial Celebration. That's the program that really showed the intention and the authority and the power of what a small department can do, and the vision we had. That was exciting. We'd spent three years in the planning process. The whole idea was not so much a celebration but a commemoration. To really look at all the aspects that made the city, including the prior ten thousand years inhabited by Native Americans. We were able to do that through rich and diverse programming. And we really got great attendance.
What kind of feedback did you get?
We got great feedback, that first ten months, close to twenty thousand people came through the Sesqui-Shop. The next half a year, we had another ten thousand people, and we estimated something on the order of twenty thousand people just for the day-long party in the park on July 7th, which was the actual anniversary date of the city. The paintings right here are by Pat Kilby. We hired him to paint the BOISE150 themes of enterprise, environment, and community. We had [reproductions] printed on archival posters and those sold out quickly. So we were using history to tell the story of arts and community in a big way.
I LOVED the Sesqui-Shop! I found it was not something stuffy where I'm going to have to do a lot of reading of wall plaques or sit for a long lecture. That's my stereotype of historical programming—
We knew there would be those people that love long, lengthy lectures. But we did very few of them. We wanted to find things that were also unexpected and interesting, like, "Come in for forty minutes and learn about Boise's creative cocktail history" or the counter-culture, or one was on the solstice and we did Boise's astrology. What does it mean for Boise to have been born in July?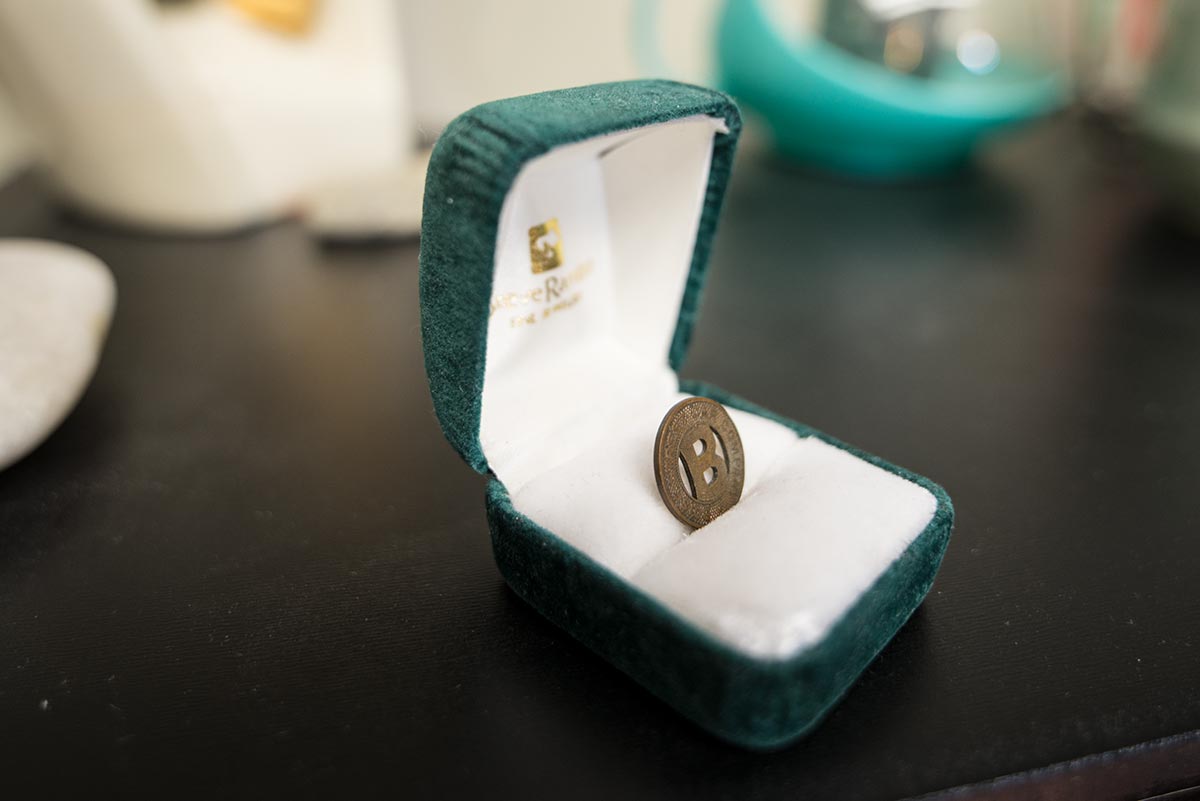 Oh! Boise had it's own astrology reading?
Yes, we found a gal who has since retired but she's this great numerologist and astronomer, and she did this really rich, robust history of the city.
The Department received recognition for the Sesquicentenial, from the Harvard University Ash Center, correct?
Yes, we didn't do the traditional celebration for our city anniversary, it's the second time that we've made the Top Twenty-five for Innovation in Government with the Ash Center for Innovation at the Kennedy School of Government at Harvard. We were included along with other big cities and states, such as San Francisco and New York City and New York State and—
And Boise?
And Boise.
Also, you personally received a Governor's Award for Arts Administration in 2014. That's a huge honor! Are there perks go with that?
Not one! I got a a medal. It was nice to be recognized and it was great for the whole Department.
If BOISE150 was the largest program, what's the smallest?  
Programs that still get a lot of bang for the small buck are through our history division, we don't have much money to work with for our History Division and yet we're doing programs that reach a lot of people. With that said, Fettuccine Forum. We've made it more stable and widely available and upped the intellectual level of the content. It doesn't cost us a whole lot of money. Our small history team is often on the streets with walking tours. They're doing a lot of presentations to senior centers and other groups.
That's important. But it doesn't cost much.
No. It's staff time to show up and do it. And people love it. We've done some great workshops in conjunction with the Library. There was a series we did last year that Brandi Burns, our historian, led for people who really wanted to learn how to take care of their [family history] whether it was writing memoir, learning to do an oral history, or if they have some artifacts, how do they care ofor those and not lose them. Just simple things like that. Those were packed.
Wow. And that's just taking the knowledge your historians already have and sharing it?
And sharing it. That's the goal with all of this—just share it out.
When researching you, I saw a lot of your career work was back east. Where are you from?
Here. Born in Boise. I was here until my sophomore year in high school. My dad was transferred to Denver and that's where I finished high school and then went on to Colorado State in Fort Collins for my undergraduate.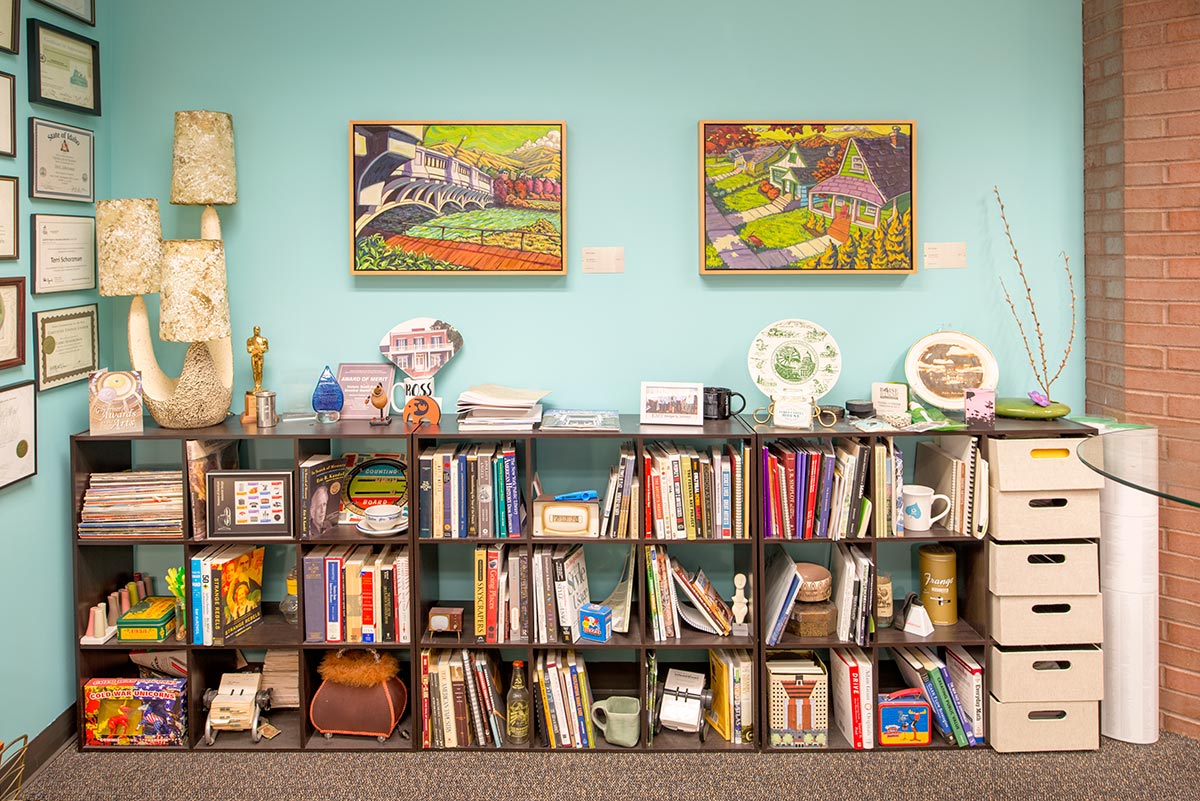 How did you end up being a history major?
I guess you're kind of born a historian.
Really?
You just sort of know it—and I knew it early on, because I have a [natural] sensibility of time and of the past. I think my mother reiterated that when we'd go camping. My dad would be fishing and we'd go hiking and find backwoods cabins. She'd say, "Well, if you come out and go to the right" and we'd find [remnants]—because people were throwing things out and we would make up stories about the people who lived there and what their lives were like and where they came from. She nurtured that sense of story and conversation. I always wanted to be either a history teacher or an architect.
Your mother nurtured the historian in you, but what drives it? Is it a sense of excitement about finding clues or artifacts, or is it a burning curiosity?
I think there was a real satisfaction and connection in [history.] To answer the question  "What happened to these people? How did they get here and why?" I was always the kid in elementary school who would stay in and make dioramas of Pilgrims in their villages. I was absolutely fascinated and would get books on British history and watch Masterpiece Theater on PBS. I don't know that it was ever really excitement; but it's about needing to know.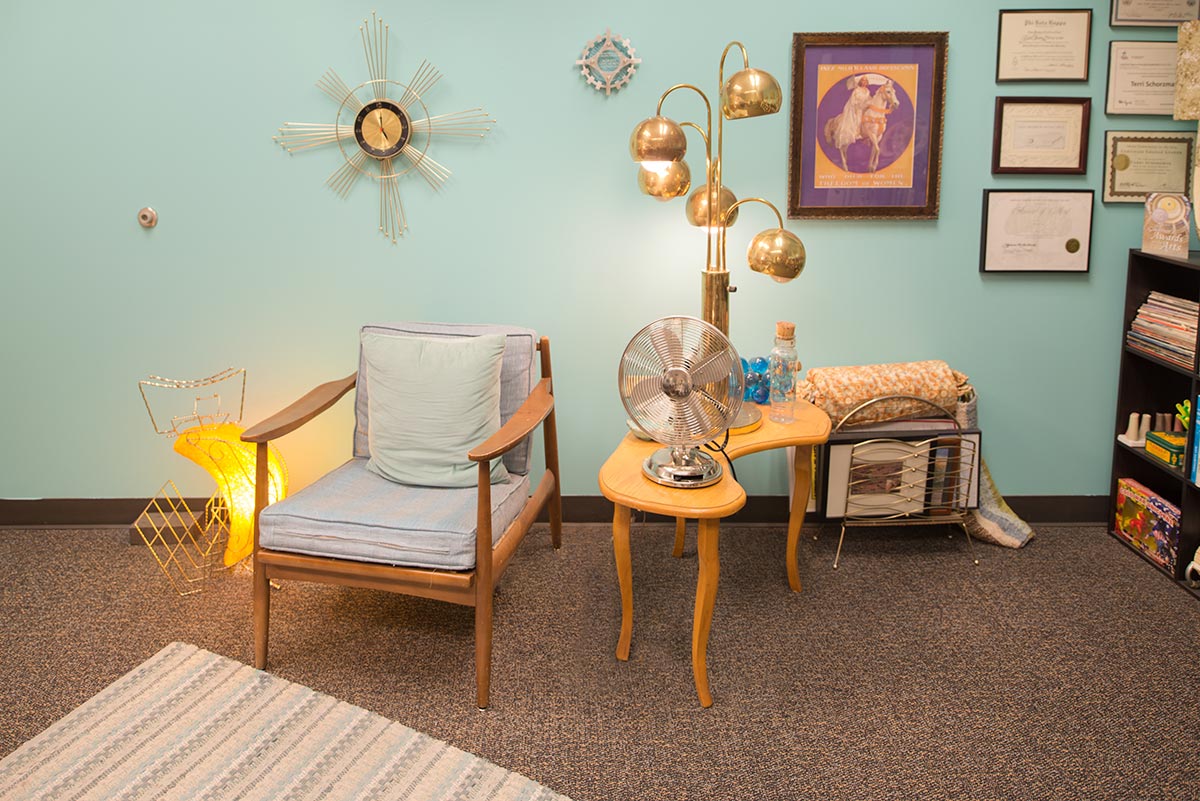 You went to graduate school in California?
UC-Santa Barbara. I found this field called public history, which was fairly new at the time. And Santa Barbara was the first program; that's where they conceived the whole idea: that you can still be a historian without teaching or without being in academia. It was great being in Santa Barbara for the year, then I ended up with an internship in Connecticut at United Technologies.
You bounced all the way to the other side of the country?
All the way to the other side. I really wanted to go to the East Coast, I thought it would be really great.
Was it?
Yes. I felt really drawn. I found this internship in the corporate archive for United Technologies. From there I went to a couple of consulting firms in D.C., then to the Smithsonian, where I got a job.
Yes! In Washington D.C. on the Mall?
The Mall. I was in the Arts & Industry Building, next to the castle.
I mean, did you just, like, walk up to the front doors every morning at the SMITHSONIAN?
Yes!
How amazing is that?!
So amazing. Just every day to come out of the Smithsonian train station, I would get, kind of verklempt, you know, like, "There's the Lincoln and the Jefferson memorials." There's something about it that was overwhelming for a kid from Idaho. It was wonderful. I was in D.C. about twelve years.
Was it time for a change at that point?
I really loved the District and I loved my work. But it was very hard with children and very expensive. I thought, "I don't know how to make this work," And my folks had retired here. The first week we put our house on the market, somebody bought it.
It sold the first week? That sounds like the market here now. But D.C. wasn't the right fit for your young family?
Yes, and we needed to have some [family] connections. I also kept thinking, "I don't know how these children can grow up and not know the Sawtooths or the smell of sage." We thought, "Now is the time—if we're going to do it, let's do it."  It's a game-changer in how one conducts one's life, I found, when moving here. I immediately had two hours a day of freed up time, in D.C. I had a forty-five minute to an hour commute each day even though I was really close to work. I was directly eight miles from the White House.
What are some things you love about Boise?
I really love the ease. Life's really easy here, that's why we came back to Boise 22 years ago. I never have an issue with traffic. Never an issue with anything. And I like the climate, generally. I wish we had more winter.
What? Why? What are you talking about? You want more winter?
Absolutely. We need a little more winter. I also love being able to walk out on the Rim and see the foothills in the summer, and see the alpenglow, and the freshness is just really great.
It is fresh.
Yes, it's nice. I know people love the proximity to outdoor recreation, but I gave that up years ago. You know, I like to condo-camp. I'm not going to go pitch a tent anymore.
I hear you there.
I'm probably not going to float the river anymore, but I appreciate and enjoy our beautiful environment.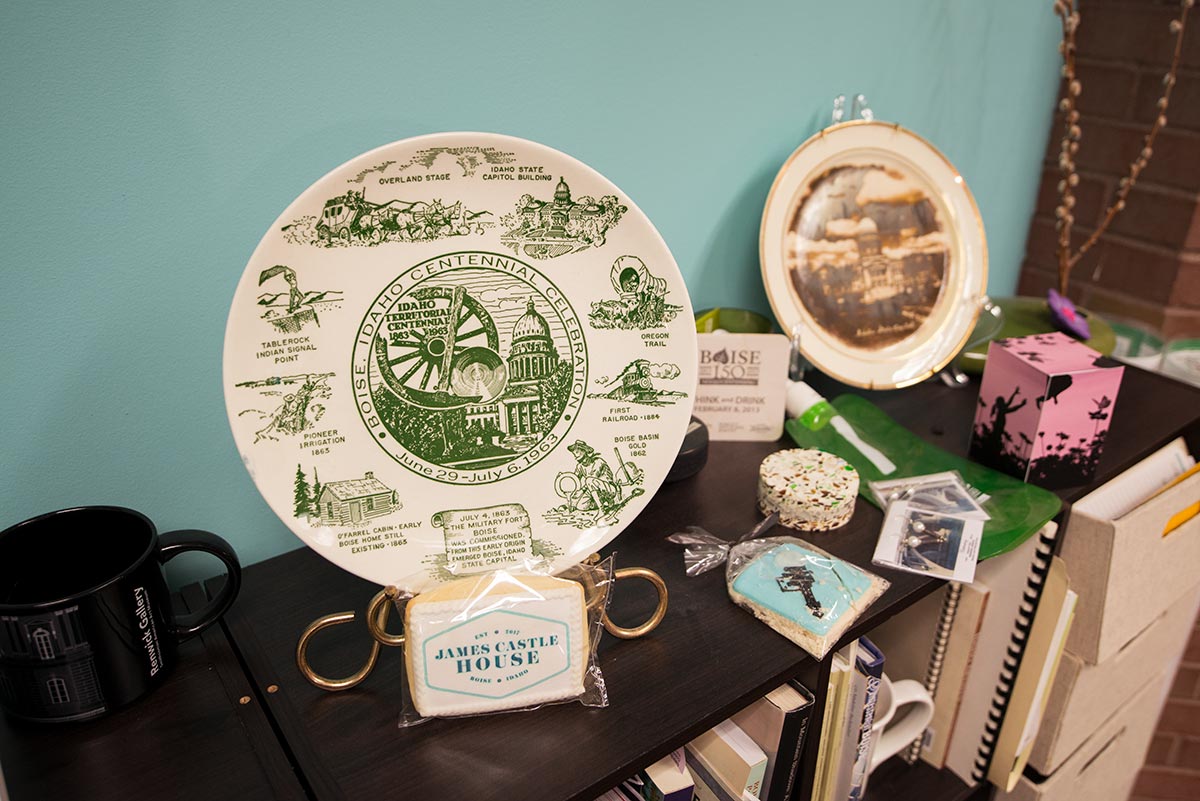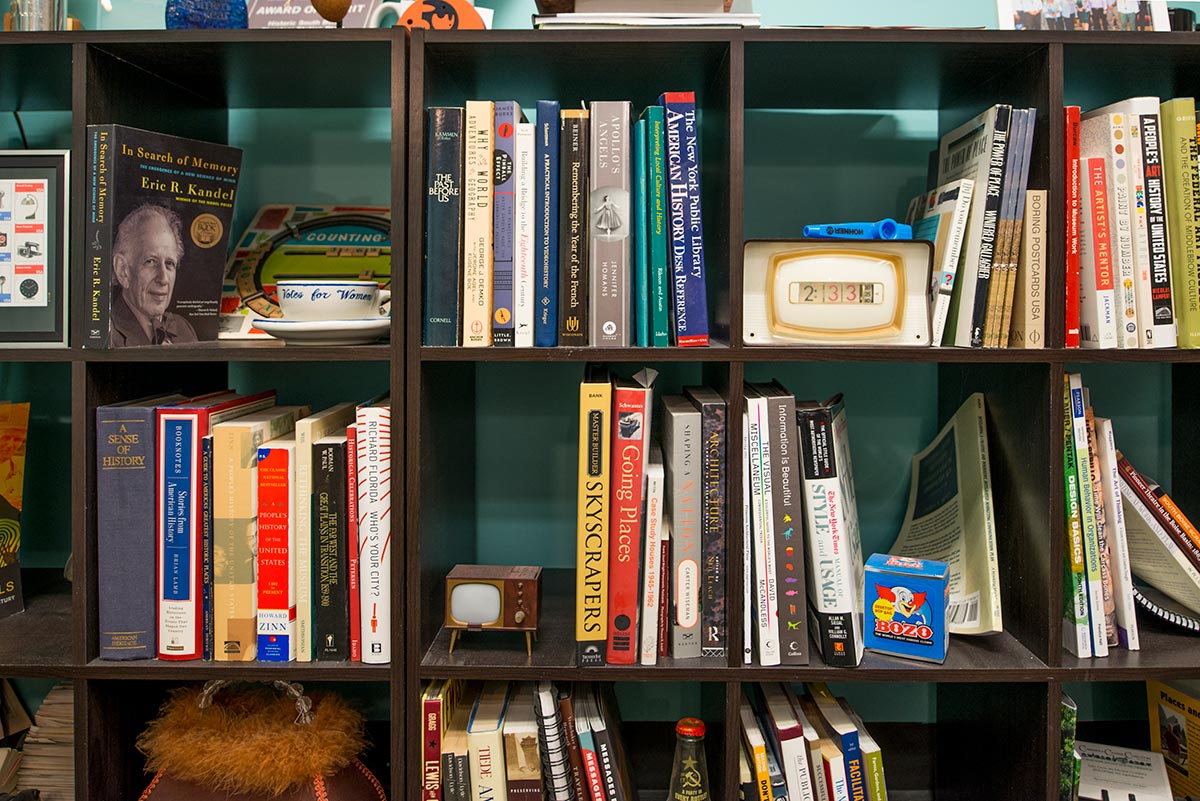 Environment is a big part of our city personality. How does a city develop personality?
It's hard to say, you know, what is that? And we are always wondering, what is the Boise personality? Is there really one?
I don't know. Do you want to know a pet peeve of mine?
What?
The saying "Keep Boise weird." I don't like it.
That's Austin.
Exactly. And Portland adopted it as well. It's unoriginal. We need to come up with our own saying.
Yeah, we'll keep trying. But—Boise's just easy.
"Keep Boise Easy" I don't think that's the right wording. [laughter]
Yes, but that's what I found coming back from D.C.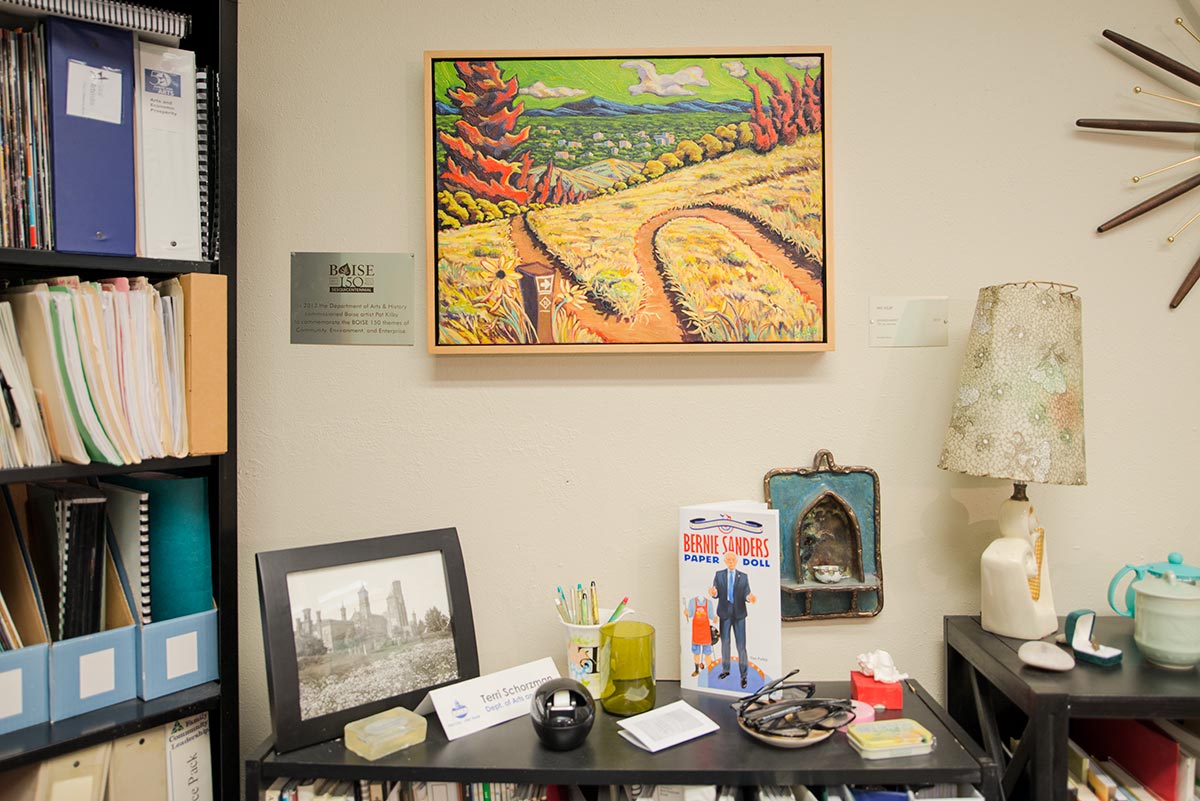 What makes a city stagnant?
You can feel it, yeah? When you know it's a place you like to be versus a place you don't.
If you don't want to be there, that's a sign of stagnation?
Right. For me, I always like to be in a city where there's a presence of antiquity or some element that honors the past. I was at a conference, in the Midwest, and, you know, we're in the center of downtown, it's the middle of the workday and it's absolutely dead. It's a concrete jungle and there's a convention center and not great landscaping and no public art. There's nothing that brings people out—it feels like you could be anywhere. I think it's that blandness that I find really stifling. When you get into an environment that has a nice mix of architecture and a great streetscape and pedestrian life, it feels like people are welcome.
Pedestrian life? So having people present is key?
If people aren't there, then they don't like it either, right?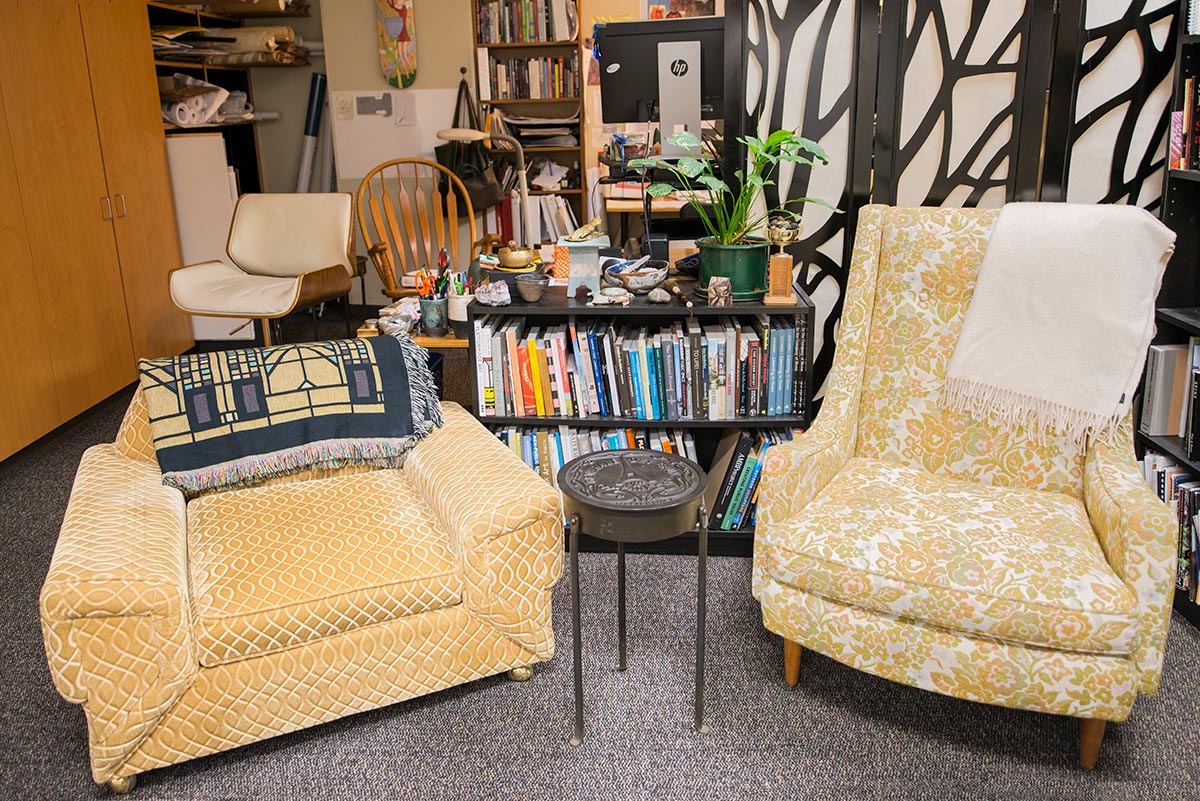 I try not to spend time in a place I don't like, so yes. How about the upcoming changes to the Main Library, do you think this is going to be a sensitive issue for people?
I think it's something we have to talk about. What we're going to come up against is the rapid rate of change in the city right now, and people are starting to feel a little bit overwhelmed by that [growth.] There's sort of a fine balance between, "I'm losing everything I've ever known"—
Like my front-row parking at my little library. All the sudden, I'm sad. [Laughter]
I know, Boise is just so different [now.] Because when I was a kid nothing had been torn down at all. It was still the original city intact, with all the warehouse blocks. I grew up above Borah and I could get on the bus and go all over town.
Where does Arts & History fit in with the new library?
There will be the library, and the Center for Arts and History, and a little performing arts space—potentially. We're looking at a campus layout—it's quite fabulous, actually. We've got an amazing architect—
The architect was interested in this project because he is drawn to community spaces? 
He said, "We've been doing million-plus square foot massive [structures] in Asia, and I just want to come and do something for a community that is meaningful and relevant and lovely." 
Ok, now I'm excited again.
We need a cultural space to really celebrate and acknowledge Boise's art, history, culture, and environment.
Your offices are going to be there?
We'll have a full City archive, the community space for exhibition and engagement, and our offices.
We agreed that a symptom of a stagnant city is a lack of people, of bodies in shared spaces. What is it that makes people want to be in community spaces? What attracts the bodies?
I always think it's a level of feeling welcome—a space that feels comfortable. A place where you feel safe. I know a lot of people say they come to Boise and they feel safe here, compared to other cities. But it's also just a place where you can, as my daughter would say, post up and chill.
Post up and chill?
Yes. Just post up and chill.
For me, that means somewhere to sit, something to look at, and something to eat.
Yes, and for me it's having shade; not being in the sun the whole time. It's an environmental feel that is just right.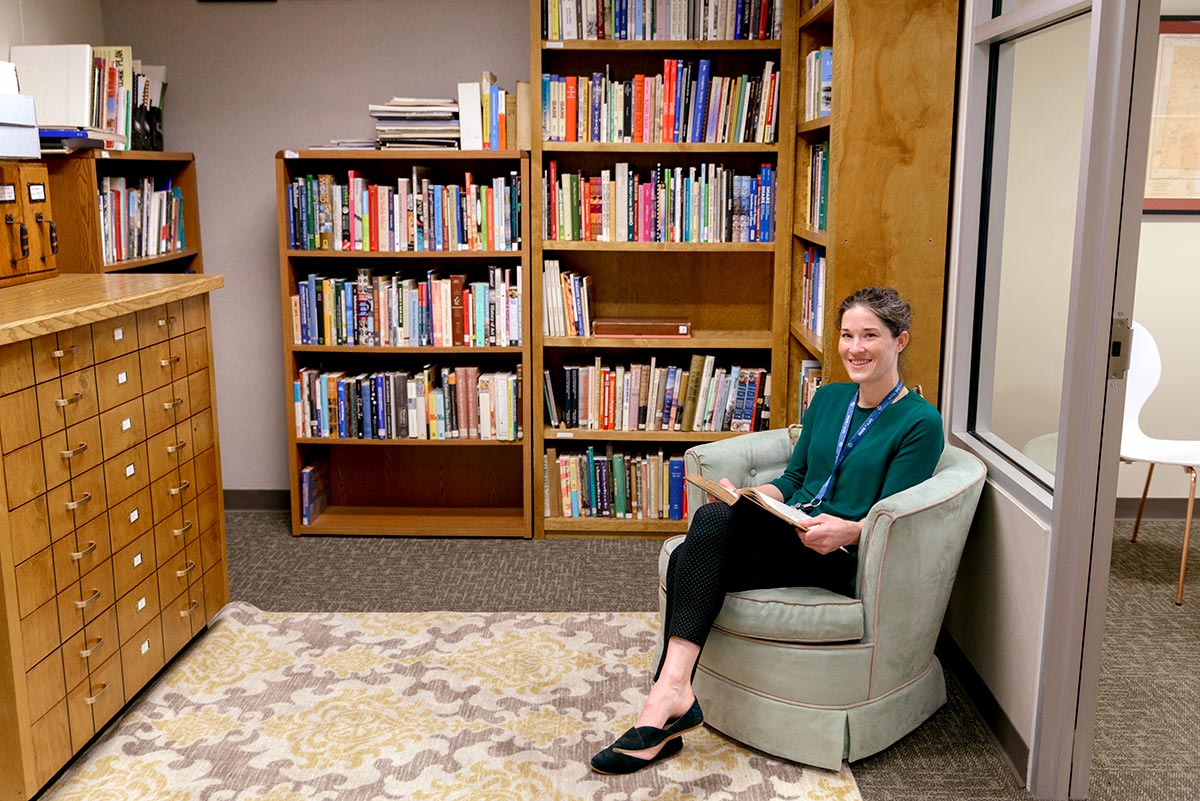 We are starting to sound like Goldilocks.
Right. Someplace you just want to be for a long time and feel comfortable being there.
I feel pretty comfortable at the library. But I'm not really allowed to have food there—
Just wait, wait till you see what we come up with, it's going to be great. [Laughs]
Are you saying there might be food?
We hope.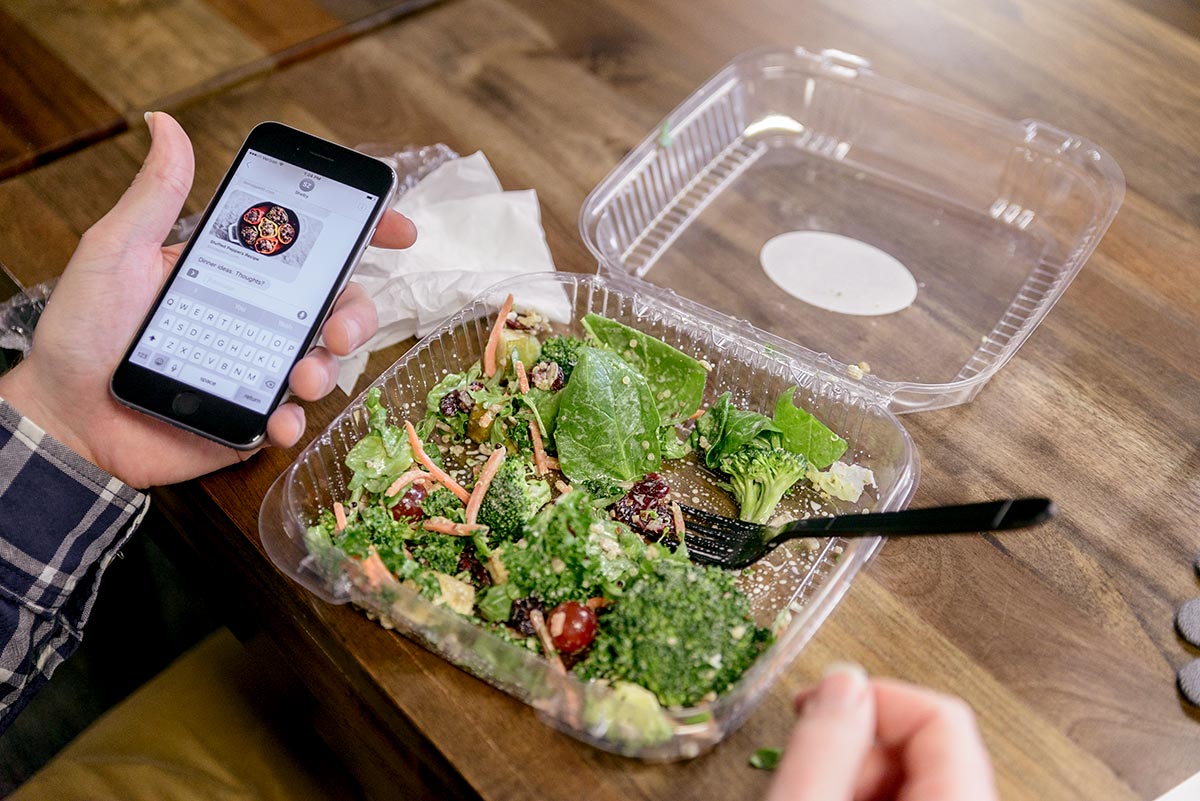 I am so going to post up and chill at the new library. Looking back over the past ten years, what's something that has pleasantly surprised you?
I think it's the continued support that we've gotten from our elected leadership.
Is it the freedom to be self-directed?
Right, we're not micro-managed, and they appreciate our work: "Great job. What's next?" It sends a message back to our staff that we can do our job, that we're respected, and they know we're going to keep going with the best interests of the city in mind and its citizens at the heart of it.

There's a level of trust there. What else?
You know, I'm also pleasantly surprised because Boise is our little progressive city in this state, where we look to the things that are proper and good and kind. I think that's the way the country needs to go; in how we treat our citizens and how we treat each other and the kind of services that might be given. I'm proud of Boise for that.
Beautifully said.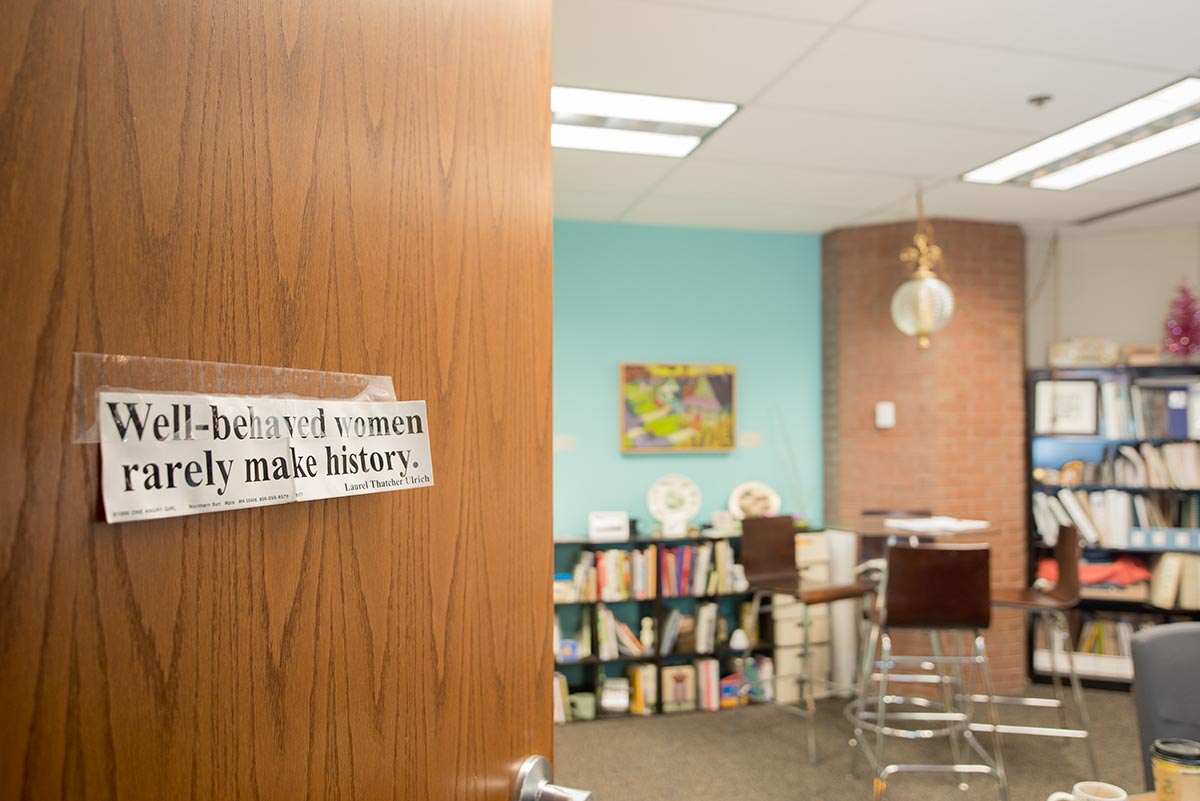 ---
Downtown
May 30, 2018
---