Creators, Makers, & Doers: Tom Tompkins
Posted on 8/27/19 by Brooke Burton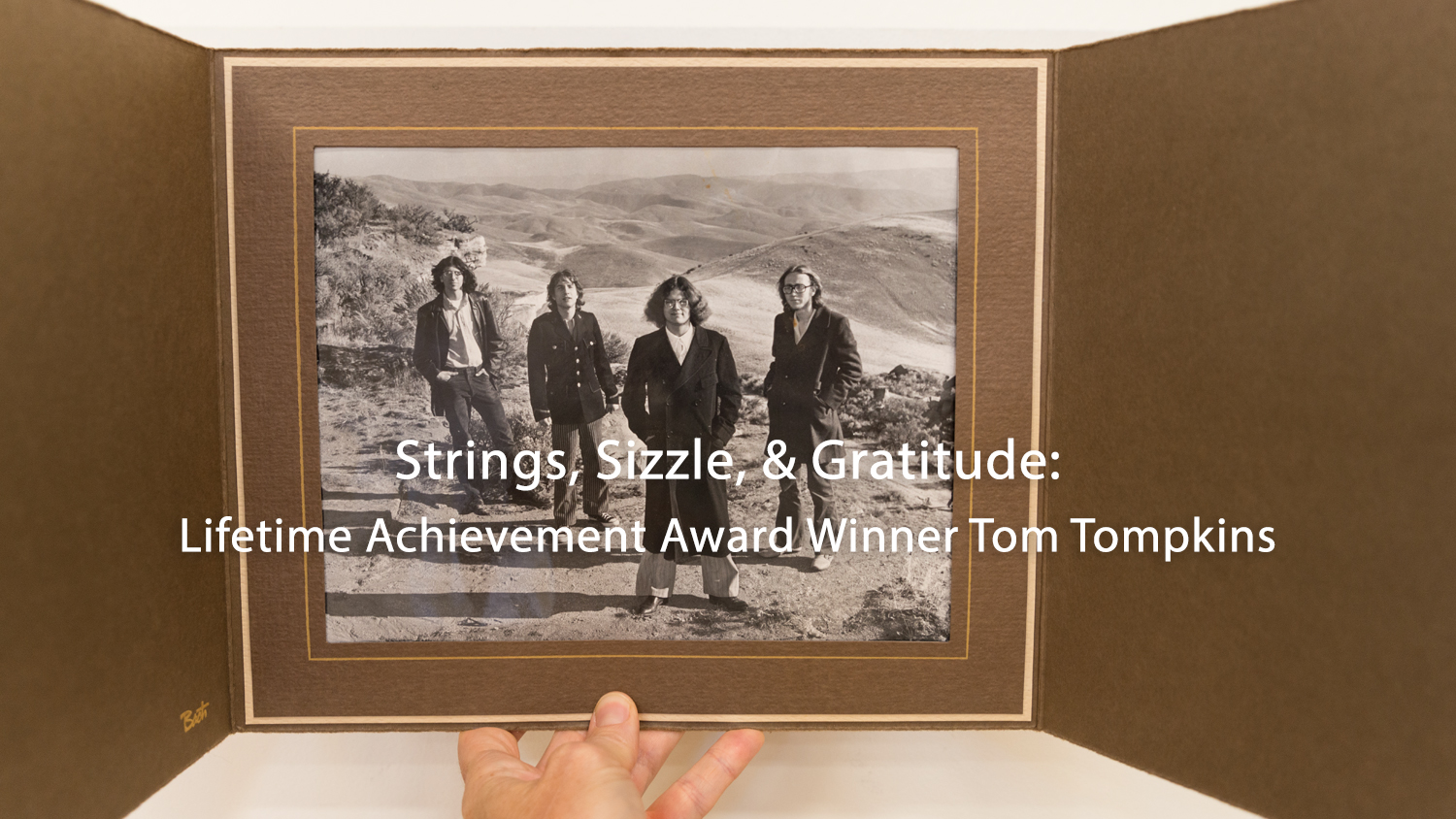 Interview & Photography by Brooke Burton © Boise City Department of Arts & History
Tom Tompkins is being honored this year in the Mayor's Awards for Excellence in Arts & History with a Lifetime Achievement Award. Recently retired Boise Philharmonic Principal Violist and Manager of the Esther Simplot Performing Arts Academy, Tom shares his amazing story with us, turning the tables to focus on the people who made his life journey as a musician possible. His appreciation for teachers, bandmates, and the legacy of all who came before him is at the forefront as he speaks about the historic continuum created when technique, leadership, and knowledge are passed down to the next generation. He describes the powerful sensation of music moving through the body, and the sweetness of tension resolved, both in song, and in life. Tom's effervescent enthusiasm is contagious.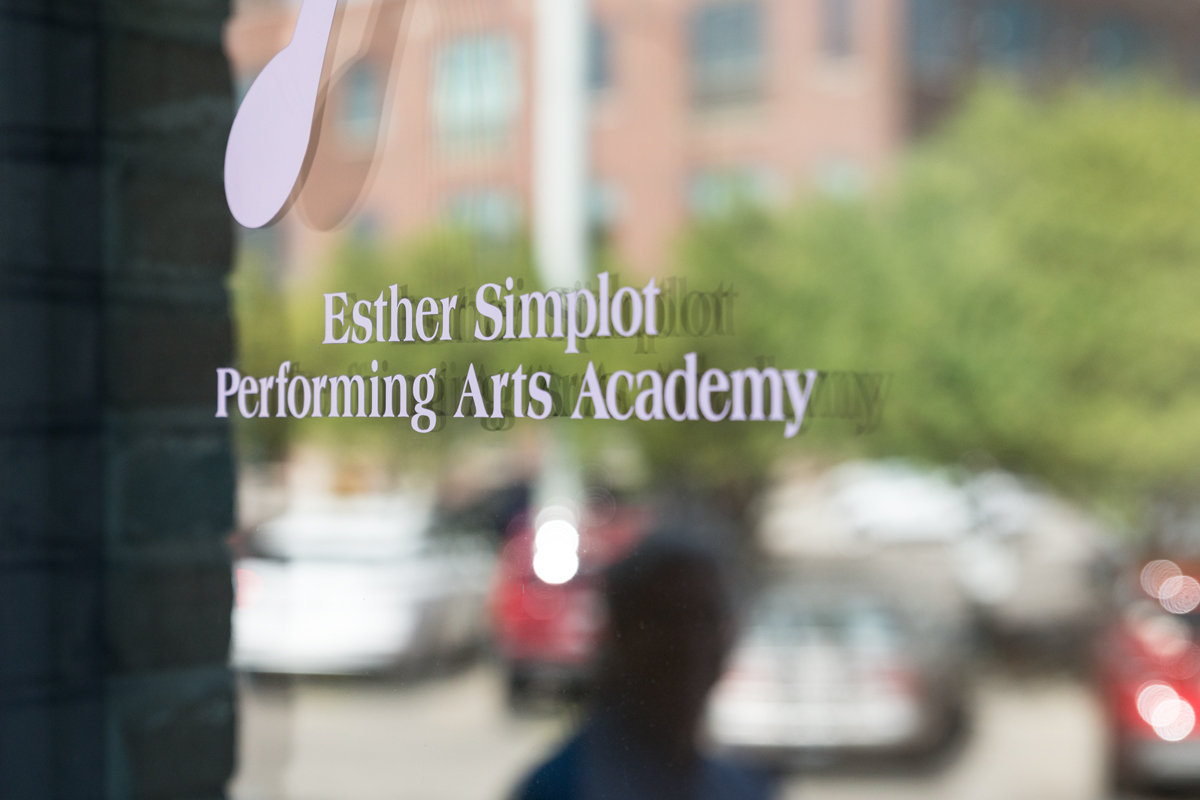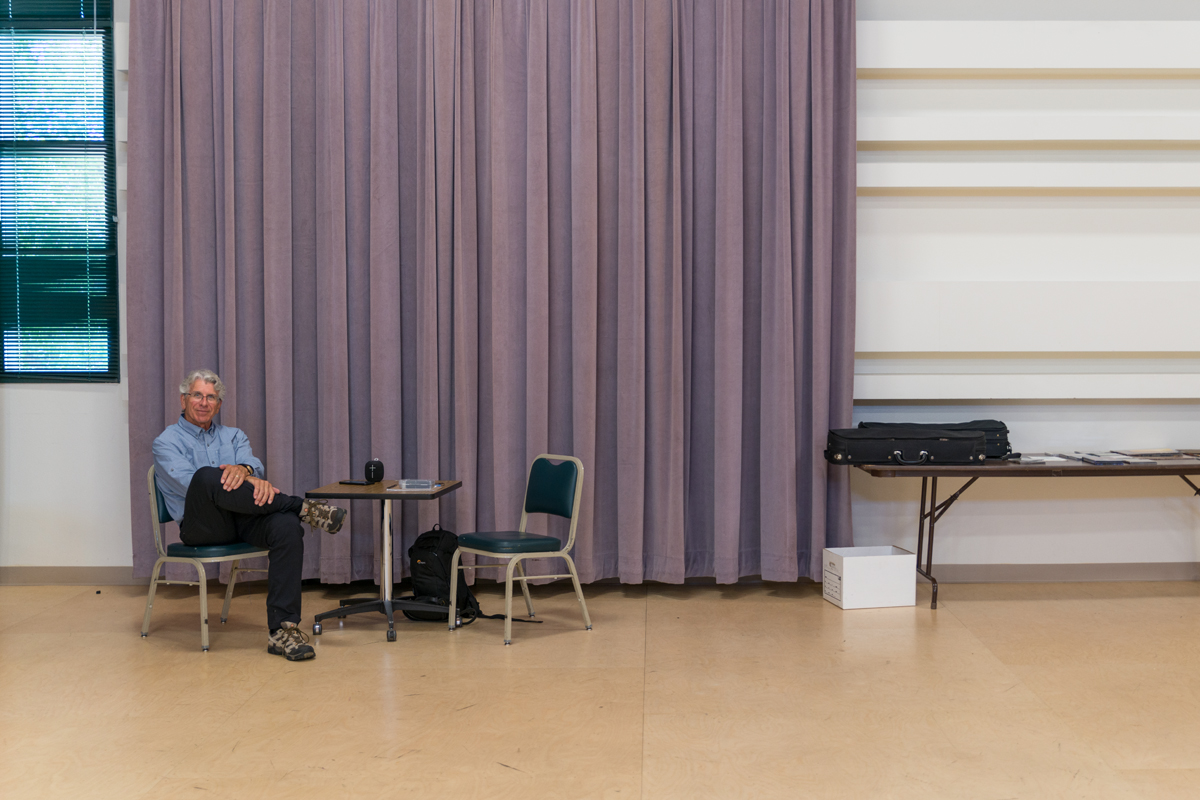 We are here inside the rehearsal hall at the Esther Simplot Center for Performing Arts with an awesome table of memorabilia laid out for us to go through. It's like your whole career is on this table. Were your parents musicians?
Yes, I always want to credit my mom and dad. Mom had majored in piano and from her my brother and I learned discipline, theory, scales, and arpeggios. From dad, we got the joy of music. He was constantly singing, whistling; it just bubbled out of him.
He sounds like a joyful person. 
It was a really nice combination. I was nine when I started taking viola lessons from Lois Wuertz, who was the principal violist in the Philharmonic at the time. She was a spectacular teacher for me because, years ago prior, she had been in a bad automobile accident and had to re-learn to play her instrument. As an adult, she had to figure out the musculature of the fingers and hands and how all those things worked. She practiced over her bed because she would drop her instrument. She passed that knowledge on to me. In four years, she groomed me to  be able to audition to the Boise Philharmonic and land a position.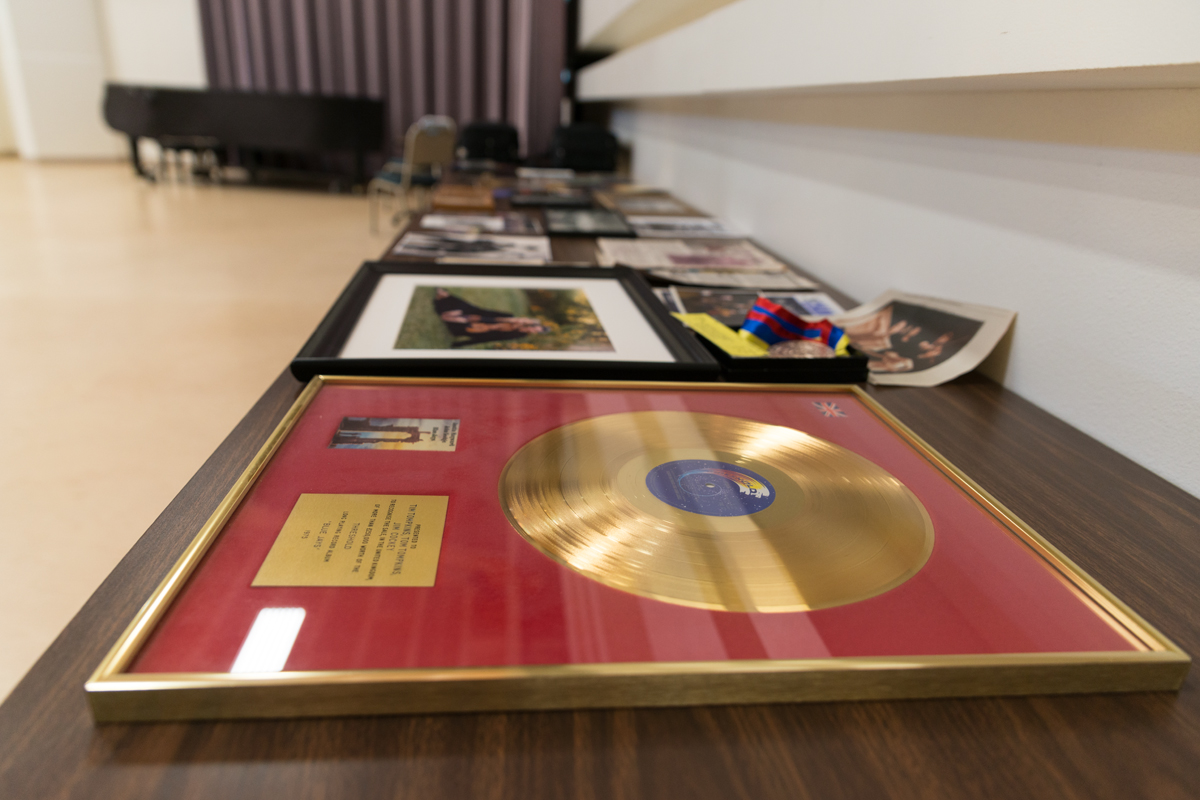 And what age was that? 
In ninth grade.
That is unheard of!
She was one of the grande dames of Boise. It was wonderful for me to get in; but my dad said, "Yeah, you're too young." He kept me out, then I re-auditioned the next year and I got in.
That is fascinating. At age 15?
Somewhere in there. By the time I was a senior in high school, I was sitting with her on the first desk. That is a tremendously inspiring position, to be next to your teacher on the front stand, because you see not only how she plays, but how does she mark her music? How does she convey her intention to the rest of the section? From the standpoint of the leadership skills, you have to be in a position to observe how someone actually connects with the concertmaster for bowings, connects with the conductor for stylistic aspects, on string, off the string, all those things.
Those are the kinds of things you can only learn on the job, so to speak?
Yes, it's experience.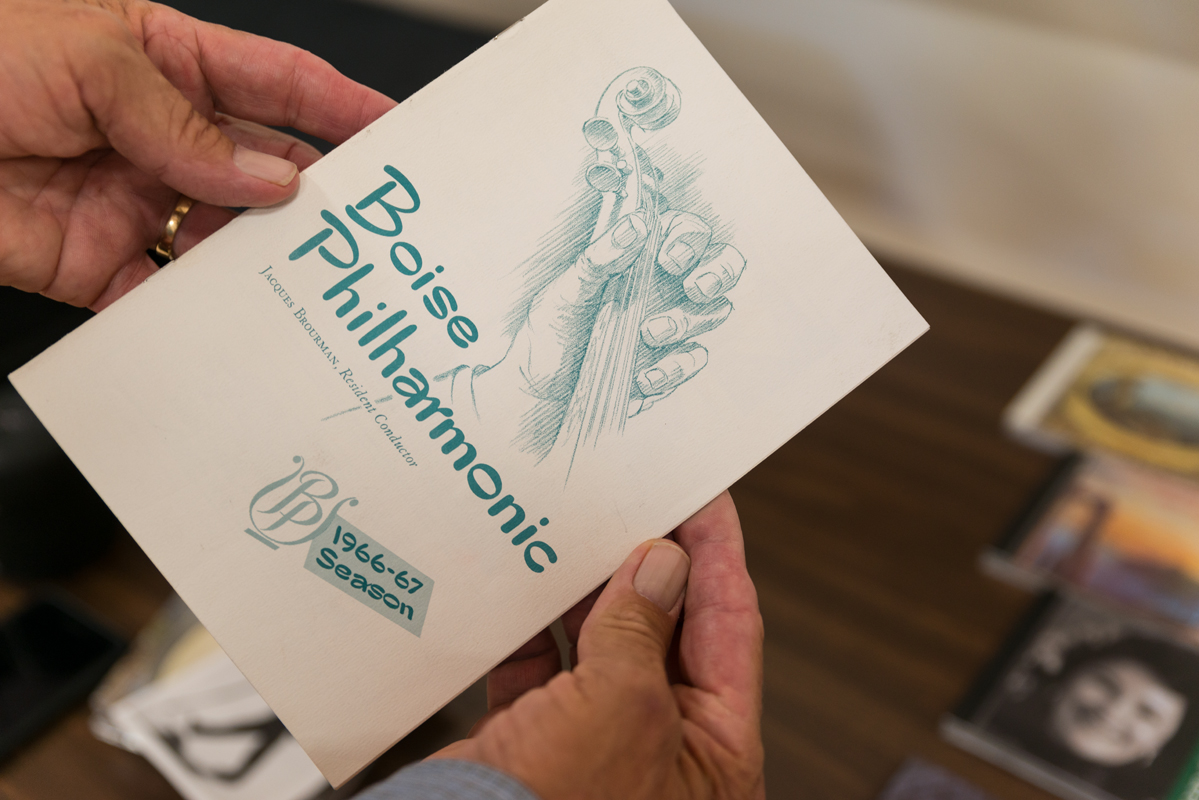 Nothing can replace first-hand experience. 
Exactly. This is just another example of how much I appreciate Boise and what it offered me. My high school orchestra and band director was Jim Perkins and I like to give him credit as well. In the orchestra as a sophomore, I played viola. Back then, the high school orchestra was a full orchestra, with winds, brass, percussion and strings. They don't do that anymore and I'm sorry about that. But it was a huge viola section.  My junior year, I said, "Do you mind if I play violin this year?" He cocked his head and said, "No, if you will also play drums for me in marching band." Okay, sure, why not?
He got you to do double duty?
Yes. My senior year, I said, "Hey, do you mind if I played cello for you this year?" There's a twinkle in his eye and he said, "If you'll continue to play drums for me in marching band and play bass for me in symphonic band." This guy was so spectacular. He knew I was going to be a musician before I did and he put my education ahead of the quality of his orchestra. I would have made his orchestra better in the viola section but—

He was broadening your skill set. 
Exactly. And that's why he was such a extraordinary teacher for me and why I specifically want to give him credit.
It sounds like you were playing either in band or orchestra 24/7!  What about your free time?
Just prior to graduation, some Boise friends said, hey, have you ever tried to improvise? Well, no. I was paper trained—
What is paper trained?
To read from the page. The dot is there, you play it—
Exactly as written?
Bingo. In fact, you hit on something that Leonard Bernstein, the conductor of the New York Philharmonic, in his Young People's Concerts, brought out. He asked, "What is classical music?" And he distilled it down to this: classical music is exact music. We try to play exactly what is on the page. Whereas, pop music, you can take "Summertime" by George Gershwin, and this person and this person, they can be wildly different from each other.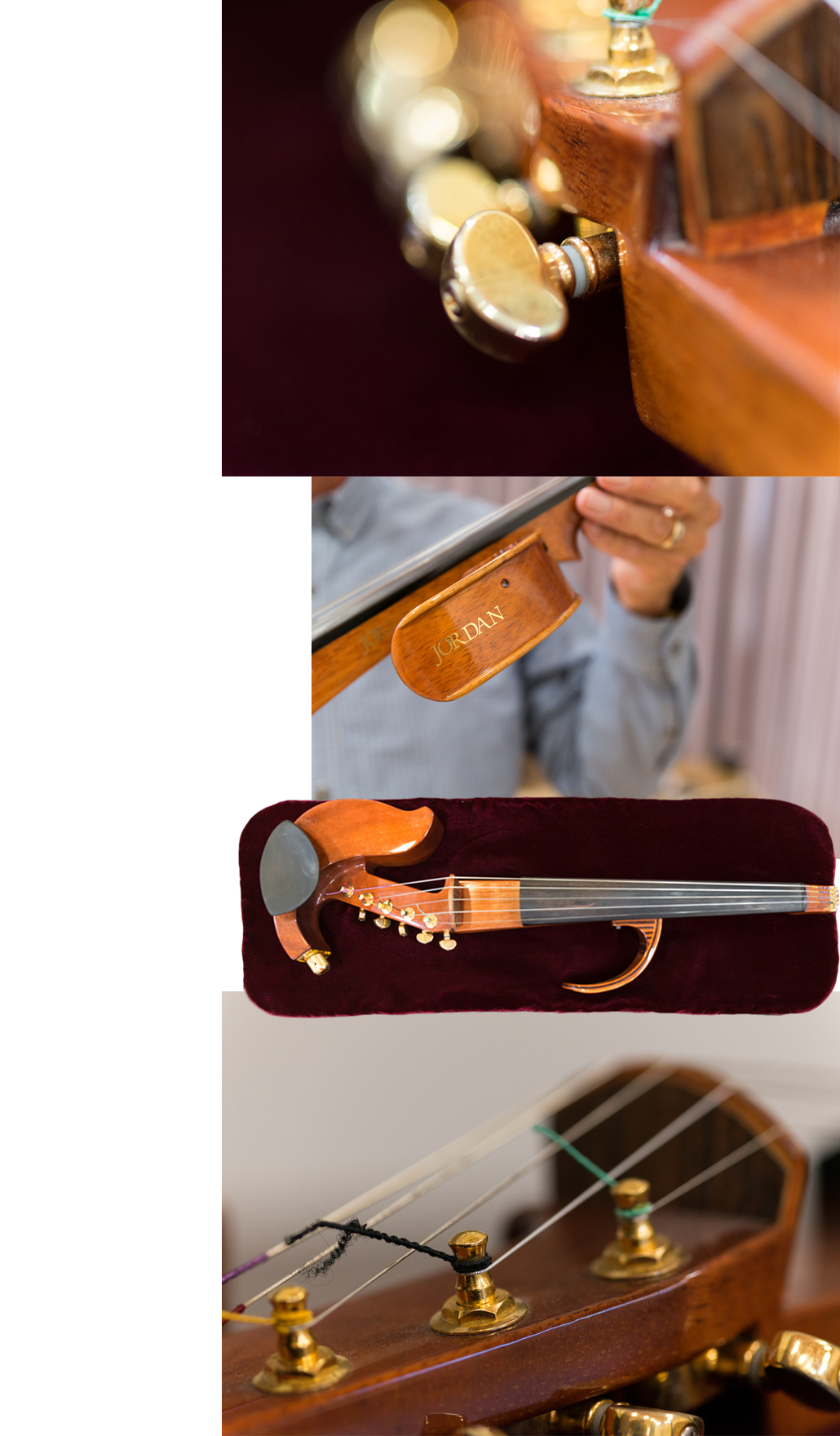 I've heard many versions of that song.
But classical music is different in that we try to play exactly what's on the page.
Your friends asked you to improvise? You had never hung out in a basement, making a band before?
No, no—
Why?
Having been raised classically, that was just off my radar. But we recorded that first night, and I've listened to that recording since. I will never play it in public, it is so embarrassingly bad. But we had so much fun that we got together again, and then again, and again. Pretty soon, it was a nightly thing.
It had its own momentum going from the joy of learning together.
We said, let's seek our fame and fortune so we moved to Portland, Oregon, and paid for life doing radio and TV commercials.
Playing jingles? 
Yeah, Jansen Swimwear, Hodaka Motorcycles, that kind of thing.
What was the name of your band?
Providence. In partial payment for the commercial work, they gave us free studio time, so we recorded some of our own original material. The Moody Blues came to town to give a concert and we slipped backstage and gave them our tape.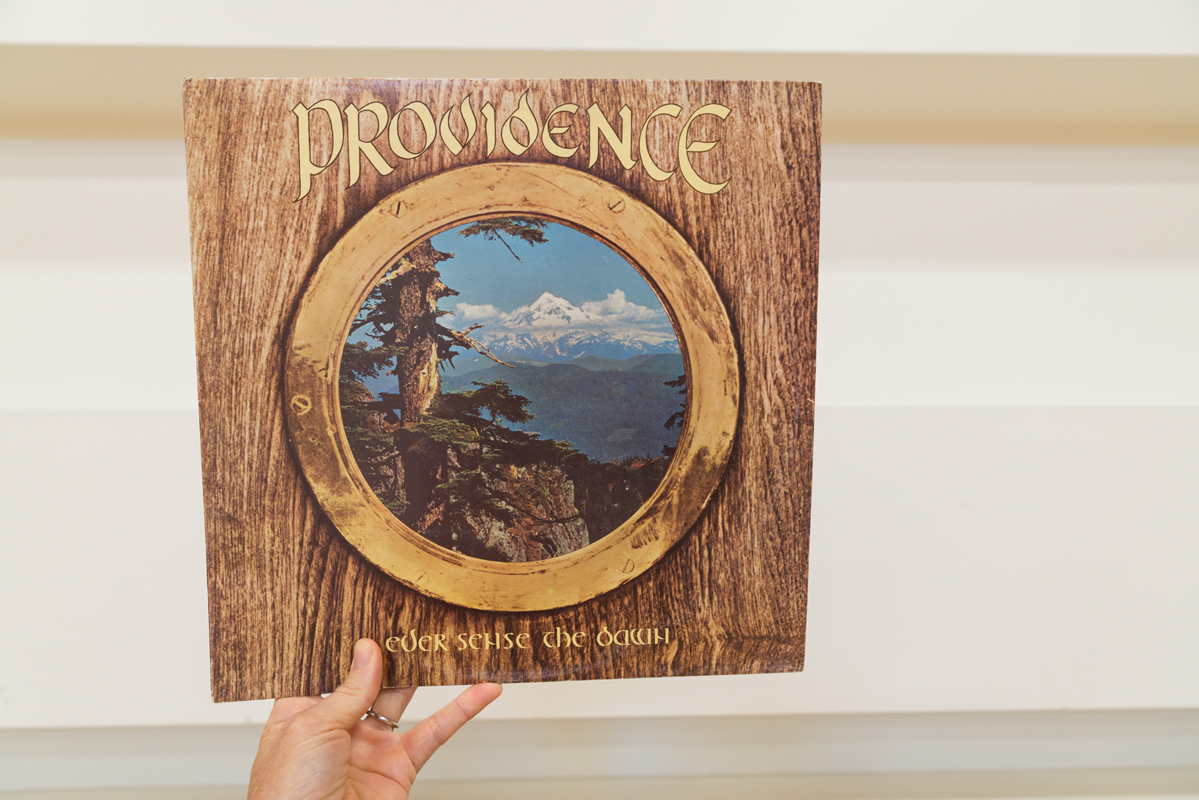 Were you nervous? There are two sides to the ego when you put yourselves out there. One side is positive and says, "They are going to love it, this is going to be great!" The other side says, "They're going to laugh in our face, this is going to be horrible." Did you have one or the other happening? 
No, we were just interested in a critique. We admired them; they used strings. By this time, my brother, Tim, had joined the band playing cello, and Jim Cockey, who was a friend of ours, played violin. We had three strings players, and guitar, bass, and keyboards.
How would you describe the style of music you were playing?
It was a conglomeration of classical, folk, rock, jazz, and, just, harmonies.
So you gave your tape to the Moody Blues?
Yes. Three weeks later, we got a call saying they'd like to offer us a record on their label.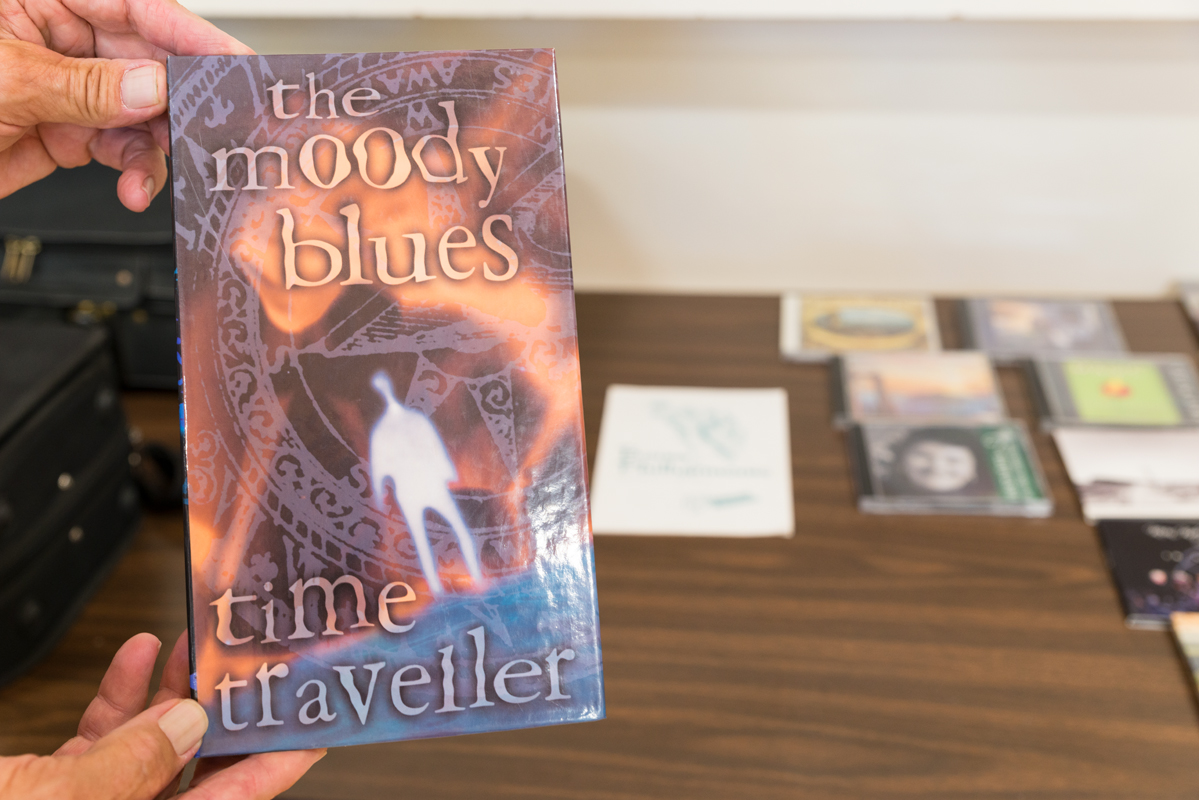 Get out! That is way more than a critique, you got an invitation! Did you celebrate that day? Laugh and cry— 
We waited a long time, probably a millisecond, before screaming, "Yes!" We were very excited. Their producer, Tony Clarke, produced our album.
This one, right here?
This is it. This is what we looked like. You can see we're kind of a weird group.
There's a lot of hair in this photo. I like it.
We toured up and down the West Coast. We lived in Hollywood, San Francisco, Portland, Seattle.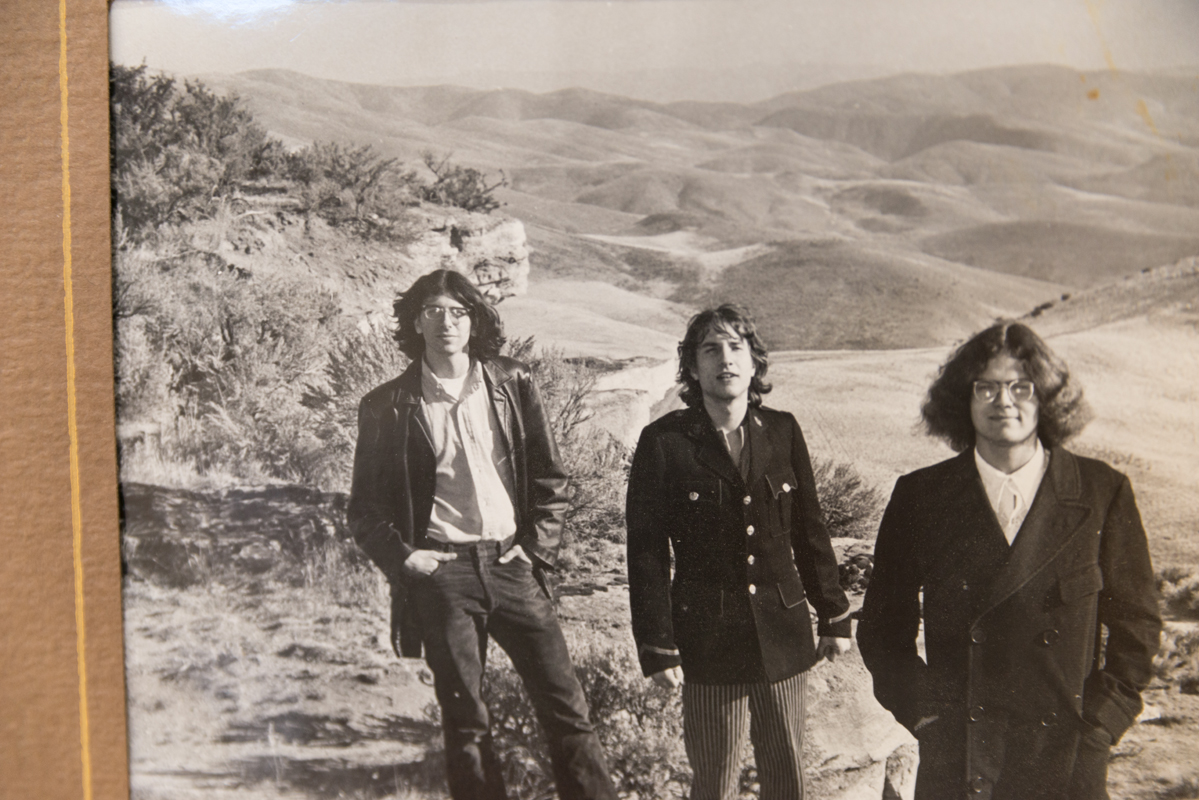 Are there certain days from that period that you would relive in a heartbeat? 
My life has been so charmed. I've had more than my share of good times. After four years, Providence broke up and I moved back to Boise and was just kind of messing around–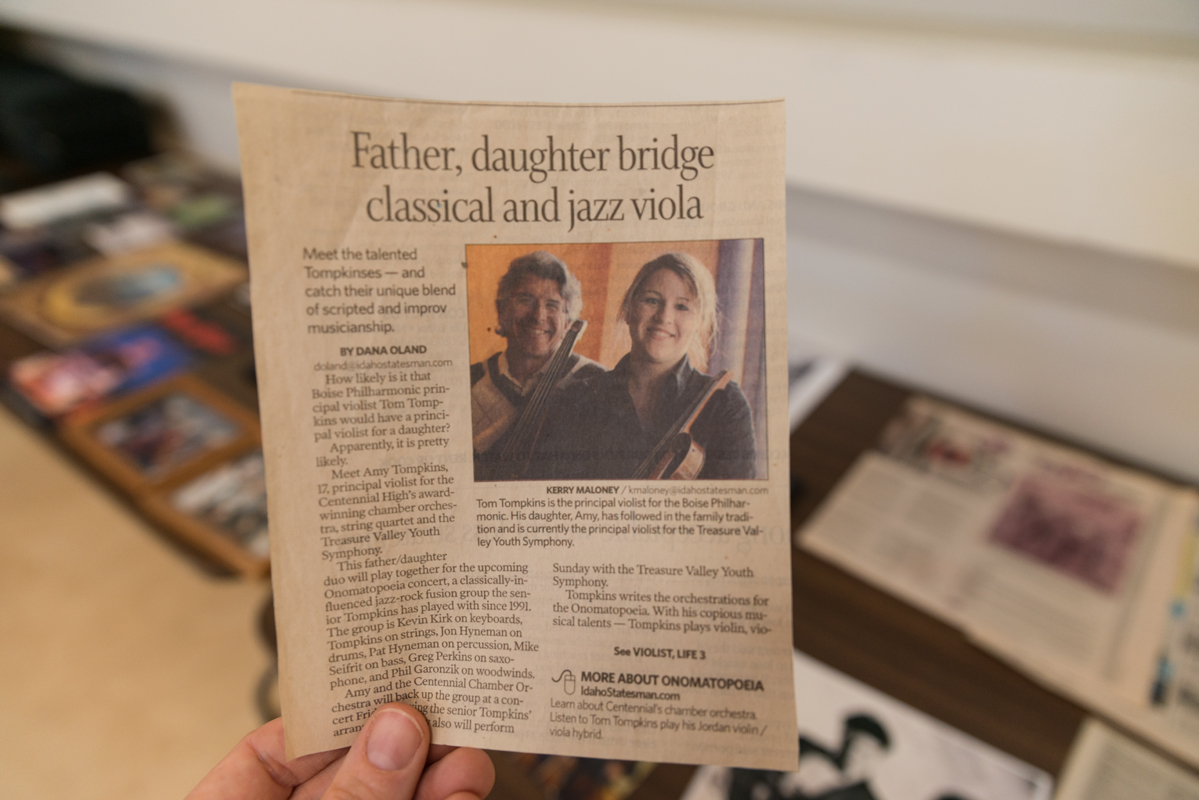 That would be pretty crushing.
It was, but not as bad as it gets later. Because not long after that, some Moody Blues members called up and said, "We've broken up, but we've just finished building this huge studio, would you like to come over and help us make a record?" Well, yeah!
Of course!
We went over and did the album, with their producer, their guitar player Justin Hayward, and their bass player John Lodge. The album went gold.
GOLD?!
Yeah, so we flew back over and did the British tour.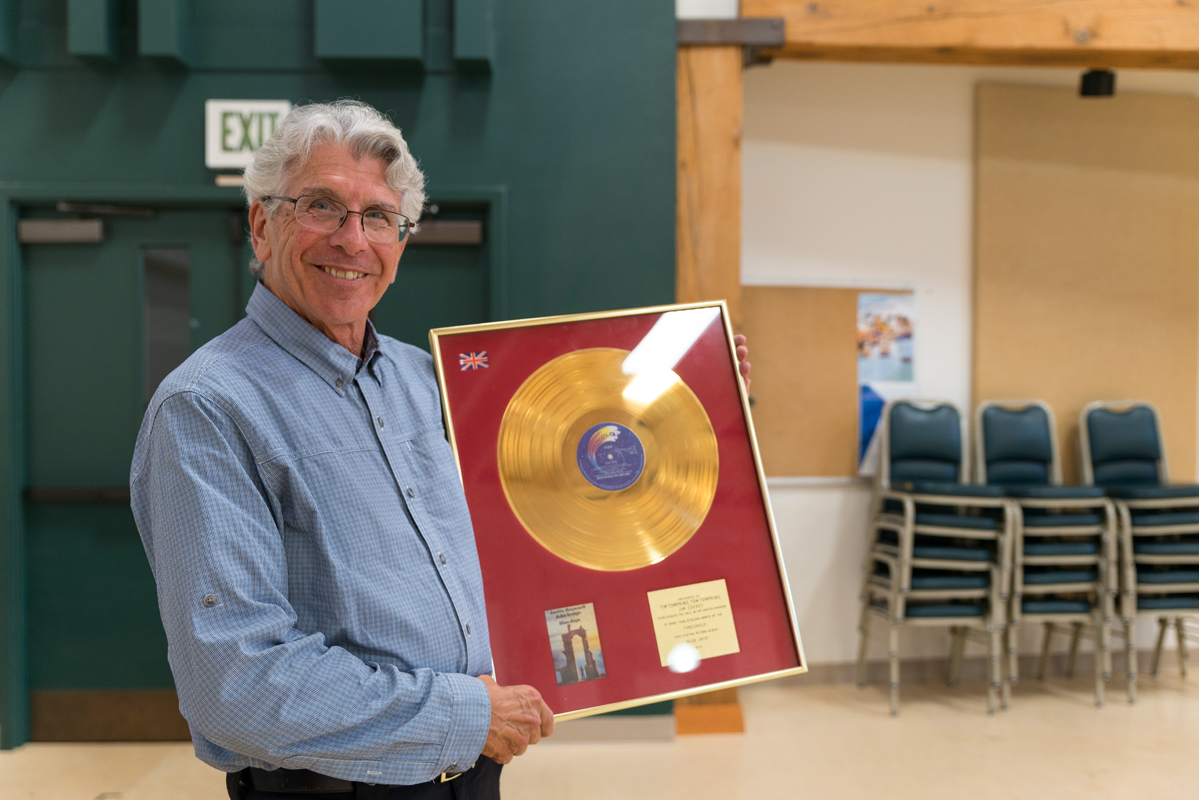 Any special live performances?
When we toured England with the Blue Jays, we played Royal Albert Hall. That would be hard to beat.
That's like the British version of our Carnegie Hall. This is amazing. This story has so many ups and downs, and we are back up again. 
We're way back up again, yeah.
Did you ever lose touch with reality? You know, you've seen a person whose head, or ego, gets too big and they kind of float away?
No. I have to give them credit. This whole table of memorabilia is actually giving credit to other people who made it happen. The point is, this group was very well grounded and maintained their humility. They were not over the top, wreck-the-hotel-room kind of guys. These are really decent people.
Was it hard to stay focused while making the album?
We were there to do a job. We would sit in the studio, on mike sometimes eleven hours a day. "Oh, keep this, or try that, da-da-da," we would cobble it together. Nothing is written down; it's all in your head, then they say "Okay, now record it." [laughs] You have three guys playing at once, and if anyone makes a mistake, you have to go back and do it all over again, but it was so much fun.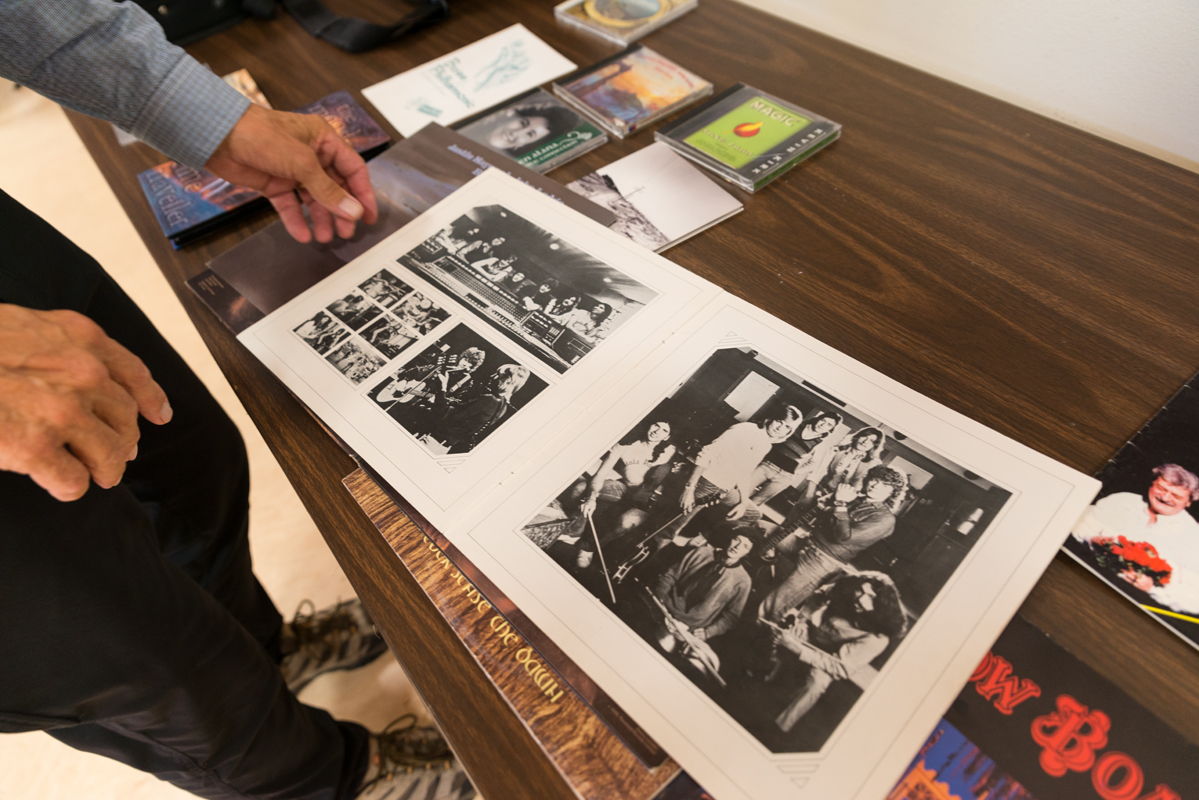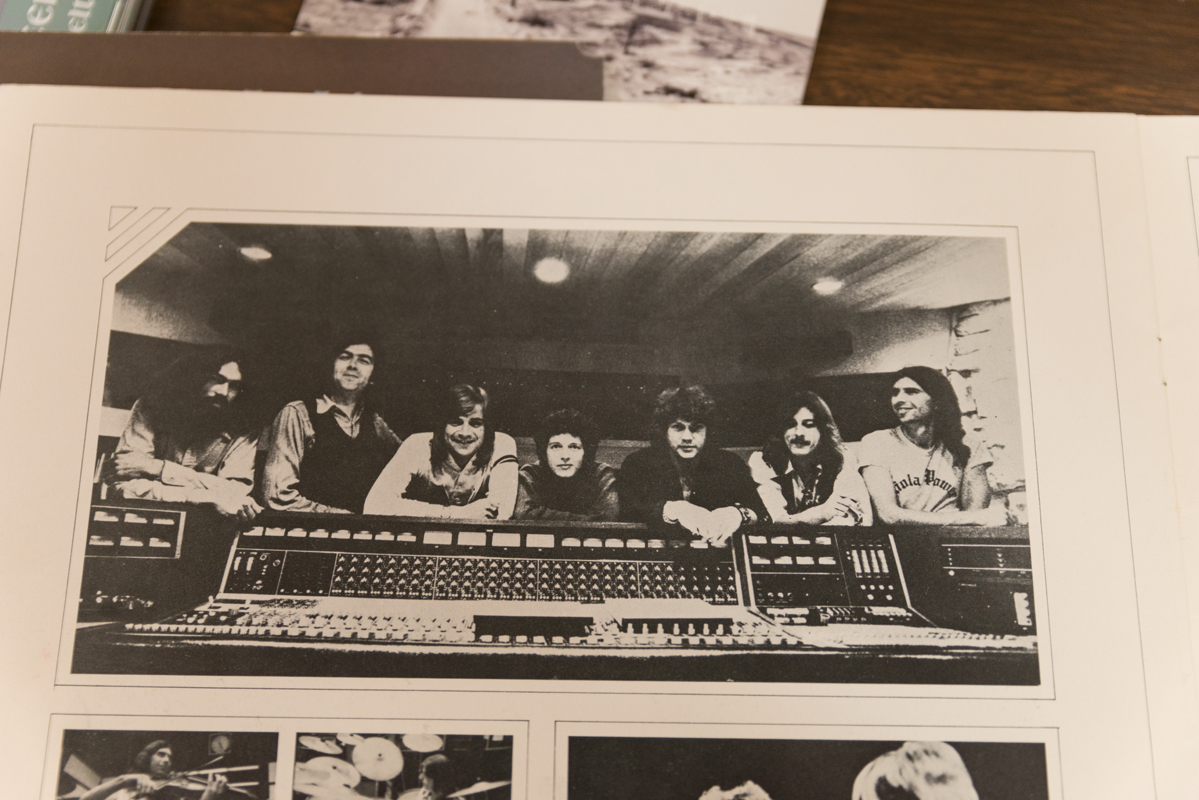 How wonderful to be with people who were grounded and down to earth.
Yeah, anyway, their management company said, "Guys, you're having all sorts of fun with your solo stuff, but you're not making us any money like when you were together as the Moodies. Until you reform as the Moodies, we're not going to promote you. So, they reformed, and I was out of a job.
Oh, shoot. 
That's the bottom. It was—it was pretty bad.
How did you cope with that?
I went back to school.
School is a very safe place to re-find your footing.
I earned a degree in viola performance from USC University of Southern California in Los Angeles. Then I went down to Mexico and played in the Veracruz Symphony, where I met my wife.
Ah-ha!
Jill Rowley. Here we are in this photo: that's the violin and that's a viola. You can see the size is different. There are all sorts of viola jokes.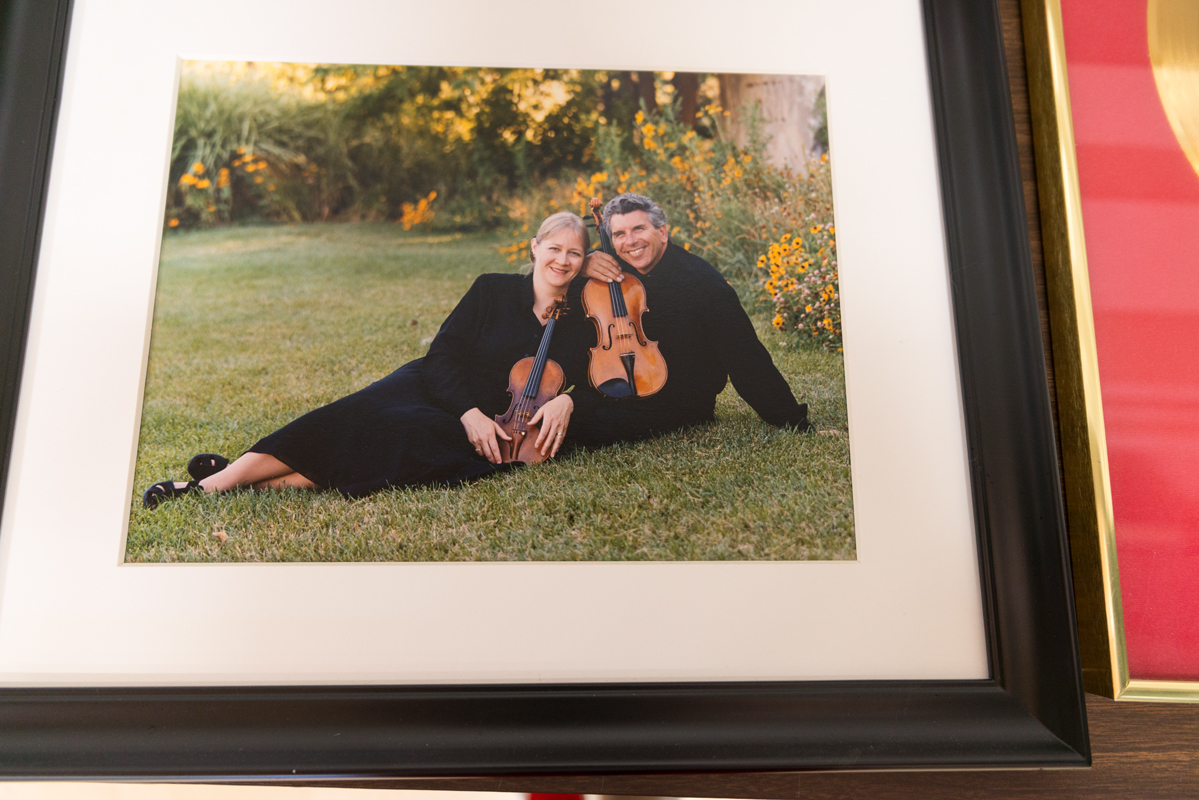 One can only imagine.
We'll just not go there. She is a spectacular violinist. She is knowledgeable and sensitive and a great leader. We ended up with the Mexico City Philharmonic before we came home, got married, and spent our honeymoon here before doing over two hundred shows of Show Boat all over Europe.
Show Boat!
This was the New York Harlem Opera Ensemble.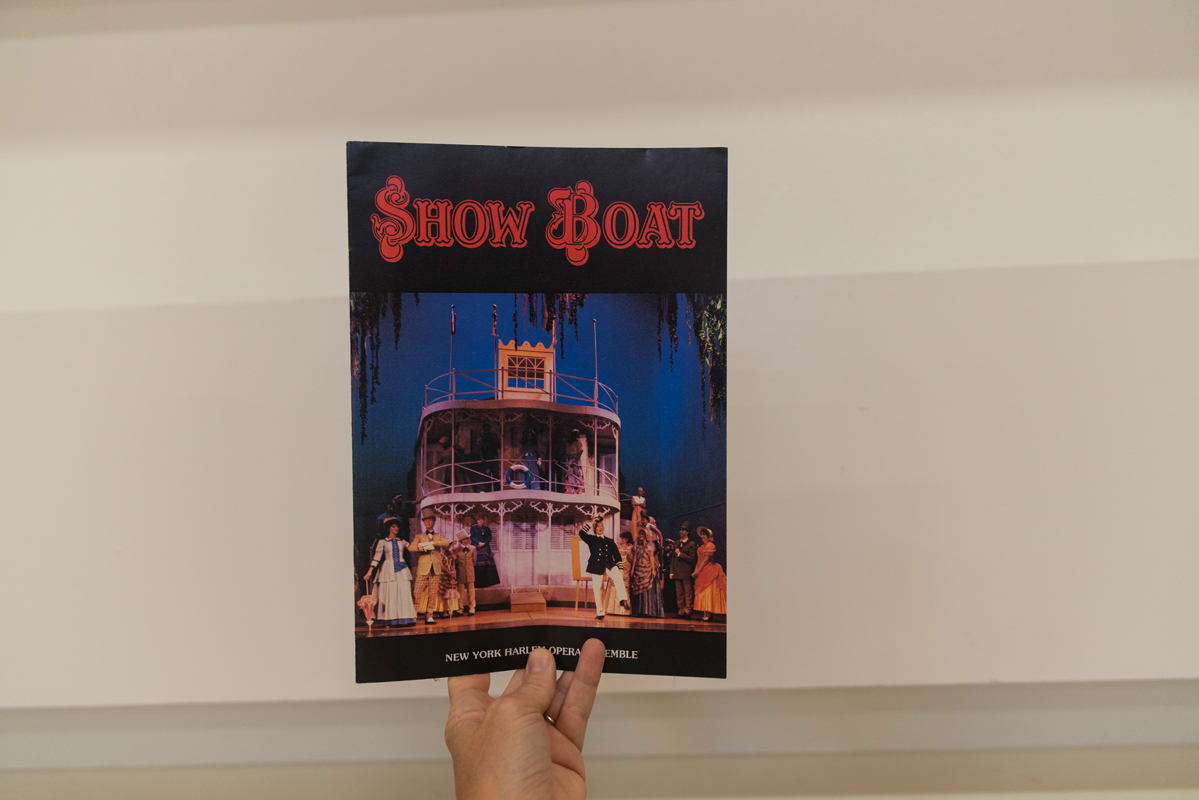 Do you have that whole script memorized?
Oh, yeah. In fact, it's a three-hour opera and the orchestra plays most of it. One performance, I wanted to see how well I had it memorized, so I didn't even open up the book. I put a magazine—it was a ski magazine—on my music stand and I read the magazine instead while playing the show. [laughter]
That's muscle memory for you. But you did end up back here?
Yes, we came back to Boise, auditioned, and I got the principal position in the Boise Philharmonic.
You mentioned a visceral feeling, being surrounded by instruments?
In the orchestra, particularly, because the viola sits in the middle. We have the seat that is closest to the conductor, so you literally can feel what's going on.
The sound waves are going right through your body?
Right through. It's magnificent.
How does it compare to sitting in the audience?
Oh, the frequencies drop off so much. I mean, there's no sizzle—
What's a sizzle? This is kind of juicy.
The sizzle is the actual grit of the bow on the string. That sense of [makes static noise], all of this stuff. You know, the farther away I get from you, the more my voice changes.
It drops off.
But if I come right up to you, you're going to hear—
I have a new appreciation for this.
I've recommended for years that orchestras raffle off a seat in the orchestra as a fundraiser.
YES! I was just going to say that I don't want any other seat now! Does anybody do that?
Not that I know of, because, [the musicians] don't want to have someone sitting right next to them. But, come in a tuxedo and sit right in the middle and feel the power that happens in the middle of an orchestra.
I want that so badly now.
It is extraordinary.
So you went back to playing pure classical music; exact music? 
Yes, but when Kevin Kirk met me he said "You used to play in Providence, didn't you? Would you like to improvise again?" "Oh, I would love that!" He's an amazing pianist. We could be playing a song, everything's going along just fine, then suddenly he gets a surprising and brilliant idea and he's off onto a whole other song, and you're wondering, "How did that happen?" You know?
Did you have to figure out how to follow him?
Yeah. It was so much fun playing with him. He is incredibly talented; he writes his own music and does jazz and Broadway and pop tunes. You can name [any] title and there's a good chance he can play it. That's the kind of memory he has. Pretty soon, we had a group—
Another band!
Yes! Onomatopoeia. Our first CD was titled Catch 'n' Release. It was met with good reviews, NPR had one of those tunes in their All Songs Considered, which was pretty nice. We produced a total of five CDs, all original music.
Is there one concert that stands out?
One incredible experience was the 2009 Idaho Public TV production of Kevin Kirk & Onomatopoeia at the Egyptian Theatre, backed up by members of the Boise Philharmonic Youth Orchestra, including my daughter! I had arranged most of our tunes for orchestral accompaniment. Letting the students experience jazz at that level was thrilling.
Do you still perform with the Onomatopoeias?
After twenty five years, I've retired from it, as well. I've retired from everything.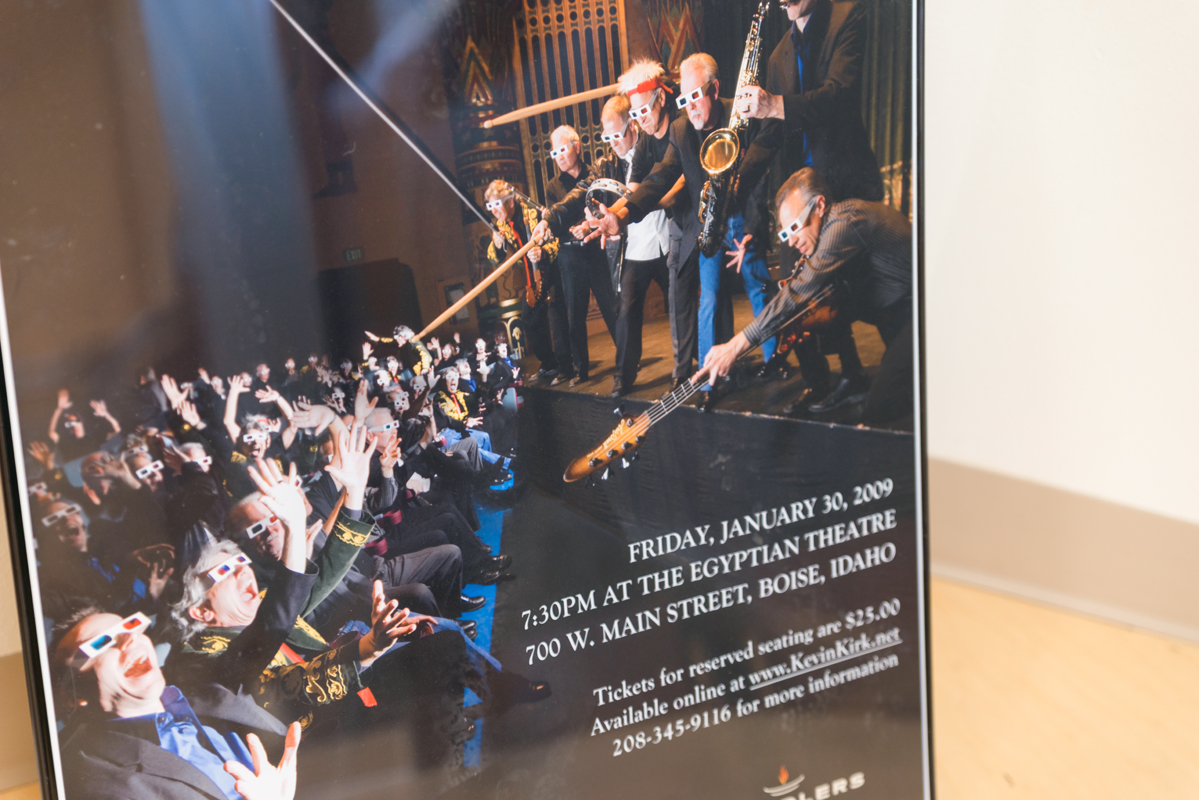 Yes, and you are receiving a Mayor's Award for Lifetime Achievement in the Arts as the retiring manager of the Esther Simplot Performing Arts Academy. Congratulations! On top of having also received a Governor's Award for arts administration. Did you work closely with Mrs. Simplot?
It is easy for me to say I love her. She is such a wonderful woman and so thoughtful and perceptive and willing to make a change in what she sees. The Philharmonic, Opera, and Ballet are all under one umbrella with their youth outreach programs. That's the Children's Chorus, the ballet school,  and the Youth Orchestra. Plus, the basement is for private students.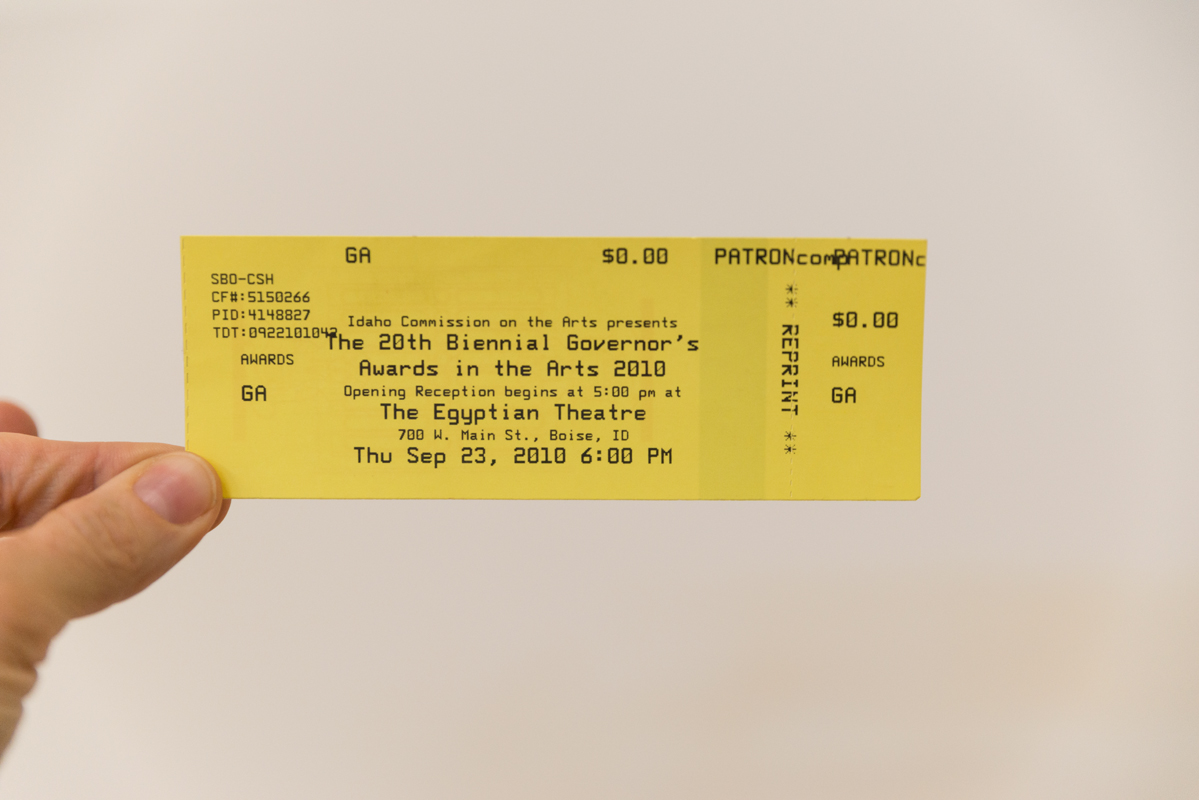 All right here, all under one roof.
So, you see, she sees a need and then works to make it happen. The beauty of this building is that they didn't tear it down, they remodeled, so you have all of these great beams, and there's history locked inside these bricks
Do you think that history affects the art?
I think that there's a continuum that happens.
Really?
My teachers had teachers, had teachers, had teachers, and I have passed some of that on to my students. There's no vacuum. It's not that it just happened, it's that someone made a decision to study; someone made a decision to teach.
To continue.
And it continues. So, yeah, the bricks. If you go back a hundred years, this was the industrial district, a warehouse, the Boise Feed and Seed building. Did feed and seed have anything to do with music? Maybe not, but there is something resonant with what you see around you and that's very important.
Your lifestyle has allowed you to wear many, varied, hats. You mentioned one of the downfalls is that it pulls in so many directions that you can't focus on one thing.
That's true, you only have so many hours in a day. If you devote a lot of your time to one thing, it will, by necessity, be at the expense of another. That's the nature of it. It gets into time management. The adage is, if you want to get something done, ask someone who's busy, because busy people have learned time management. Because of this job, the Academy job, I was able to juggle the time and accomplish other things. That's another thing I'm grateful for. Mrs. Simplot was so supportive of my artistic endeavors; she didn't care when things got done, as long as things got done. She trusted that it would happen and I did my best to maintain that trust.
What exactly does being the manager of the Esther Simplot Academy for the Performing Arts entail?
I could give you the job description. It was five pages long.
That's a lot. 
And the last line of the job description is: "And anything else that needs to be done."
We were talking about momentum. I think busyness probably begets busyness, as well. 
It does becomes a lifestyle.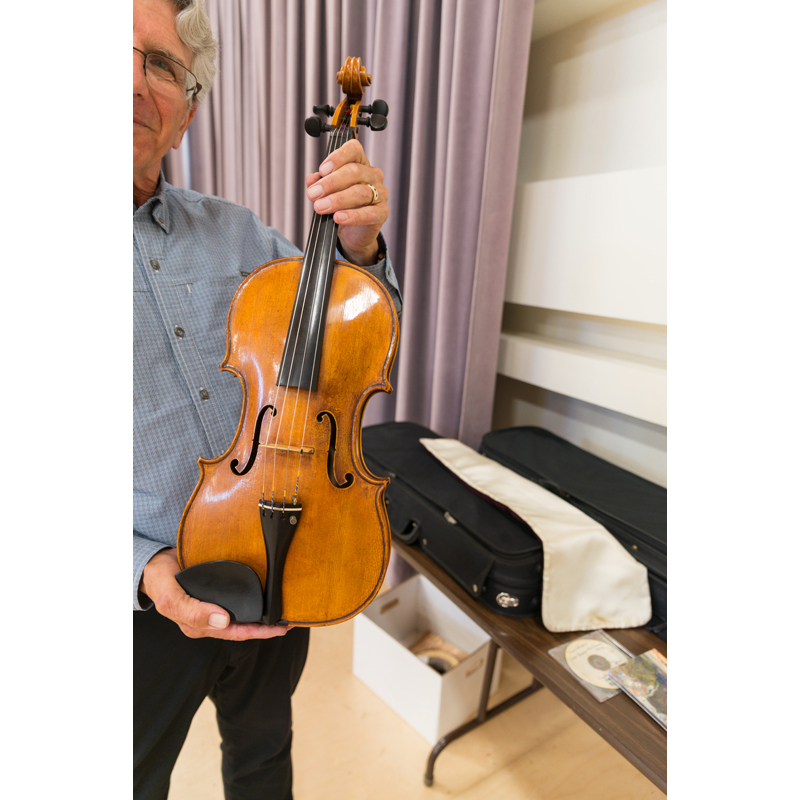 What are you going to do with retirement? 
Retirement was a really pleasant surprise. The switch happened like that [snaps fingers] and my new job became getting healthy. I've always exercised, always been active, but more so now. We have a beautiful garden, we're eating well. We read poetry to each other every morning, Jill and I.
Seriously?! Are you trying to make me jealous? [laughter]
It's spectacular.
The poetry, especially. Do you have any unfinished projects?
Yes, I'm going to be able to enjoy those in retirement; my own recordings, etcetera, poetry and classical compositions.
Will you have any trouble staying motivated?
No. Composition has always been haphazard with me, anyway. It strikes at the oddest time.
Inspiration is like that.
I might go for weeks, months, and nothing. Then, an idea will just pop and it's like, wow.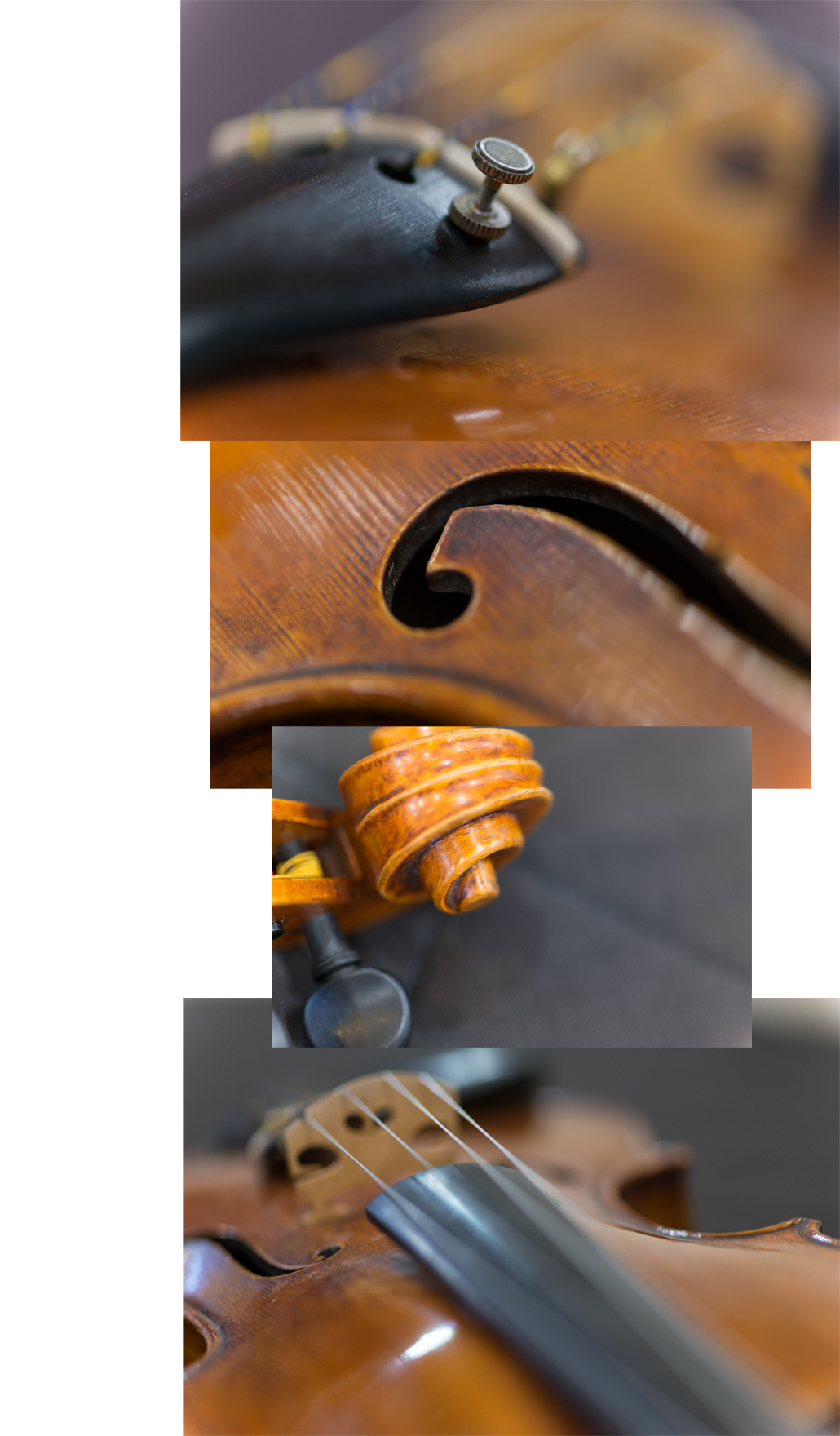 Did you bring some of your poetry to share?
Yes, this is called, "Milestone." I wrote it for my 60th birthday.
Ok, you read it. I'm looking forward to this. 
He thought he would be weary when he gazed upon the rock and noticed how it must have sat for ages, weight wetted to the earth near the well-worn path. The chiseled words whence and wherefore weathered on his face were partially obscured by ancient moss. He remembered, long ago, as he contemplated this distant spot, how, with plodding feet and heavy pack, he would approach the rock to lean upon its solitude, dreadfully grateful. And he thought he might be weary, yet there he stood, no millstone, this milestone. Surprised, he tried to fathom the gap between then and now, how prediction and perception encompass divergent views. And he discovered next that while in league with laughter, sonnet and song, he had danced the distance. Yes, he thought he should be weary. But no. And with a whistle, he turned to go. 
That is very telling about your outlook on life, and lovely. I'm so glad you shared it. Weight wetted to the earth, a well-worn path. Plodding feet and heavy pack. Yes, at times it's all plodding feet and heavy pack.
Dreadfully grateful.
You feel like you've had a charmed life?
Indeed.
What is something that makes it so charmed?
Love. I mean, love is a real, powerful emotion. And beautiful. In music, think of chord structure: some chords are simple, like a major chord. As you get into the more esoteric composers of the early 1900s, the chord structure starts stretching out and they push dissonance to the point of irritation and pain, but you can also push dissonance just far enough until it almost breaks, [at that point] you can resolve it before it breaks. It's the resolution of tension that can be so satisfying. If life didn't have some tension, it would be really boring. Not that people should go out looking for tension, I don't think you should live on the edge, but the resolution that comes afterwards is really sweet.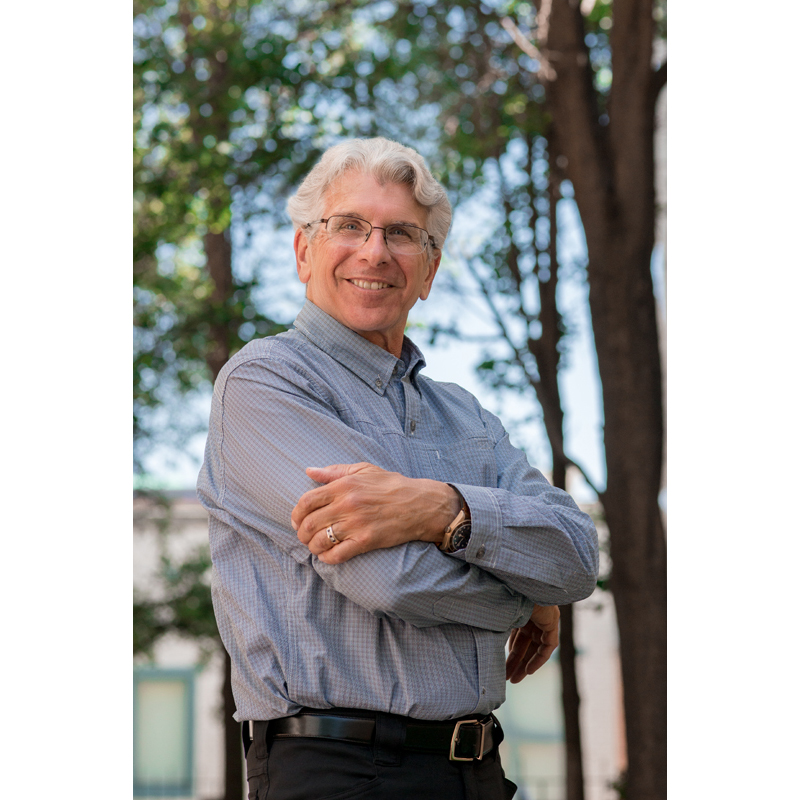 Downtown
August 28, 2019
Lifetime Achievement Award in the Arts
---
This interview has been edited and condensed for clarity.
Creators, Makers, & Doers highlights the lives and work of Boise artists and creative individuals. Selected profiles focus on individuals whose work has been supported by the Boise City Dept. of Arts & History.