2019 Mayor's Awards for Excellence in Arts & History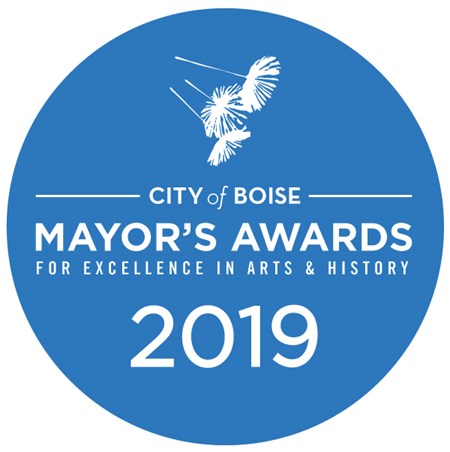 Date: 9/5/2019 5:30 PM - 9/5/2019 6:30 PM
Cost: Free
Category: Special Events
Find it on Facebook
Every other year since 1986, the City of Boise has celebrated people, organizations, and businesses that have contributed to Boise's cultural community. Please join us on City Hall Plaza (150 N. Capitol Blvd.) for a public ceremony to honor the recipients of the 2019 Mayor's Awards for Excellence in Arts & History:
EXCELLENCE IN THE ARTS
Randy Van Dyck

Randy Van Dyck has built an art career in Boise as both a painter and business owner of Van Dyck Frame Design and Capitol Contemporary Gallery. As an artist, Randy is well known regionally and nationally for his skill and integration of idioms and phrases into his work, which often results in beautiful compositions that are approachable and imbued with humor. As a business owner, Randy is generous, gracious, and dedicated to serving artists and art audiences alike to help build a connected community.
EXCELLENCE IN HISTORY
Idaho Black History Museum

Housed in the former St. Paul Baptist Church, the first black church established in Idaho, the Idaho Black History Museum serves as a center for education, political discussion, community meetings and activism. The museum is a critical resource in Boise for building bridges between cultures and exploring issues that affect people in the United States of all cultures and ethnicities.
LIFETIME ACHIEVEMENT
Tom Tompkins

Tom Tompkins' vast training, experience, and talent as a musician has propelled him on an amazing life journey. Tom performed viola in Mexico and Europe; played with a folk-rock band, Providence, which recorded a Gold Album with the Moody Blues in 1974; and became the principal violist with the Boise Philharmonic in 1985. In 1992, he joined award-winning jazz group Onomatopoeia, and in 1995, Tom started his 24- year career as the Manager of the Esther Simplot Performing Arts Academy. Tom's stellar career in music and his steadfast support for other artists serve as a model and inspiration to all.
Presented in conjunction with the Mayor's Awards, Mayor David H. Bieter will also appoint the city's newest cultural ambassador:
FY20-21 CITY OF BOISE CULTURAL AMBASSADOR
MING Studios

Through their international Artist Residency program, MING Studios supports artists from around the world to develop new work and exhibitions that are inspired by their experiences in Idaho.  As a contemporary art center based in downtown Boise, they also serve our local community by hosting innovative programs including workshops and cultural activities, performances, screenings, readings and artist talks.
The evening will include music by the Boise Community Band and light refreshments. Free and open to the public.
The Boise City Department of Arts & History encourages persons with disabilities and those who require language assistance to participate in its programs and activities. If you anticipate needing an accommodation, please contact Jennifer Yribar, 208-608-7051 or email jyribar@cityofboise.org, as soon as possible, but no later than 72 hours before the event.