Arts & History Grants Information Session - In Person (4/4)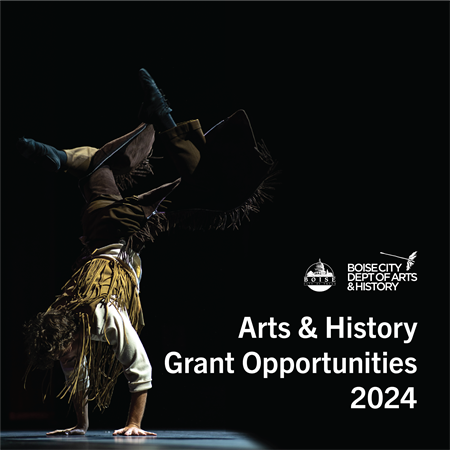 Date: 5/10/2023 6:00 PM - 5/10/2023 7:00 PM
Location: Global Lounge Commons
Cost: Free
Find it on Facebook
The Arts & History Grants application window for fiscal year 2024 opens on May 1 and closes on June 16, 2023. Join us IN PERSON for an information session in the Global Lounge Commons (3085 N Cole Rd, Ste 202) to learn about the grant application process. The session will include a program overview, grant criteria, and how to apply online through ZoomGrants. Free and open to the public. No registration required. 

Learn more about the Arts & History Grant program.
The Boise City Department of Arts & History encourages persons with disabilities and those who require language assistance to participate in its programs and activities. If you anticipate needing an accommodation, please email artsandhistory@cityofboise.org or call 208-608-7050 as soon as possible, but no later than 72 hours before the event. To request assistance, you may also dial TTY 1-800-377-3529.
In our commitment to engaging everyone, the City of Boise is actively removing barriers to participation, including for our residents with disabilities and those who prefer a language other than English. If you need an accommodation to access City of Boise's services, programs, or activities, please contact us at artsandhistory@cityofboise.org or 208-972-8500 (TTY 800-377-3529), preferably within 72 hours before to the event.
En nuestro compromiso por lograr la participación de todos, la Ciudad de Boise está eliminando activamente las barreras a la participación, incluso para nuestros residentes con discapacidades y aquellos que prefieren un idioma distinto del inglés. Si necesita una adaptación para acceder a los servicios, programas o actividades de la Ciudad de Boise, póngase en contacto con nosotros en artsandhistory@cityofboise.org o en el 208-972-8500 (TTY 800-377-3529) preferiblemente en las 72 horas previas al acontecimiento.