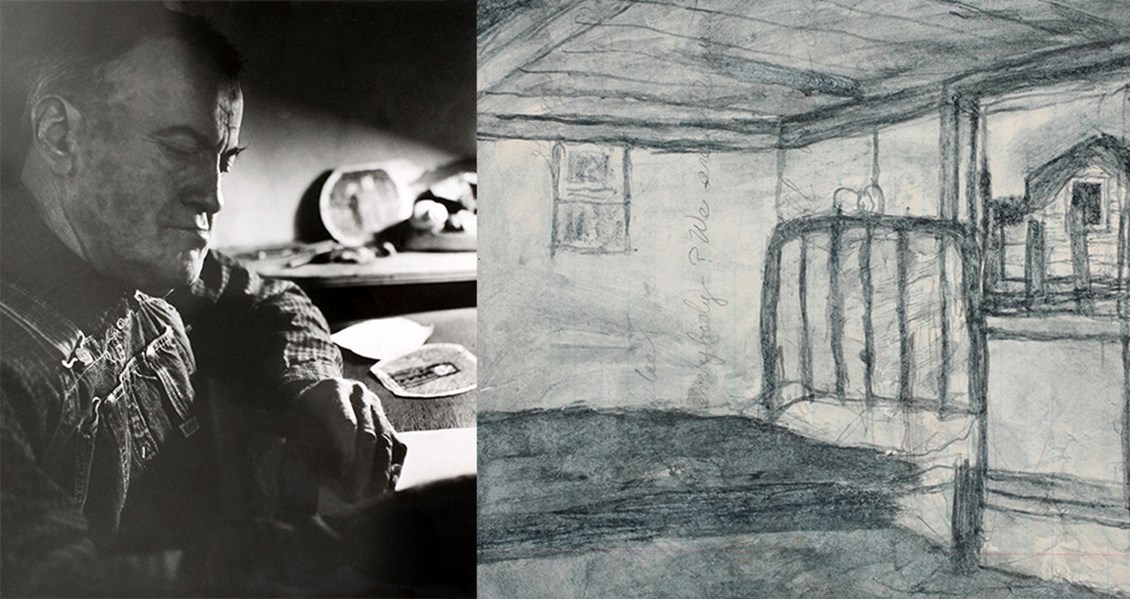 Above images ©James Castle Collection and Archive
James Castle (1899-1977) was a self-taught artist, born deaf in the tranquil settlement of Garden Valley, Idaho nearly 120 years ago.
ARTWORK AND MATERIALS
James Castle's body of drawings, constructions, and books were composed of, and upon, found objects: scrap paper and cardboard, food labels, bits of cloth, discarded lengths of string, and debris from the family's wood burning stove were his materials. Although he did create using color, he primarily produced drawings in black and white, sketched from an ink of soot and his own saliva. His preferred method of application consisted of using handmade tools of stick, paper, and cloth. His creations were undated and untitled, although there is a chronology hidden in the materials: postal stamps on envelopes, advertisement dates on throw-away paper, and the months, days, and years scribed on his nieces' and nephews' homework pages betray the otherwise understated passing of time in his work.
Working primarily from memory, James Castle mimicked scenes familiar to him: the Idaho landscapes, outbuildings, and rooms of his youth, the comic strips, calendars, and advertisements populating his daily life, the letters, numbers, and symbols of the world of language which James Castle, peripheral to, manipulated for artistic and intellectual means, and the inner spaces and peoples of the Idaho State School for the Deaf and the Blind in Gooding, Idaho, 150 miles from home, where Castle was proctored-to for five years of his life. Many of the scenes in Castle's drawings are immediately recognizable – a simple chair in a room, for instance -- while other drawings incorporate imaginative totems, figures, and patterns that appear to represent the inner manipulation of Castle's inventive reality. In all subjects explored, however, Castle owned a mastery of perfect linear perspective, many of his drawings seamlessly moving the viewer through doorways and windows to the outer porches, and to the distant, eventual landscapes that lay beyond.
Although offered commercially available art supplies, James Castle eschewed these items, preferring the medium of his own creation, with even his color drawings resultant from a complex layering of found pigments syphoned from materials such as miscellaneous paper goods, children's crayons, egg yolk tempera, crepe and tissue paper, and a chemical identified by recent analysis as laundry bluing. Wads of cotton, cloth, and crushed paper, or common sticks, sharpened and shaped, allowed Castle to control the application, textures, values, and colors of the soot and saliva mixture as it interacted with his found pigments.
James Castle also designed books whose visual narratives, incorporating uncommon arrangements of letters, numbers, and exquisitely-paired drawings, echoed the arrangement and design of modern calendars or photo albums yet seemed intuitively born of a contemplation and structure available only to Castle himself. Many of his books, dreamlike in texture and content, include both the tangible and nonsensical, that which is seen and that which is innately jumbled and foreign, as language without context, patterns without containment, the way Castle's deaf ear would have navigated the world around him. The books communicate with their readership via immersion, the reader overtaken without the commonplace banality of explanation.
James Castle's physical constructions of layered paper and cardboard, sewn and pasted and often colored, are three-dimensional objectifications of the people, clothing, animals, birds, and furniture he cohabitated with. Unlike his books, Castle's constructions shed almost all impulse for language, allowing themselves, instead, the dignity of the daily as a stand-alone signifier -- of the purity of existence and, perhaps, of its absurdity, as well: the constructed chair seems to ask its viewer, almost childlike in voice but also in construction, "Am I a chair?" To which the viewer can only respond, "Yes, you are!" And in this fashion, we interplay with Castle's work, and learn his architected language together.
LIFE
James Castle was born premature and deaf on September 25, 1899 in Garden Valley, Idaho. He was one of seven children raised on the family's 320-acre farm in the sparsely-populated mountains northeast of Boise, Idaho. Although geographically isolated and lacking in amenities commonly available in larger cities of that time, Castle's parents ran a small store and postal stop out of their main residence, thereby exposing the artist, from an early age, to wider American culture via the advertisements, catalogues, greeting cards, and magazines that regularly streamed through his life. From the age of six, Castle began to synthesize and mimic that mysterious outer world in the soot-based drawings that would become both the earliest evidence of Castle's artistic apprenticeship and a testament to the aesthetic of wonderment that would subsist throughout the larger body of his work.  
In middle childhood, James Castle attended the Idaho State School for the Deaf and the Blind in Gooding, Idaho, for a period of five years. At that time, deaf education focused primarily on efforts to teach oral communication via spoken language, single and multi-syllabic sounds, and lip reading. Castle performed poorly, returned home, and, although his ability to comprehend the written word was speculated to have been marginal, Castle's family used a repertoire of homemade signs to communicate with him thereafter.
James Castle's existence on the family farm was a vibrant one, and his artistic output prodigious. He was busy and independent during that period, "single-minded in (the) pursuit of his art, and intelligent and humorous – if occasionally cross or angry about one thing or another – as well as remarkably gregarious, considering that he could not participate in conversation." He was free from the repertoire of farm chores that occupied his family members' time and, instead, was able to focus the lengthening days and years on the work that was his passion, carefully organizing and bundling his artwork together and storing it away in places that would be safe and undisturbed: stacked inside outbuildings, layered within attics and interior walls, and squirreled beneath the foundation of his home.
In 1923, James Castle's family left the Garden Valley acreage and moved to equally rural, Star, Idaho. It would be an artistically productive yet relatively uneventful decade, with the exception of the passing of Castle's father in 1927, and by the early 1930s the family had downsized further to a small plot of land on the outskirts of Boise, where Castle would live in what is now known as the James Castle House, with his mother, until her passing in 1948, and with his younger sister, Peggy, her husband, and their children for nearly five decades.
James Castle's years in Boise were his most artistically productive. It was his custom to greet visitors to the family home and engage them with an exhibition, studying their body language and expression as they evaluated his work. He was simultaneously proud and open, yet fiercely private and protective, depending on the emotional climate of the room. Most of the pieces Castle produced on the Boise property were crafted in a small shed behind the house, where he rarely allowed visitors, and where a small wood burning stove churned the flames that honed the soot, that itself would become the ink of Castle's masterworks.
In the early 1950s, James Castle's nephew, attending art school in Portland, Oregon, shared a few pieces of his uncle's art with professors and friends, sparking an immediate interest from the more refined viewership of that outer world. During the 1960s and 1970s, a spattering of art shows and galleries, including the Boise Gallery of Art, or what is now known as the Boise Art Museum in Castle's home town, exhibited his work to great applause. Numerous pieces were sold, allowing Castle to relocate his work space from the poorly-insulated shed to a newly-purchased trailer fitted to the rear of the same property, where he bunked and worked until his sudden death, of natural causes, in October of 1977.
Although the art world had called after him, James Castle's family eventually distanced themselves and chose to keep his work private until his nieces and nephews reintroduced their uncle's art to the public in the 1990s. The work has since been exhibited around the world, including at the Smithsonian American Art Museum, the Museo Nacional Centro de Arte Reina Sofia in Madrid, and the Philadelphia Museum of Art. It is believed that much of his work has been lost or destroyed, however. A Garden Valley neighbor has reported that the family who purchased the original Castle home had found the attic replete with drawings, numerous self-constructed books, and a variety of other works of art which they'd inadvertently burned in a debris fire. A Fish and Game warden discovered a small cache of Castle's handmade books inside what was once an outbuilding on the Garden Valley property, and, in later years, bundles of artwork were additionally found in numerous places on the Boise property, rolled and stuffed into the walls and attic. The true reach of his work remains unknown to us, lingering in the small rooms of others and tempering the space -- to create something like sound, honed into language and, wonderfully, remaining to be heard.
PROPERTY AND NEIGHBORHOOD
The Castle property was first registered with the Bureau of Land Management as a multi-acre parcel, in 1867, although over time the property has been whittled to its now less than one-half acre size, currently registered as 5015 North Eugene Street in Boise, Idaho. The Ada County Assessor's Office dates the initial construction of the existing residence to 1923, and a recent architectural history provided by the Idaho Heritage Trust identifies seven distinct periods wherein amendments and additions have been made to the property and home. Initially constructed as a twelve by twenty-six foot, single story enclosure with board-and-batten siding, a porch was later added, with eaves to the north and south, cedar shingles were applied in areas where battens had been removed, an additional porch and small room adjoined the north, and three small rooms adjoined the south, with stucco, glasswork, and concrete block enclosures eventually added to the residence, as well.
The James Castle House is located within what began as a rural patchwork of farms and orchards, now subdivided and known as Pierce Park neighborhood, in north east Boise. Many of the early landowners are memorialized in the neighborhood street names, including James Castle's mother, whose legacy is rearing the artist and the naming of "Castle Drive" to the contemporary map.