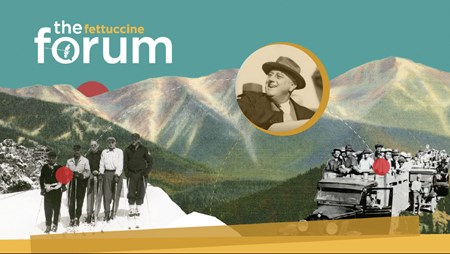 Date: 11/15/2017 6:00 PM - 11/15/2017 7:30 PM
Location: Boise City Hall, 150 Capitol Blvd. Boise, Idaho
Cost: Free
Category: Lectures
Find it on Facebook
Recreation & the New Deal: Bogus Basin's 75th Anniversary
Bogus Basin: 75 Years and Beyond
Please join us for this month's Fettuccine Forum with author Eve Chandler and Brad Wilson, general manager of Bogus Basin.
The duo will address the development of Bogus Basin, an effort driven by community volunteers and Civilian Conservation Corp (CCC) members. Boise Junior Chamber of Commerce members applied and received a Work Projects Administration (WPA) grant that funded 195 CCC members to build a road to Bogus Basin, install water and sanitation systems, and create ski runs. Bogus Basin's non-profit status has provided affordable and accessible winter recreation to residents of all ages. Bogus Basin has provided hundreds of thousands of dollars in annual donations and scholarships to schools, churches, community groups, and nonprofits like Big Brothers Big Sisters, Special Olympics, Recreation Unlimited, and Junior High and High School Race Programs. Brad Wilson will address the future of Bogus Basin, including plans for year-round activities. The presentation will include a five-minute video.
Eve Chandler is the author of Building Bogus Basin, Brundage Mountain: Best Snow in Idaho, and has written for local, regional and national publications. She began her career as a health science writer for a major Chicago medical center. A native Idahoan, she has served as a City of Boise Arts and History Commissioner and Idaho Public Television board member. Currently, she is a Bogus Basin Recreational Association board member and President of the Christ Chapel Historical Society
Brad Wilson became the seventh general manager in Bogus Basin's 74 year history in November, 2015.  He brought a passion for skiing, mountain biking and the outdoors, and over thirty years' experience in marketing, sales and master planning within the industry.  Brad relocated to Boise from Diamond Peak Ski Resort at Lake Tahoe where he served as general manager for four years.  Additionally, he has worked as the president and COO of Catalina Island Resort Services, Director of Marketing at Alpine Meadows, and held lead marketing roles at resorts on both the east and west coasts.
With input from the community and guidance from industry experts SE Group, Brad is leading Bogus Basin through a strategic evolution, including the development of a detailed multi-season master plan -- a vision for the future to address the mountain's long-term sustainability.
WHEN & WHERE
November 15, 2017
Doors open at 5:30 PM
Presentation begins at 6:00 PM
City Council Chambers, Boise City Hall
The Fettuccine Forum is produced by the Boise City Department of Arts & History. Support from the Office of the Mayor and Boise State Public Radio all make the Forum possible. Lively and informal, the series invites the public to interact with politicians, artists, historians, activists, advocates and professionals in an effort to promote good citizenship and responsible growth through education.