So We Did: Celebrating Women's Suffrage at 100
In 2020, the Boise City Department of Arts & History leads the City's commemoration of the 100th anniversary of the 19th Amendment, which recognized the right to vote for many women—but not all. A year-long series of programs and events celebrates the Boise individuals who mobilized and empowered women to advocate for suffrage, and expands the conversation to include underrepresented groups. This anniversary brings Boiseans together to talk about the importance of civic participation in our community and address the work still to be done. All events are free and open to the public.
Quick Links
Proclamation
On Wednesday, Jan. 29, 2020, Boise Mayor Lauren McLean issued and signed a proclamation declaring the 29th of January 2020, Boise Suffrage Day. Read the full text.
Virtual Walking Tour
"Workin' 9 to 5: Boise Suffragists in Downtown Boise" 
Downtown history tours often focus on the architecture of buildings and the businesses they held. Invariably, these stories primarily focus on men. The aim of this tour is to depart from the traditional narrative and, instead, show the indelible mark women have left on downtown Boise. Join the adventure (socially distanced, of course) to learn about our built environment through the lens of women's history. Take a (virtual) walk!
Notes from the City Historian
The Little Book of Boise Suffrage is our attempt to create a short and incomplete story of a great movement. Learn about several key figures, buildings, and symbols that together tell the story of Boise's suffrage history and represent many successes of Boise's suffragists. The story does remain unfinished as these successes did not secure voting rights for all women, and even today there is still work to do. Read along!
Suffrage-themed Coloring Pages for Everyone
Grab your coloring materials (yes, glitter counts!) for both you and your little ones and make your world more colorful with these suffrage-themed coloring pages.
Choose Your Page
Public Art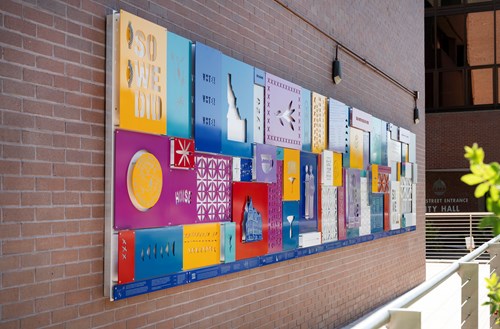 Suffrage Quilt by Stephanie Inman, Photo by Allison Corona


Local artist Stephanie Inman has been selected for the City Hall Women's Suffrage Public Art project. "Suffrage Quilt" tells the story of Boise's suffrage history with colorful key symbols and patterns. It celebrates the many successes of Boise's suffragists, yet "Suffrage Quilt" remains unfinished to illustrate that these successes did not secure the voting rights for all women, and even today there is still work to do. A timeline at the bottom describes the symbols and tells a broader national story.
Get Involved
"WHEN I'M MAYOR" SHORT FILM
"When I'm Mayor" is a short film that will feature interviews with Boise students and children under the age of eighteen discussing their dreams and aspirations for our city and community. Interviewees will be asked age appropriate questions such as: What do you like most about Boise? What makes Boise's community special? If you were Boise Mayor, what would you do? What rules or laws would you like to change or create? How would you effect positive change in Boise?
The final edited video will be posted to the City of Boise's website and maintained within the Boise City Archive, with a future screening in the works. Each student's interview will also become part of the Boise City Archive. 
This call is closed.
COLLECTION
Do you have lived experiences, historical photos, or other information related to Boise's suffrage movement? Consider sharing them with our History and Archives programs. Contact artsandhistory@cityofboise.org or call (208) 608-7050.
COMMUNITY QUILT
Do you wish to participate in creating a community quilt celebrating women's suffrage? Create your own quilt block (dimensions: 12.5"x12.5") or contribute fabric to be considered for use in the final quilt. Drop off at our office (150 N Capitol Blvd) or mail to PO Box 500, Boise, ID 83701.
#SOWEDID
Have you taken a leap of faith? Faced adversity, yet persevered? #SOWEDID is a powerful statement of the collective work done in the past and is an inspiration to current Boiseans to be a part of the change they wish to see in their communities. Post and tag your #SOWEDID moments on social media. 
Idaho Women at 100
Learn about the Idaho Women at 100 campaign.