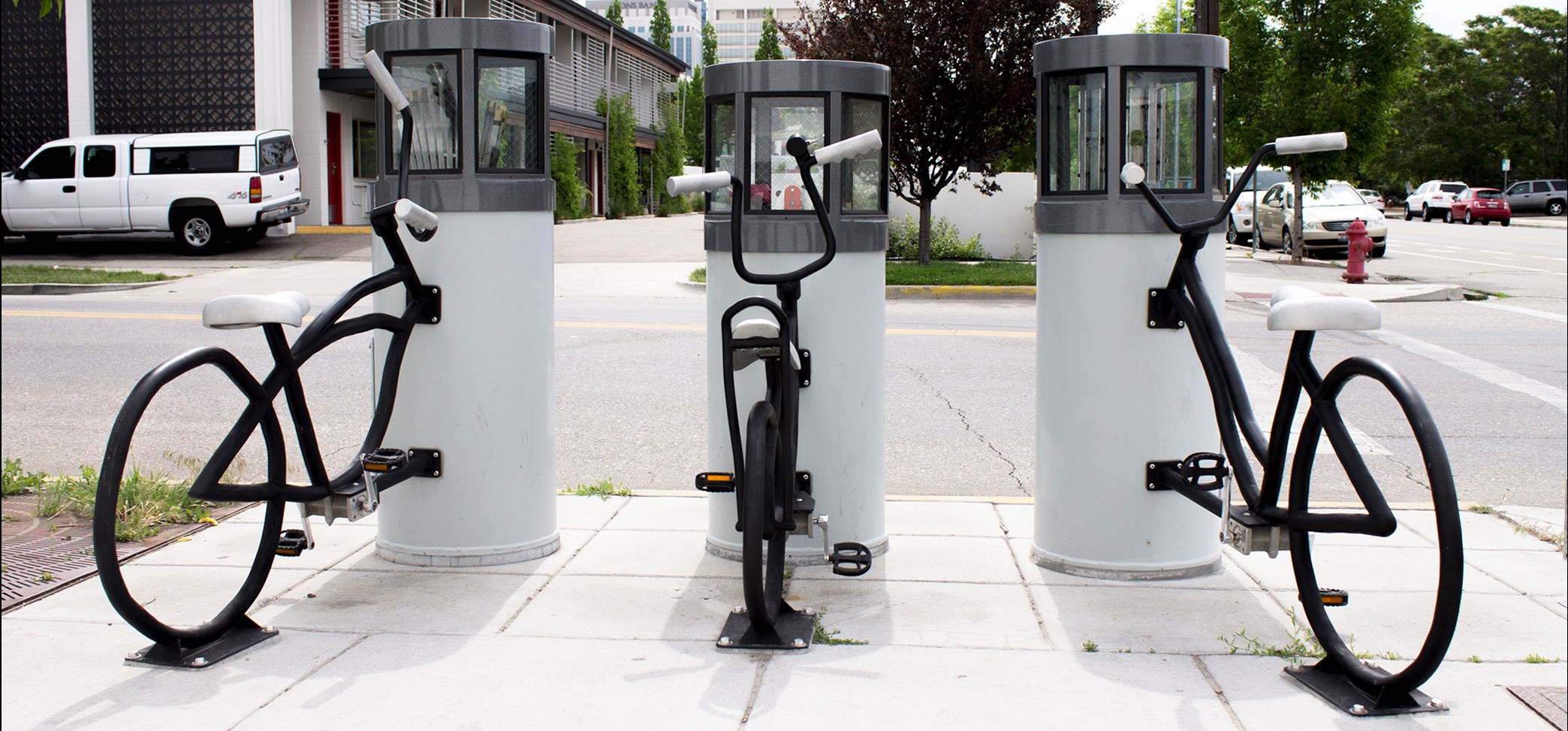 Above image © Michael Brown & David Cole
Art in public places adds meaning, stories, and beauty to our public environment. Our city's Public Art program is well loved; citizens recognize value in this investment and appreciate efforts to transform non-descript streets and vacant lots into environments that are vibrant and new. More than two-thirds of the artists commissioned live in Boise—as a result our public art authentically reflects Boise's local character, more tightly binding us to one another and to this place.
The Public Art Program is nationally known for its innovation—Boise is proud to be among the very few cities in the country with a dedicated City department committed to advancing arts and history. Creation of the Department was only the beginning of a movement in which Boise is increasingly referred to as an "art town."    
"In 2001, the Boise City Council passed an ordinance directing that 1.4% of all capital project funds be set aside for the integration of public art into city facilities."
Through the Percent-for-Art program, a concept popularized in cities across the U.S., professionally produced murals, sculptures, mosaics and inspired installations are systematically integrated into the Boise Airport, Boise WaterShed, Foothills Learning Center, branch libraries, fire stations and throughout the city's magnificent parks. A&H staff members facilitate artist selection and manage fabrication, installation, maintenance, and conservation of every piece. The public is involved in the process of creating the art—citizens serve on art selection panels and offer public comment on artists' proposals.  
The Department of Arts & History seeks to make Boise a national leader in public art. In addition to the sizeable Percent-For-Art portfolio, A&H staff members manage public art projects on behalf of Capital City Development Corporation (CCDC) and other investors in original public art, all contributing to overwhelmingly positive perceptions of Idaho's capital city. 
To see Public Art in Boise, Browse the Collections online, view data related to the program, Read the Guide to Public Art and to join us for free tours, community lectures, workshops, and live events. Contact Karl LeClair, Public Art Manager, at 208.608.7044.
"By training and supporting emerging artists and engaging accomplished local, regional and national artists to produce work of exceptional quality, we can bolster the creative economy and transform Boise's cultural landscape."

-Karen Bubb, Cultural Planner

WHAT'S NEXT ?
With an upsurge in capital construction, an unprecedented expansion of the Public Art collection is set for 2017 – with 30+ new projects and 37 new traffic boxes. Look for public art at the new Bown Crossing Library, (4) new Fire Stations, the re-designed Rhodes Skate Park, the Downtown Main Street Transit Station, the Boise WaterShed educational center, Broadway Bridge, Broadway Freeway overpass, and the redesigned City Hall Plaza. 
BE A PART OF THE ACTION
COMMISSION ARTISTS 
Private developers are encouraged to commission and fund artists to create and install public art within new construction projects. Collectors, philanthropists, and developers seeking to connect with Boise artists, please contact Karl LeClair for consultation or direction. 
DONATE TO THE PUBLIC ART FUND 
Leave a lasting artistic legacy for our city—give to the Public Art fund.   
BECOME A DOCENT – PUBLIC ART WALKING TOURS 
If you love art, take it to the streets! Seeking friendly, reliable volunteers for Docent training to conduct downtown Public Art walking tours for small school groups, conference attendees, and people working downtown. Please contact Josh Olson.
ATTEND PUBLIC ART ACADEMY 
Our Public Art Academy accepts up to twenty 20 artists seeking to learn about public art selection processes, proposal preparation, and legal issues such as copyright and insurance requirements. Artists develop new skills and camaraderie as they compete for a $3,000 Temporary Public Art project to kick off their careers in public art. Join this 8-week tuition-free experience offered once a year, meeting in downtown Boise one night/week February through March. 
NOMINATE A SITE FOR PUBLIC ART 
Have you seen a particular traffic box that should get an art wrap, or know of a neighborhood in need of cultural investment? Nominate locations where Public Art should go, along with the compelling reasons why, and your site will be considered when reviewing options for future cultural investments. 
REPORT VANDALISM 
Notice a sticker or tag on a public artwork? Please notify the Cultural Assets Care and Conservation team manager at 208-608-7045 or Annie Murphy at 208-608-7043 so we can quickly remedy the damage.