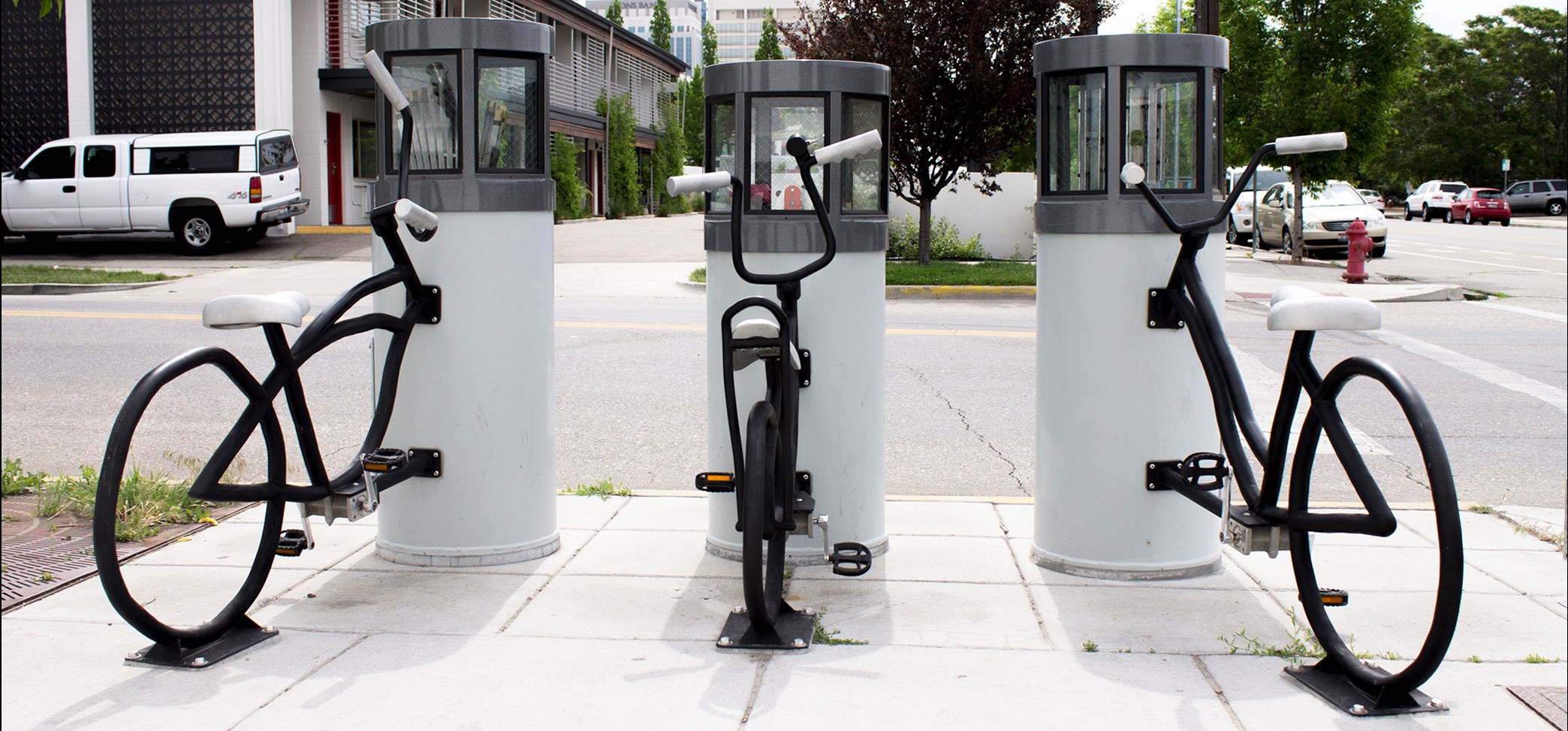 Above image © Michael Brown & David Cole
Art in public places adds meaning, stories, beauty and identity to our public space. Our city's Public Art program is well loved; citizens recognize value in the investment we make in art and the artistic community and appreciate efforts to transform non-descript streets and introduce vibrancy into the urban environment. More than two-thirds of the artists commissioned live in Boise—as a result our public art authentically reflects Boise's local character, more tightly binding us to one another and to this place.

Quick Links
Mission
The mission of Boise City's Public Art Program is to support an enriched and thriving arts community through the integration of a diverse collection of works of art into public spaces in a manner that reflects the diversity, culture, and economic vitality of the City of Boise; and to provide related programming and education to expand the artist community and public's knowledge and understanding of the arts and culture in relation to their surroundings. The Public Art Program mission aims to align with and expand upon the Department of Arts & History's mission, "To enhance Boise's community by providing leadership, advocacy, education, services, and support for arts and history." 


Overview
"In 2001, the Boise City Council passed an ordinance directing that 1.4% of all capital project funds be set aside for the integration of public art into city facilities." Through the Percent-for-Art program, a concept popularized in cities across the U.S., professionally produced murals, performances, sculptures, mosaics, installations, and more are systematically integrated into the Boise Airport, Boise WaterShed, Foothills Learning Center, branch libraries, fire stations, throughout the city's magnificent parks, and integrated into the streetscapes throughout all areas of the City.
The Public Art Program Team facilitates project identification, artist selection and manages fabrication, installation, and maintenance of every piece. The public is involved in the process of creating the art—citizens serve on artist selection panels and offer public comment on artists' proposals and in turn have a direct impact on the growth and development of the City. In addition to the sizable Percent-For-Art portfolio, the Public Art Program Team manages public art projects on behalf of Capital City Development Corporation (CCDC) and public, private and community organizations for original public art, all contributing to a unique sense of place and vibrancy in Idaho's capital city.
Boise's remarkable and diverse collection of Public Art is valued at over $6.5 Million and is growing each year. To date, local artists are the primary focus and represent a majority of the collection. The works range in budget, lifespan, size and materials. Site-based installations feature a variety of artists from many locations, cultural and professional backgrounds.
Number in Collection: 400
Funding Sources: Percent-for-Art, Department of Public Works, Department of Parks and Recreation, Capital City Development Corporation (CCDC), Energize Our Neighborhoods and the Neighborhood Investment Program of City of Boise Planning and Development Services
Cost/ Cost Range: $0 - $200,000+
Explore the Public Art collection


Boise's pioneering and transformative Traffic Box project challenges emerging artists and established professionals to "wrap" the nondescript utilitarian devices that control our streetlights. In partnership with Ada County Highway District, Capitol City Development Corporation, the Neighborhood Associations and Planning and Development Services, A&H commissions illustrations, paintings, digitally designed images, quilts, mosaics, photographs and even photos of sculptures to add a vibrant and unexpected twist to the street corners and intersections of the City of Boise. Take a moment to look at our interactive map!
Number in Collection: 216
Funding Sources: Percent-for-Art Fund, Capital City Development Corporation (CCDC), Neighborhood Investment Program (NIP), Downtown Boise Association (DBA), the Energize Our Neighborhood Program
Cost/ Cost Range: $1,000 - $2,500
Explore the Traffic Box collection


The Boise Visual Chronicle (BVC) is a city-owned, interior collection of two and three-dimensional works of art ranging in media from paintings, drawings, prints, photographs, sculptures and other works which depict life in Boise, elements of the Boisean culture, and create narratives that reflect historic and contemporary values of Boise. The collection provides a rich visual document of Boise's changing landscape, people and perspectives. The BVC also forms a unique portrait of the artistic vitality and evolving representations of artists in the region. With original funding from the Greater Boise Auditorium District and Capital City Development Corporation (CCDC), additional works are acquired or commissioned and funded by Boise City with the Percent-for-Art fund. Works from the collection are exhibited throughout City owned facilities including Boise City's Library branches, Boise City Halls, and the Boise Airport. Every two years, the Public Art Program Team makes a coordinated effort to rotate the collection.
Number in Collection: 286
Funding Sources: Percent Fund, Donations
Cost/ Cost Range: $0 - $5,000
Explore the Boise Visual Chronicle


The City's Portable Works collection encompasses an array of works in various media: painting, mixed media, assemblage, sculpture, digital art, photography and printmaking. The Portable Works collection allows for flexibility in the acquisition process to accession works that do not fit the criteria of the Boise Visual Chronicle and allows for the addition of gifts, contemporary works, and works by artists outside of the Boise region. These original artworks are produced by emerging and established artists and are exhibited primarily in public areas of municipal buildings such as Boise City's Libraries, Boise City Hall, and the Boise Airport. Every two years, the Public Art Program Team makes a coordinated effort to rotate the collection.
Number in Collection: 154
Funding Sources: Percent Fund, Donations
Cost/ Cost Range: $0 - $5,000
Explore the Portable Works collection


PUBLIC ART WALKING TOURS
Walking Boise's streets is probably one of the best ways to learn about the city's public art. But you can also explore Boise's public art collection online. Find your favorites!
Guided Tours
Join our Public Art Program Team every third Saturday during the months of April through October for a two-hour walking tour to explore the public art collection located in downtown Boise. The tour will begin and end on the Capitol Blvd. plaza at City Hall (150 N. Capitol Blvd.). Tour starts at 10 a.m. and ends at noon (12 p.m.). Free and open to the public. No registration required. However, space is limited to 25 participants welcomed on a first-come, first-served basis. Learn more.
Self-Guided Tours
You may also enjoy a self-guided tour of Boise's public art collection using our interactive map or by downloading a public art brochure. You may also request one or the series at artsandhistory@cityofboise.org. 
Online Collections
Partnerships with talented artists, historians and hundreds of passionate citizens help build the remarkable Collections under the curation and care of the City of Boise. It's never been so easy to browse and search the City's growing collection of public art. Browse the Collections online!
WHAT'S NEXT ?
With an upsurge in capital construction, an unprecedented expansion of the Public Art collection is set for 2018 – with 20+ new projects and 18 new traffic boxes. Look for public art at the James Castle House, on Vista Avenue, the new Gorongosa Exhibit at Zoo Boise, the Broad Street Festival Block, temporary projects during Treefort Music Fest, in the City's neighborhoods, and various other locations throughout the City.


BE PART OF THE ACTION

INQUIRE
Staff of the Public Art Program will always make time to discuss questions, concerns and comments regarding projects, process and ideas. Please contact Stephanie Johnson.
APPLY FOR PROJECTS
The program hosts a variety of types and levels of projects with offerings that cater to both emerging level artists and well-established artists working in the public realm. Visit our Opportunities page to learn more about current projects.
COMMISSION ARTISTS
Private developers are encouraged to commission and fund artists to create and install public art within new construction projects or on privately owned property. Collectors, philanthropists, and developers seeking to connect with Boise artists, please contact Stephanie Johnson for consultation or direction.
REPORT VANDALISM
Notice a sticker or tag on a public artwork? Please notify the Cultural Asset Program Manager Josh Olson or Alaggio Laurino, Cultural Assets Program Assistant, so we may quickly remedy the damage.
SCHEDULE A TOUR
We offer monthly Public Art Walking Tours of the downtown area from April through October, but we are also happy to provide private tours to schools, organizations, and other groups. If you'd like to schedule a tour, please contact us.