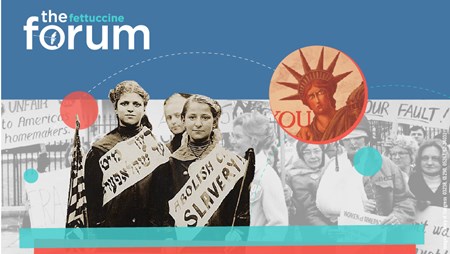 Date: 12/5/2018 6:00 PM - 12/5/2018 7:30 PM
Category: Lectures
Find it on Facebook
Progressive Women, Suffrage Activists and Their Legacy
Please join us at the December 5, 2018 Fettuccine Forum as Professor Veta Schlimgen of Gonzaga University examines women's Progressive Era activism.
A century ago, American women activists reshaped the social and political landscape of the United States. Some women took up conventional causes to advocate for child welfare or labor reform, while other women fought for causes considered radical for the time that included suffrage and professional equality. Together, these women are known as "Progressives." They achieved reforms that influence how we live today and also shape the basis of modern debates. For these reasons, the activism of women Progressives leaves us with some pressing questions: What prompted turn-of-the-century women to engage in public activism? What did they achieve? And, perhaps most importantly, what do their stories tell us about activism today?
Dr. Schlimgen is a historian of the modern United States whose research focuses on U.S. citizenship and constitutionalism, the experiences of racial and ethnic Americans, U.S. expansion and empire, and the Pacific World. These interests inform the courses she teaches, which include a survey of modern world history and, recently, a course on activism and protest in the United States. Dr. Schlimgen teaches advanced courses in history, in international studies, in solidarity and social justice, and in women and gender studies. She is also a public historian.

Doors open at 5:30 PM
Presentation begins at 6:00 PM
Free and open to the public
About the Fettuccine Forum
Boise State University College of Social Science and Public Affairs began the Fettuccine Forum in 1989 as a lunch-time lecture at Noodles, a popular Italian restaurant. Mayor David Bieter's father, Pat Bieter, was one of the early founders, along with his friend Pug Ostling. In 2003, Mayor Bieter relaunched the Fettuccine Forum with support from the Department of History at Boise State University as a First Thursday event, produced by the Office of the City Historian. In 2008, the newly-formed Department of Arts & History took over the role. The Fettuccine Forum remains a lively and informal gathering, which invites the public to interact with politicians, artists, historians, activists, advocates and professionals in an effort to promote good citizenship and responsible growth through education. Support from the Office of the Mayor, Boise State Public Radio and the Department of History at Boise State University all make the Forum possible.