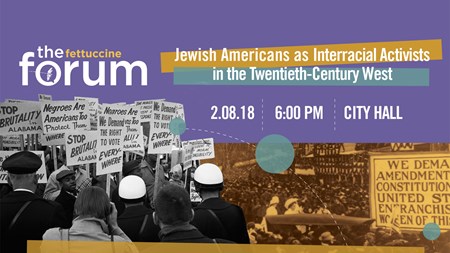 Date: 2/8/2018 5:30 PM - 2/8/2018 7:30 PM
Cost: Free
Category: Lectures
Find it on Facebook
Jewish Americans as Interracial Activists
Please join us February 8, 2018 at the Fettuccine Forum for a discussion led by Professor Shana Bernstein about Jewish Americans' central role in civil rights activism in mid-twentieth century Los Angeles and the widespread effect of their actions.
Professor Bernstein's work places multiracial western communities at the center of U.S. civil rights history. Bernstein traces the movement's origins to concerns about 1930s-era domestic Nazi activities and their devastating aftermath. A growing multiracial community throughout and following World War II, coupled with fears of Cold War red-baiting, also facilitated Jewish Americans' involvement in interracial social justice efforts. Such efforts had important repercussions throughout the United States.
Dr. Bernstein, Clinical Associate Professor of Legal Studies at Northwestern University, received her Ph.D. in history at Stanford and held a Mellon Postdoctoral Fellowship in Latino Studies before joining Southwestern University's history department. Her first book, Bridges of Reform: Interracial Civil Rights Activism in Twentieth-Century Los Angeles (Oxford University Press, 2011), reinterprets U.S. civil rights activism by revealing its roots in the interracial efforts of Mexican, Jewish, African and Japanese Americans in mid-century Los Angeles, and explores activism during the early Cold War era. Dr. Bernstein is currently working on projects related to environmental health activism. She has an article forthcoming in the Journal of the Gilded Age and the Progressive Era.
Presentation begins at 6:00 PM
City Council Chambers, Boise City Hall
The Fettuccine Forum is produced by the Boise City Department of Arts & History. Support from the Office of the Mayor and Boise State Public Radio all make the Forum possible. Lively and informal, the series invites the public to interact with politicians, artists, historians, activists, advocates and professionals in an effort to promote good citizenship and responsible growth through education.