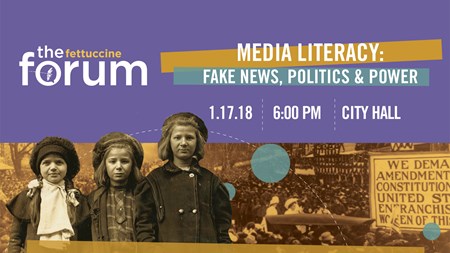 Date: 1/17/2018 5:30 PM - 1/17/2018 7:30 PM
Cost: Free
Category: Lectures
Find it on Facebook
Media Literacy: Fake News, Politics and Power
Please join us at the January 17, 2018 Fettuccine Forum for a panel discussion on media literacy and the role of fake news in the 2016 election. Dr. Seth Ashley, associate professor of journalism and media studies at Boise State University, will facilitate the discussion.
A main component of media literacy is the ability to access and critically analyze information presented from various sources and platforms. Today's media consumer needs more competency than ever—to spot hoaxes and fake news, understand how technology has upended traditional media, and recognize motives and manipulation. Education about and high standards for integrity and substantiated information are essential to sustain a self-governing society and allow it to flourish.
Dr. Ashley teaches and serves as faculty adviser for student media. His research centers on the role of media in democratic society with work in media literacy, media sociology and media policy. Ashley earned his Ph.D. and master's degree at the University of Missouri School of Journalism. He has written articles for and edited newspapers and magazines, as well as worked as a designer and technician for film, theater and music.  
The panelists represent leaders in the field of media literacy research, reporting and politics:
Melissa Davlin, host of Idaho Public Television's Idaho Reports who has covered the Idaho Legislature since 2012. She is credited with breaking major stories and informing and engaging residents with their legislature.
Julie B. Lane, assistant professor in the Department of Communication at BSU, where she teaches courses in media studies and public relations.
Jeffrey Lyons, PhD, with expertise related to his research on American politics and public opinion, behavior, psychology and state government.
Bill Manny, community engagement editor at the Idaho Statesman, has been a reporter, editor and opinion writer in Idaho, Oregon and Washington, D.C. He is the past president of Boise City Club and a member of the Idaho Humanities Council board.
WHEN & WHERE
January 17, 2018
Doors open at 5:30 PM
Presentation begins at 6:00 PM
City Council Chambers, Boise City Hall
The Fettuccine Forum is produced by the Boise City Department of Arts & History. Support from the Office of the Mayor and Boise State Public Radio all make the Forum possible. Lively and informal, the Fettuccine Forum invites the public to interact with politicians, artists, historians, activists, advocates, and professionals in an effort to promote good citizenship through discussion and education.