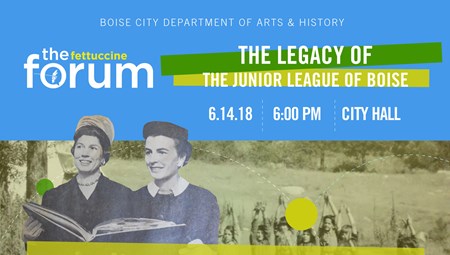 Date: 6/14/2018 6:00 PM - 6/14/2018 7:30 PM
Cost: Free
Category: Lectures
Find it on Facebook
90 Years of Leadership and Volunteerism: The Legacy of the Junior League of Boise
Please join us at the June 14, 2018 Fettuccine Forum for an exploration of the Junior League of Boise and its legacy as it celebrates its 90th anniversary in 2018. HannaLore Hein, historian at Stevens Historical Research Associates and active Junior League member, will provide an introduction and lead a panel review discussion.
The Junior League of Boise began in 1928 as a local chapter of a national women's organization dedicated to promoting volunteerism and developing the leadership potential of women. Find out about the purpose of the League, its historic mandate and mission, and some of the organization's lesser-known, but relevant past projects. Learn about the many partnerships members cultivated and how the League contributed to the budding sense of community within Boise.

The panel discussion will include three past Junior League Presidents who together represent the past five decades (1960s to present). This discussion will focus on how the League faced and responded to adversity; how involvement in the League translated into other leadership roles in the community; and how local needs have changed overtime.

HannaLore Hein holds a BA in History from the University of Colorado-Boulder and a MA in Applied Historical Research from Boise State University. She has worked as a Research Historian at Stevens Historical Research Associates since 2015. She has been involved with the Boise Junior League since 2016.
WHEN & WHERE
Thursday, June 14, 2018
Doors open at 5:30 PM
Presentation begins at 6:00 PM
City Council Chambers, Boise City Hall
About the Fettuccine Forum
The Fettuccine Forum is produced by the Boise City Department of Arts & History. Support from the Office of the Mayor, Boise State Public Radio and the Department of History at Boise State University all make the Forum possible. Lively and informal, the Fettuccine Forum invites the public to interact with politicians, artists, historians, activists, advocates and professionals in an effort to promote good citizenship through discussion and education.
Homepage image courtesy of Junior League of Boise, Inc., Archival Collection