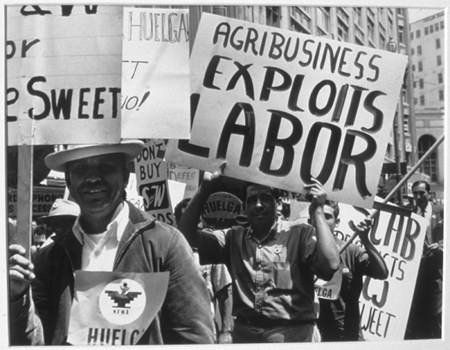 Date: 4/4/2019 6:00 PM - 4/4/2019 7:00 PM
Cost: Free
Category: Lectures
Find it on Facebook
Rethinking the Chicano Movement: Mexican Americans, Latinos, and the Meaning of Citizenship
Please join us at the April 4, 2019 Fettuccine Forum as Professor Marc Rodriguez of Portland State University explores the history of Mexican American/Chicano civil rights activism in the United States.
With an emphasis on the meaning of citizenship within the context of a diverse nation, Rodriguez will discuss the Chicano Movement and its place as a national phenomenon that ranks as one of the most important social movements of the post-World War II era. The lecture will conclude with a discussion of the current state of immigration.
Marc Rodriguez is Editor of the Pacific Historical Review, and Professor of history at Portland State University. A scholar of Mexican American/Chicano history, Rodriguez is the author of The Tejano Diaspora: Mexican Americanism and Ethnic Politics in Texas and Wisconsin (2011), which won the 2012 NACCS Tejas Nonfiction Book Award presented by the National Association for Chicana and Chicano Studies, Tejas Foco. He edited Repositioning North American Migration History: New Directions in Modern Continental Migration, Citizenship, and Community (2004) and co-edited (with Anthony Grafton) Migration in History: Human Migration in Comparative Perspective (2007). His newest book is Rethinking the Chicano Movement (2014).
WHEN & WHERE
Thursday, April 4, 2019
Boise City Hall (150 N Capitol Blvd.)
Maryanne Jordan Council Chambers, Third Fl.
Doors open at 5:30 PM
Presentation begins at 6:00 PM
Free and open to the public
About the Fettuccine Forum
Boise State University College of Social Science and Public Affairs began the Fettuccine Forum in 1989 as a lunch-time lecture at Noodles, a popular Italian restaurant. Mayor David Bieter's father, Pat Bieter, was one of the early founders, along with his friend Pug Ostling. In 2003, Mayor Bieter relaunched the Fettuccine Forum with support from the Department of History at Boise State University as a First Thursday event, produced by the Office of the City Historian. In 2008, the newly-formed Department of Arts & History took over the role. The Fettuccine Forum remains a lively and informal gathering, which invites the public to interact with politicians, artists, historians, activists, advocates and professionals in an effort to promote good citizenship and responsible growth through education. Support from the Office of the Mayor, Boise State Public Radio and the Boise State University History Department all make the Forum possible.
The City of Boise encourages persons with disabilities and those who require language assistance to participate in its programs and activities. If you anticipate needing an accommodation, please contact Jennifer Yribar, 208-608-751 or email jyribar@cityofboise.org, as soon as possible, but no later than 72 hours before the event.
Image Courtesy Claudio Beagarie Papers, Boise State University, Special Collections and Archives