Creators, Makers, & Doers: Live feat. Chris Binion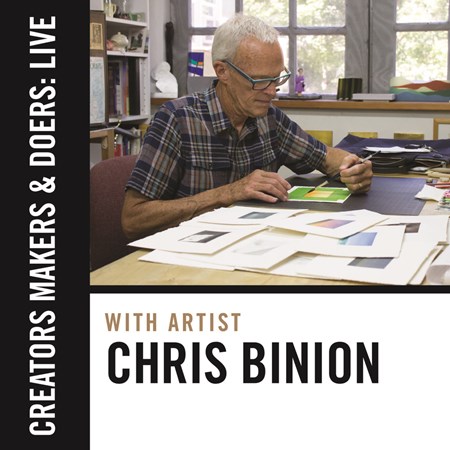 Date: 2/28/2019 6:00 PM - 2/28/2019 7:00 PM
Cost: Free
Tickets: Eventbrite
Category: James Castle House
Find it on Facebook
Chris Binion
Hosted by the Boise City Department of Arts & History (A&H) at the James Castle House, Creators, Makers, & Doers: Live is a series of informal talks focusing on the creative processes and studio practices of artists. Developed in the spirit of A&H's mission, the series is motivated to explore the lives and work of artists and ignite conversation around creativity in Boise.
This month, join painter Chris Binion. Originally from Texas, Chris' inspirations include everything from the old masters to his contemporaries, and he often uses objects from his personal collection as focal points of his work. Chris works in a variety of mediums including oil, watercolor, and collaborative sculpture. Chris' paintings have been exhibited in a number of Idaho galleries and can be found in important private and corporate collections throughout the United States. In 1997, he was awarded a Fellowship for Excellence in the Arts from the Idaho Commission on the Arts. Chris has been featured in several publications such as The Idaho Statesman, The Times-News, Boise Weekly, and Idaho Business Review. In 2007, Binion was commissioned to design the Holy Cross Chapel by Saint Alphonsus Regional Medical Center. He was a co-founder of the artist collective Enso Artspace. He currently exhibits in Boise, Idaho where he lives.
Tune-in for Creators, Makers, & Doers: Live on February 28, 2019 at 6 p.m. on A&H's Facebook page or register online to attend in person (seating limited to 25). Event is free. Registration required at Eventbrite.
This event series is made possible in part by West Elm Downtown Boise.
The James Castle House encourages persons with disabilities and those who require language assistance to participate in its programs and activities. If you anticipate needing an accommodation, please contact Rachel Reichert, 208-608-7046 or email rreichert@cityofboise.org, as soon as possible, but no later than 72 hours before the event.