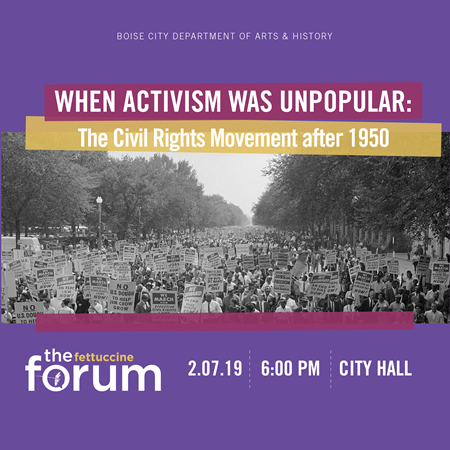 Date: 2/7/2019 6:00 PM - 2/7/2019 7:30 PM
Cost: Free
Category: Lectures
Find it on Facebook
When Activism was Unpopular: The Civil Rights Movement after 1950
Please join us at the February 7, 2019 Fettuccine Forum as Professor Spencer Crew discusses the key events and actors involved in the civil rights movement and the pivotal role each played in establishing the Civil Rights Act of 1964.
Did you know the majority of Americans opposed the work of Martin Luther King, Jr.?  They felt his protests hurt African Americans more than they helped. The triumphs and setbacks related to the Civil Rights Movement after 1950 provide opportunities to examine the context of the era and also serve as a reminder of how restricted life was for African Americans only seventy years ago. Civil Rights activists undertook great personal risk with their open opposition to segregation and discriminatory practices while working toward the goal of extending full citizenship rights to all Americans. In the end, other groups along with African Americans benefited from the laws which emerged from these activists' actions.
Professor Spencer Crew has worked at museums as well as universities over the past twenty-five years. Currently the Clarence J. Robinson Professor of American, African American, and Public History at George Mason University, he served as the former director of the Smithsonian National Museum of American History and as the former president of the National Underground Railroad Freedom Center. His primary area of research interest is African American history, and he has created exhibitions and written on both the Underground Railroad and the migration of African Americans to the North during and after World War I.
WHEN & WHERE
Thursday, February 7, 2019
Boise City Hall (150 N Capitol Blvd.)
Maryanne Jordan Council Chambers, Third Fl.
Doors open at 5:30 PM
Presentation begins at 6:00 PM
Free and open to the public

About the Fettuccine Forum
Boise State University College of Social Science and Public Affairs began the Fettuccine Forum in 1989 as a lunch-time lecture at Noodles, a popular Italian restaurant. Mayor David Bieter's father, Pat Bieter, was one of the early founders, along with his friend Pug Ostling. In 2003, Mayor Bieter relaunched the Fettuccine Forum with support from the Department of History at Boise State University as a First Thursday event, produced by the Office of the City Historian. In 2008, the newly-formed Department of Arts & History took over the role. The Fettuccine Forum remains a lively and informal gathering, which invites the public to interact with politicians, artists, historians, activists, advocates and professionals in an effort to promote good citizenship and responsible growth through education. Support from the Office of the Mayor, Boise State Public Radio and the Boise State University History Department all make the Forum possible.
The City of Boise encourages persons with disabilities and those who require language assistance to participate in its programs and activities. If you anticipate needing an accommodation, please contact Jennifer Yribar, 208-608-751 or email jyribar@cityofboise.org, as soon as possible, but no later than 72 hours before the event.
Homepage image: Man in Wheelchair, March on Washington, 1963, Library of Congress