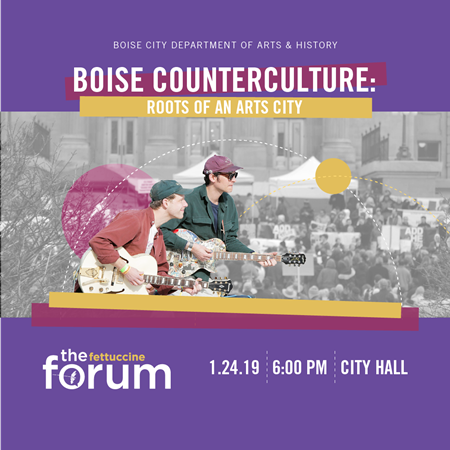 Date: 1/24/2019 6:00 PM - 1/24/2019 7:30 PM
Cost: Free
Category: Lectures
Find it on Facebook
Boise Counterculture: Roots of an Arts City
Please join us at the January 24, 2019 Fettuccine Forum as historian Tully Gerlach examines the history of twentieth century counterculture in Boise. Urban countercultural scenes surfaced from the shadows of mainstream society to influence and ultimately shape much of American arts and culture. These subterranean currents ran through even a small city such as Boise.

Be they beatniks, rockers, hippies, heads, queers, punks or any manner of misfit weirdos who refused to conform, these small groups forged their own artistic and social scenes in the face of indifference, hostility, scorn and abuse. By the early twenty-first century, their efforts had infiltrated local culture to such an extent that Boise emerged as a twenty-first century progressive arts city—a distinction that could not have happened without them.

Like Freak Alley? Dig Treefort? Support Pride? It all started underground. Join us at the Fettuccine Forum to explore how Boise's counterculture past shaped its present cultural and artistic flowering.

Tully Gerlach is a collection development librarian for the Boise Public Library. He served as City of Boise Historian and has conducted historical research for agencies such as the city, CTA Architects Engineers, Boise State University, and Preservation Idaho.

WHEN & WHERE
Thursday, January 24, 2019
Boise City Hall (150 N Capitol Blvd.)
Maryanne Jordan Council Chambers, Third Fl.
Doors open at 5:30 PM
Presentation begins at 6:00 PM
Free and open to the public

About the Fettuccine Forum
Boise State University College of Social Science and Public Affairs began the Fettuccine Forum in 1989 as a lunch-time lecture at Noodles, a popular Italian restaurant. Mayor David Bieter's father, Pat Bieter, was one of the early founders, along with his friend Pug Ostling. In 2003, Mayor Bieter relaunched the Fettuccine Forum with support from the Department of History at Boise State University as a First Thursday event, produced by the Office of the City Historian. In 2008, the newly-formed Department of Arts & History took over the role. The Fettuccine Forum remains a lively and informal gathering, which invites the public to interact with politicians, artists, historians, activists, advocates and professionals in an effort to promote good citizenship and responsible growth through education. Support from the Office of the Mayor, Boise State Public Radio and the Boise State University History Department all make the Forum possible.
The City of Boise encourages persons with disabilities and those who require language assistance to participate in its programs and activities. If you anticipate needing an accommodation, please contact Jennifer Yribar, 208-608-751 or email jyribar@cityofboise.org, as soon as possible, but no later than 72 hours before the event.