50 Years of the Boise River Greenbelt Exhibit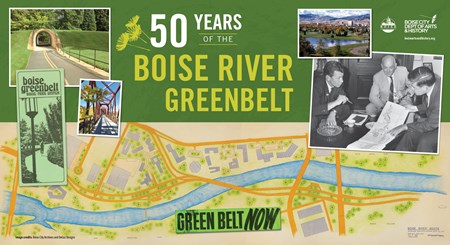 Date: 7/10/2019 8:00 AM - 9/30/2019 5:00 PM
Location: Boise City Hall, Third Floor
Cost: Free
Category: Exhibitions
Find it on Facebook
Stop by the third floor of Boise City Hall to see our latest exhibit celebrating the 50th Anniversary of the Boise River Greenbelt. This display explores the history of the Greenbelt, and how the city pieced together a patchwork of parcels to create the ribbon of parkland we know and love today. Free and open to the public.

When: Monday thru Friday, 8:00 a.m. - 5:00 p.m. (through September 30, 2019)
Where: Boise City Hall, Third Floor

The Boise City Department of Arts & History encourages persons with disabilities and those who require language assistance to participate in its programs and activities. If you anticipate needing an accommodation, please contact Jennifer Yribar, 208-608-7051 or email jyribar@cityofboise.org, as soon as possible, but no later than 72 hours before the event. To request assistance, you may also dial TTY 1-800-377-3529.