Creators, Makers, & Doers: Live feat. Randy Van Dyck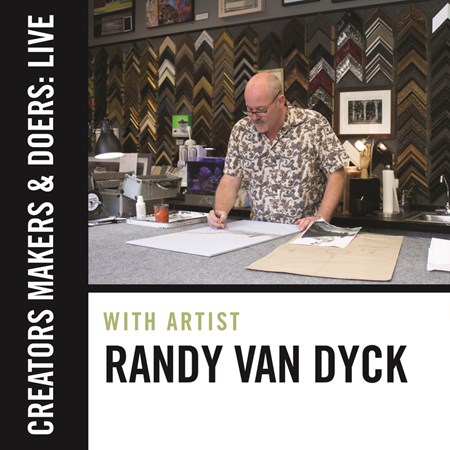 Date: 3/28/2019 6:00 PM - 3/28/2019 7:00 PM
Cost: Free
Tickets: Eventbrite
Category: Lectures
Find it on Facebook
Randy Van Dyck
Hosted by the Boise City Department of Arts & History (A&H) at the James Castle House, Creators, Makers, & Doers: Live is a series of informal talks focusing on the creative processes and studio practices of artists. Developed in the spirit of A&H's mission, the series is motivated to explore the lives and work of artists and ignite conversation around creativity in Boise.
This month, join artist Randy Van Dyck. Randy is an artist first, but his diverse skill set has led him to cultivate a multi-faceted role in the arts community. His strong work ethic and detail-oriented personality have afforded his success as a painter and business owner; he also serves as an earnest patron of the arts. He finds creative time around the open hours of his downtown frame shop and gallery (Van Dyck Framing and Capitol Contemporary Gallery), which act as storefront, studio, and gallery. He also enjoys collecting works from other artists and frequently displays their work in his shop. Although birds are often the focus of his work, the true inspiration comes from the English language. Randy is drawn to words or phrases that strike a chord and tries to express them visually, often breaking them down into a visual pun. His most recent body of work, "Suspended Reality" began with paintings of birds floating in a perched pose on a simple and serene background that is the skies over Boise, with no other information. Eventually they have become full landscape compositions combined with elements of still life and surrealism.
Tune-in for Creators, Makers, & Doers: Live on March 28, 2019 at 6 p.m. on A&H's Facebook page or register online to attend in person (seating limited to 25). Event is free. Registration required at Eventbrite.
This event series is made possible in part by West Elm Downtown Boise.
The James Castle House encourages persons with disabilities and those who require language assistance to participate in its programs and activities. If you anticipate needing an accommodation, please contact Rachel Reichert, 208-608-7046 or email rreichert@cityofboise.org, as soon as possible, but no later than 72 hours before the event.