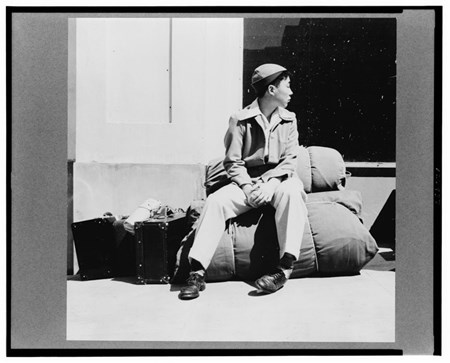 Date: 5/9/2019 6:00 PM - 5/9/2019 7:00 PM
Cost: Free
Category: Lectures
Find it on Facebook
Walls to WeChat: The Blue Notes of Asian American Activism
Please join us at the May 9, 2019 Fettuccine Forum as Professor Robert Hayashi of Amherst College discusses the historical roots of Asian American activism.   
Professor Hayashi will share his expertise on how Asian Americans have individually and collectively responded to exclusion from American politics and culture. Looking at moments in Idaho and national history, Professor Hayashi will discuss the contributions of Asian American activism in shaping civil liberties and how disparate groups have formed pan-ethnic and multiracial coalitions as part of these efforts. Professor Hayashi will also address how Asian Americans are often not represented in contemporary discussions about cultural policies related to immigration and national security, despite their significant impact on them. Their similarly overlooked histories, including Chinese exclusion and Japanese American mass incarceration, are increasingly relevant to contemporary debates about the limits and definitions of American identity.
Robert Hayashi is associate professor of American studies at Amherst College where he teaches courses in Asian American studies, sports history, public history, research methods, and ethnic literature. He is the author of Haunted by Waters: A Journey through Race and Place in the American West, which explores the connected environmental and racial histories of Idaho. He served on the National Park Service Asian American Pacific Islander Theme Study Scholars Panel and has recently completed his second book manuscript, Yinz Got Game? Sports and Identity in Western Pennsylvania.
WHEN & WHERE
Thursday, May 9, 2019
Boise City Hall (150 N Capitol Blvd.)
Maryanne Jordan Council Chambers, Third Fl.
Doors open at 5:30 PM
Presentation begins at 6:00 PM
Free and open to the public
About the Fettuccine Forum
Boise State University College of Social Science and Public Affairs began the Fettuccine Forum in 1989 as a lunch-time lecture at Noodles, a popular Italian restaurant. Mayor David Bieter's father, Pat Bieter, was one of the early founders, along with his friend Pug Ostling. In 2003, Mayor Bieter relaunched the Fettuccine Forum with support from the Department of History at Boise State University as a First Thursday event, produced by the Office of the City Historian. In 2008, the newly-formed Department of Arts & History took over the role. The Fettuccine Forum remains a lively and informal gathering, which invites the public to interact with politicians, artists, historians, activists, advocates and professionals in an effort to promote good citizenship and responsible growth through education. Support from the Office of the Mayor, Boise State Public Radio and the Boise State University History Department all make the Forum possible.
The City of Boise encourages persons with disabilities and those who require language assistance to participate in its programs and activities. If you anticipate needing an accommodation, please contact Jennifer Yribar, 208-608-7051 or email jyribar@cityofboise.org, as soon as possible, but no later than 72 hours before the event.
Image: San Francisco, Calif., June 1942, Courtesy of Library of Congress