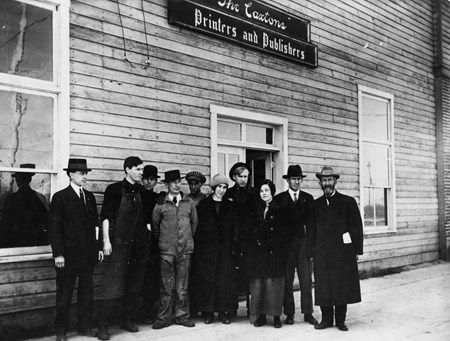 Date: 11/7/2019 6:00 PM - 11/7/2019 7:30 PM
Cost: Free
Category: Lectures
Find it on Facebook
"Books Are Not Mere Merchandise": Caxton Printers and the Publishing of Idaho's History
Please join us at the November 7 Fettuccine Forum where Alessandro Meregaglia will explore the history of Caxton Printers and its impact in Idaho. Meregaglia will consider Caxton's role with Idaho authors, as well as how a small publisher in Idaho survived and competed with large, East Coast publishers. Meregaglia will also talk about how archives proved valuable in his research and yielded many treasures, including unpublished manuscripts.
In 1907, James H. Gipson founded Caxton as a small print shop. The company entered the book publishing business in 1925 and, over the following decades, Caxton produced hundreds of books in numerous genres—Americana, fiction, children's stories, history, and essays, among others—primarily about Idaho and the American West. Caxton's company philosophy focused on helping writers from the West get published, regardless of the commercial success of their books. During his tenure, Gipson personally approved every book the company published, which numbered over eight hundred titles. His efforts turned Caxton into an important regional publisher, an accomplishment that helped legitimize book publishing in the West. Caxton is still owned and managed by the Gipson family, and they continue to publish regional nonfiction books.
Alessandro Meregaglia is an Archivist and Assistant Professor at Boise State University. Meregaglia holds a Master of Arts in history, with a focus on 20th century American history, and a Master of Library Science specializing in archives and records management from Indiana University. He also received a bachelor's degree in American Studies from Hillsdale College. This presentation is part of a larger, archival research project examining the full history of Caxton Printers and its founder, James H. Gipson. His research is supported, in part, by grants from the Idaho Humanities Council and Boise State's Osher Institute.
WHEN & WHERE
Thursday, November 7, 2019
Boise City Hall (150 N Capitol Blvd.)
Maryanne Jordan Council Chambers, Third Fl.
Doors open at 5:30 PM
Presentation begins at 6:00 PM
Free and open to the public 
About the Fettuccine Forum
Boise State University College of Social Science and Public Affairs began the Fettuccine Forum in 1989 as a lunch-time lecture at Noodles, a popular Italian restaurant. Mayor David Bieter's father, Pat Bieter, was one of the early founders, along with his friend Pug Ostling. In 2003, Mayor Bieter relaunched the Fettuccine Forum with support from the Department of History at Boise State University as a First Thursday event, produced by the Office of the City Historian. In 2008, the newly-formed Department of Arts & History took over the role. The Fettuccine Forum remains a lively and informal gathering, which invites the public to interact with politicians, artists, historians, activists, advocates and professionals in an effort to promote good citizenship and responsible growth through education. Support from the Office of the Mayor, Boise State Public Radio and the Boise State University History Department all make the Forum possible.
The Boise City Department of Arts & History encourages persons with disabilities and those who require language assistance to participate in its programs and activities. If you anticipate needing an accommodation, please contact Jennifer Yribar, 208-608-7051 or email jyribar@cityofboise.org, as soon as possible, but no later than 72 hours before the event. To request assistance, you may also dial TTY 1-800-377-3529.
Image: Idaho Statesman Collection, Boise State University Special Collections and Archives