Americans and the Holocaust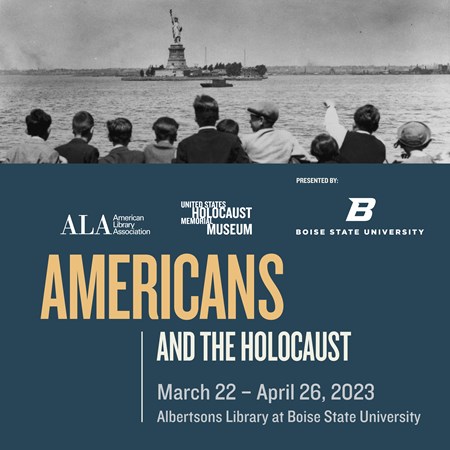 Boise State University's Albertsons Library is hosting the Americans and the Holocaust March 22 through April 26, a nationally touring exhibition from the United States Holocaust Memorial Museum. 
Exhibition Overview
Holocaust history raises important questions about what Europeans could have done to stop the rise of Nazism in Germany and its assault on Europe's Jews. Questions also must be asked of the international community, including the United States.
The exhibition raises challenging and important questions about this critical moment in American history: What did Americans know? What more could have been done?
Americans and the Holocaust examines the motives, pressures, and fears that shaped Americans' responses to Nazism, war, and genocide.
Related Display
Boise's Congregation Ahavath Beth Israel at 128, a companion display to Americans and the Holocaust, invites visitors to learn about the histories of the Beth Israel Synagogue and the Ahavath Israel Synagogue. This exhibit of historic photographs and records from the Boise City Archives spans 128 years, documenting Boise Jewish history, the formation of two congregations, the constructions of Temple Beth Israel followed by that of Ahavath Israel, the merging of two religious movements, and the relocation of the oldest synagogue in continuous use west of the Mississippi River from 11th and State Street to its current location on the Boise Bench on Latah Street.
Unless otherwise stated, materials in the cases can be researched at the Boise City Archives.
The City of Boise would like to thank Congregation Ahavath Beth Israel for the donation of these records for public access and research.
Visiting the Exhibition
The exhibit is on display on the first floor of the library during regular library hours. All exhibition programs and events are free and open to the public. For more information, including a list of related programs and events, visit: boisestate.edu/library/americans-and-the-holocaust
This exhibition includes graphic content that may not be suitable for all audiences.