"E Pluribus Unum (Out of Many, One)" Public Art Dedication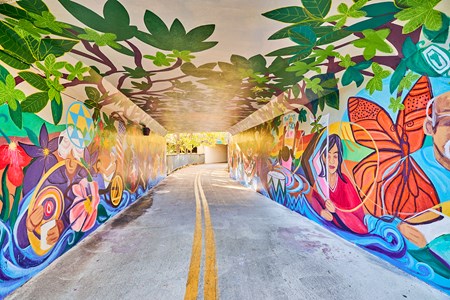 Date: 5/15/2023 12:30 PM - 5/15/2023 2:00 PM
Location: Idaho Anne Frank Human Rights Memorial
Cost: Free
Find it on Facebook
About the Event
Join Boise Mayor Lauren McLean, City Council, City of Boise staff, and community partners on Monday, May 15, at 1:00 p.m. to dedicate the 8th Street Tunnel mural, E Pluribus Unum (Out of Many, One) by Addie Boswell, in the Idaho Anne Frank Human Rights Memorial amphitheater (770 S 8th St, Boise) adjacent to the Boise River Greenbelt and next to Julia Davis Park. 
Together we will hold space to thank the artist, honor the community involved in creating the mural, and commit to saying "yes" to human rights. Following brief remarks, the public is invited to experience the mural, explore the Idaho Anne Frank Human Rights Memorial with Wassmuth Center docents, and enjoy an art activity led by artist, Addie Boswell.
Prior to the dedication, members of the community are invited to join the Wassmuth Center for Human Rights at 12:30 p.m. for a ribbon cutting ceremony for the new sound system in the Idaho Anne Frank Human Rights Memorial. Made possible by a generous grant from AARP, the sound system will be activated for the dedication of the tunnel mural and will provide enhanced access for event participants and future programs.
This event is free and open to the public. American Sign Language (ASL) interpretation will be available for the public art dedication. Parking is available near the memorial. The event will be held outside. In the event of inclement weather, we will gather in the Marilyn Shuler Classroom for Human Rights.
Event photo by Visionkit
About E Pluribus Unum (Out of Many, One)
Completed in October 2022, Boswell's mural acts as a beacon of light for all who pass through it. The mural project was in response to instances of antisemitic graffiti in the tunnel. This space, literally under a bridge, serves as a metaphorical bridge between the riverbank and the work of the Wassmuth Center, home of the Idaho Anne Frank Human Rights Memorial. The mural complements, contributes to, and expands on the educational content of the memorial. Learn more:  E Pluribus Unum (Out of Many, One)
---
In our commitment to engaging everyone, the City of Boise is actively removing barriers to participation, including for our residents with disabilities and those who prefer a language other than English. If you need an accommodation to access City of Boise's services, programs, or activities, please contact us at artsandhistory@cityofboise.org or 208-608-7050 (TTY 800-377-3529), preferably within 72 hours before to the event.
En nuestro compromiso por lograr la participación de todos, la Ciudad de Boise está eliminando activamente las barreras a la participación, incluso para nuestros residentes con discapacidades y aquellos que prefieren un idioma distinto del inglés. Si necesita una adaptación para acceder a los servicios, programas o actividades de la Ciudad de Boise, póngase en contacto con nosotros en artsandhistory@cityofboise.org o en el 208-608-7050 (TTY 800-377-3529) preferiblemente en las 72 horas previas al acontecimiento.