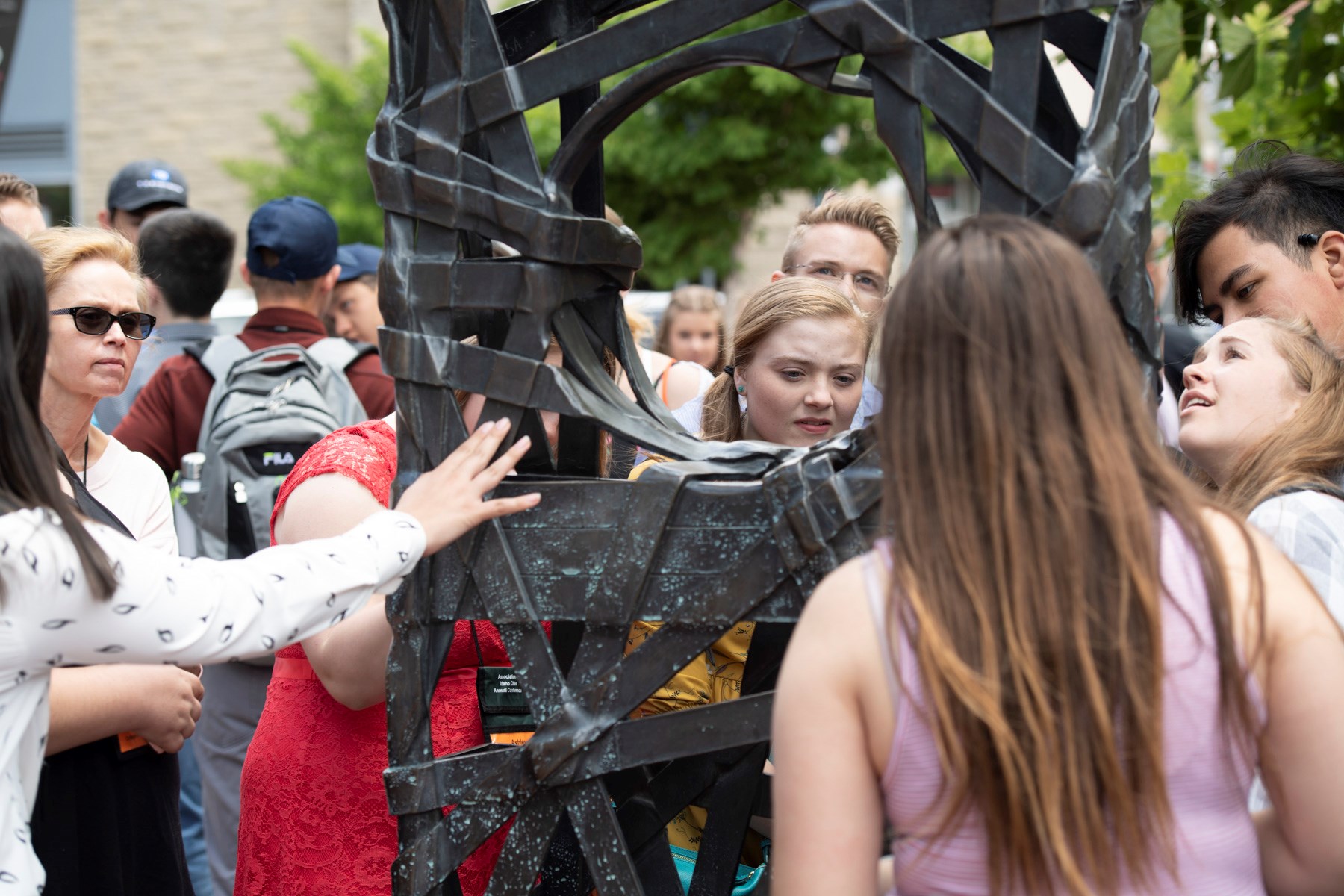 Tour participants gather around "Portal" (2002) by Francis Fox in BoDo in downtown Boise; Photo courtesy of Boise State University (2019)
Idaho's capital city comes to life with a magnetic array of public art. There's nowhere more exciting than the city's core, with creative works that disrupt our routines; asking us to celebrate, to remember, to poke fun at and invest personal energy into this place that we love. Find your favorites!
Join our Public Art Program Team every third Saturday during the months of May through October for a two-hour walking tour to explore the public art collection located in downtown Boise. The tour will begin and end on the Capitol Blvd. plaza at City Hall (150 N. Capitol Blvd.). Tour starts at 10 a.m. and ends at noon (12 p.m.). Free and open to the public, which pre-registration required. Space is limited to 25 participants.

Duration of tour: 120 mins
Distance: 1.5 miles
Capacity: 25
Recommended attire: This is a walking tour; participants are advised to wear appropriate shoes and bring along a water bottle.

WALKING TOUR DATES (all times MT):
Saturday, May 21, 10 a.m. - 12 p.m.
Saturday, June 18,

10 a.m. - 12 p.m.

Saturday, July 16,

10 a.m. - 12 p.m.

Saturday, August 20,

10 a.m. - 12 p.m.

Saturday, September 17,

10 a.m. - 12 p.m.

Saturday, October 15,

10 a.m. - 12 p.m.
Self-Guided Tours
You may also enjoy a self-guided tour of Boise's public art collection using our interactive map or by downloading a public art brochure. You may also request one or the series at artsandhistory@cityofboise.org. 
The Boise City Department of Arts & History encourages persons with disabilities and those who require language assistance to participate in its programs and activities. If you anticipate needing an accommodation, please contact Jennifer Yribar, 208-608-7051 or email jyribar@cityofboise.org, as soon as possible, but no later than 72 hours before the event.