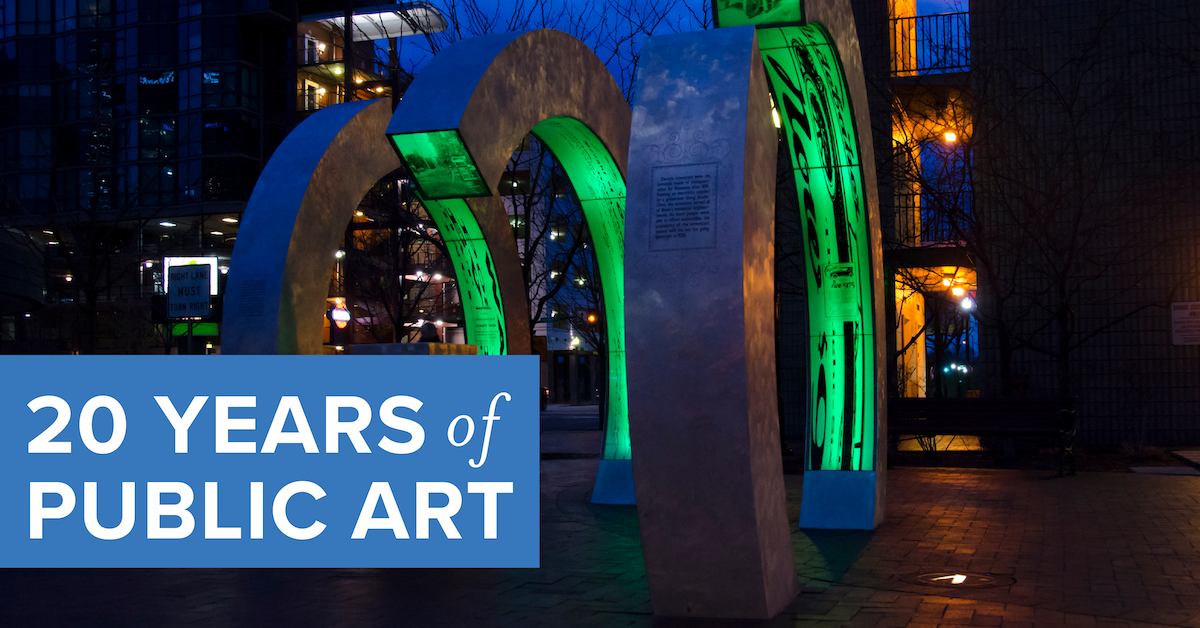 Grove Street Illuminated & Boise Canal (2003) by Amy Westover located at Grove & 9th Street in downtown Boise is the first work commissioned through the City of Boise's Percent for Public Art Ordinance.
20 Years of Public Art: Celebrating Boise's Percent for Art (2001-2021)
Boise is home to a remarkable and diverse collection of public art ranging from paintings, sculptures,

 

and

 

murals to installations, mosaics, and traffic boxes, among others.

 

Over 50

 

site-based installations, as well as numerous other artist-designed traffic boxes and works

 

represented

 

in

 

the Boise Visual Chronicle and Portable Works collections

 

have been

 

commissioned through the City of Boise's "Percent for Public Art" Ordinance,

 

adopted 20 years ago this year. Join us in celebrating

 this landmark year!
Quick Links
A Brief History of Boise's Percent for Art Ordinance
On March 6, 2001, in a 5-1 vote, Boise City Council adopted Ordinance No. 6042, which became known as the "Percent for Public Art" ordinance. This ordinance marked a major milestone for the support of public art in Boise. It established a policy where the municipality would allocate one percent of capital expenditures to acquire public art and up to an additional .4 percent of capital improvement expenditures to fund the conservation and maintenance of the integrated art, staff resources, and public education about the art. Capital expenditures included upgrades to city-owned facilities and infrastructure, such as the Boise Airport, Boise WaterShed, Foothills Learning Center, Boise Public Library and branch libraries, fire stations, and throughout the city's parks, as well as integration of art into the streetscapes throughout all areas of the City.  
The ordinance followed a nationwide trend to create site-specific art through public funding. The first percent for public art policy was enacted in the City of Philadelphia in 1959. Boise's ordinance was the second passed in Idaho—the city of Coeur d'Alene established the first program in the state. In Boise, percent for art projects have made significant geographic impacts, integrating art into neighborhoods across the city that did not have art prior to 2001.  
Percent for art funds have been used to create landmark artworks that contribute to the identity of their locations. The first work commissioned after the passage of the ordinance is one such example. Grove Street Illuminated & Boise Canal, by local artist Amy Westover, is located on the corner of 9th and Grove streets.  
The largest concentrations of public art are located at the Boise WaterShed and at the Boise Airport. 
Public Art Walking Tours
Walking Boise's streets is probably one of the best ways to learn about the city's public art. But you can also explore Boise's public art collection online. Find your favorites!
Guided Tours
Join our Public Art Program Team every third Saturday during the months of April through October for a two-hour walking tour to explore the public art collection located in downtown Boise. The tour will begin and end on the Capitol Blvd. plaza at City Hall (150 N. Capitol Blvd.). Tour starts at 10 a.m. and ends at noon (12 p.m.). Free and open to the public. No registration required. However, space is limited to 25 participants welcomed on a first-come, first-served basis. Learn more.
Self-Guided Tours
You may also enjoy a self-guided tour of Boise's public art collection using our interactive map or by downloading a public art brochure. You may also request one or the series at artsandhistory@cityofboise.org. 
Online Collections
Partnerships with talented artists, historians and hundreds of passionate citizens help build the remarkable Collections under the curation and care of the City of Boise. It's never been so easy to browse and search the City's growing collection of public art. Browse the Collections online!
Outdoor Exhibit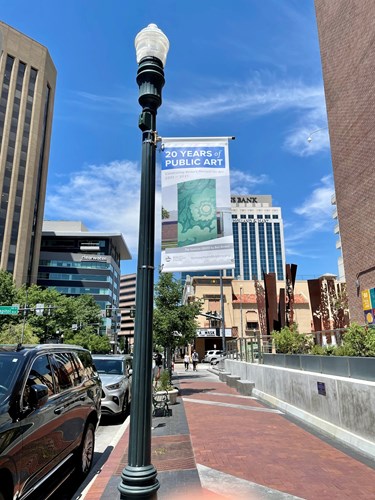 Enjoy a free, self-paced and self-guided outdoor streetlamp banner exhibit showcasing the breadth and depth of the artworks commissioned through the Percent for Public Art Ordinance. Look up to find 20 installations on Idaho and Main streets adjacent to Boise City Hall, as well as in BoDo along 8th and Broad streets.
2021 Mayor's Appreciation Day for Arts, History, & Culture
As a government agency and with a responsibility to support Boise's creative and cultural sector, the Boise City Department of Arts & History has brought about several initiatives to support the creative community in a time of crisis. In lieu of the biennial Mayor's Awards for Excellence in Arts & History, the first ever Mayor's Appreciation Day for Arts, History, & Culture was held on September 16, 2021 in celebration of our broader cultural sector with performances by and compensation for these irreplaceable workers. Learn more.
A is for Art: Boise's Public Art Alphabet Book
Boise-based writer Malia Collins, together with local artist and graphic designer Stephanie Inman, have been commissioned to collaborate on the creation and publication of A is for Art: Boise's Public Art Alphabet Book, a book for children using the alphabet to explore the City of Boise's Public Art collection, slated for the end of the year.
Public Art Installations & Dedications
Throughout the year, the community is also invited to watch for the installation and public dedication of new public art, including:
Learn more about the City of Boise's Public Art Program.
Get Involved
Open Calls & Opportunities
The Public Art program hosts a variety of types and levels of projects with offerings that cater to both emerging level artists and well-established artists working in the public realm. We invite you to pursue open calls and opportunities.
Inquire
Staff of the Public Art Program will always make time to discuss questions, concerns and comments regarding projects, process and ideas. Please contact Stephanie Johnson.
Commission Artists
Private developers are encouraged to commission and fund artists to create and install public art within new construction projects or on privately owned property. Collectors, philanthropists, and developers seeking to connect with Boise artists, please contact Stephanie Johnson for consultation or direction.
Report Vandalism
Notice a sticker or tag on a public artwork? Please notify Alaggio Laurino, Cultural Assets Program Assistant, so we may quickly remedy the damage.